Each year the annual SNAG Conference is paired with exhibitions inside local institutions and is the host to a few exhibitions of its own. This year, SNAG supported a call for entries that was not limited to works alone. The Adorned Spaces event featured a juried selection of 20 unique exhibitions inside the conference hotel for a single-day pop-up display. The event was designed to highlight established and emerging artists, but this new multi-exhibitor format served as a reminder that the lens through which work is viewed can be just as significant as the work itself.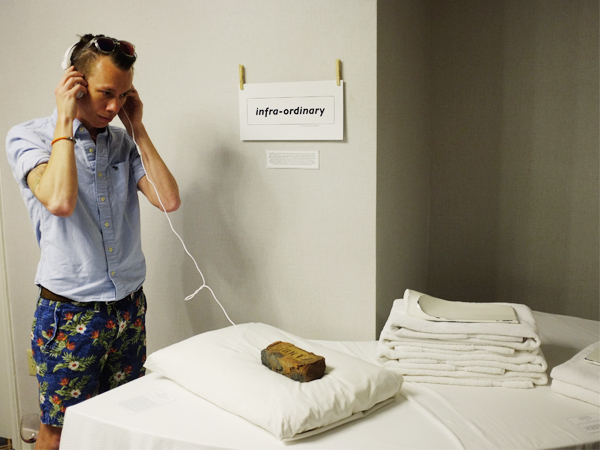 The 20 exhibitors were faced with three major constraints: limited space (only 100 square feet), limited time (one day to set up), and the rather banal hotel environment. All installation challenges aside, the opportunity to see new individuals and institutions with creative control over the reception of work was an exciting moment for conference attendees.
Individual Voice
Infra-Ordinary, curated by artist Jess Tolbert, was a highlight of the Adorned Spaces event. Titled after, and drawing inspiration from, the Georges Perec text that explores the everyday, the show featured work by Lynn Batchelder, Evin Dubois, Steven Gordon Holman, Joshua Kosker, Robert Longyear, Myra Mimlitsch-Gray, Jaydan Moore, Masako Onodera, Vincent Pontillo-Verrastro, Kerianne Quick, and Jess Tolbert. The display was immediately striking. Tolbert converted stacks of neatly folded hotel towels into cushy pedestals, pillows became low platforms, and each meeting table was draped in white striped sheets.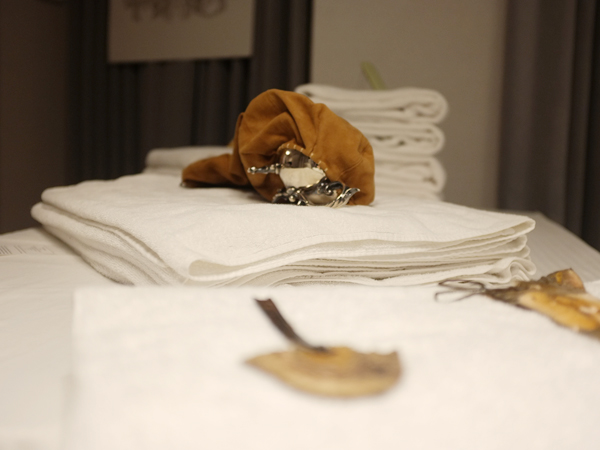 I couldn't resist a bit of a laugh as I approached the heavy brick from the work Shultz by Kerianne Quick balanced on a fluffy hotel pillow next to Stretched Platters (pair), the lauded work of Myra Mimlitsch-Gray, sitting atop towels. The backdrops of white sheets and the pedestals of stacked white hotel towels made the exhibit feel simultaneously site-specific and irreverent. Placing meticulously crafted work on perfectly folded towels referenced the careful transport of fine silver tableware by maids and footmen inside upper-class estates while simultaneously exerting an honest DIY approach to display.
Both the displays and the artworks in Infra-Ordinary vacillated between the unusual and the everyday. Tolbert selected artists who utilize accessible materials like brick, house paint, and shoe insoles, and artists who create works linked to eating, shaving, walking, and other processes of daily life. Positioning works that favor materiality, narratives of home, and process side by side, Infra-Ordinary was a reminder of how jewelry and metalsmithing artists' pursuits are rooted in the stuff of everyday life—a fact that is too rarely tapped.
Artist Collaboration
Jewelry Edition, curated by artists Kat Cole and Laura Wood, was one of the more established curatorial projects on display as a part of Adorned Spaces. The second year of the project, titled Vol. 2, was recognizable to the small crowd that saw its first iteration at Heidi Lowe Gallery and other sites across the county a year before. Featuring the work of both curators along with Jessica Andersen, Erica Bello, Liz Clark, Emily Rogstad, Caitie Sellers, and Rachel Shimpock, Jewelry Edition Vol. 2 is an exhibition platform that aims to support early career artists and promote work for sale. It set itself apart from other Adorned Spaces exhibitions with a smart display of cardboard, laser-cut name tags, plastic pipe, and lime green accents that showed off the cohesive network of pieces from eight different artists.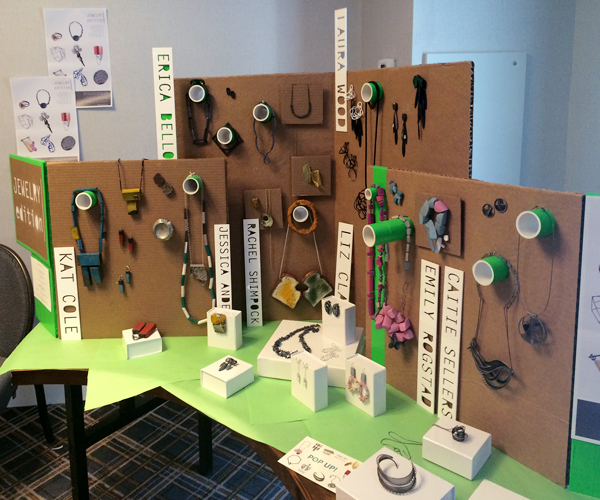 From the humorous Tater Chip earrings by Rachel Shimpock to the color palette of Emily Rogstad's necklaces and bracelets, boldness ran throughout the selected work. Displayed over simple folded cardboards slats with PVC pipes as hangers, there was a certain honesty and no-nonsense approach that made the most precious work approachable.
Jewelry Edition walked a thin line between retail and art display strategies that addressed the working condition of many emerging jewelry artists. As much as Jewelry Edition talks about the artists and artworks, it also reflects on the perceived audience and buyer of contemporary jewelry and what he/she is interested in. This topic is far more typical inside the SNAG Trunk Show: It was refreshing for the two curators to bring this conversation inside Adorned Spaces, where it could dialogue with exhibitions by academic institutions and established galleries.
It was the first time SNAG supported this type of multi-exhibitor event and hopefully not the last. I chose to write about Infra-Ordinary and Jewelry Edition on the basis of their selection of works, but also for the quality of their curatorial outlook: Each offered a distinct perspective on current practice, but also some insight into how, why, and for what purpose jewelry and metalsmithing is exhibited. They provided opportunity for new voices and curatorial strategies to reach the large audience at the SNAG conference and I hope to see more in the future.