The Fashion World of Jean Paul Gaultier: From the Sidewalk to the Catwalk
October 25, 2013–February 23, 2014, Brooklyn, New York, USA
Brooklyn Museum, curated by Thierry-Maxime Loriot of the Montreal Museum of Fine Arts in collaboration with Maison Jean Paul Gaultier, Paris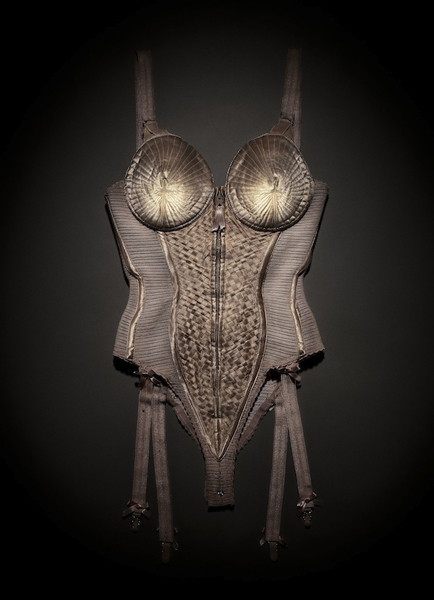 As soon as this boy walked out of the closet, so did an array of skirts and corsets cleverly disguised under the pretense of uniforming himself. The gender of the garments seemed less conceptually inclined toward radicalizing bodies and more focused on showmanship, asking the wearer to strike a pose and stoke the fire of the emerging phenomenon of gender amalgamation—all this with ravishing certainty and without questioning right or wrong. Corsets that over-accentuate feminine curves (in the genre of eighteenth-century period costumes), redolent of exquisite craft and expert mechanics, were transferred to the male body with a suggestive construction of armature enclosing a firm chest. It was not until 1982, with his spring collection L'Homme Objet ("Boy-Toy") that JPG matured into a fashion iconoclast by being the very first designer to present haute couture exclusively for men. From then on, his inverse vision solidified around two tropes: hyper-feminine women taking the role of leader and defined masculine men taking the role of muse.
Unlike other fashion shows recently exhibited at The Metropolitan Museum of Art (Alexander McQueen's Savage Beauty or Prada vs. Schiaparelli) where the crafting of garments was precise and immaculate, JPG's works seem to body forth a roughed-up, lived-in, sculptural existence in which wear and tear, in some cases bordering on decay, evince glamour. Many of these garments were designed specifically for movies or the theater or life on the road (Madonna was a loyal follower), which often drove the unorthodox material that they were constructed from into disrepair, giving them the baggage of lived experiences.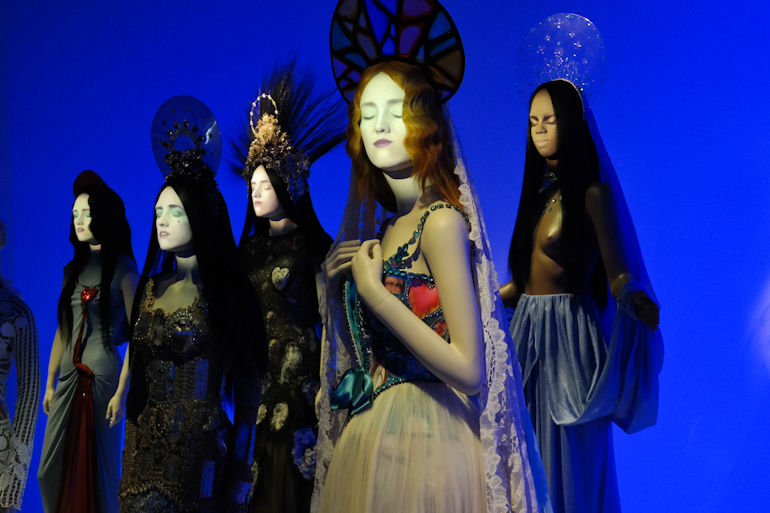 JPG's assaults on couture's archetypes and tailoring techniques seem part of the same dare-dare dance, and the outcome is certainly to our benefit. His collections have incredible value from a historical point of view with regards to craft and technology. JPG grabs a technique and develops it way beyond its reasonable borders. He made corsets for men, then pushed further and designed corset dressing gowns with 6-foot-long trains, and then pushed further still and made corsets for pregnant women, negating the very purpose of the garment itself. He was also quick to embrace laser-cut technology when it first emerged, cutting lace patterns in leather and sharkskin: a play on craft and technology, using the latest invention to alter the most ancient type of fabric.
In the heat of the experience, the face of Ruudt Peters came to mind, and the excitement and expectation I feel every time I dive into his universe and see the majestic gesture with which he pulls another rabbit out of his hat. Perhaps it is because of the way in which Ruudt also weaves and entangles his persona within the fabric of his work. There is an irrevocable sensation that an encounter with the work is an encounter with the man. Then, the smell of Tanel Veenre fills the room, and the opulence and passion with which his necklaces, too, frame and overtake the wearer. This soon is mixed with a scent of Evert Nijland, and the exceptional delicacy and craft his offerings exude. At this point, the room darkens and the role of "poster boy for empowered sexualized gay fashion" lights up the room as if he were a bulb. These men share a sexual identity that almost seems like a requirement to make such exuberant work. That is, until Lola Brooks knocks on the door with a precise beat, wearing (around her heart) a shield of artifice and symbolism, representative of herself as wearer. A window opens and Hanna Hedman blows in like fresh air, with a darker yet sensational take on the fashionable side of contemporary jewelry, disrupting again that queer monopoly. Let us leave this window open for a while.
How interesting it is to wear one's own work. To stand behind it not just as maker, but also as a representation of the demographic where the work may live or where and to whom it should belong. Jean Paul Gaultier would not have shaken the gender norms were he not looking for like-minded people. Ruudt Peters and Hanna Hedman would not pose with their work were they not seeking empathy. The work seems to reach out and ask for more than just simply being adornment. It wants you to know who it is, to understand the humanity behind it. A conversation starts taking place, and the connection between work and maker becomes an absolute, a kind of disclosure that hinges on a form of persona-creation. Of course, it is all still staging, but it appears to say a lot about love and affection, creator and creation. It is an invitation to look into something intimate, something that they are willing to share, something courageous and personal and beautiful beyond the limits of mere object making.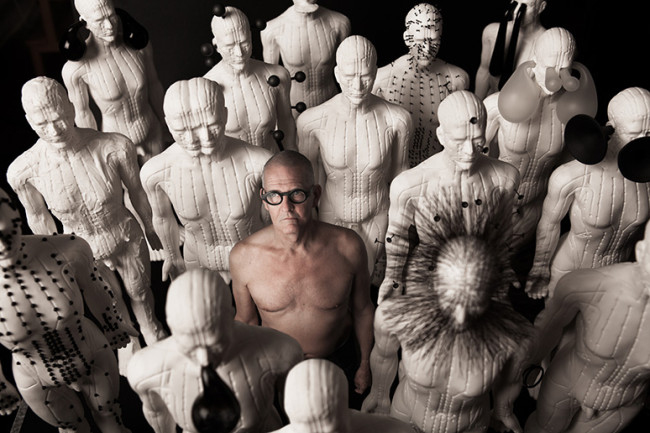 Now, I will rush before the light dimmers and take some photos with my own jewelry myself.
Index Image: Tanel Bedrossiantz modeling Jean Paul Gaultier's Fall/Winter 1984 ready-to-wear, photo: Paolo Roversi