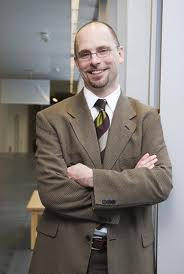 Staying put in the Tiffany Room, Hushka was 'on' again. Co-sponsored by AJF and SNAG, which brought in a broader audience, his second lecture was entitled 'Holding Objects: What it Means to Wear Jewelry – The Psychoanalytic Mechanisms.' Hushka explained that he came to the subject of art jewelry seeking to understand the relationship between the maker and the wearer. He began by exploring the idea that jewelry appeals to many on an emotional level enhanced by facets of one's particular culture. He then expounded on the unspoken messages of jewelry in general and continued on to examine in particular the meaning and message of studio art jewelry. Using psychoanalytical concepts, Hushka presented four different approaches to interpretation. His talk was both contemplative and challenging, but seemed to me at times to try too hard to make the jewelry fit the concept rather than have the concept help to explain the jewelry.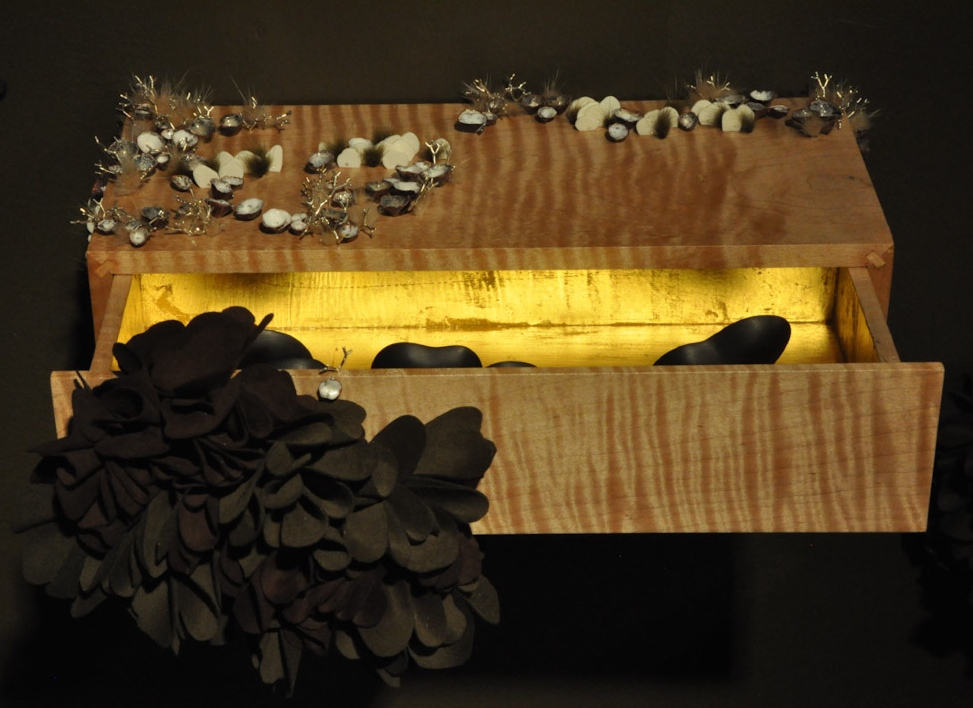 I found the piece to be compelling. The act of truly looking at it was engaging and forced the viewer to wander from place to place along the wall seeking out the hidden caches and fine details. Even with the title and no explanation, the gist of the concept was comprehensible. While it was not the most extreme example of studio art jewelry at the show, I felt it was current and had something distinctive to communicate. The disengaged items of jewelry ranged from easily wearable to somewhat bigger statements, but all were consistent in feeling and concept. As well as Rath's Wanderlux, Sienna Gallery also presented a number of other intriguing artists, although in a far more limited manner.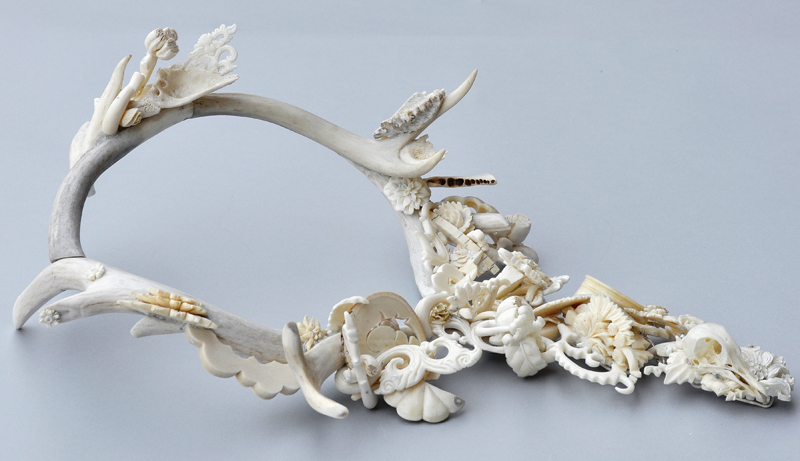 In contrast, Swan's Neck Necklace, a neckpiece featuring a taxidermy brown swan's head embellished with beads, leather, feathers and fabric by the Netherland team Idiots, is far more difficult to comprehend. Due to its well-protected placement within the display area, one has to wonder whether the gallery was a bit unsure of the public reaction as well. With this work, the artists seek to play upon the contrasting ideas of momento mori, the natural beauty of the animal form and the idea of luxury to conjure up whatever thoughts such associations might inspire. It is hard to imagine, however, that adorning oneself with such a piece actually would lead to much conversation between wearer and the confronted viewer beyond talk about the reality of its components. Would wearing such a piece evoke real considerations on the nature of life and death among gala opening-night participants, dinner guests or someone one casually encountered, or would it just serve as a bit of shocking provocation? Perhaps if a viewer was particularly intrigued one might get a bit further into the wearer's interpretive choice and the meaning of the necklace, but it seems problematic. On the other hand, while I have no interest in owning it and even less in wearing it, more than a week later I am still trying to understand the impetus behind the piece.
Maybe it was a carryover from Hushka's talk, but it seems that each of the above artists, despite their differences in style and approach, share an interest in the cerebral connotations of their work. Their pieces suggest a narrative, even if the narrative is completely internal. One might say that much of contemporary studio art jewelry is highly cerebral in its origins, but this group of artists seems to be intentionally inviting an exploration of mental landscapes.
Sergey Jivetin's work, also at Ornamentum, seems less internally focused and more about the possibilities of found objects, scale and form. Jivetin's jewelry forces one to consider everyday objects in new ways. Exhibited pieces ranged from work constructed of tiny watch hand components to large-scale pieces fabricated with carbon-fiber reinforced eggshells. His Poultry Accumulus (Necklace) combines the illusion and preconception of an eggshell's fragility with the reality of 'bulletproof' endurance, to quote Jivetin on its strength. Beyond the technical specifications, the necklace and a similarly constructed brooch juxtapose feminine associations of fertility, i.e. eggs and a soft roundness of form with an energetic vigor, a certain heft and bold compositional statements. Jivetin's work has underlying content, too, but seems less oriented to the internal musings of the individual psyche.