Robert Baines, Peter Bauhuis, Manfred Bischoff, Bettina Dittlmann, Georg Dobler, David Huycke, Daniel Kruger, Christa Lühtje, Bruno Martinazzi, Francesco Pavan, Dorothea Prühl,
Gerd Rothmann, Jacqueline Ryan, Philip Sajet, Bernhard Schobinger, Hubertus von Skal, Tanel Veenre, Graziano Visintin
As I approached the Staatliche Antikensammlungen in Munich, I felt a need to fall to my knees and bow. The museum is built in a neoclassical Greco-Roman style. It sports Greek Corinthian columns and a staircase leading up to huge metal doors. You worshiped Gods here, its stones seem to say. Inside, you are invited to look at ancient artifacts that illustrate tales of heroes, gods, and men. The antiquities museum houses the largest collection of ancient artifacts on public display in Munich and highlights the profound craft and skill of ancient potters, glassmakers, and metalworkers. It was fascinating to see contemporary art jewelry juxtaposed with artifacts of such profound cultural significance and ritual purpose; something art jewelry, I believe, may lack at the present moment.
The museum was filled with people on opening night coming to hear the speech delivered by Wolfgang Lösche. As the talk ended, I walked around the first floor wondering where all the jewelry was. The crowd seemed a bit confused, as was I, about where to go from there. I circled the space many times until I finally noticed people traveling down a centrally located stairway. The gods, it seemed, were hidden away in the basement. The basement had many adjacent rooms with both ancient jewelry and the work of contemporary jewelers. By using standard glass vitrines and displaying the contemporary work as it does artifacts elsewhere, the museum appeared to have approached the display of contemporary jewelry with the intention of creating a connection rather than a contrast to its permanent collection.
There were, in fact, two silversmiths in the group of artists, David Huycke and Peter Bauhuis. Both have distinctly different approaches that are, in my opinion, somewhat antithetical to each other. Bauhuis uses a number of different metals and casts very basic, even archaic, forms (bowls, rings and other objects). These objects bear the patina of use, and—at least to the eye—appear ancient. Their surfaces are painted with streaks of gold, copper, and silver that take on hues of blue, sienna red, and vibrant green. In contrast, Huycke's pieces are illustrative. They take their inspiration from the ancient technique of granulation, one of the most widely used techniques during the Etruscan period. But instead of copying this technique, Huycke enlarges the micro world of granulation into giant objects, bowls, and odd forms. In effect, he takes granulation and brings it into the contemporary realm, giving it the flair of sleek and sexy design. Simple round shapes appear very futuristic, like large models of atomic particles all colliding. While Bauhuis pushes the present into the past, not to replicate but to extract and elaborate, Huycke reaches into the past and pushes toward the future, re-contextualizing an ancient technique into a modern scientific perspective, in what one might call a quantum leap.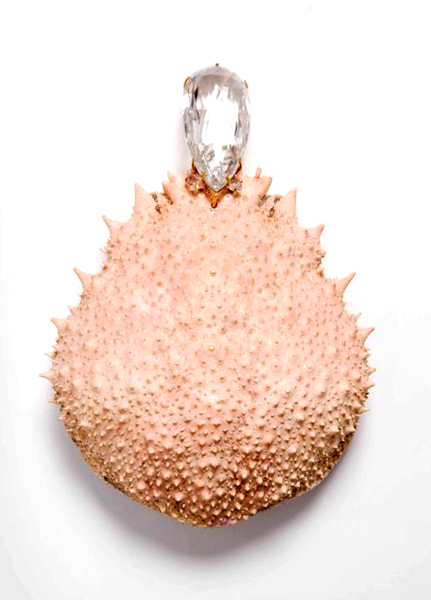 I believe one could say that all the artists were skilled makers. However, the use of the term goldsmith reduces or restricts some of the important assets the contemporary jewelry on display possessed. Bettina Dittlmann's pieces, for example, are constructed from fragile steel wire. Many of her pieces are enameled with garnets held by the most basic of claw settings. While they do not look like traditional goldsmithing, my educated guess is that they require a great deal of skill since one must know how to solder or weld in such tight spaces. The works of Dorothea Prühl could similarly be perceived as lacking skill, if judged from a goldsmith's perceptive. I don't know if I would consider Prühl a goldsmith. Her work is iconic, powerful, and simply made. She used the skill that was necessary to do what she wanted. However, like Dittlmann's work, Prühl's denies us the look of skill or masterfulness that is evident in the works of Robert Baines, Georg Dobler, David Huycke Daniel Kruger, Christa Lühtje, Bruno Martinazzi, Francesco Pavan, Gerd Rothmann, Jacqueline Ryan, Phillip Sajet, and Graziano Visintin—people who obviously could fit the bill of goldsmith. In short, I think the term goldsmith simplifies what this group of jewelers represents, and this simplification undercuts the authorial position of each maker and creates a homogenous view where there is none.
My point is merely this: the grouping method this exhibition utilizes takes the author out of the jewelry, disconnecting the made from the maker. It is important to note that the notion of authorship is paramount to understanding the contemporary jewelry phenomenon. Technical descriptions and material lists do help, but they give a simplistic view of what constitutes the work. Similarly, one can't merely catalogue the pieces. One needs to draw a timeline that includes the lives of pivotal artists, their reciprocal influence, etc. In contrast, the ancient artifact collection does not deliver an author—it can't—and this is not a decisive factor in its appreciation. So, are we to look at the work of the contemporaries through this same lens?
First, art jewelry is made by artists who, unlike their ancient predecessors, have nearly unlimited access to established art theories, to a multitude of theological and ideological perspectives, and are not isolated within their own region. In that respect, they stand here less as documents of a particular stylistic or technical development than as artists who consciously take positions within a multifaceted field. Next, the individuality of differing perspectives is important to art jewelry while in a historical timeline, you look for trends, consistency, and styles. That is how you build a narrative. By disconnecting the contemporary jewelry work from its context and freezing it into a historical perspective, this curation artifactualizes the objects on display and kills the art of it all. The individual artistic voice or ideological stance of each artist is diluted because of this method. When you take a title with such commanding presence as New Jewelry for the Gods and deliver work that seems connected in essence but cannot find cultural agency on similar terms as the work in the ancient collection, there is a let down, a dissonance.
There are only a handful of jewelers who have risen to the challenge of tackling ideological beliefs and the proliferation of social commentary. Otto Künzli's oeuvre is an amazing example of this. His pieces were not just an embodiment of his time—a capsule—but were a contributing voice and critique of the times. During Schmuck, there was a large retrospective of Künzli's work. Viewing the show, I came across a piece called Cotzicteocuitlatl. A multitude of small to large pendants reminiscent of the Mickey Mouse ears were made to appear of ancient origins, and the title is a tip of the hat to where. In fact, these pieces are read as a commentary of the USA's cultural history, literally making a tongue in cheek reference to people that were killed and a culture that was lost, but also to the way American culture has infiltrated Central America. Unlike the curator of New Jewelry for the Gods, Künzli chose to use jewelry's artifactual ability as a strategy.
Did New Jewelry for the Gods live up to its name? Unfortunately, no. The cohesion of the show and the relationship between title and concept seemed inappropriate. It appeared to be a missed opportunity to observe the cultural relevance and significance of work being made today. I believe a more concrete comparison or drawing of similarities and differences may have helped the audience see the relevance of the contemporary work. Its operation is, of course, different, but I believe the curator could have consciously utilized these differences and acknowledged them rather than not touching on them at all. Possibly, the work could be contextualized in the next attempt at a show like this. Where does it live? Who owns it? What do they do with it? Because even though it may be mundane to us, this is what will help generations to come to gauge the importance of this young field's output. A show that extols the connections between the pieces through a stylistic or technical comparison or even through the way in which each party utilizes symbols, visual vocabularies, and thematic content may have proved more successful.