At first sight, this new exhibition at the Palo Alto Art Center, California, holds the delight of a child's playroom. There are oversize drawings on the walls, a large case with a train set in a rocky, wintry landscape and some display cases with peepholes to entice the viewer. Children – and any adults raised on cartoons – instantly get the message.
In a broader sense, the exhibition showcases Metcalf's versatility as an artist, cartoonist, model-maker, jeweler and writer. Mayfield thought the idea was a perfect fit after her previous major successes with traveling exhibitions and catalogs that include Marriage in Form: Bob Stocksdale; Dominic Di Mare: A Retrospective; Big Idea: The Maquettes of Robert Arneson; and The Thought of Things: Jewelry by Kiff Slemmons. She adds that 'organizing each exhibition is a process of discovery.'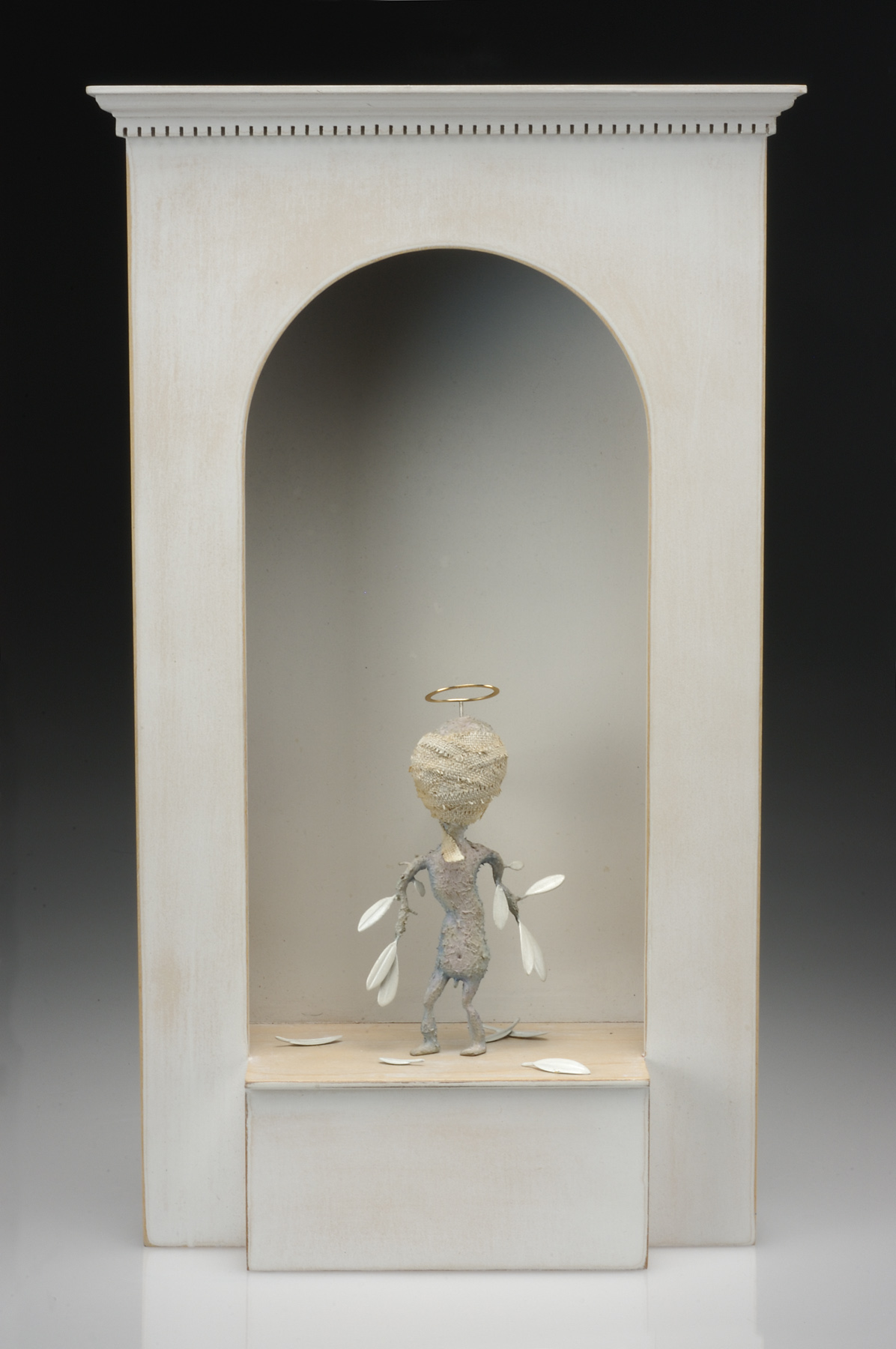 The most fascinating and disturbing pieces are the swollen headed, big-eyed, spindly legged homunculi laughing, crying, striving, pleading and begging for attention. They have a cartoon quality which is simultaneously delightful and repulsive. At first sight, many are no more than goggle-eyed freaks.
On reflection, the power of this artist's message carries a powerful punch. Suggests Mayfield, 'Metcalf's work is intensely autobiographical, but he has taken us outside himself to give a larger framework. His work also expands the potential for jewelry to go way beyond visual expression. He nudges the boundaries of beauty.' In doing so he also invites people to speculate, thoughtfully, about what he is trying to communicate. Adds Metcalf: 'I see all artworks, jewelry included, as having the potential to be symbolic gestures . . . reminders that we don't have to accept things as they are. Either way, it's doubtful that jewelry is an effective agent of change. It may, however, get out into the world and make a few people think.'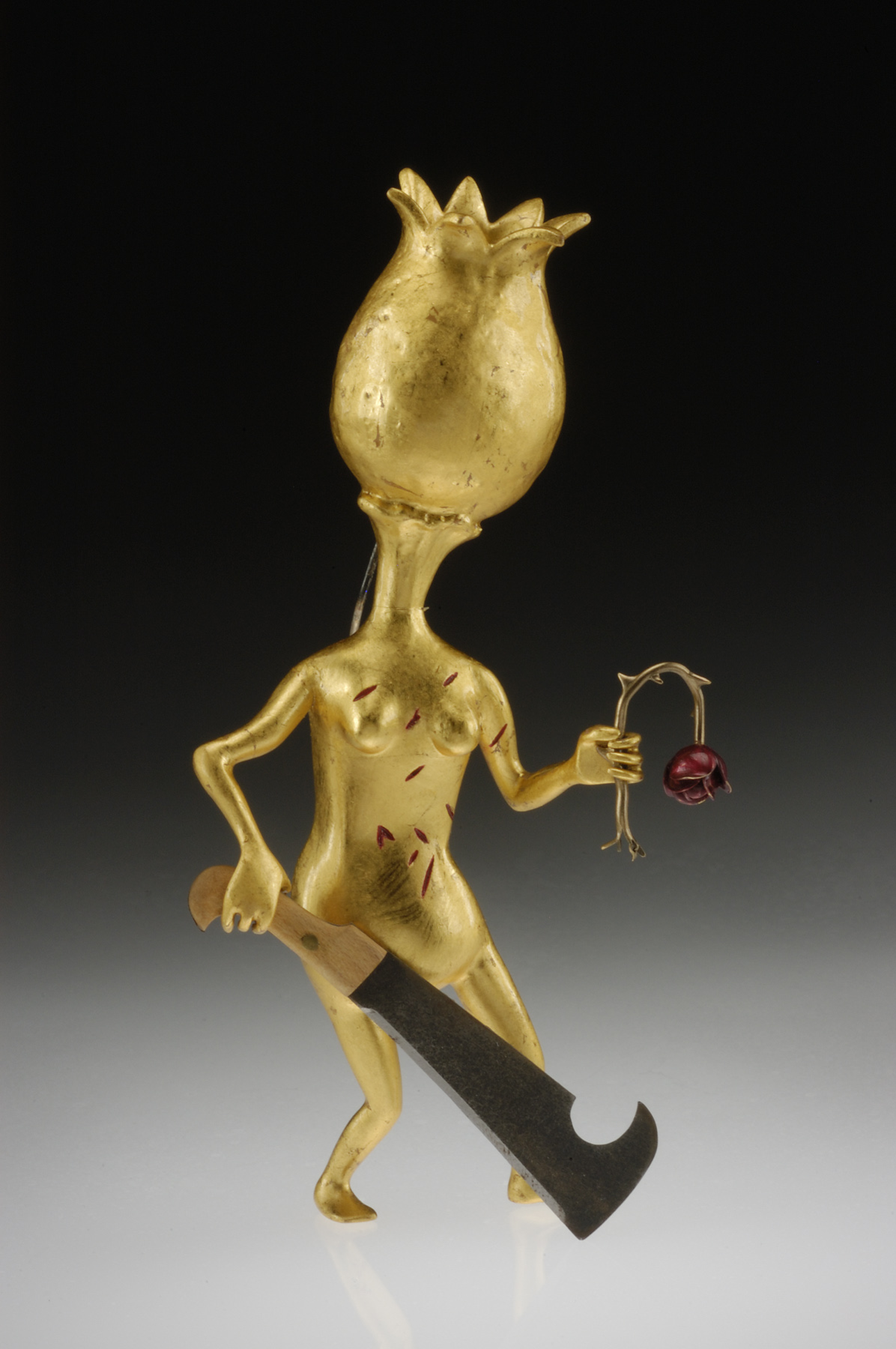 While most of the jewelry is (theoretically) wearable, it is inextricably bound to its (often classical) settings, displaying both Metcalf's intent and his talent as a former architectural model-maker. For example, detach the suffering humanoid caterpillar from Parable of Resistance and you are left with a nasty wriggling thing. Add the copper structure about to crush it and you instantly get the point. Each carefully made setting reinforces the point of the jewel, turning both into miniature sculpture which is its own tiny world, whether it's a classical archway (Soul Catcher) or a wooden shack (Learning to Build). When you look closely at the jewels themselves you also recognize the artist's skill as a master craftsman in metal, wood and any other medium he likes to use. If you are craftsperson yourself, the micro-miniature hammers, shears, nets and other tools carried by the little people are a special delight.
The first challenge of creating this show, said Mayfield, was the imperative not to display the jewelry as flat pieces. The display cases show work standing, or hanging, in thematic design chapters, occasionally located in unusual places to reinforce its message. Hence one of the golden angels hovers in a corner of the gallery close to the ceiling and The New Bunker Mentality hunkers down on the floor. While most of the work openly encourages viewer participation, some are in a doll's house environment seen through peepholes. To create relief from eye-strain, there are enlarged cartoons of Metcalf's artwork sketches, plus a self-portrait encouraging visitors to write or draw their comments.
The second major challenge, not surprisingly, was how to finance both the exhibition and accompanying catalog. Fortunately, the PAAC received help from several foundations, including the Windgate Charitable Foundation, the Rotasa Foundation and the Palo Alto Art Center Foundation, as well as Art Jewelry Forum member Susan Beech and other private donors. Many private and institutional collectors were also generous enough to lend their work to make the exhibition possible.