Fluvial erosion is a process that happens in a riverbed where there is motion – sediment accreting – and then a hydraulic action as the water drags across the surface of the bed and scrapes or erodes it. Fluvial erosion comes to mind on encountering John Iversen's jewelry at Patina Gallery in Santa Fe. You might also find yourself grokking architectural metaphors such as fold or drape, because the jewelry appears not so much to fit on your skin as to wrap it
– as if the span of bracelet were a section of riverbed sliced out to preserve the crackly skin breaks, yet fluid and sinuous, with a tensile strength that makes the backbone of the jewelry a fascination of hinges.
I did not know what to think when people began mentioning Iversen's jewelry with a spread-the-word urgency. Indeed, I had seen Ivan Barnett wearing a piece on his bone-colored lapel at the opening night of SOFA Santa Fe. Interestingly enough, when I went to the gallery for an up-close-and-personal encounter, a gentleman who was contemplating a brooch for his wife pinned another Iversen brooch, epaulet-like, on to his shoulder. It was as if there were an echo between men finding these slim-edged sections of – call it earth facsimile or second skin – goads to self-ornament.
Anatomically, costume-historically, we're used to a brooch. It's a diplomatic remark à la Madeleine Albright, a conversation starter that still works as shield or miniaturized armor. That feels, when you put it on, hard.
But not here. As I draped the Iversen brooches or bracelets across my palm, what surprised me was their lightness, how the pieces maintained a pliability and motility that goes to metal as skin. Metal as skin with the skin facets of pore or line, a contour geology that is peristaltic as the organism (the metal) sitting in a bath of solution, reject byproducts of its metallurgic past, so that copper leaches out of sterling and the surface patination ensuing is a pickling, a whiteness at once impermeable and translucent.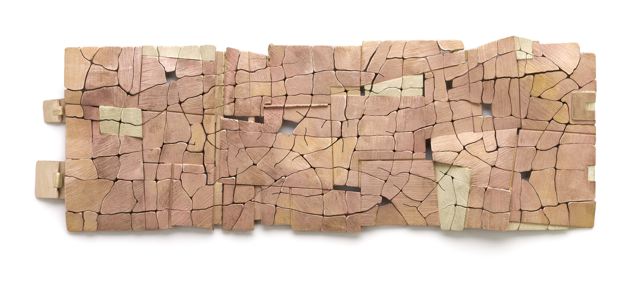 In my jewelry lexicon I also own a ring by Michael Zobel that he fashioned out of a conch that had a naturally occurring pearl in it. There has not been one time when I have worn it out when someone has not lifted my hand in a motion of drinking out of the cup that is the shell curve.
I'd like to think that, if wearing a John Iversen bracelet out, when someone lifted the wrist to examine its new armature, the minimal yet exquisite surface would appear to hold a sense of touching the dust of the past that has sifted out from the cracks which, paradoxically, hold this jewelry together, into a gestalt of making that is a masterpiece of form.