Svenja John and Petra Zimmermann originally developed Jewellery & Garment as a fashion-week side event. Their aim: to attract new audiences to author jewelry
The curators paired jewelry by 10 makers with garments from 10 avant-garde fashion houses
The jewelry is on loan from the artists
The deliberately wearable garments are not catwalk showpieces. Some were acquired especially for the exhibition from international secondhand sources, while others come from private collections
Jewellery & Garment
July 8, 2022–January 15, 2023
Bröhan Museum, Berlin, Germany
It seems so obvious: an exhibition that combines contemporary art jewelry and shows how it can be worn with anything from avant-garde couture to a T-shirt and jeans. In my many decades as a collector, I've never seen an exhibition that illustrates the possibilities the way that the show currently at the Bröhan Museum does. Jewellery & Garment, curated by Petra Zimmermann and Svenja John, will remain on view at this prestigious decorative arts museum until January 15, 2023.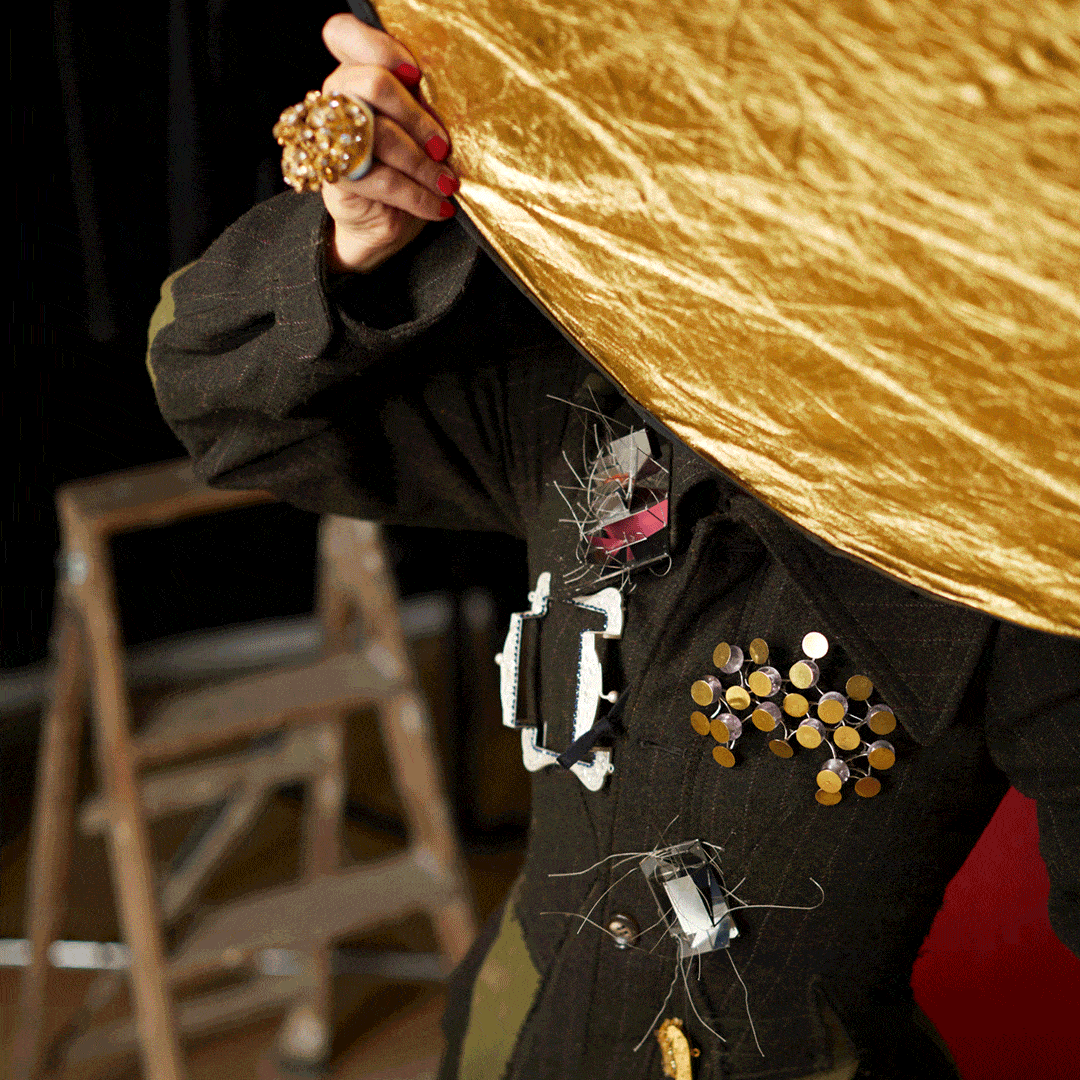 As this exhibition shows, fashion and art jewelry share a vibrant visual and stylistic dialogue, one with terrific energy and excitement. The concept is a new direction for jewelry shows, although there will always be a place for static artistic exhibitions.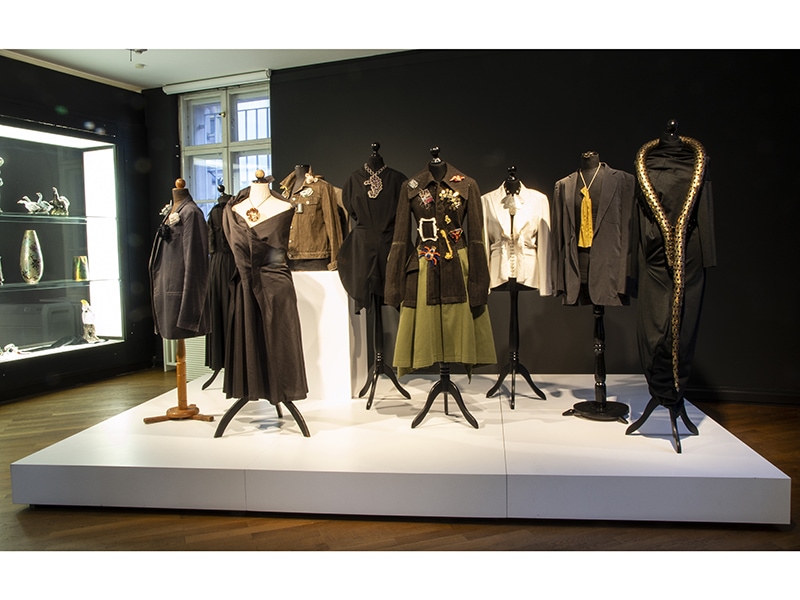 Jewellery and Garment takes one's breath away. The opening room, as one enters the museum, contains eight dressmaker's dummies on pedestals, each clothed in fantastic vintage clothing and most wearing at least four brooches or, at the very least, one show-stopping necklace.
The common thread—pun intended—among the fashion designers in the show is that they all have an artistic aspect to their designs. The curators chose the Japanese Comme des Garçons and Yohji Yamamoto, along with Belgian designers Dries van Noten, Ann Demeulemeester, and Martin Margiela, among others, as representatives of the forward-thinking fashion that turned Parisian notions of elegance and luxury upside down starting in the 1970s.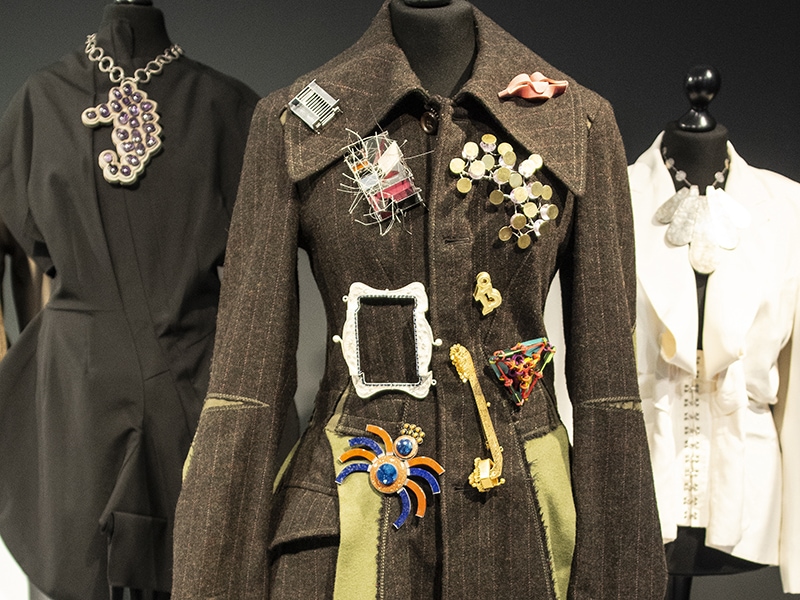 Three black early Comme des Garçons dresses have the brand's wild shapes and typical "bumps." A seahorse necklace by Helen Britton tops one off, and David Bielander's oversized titanium and silver python encircles another. The only French designer whose garments appear in this exhibition is Jean Paul Gaultier. He made the cut because of his radical approach, ignoring gender conventions and including elements of subculture into his designs. His white silk jacket topped with a Daniel Kruger necklace form a perfect and stunning match.
The curators believe that the American designer Rick Owens also has a similar sensibility. They partnered him with the renowned Dorothea Prühl. Together they work in tandem: her wooden necklace on his leather jacket.
The curatorial choices make readily apparent the parallel aesthetic between the approaches of the selected jewelry artists and fashion designers. Many of their artistic strategies are similar. They reveal construction instead of hiding it. Wayward threads pop out of Peter Skubic brooches and Maison Margiela and Yamamoto dresses. Secondhand materials and found objects get incorporated into designs. This was sustainable fashion before it became fashionable.
After the pandemic caused two cancellations of the event during fashion week, the Bröhan invited the curators to bring their project into the museum. So the dialogue between the clothes and the jewelry is only a part of the conversation. There's a third component going on in this exhibition: the exquisite collections of the Bröhan Museum.
The Bröhan collection is housed in a building that was once part of the Charlottenburg Palace. This is the place in Germany, and specifically Berlin, to see the main trends in the history of design between 1890 and 1940. From French Art Nouveau, British Arts and Crafts, Art Deco, and Jugendstil (Viennese Secession), to Modernism, functionalist design, and Berlin Secession, it's all here.
The curators added elements from the museum's permanent collection to the mix, elevating the exhibition with a rich mix of varied visual elements and design traditions. Transparent rings by Yutaka Minegishi rest among the rare stemware in the Bröhan collection, as Peter Skubic rings dance among sleek Art Deco coffee and tea sets. Mushroom rings by Petra Zimmermann grow in fields of flowery porcelain. A David Bielander pineapple becomes a drinking vessel for a porcelain parrot. Daniel Kruger necklaces are displayed among Art Nouveau vases. And Karl Fritsch's brilliant rule-breaking rings fit in perfectly among collections of dazzling cut glass.
Svenja John receives a special distinction. Two of her intricate polycarbonate necklaces adorn two beautiful gowns in front of two of the most iconic furniture pieces in the Museum. The first, paired with a billowing orange tunic dress by Ann Demeulemeester, stands before Hector Guimard's Water Lily buffet. The other, worn with a Junya Watanabe gown made from old military clothing, is displayed in a French Art Nouveau dining room by Eugène Gaillard—a room that was shown at the Paris world fair of 1900.
A mannequin clad in Margiela and Van Noten and wearing a Petra Zimmerman necklace made of five antique evening bags completes the fantasy dinner party. Lisa Walker's textile necklace in the shape of crossed arms looks over the whole extravaganza from the top of a tall cabinet. And while devices don't belong at the dinner table, her cell phone necklace beckons.
This show will surely spark an appetite for contemporary jewelry, especially among fans of cutting-edge fashion.
Editor's note: Check out the Bröhan's digital guide to the exhibition here, and see additional photos of the exhibition and works in it on the exhibition's Instagram page.