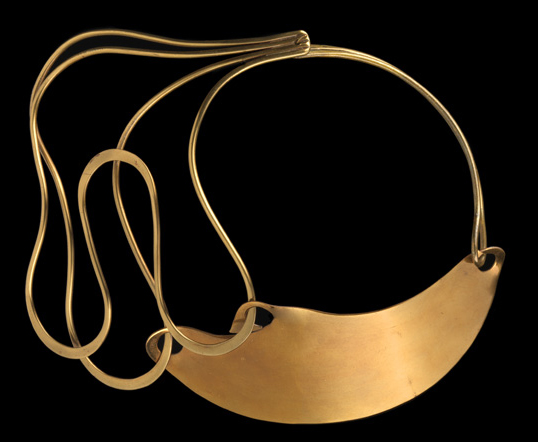 The quality of most of the pieces is remarkable and reflects decades of collecting by the American Crafts Council through the museum (formerly the American Craft Museum) and important gifts by organizations such as the Johnson Wax Company and by the jewelers themselves. MAD's collections contain some of the iconic pieces in the art jewelry field. Sam Kramer's 1958 Roc Pendant, Art Smith's 1948 Neckpiece, Arline Fisch's 1966 Body Ornament and Hiroko and Gene Pijanowski's 1985 Neckpiece Gold No. 1 are good examples of the significance of the collection.
Inspired Jewelry begins with a good essay by curator Ursula Ilse-Neuman, who gives an introduction to the different subsets in the collection. Examples are given of modernist jewelry, conceptual and narrative jewelry and jewelry inspired by new technology.
The book is organized by decade and the pieces are shown one-to-a-page in glorious new photographs mostly taken by John Bigelow Taylor and Dianne Dubler. Page after page, these beautiful large images celebrate the achievements of the field. The photographers should be congratulated for their sensitivity to the varied materials and forms of the works. Where the book fails is context. Many of the artists represented here were pushing the boundaries of what jewelry can accomplish, not only in terms of how a piece is actually worn, but the intent of the work as well. Showing Arline Fisch's body ornament off the body robs the piece of what made it so extraordinary. The images are terrific but I find myself wanting more. Some of these pieces were originally photographed under the direction of the artist and these contemporary images of the work are as important as the pieces themselves. The image of Caroline Broadhead's Veil from 1983 misses the drama of the original photograph.
The captions for the pieces are complete, including information about how the pieces entered the collection, but amazingly, there is no index. There is a list of artists in MAD's collection, but no checklist of pieces. The book may be intended for a general audience, but for those wanting more detailed information about the artists it is very frustrating.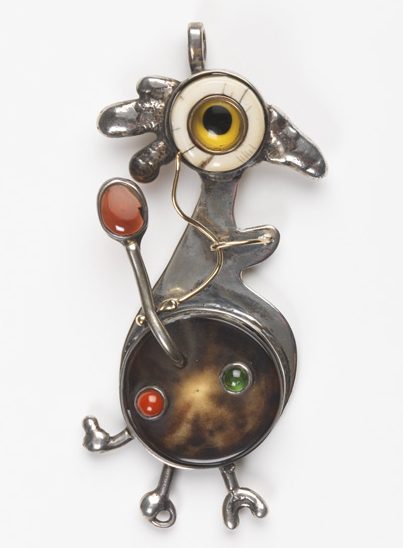 There are other collections and books on the way. Boston's Museum of Fine Arts has a book coming about the Daphne Farago Collection of contemporary jewelry. And pieces from Donna Schneier's collection have been acquired by The Metropolitan Museum of Art and The Racine Art Museum. I hope that publications about those collections will provide the important information that allows the field to understand where it has been and where it is going.
Inspired Jewelry should be in every collector's library, even with its shortcomings. Make sure you see the terrific jewelry galleries at MAD next time you are in New York. The book will make you want to go.