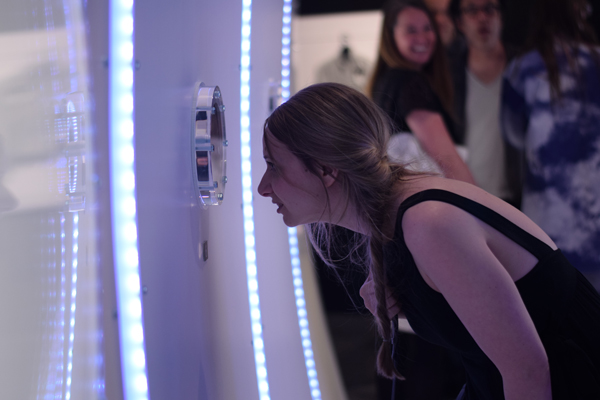 Jana Brevick: This Infinity Fits in My Hand
April 17–August 16, 2015
Bellevue Arts Museum, Bellevue, Washington, USA
PuzzleGuts (1999) sits high atop a white pedestal, jointed silver limbs splayed comically akimbo. Cartoonish and endearing, the wearable robot serves as a fitting emissary of Jana Brevick's exhibition, This Infinity Fits in My Hand, on view at Bellevue Arts Museum through mid-month.
The work featured in Brevick's mid-career retrospective spans nearly two decades of practice. Earlier pieces, like PuzzleGuts, demonstrate her skillful handling of materials and tools, and an acute interest in metal as a subject—how it can be wrought, dematerialized, and conjoined with unexpected compounds. For the Elements and Diagrams series (2000), Brevick cast and fabricated with visible acuity, experimenting with all manner of precious and nonprecious material to create alloys, delicate conduits, and crystalline growths that draw out the potential for transformation from her jeweler's bench.
In the mid-2000s, Brevick began to look beyond processes and properties of metallurgy to lend a conceptual framework to her craft. That work crosses varied disciplinary boundaries, veering into the fields of communication, technology, and science fiction. Escape Route (2005), a sculptural installation from the Tiny Universe series, is comprised of a stream of wall-mounted miniature ladder rungs leading down to a sterling silver hatch. Curiously opened and dramatically dark, the action-figure-sized cavern embodies Brevick's sense of humor, and desire to build a more explicit narrative through her work. Similarly, the objects in her Spy series are pieces of sculptural assemblage that nod to the button-covered, droning computer systems of late 20th-century Hollywood. Clunky and strange, the sculptures delight the children of Pixar, though they were clearly conceived by a child of Erector Set.
The Action series translates Brevick's burgeoning interests in material experimentation and retro-future narrative into wearable forms. The necklaces integrate sterling silver facets with bulbous rubber ventilators and coiling tubes to create stethoscope-like instruments that appear to have the capacity to diagnose or communicate. With the Eavesdropper series, Brevick brings the theme of communication to the fore. Sterling silver and steel mesh satellites hang as jewel-like pendants from the necklace Listening (2010), a piece that explicitly links systems of surveillance and social connection to the physical human form. Of Course We're Listening (2006) features a single satellite as a combination pendant and brooch. Like a protective talisman, the piece acknowledges our collusion with the invisible forces that listen, record, and relay information around the globe.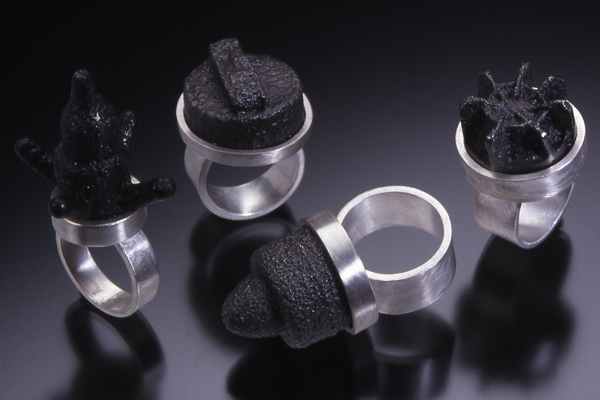 Brevick's exhibition culminates with Atomic Exfiltrator: Ship Seven (2015), a large-scale installation made in collaboration with Hahn Rossman that eschews the white pedestal in favor of an immersive display. Visitors are led through a curtained entrance down a white corridor that has two rows of portholes carved out on either side. Intended to emulate the windows of an exploratory craft, the apertures—some large, others like small periscopes, are doubly reminiscent of sidewalk displays. Backlit jewelry and ambiguously sized sculptural works are revealed behind each round pane of glass. Simultaneously atomic and planetary, the pieces collapse large and small, significant and inconsequential, evoking the vitality of high-performance technology in tandem with the triviality of adornment.
Can bodily ornamentation provoke a deeper understanding of intangible systems? How does the gesture of placing a necklace over your head and feeling its weight absorbed by your body facilitate an elemental connection with the universe and with other people? Despite the tongue-in-cheek overtones to her narrative, Brevick's work addresses many of the monumental themes that also concerned the late 20th-century film cannon that she references: communication, surveillance, and the infinite well of knowledge that exists within the universe. Moreover, she expands jewelry's capacity to communicate beyond the streetwise cues of cultural identity, status, etc. Berwick's artworks symbolize communication devices in themselves—satirical pieces of technology that link the wearer to the social and informational flows around them.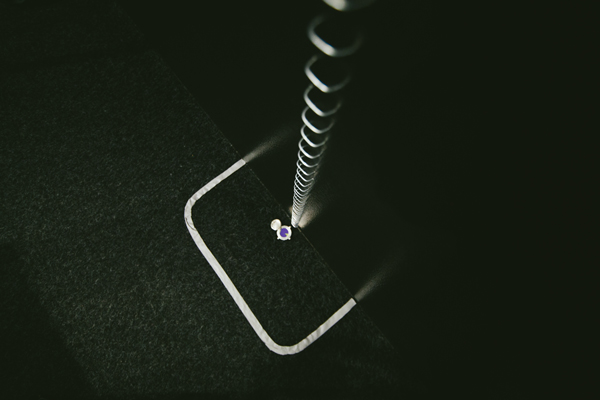 This Infinity Fits in My Hand is a brilliantly conceived title given the breadth of Brevick's ongoing pursuit. The subjects addressed in her practice are literally infinitesimal in scope; yet, the language of jewelry allows her to translate these nebulous, ephemeral concepts into material form. The only thing lacking in the exhibition is the kinesthetic knowledge that comes from physical contact with each piece (this is an unfortunate by-product of museum display). This is why the inclusion of the Atomic Exfiltrator is so crucial to Brevick's endeavor. The architecture of the space forces viewers to confront their sense of physicality as they lean in to view the interior of one aperture, and then step back to survey the next. An embodied relationship develops with the work on view. Viewers are transported, becoming the explorers and space adventurers that Brevick has set them up to be.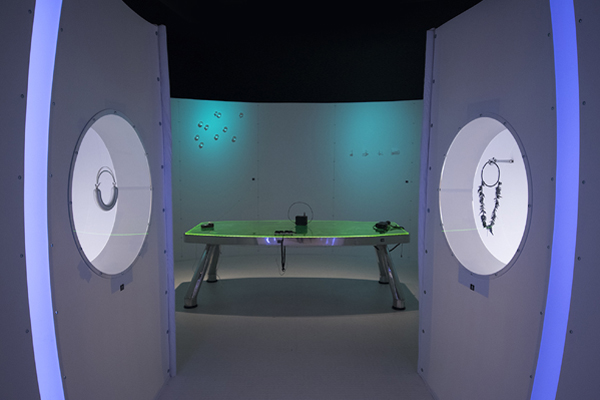 The Atomic Exfiltrator ends at a glowing green table supported by bulky aluminum legs. Beyond sits a static white wall—intended to read as the perimeter of a mission control station. Melodramatic and hokey, the space conveys the comedic affect that defines Brevick's 1960s cinematic precursors. She, too, is scripting an adventure from within a cardboard box. Albeit slapstick, Brevick's installation is steeped in potential—the potential for jewelers to produce experimental forms that cross genres, play with narrative, and reimagine the relationship between object, body, and world. Brevick demonstrates that deeper connections between things can be explored through the materials and processes of craft. Matter undergoes transmutation, and so can contemporary jewelry. Brevick's mission to explore and experiment continues—her own black monolith awaits.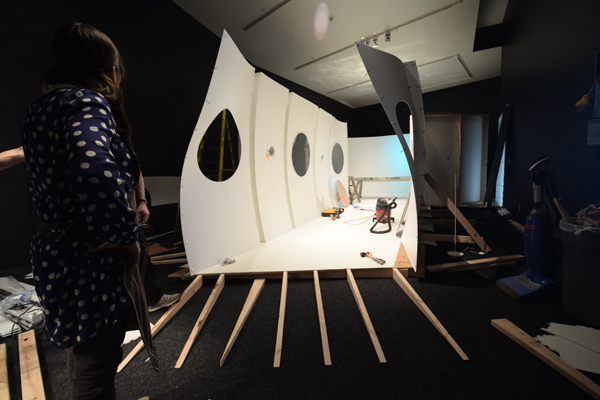 Index Image: Jana Brevick, Send and Receive, Atomic Exfiltrator, 2015, sculpture, sterling silver, 1m x 85cm x 8cm, photo: artist