Bernabei begins with a historical overview of European jewelry from the Middle Ages to the present day. All too often, the studio art movement is touted as the father of the studio jewelry movement, leaving students with little sense of the origins of the discipline. It is therefore refreshing to read a history of contemporary jewelry that draws parallels to the working practices of jewelers through the centuries, charting how techniques and ideals have changed, and the ways in which jewelry's past has influenced its present.
Bernabei then makes a point of creating a distinction between two kinds of jewelry on the scene today—jewelry as content and sensitized jewelry. Jewelry as content, according to the author, uses the format of jewelry as a vessel for communicating a wide variety of ideas. These range from social commentary to autobiographical narrative to more insular conversations such as the politics of adornment, the nature of beauty, and the mutability of value. Bernabei defines sensitized jewelry as work in which form is content; jewelry concerned with the relationships of colors, materials, and wearability.
The interviews that make up the heart of this book are engaging and thought provoking with occasional bursts of humor. The artists speak with a conversational tone, and their (sometimes) polemical viewpoints provide good starting points for classroom dialog. Each interview gives us a tiny glimpse into the inner workings of the artist's studio practice, focusing on how his or her work is developed and what concepts drive his or her creative thinking. With few exceptions, Bernabei chooses her questions well. Potent and open ended, designed to touch on some of the most fundamental issues in the field, her queries have a way of unearthing something surprising and contentious in even the most conservative and formal jeweler.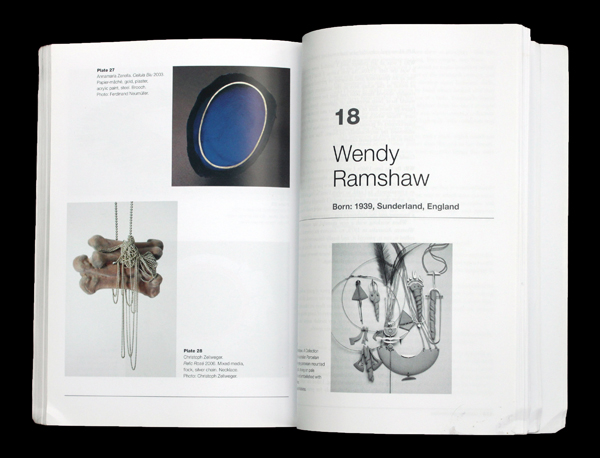 The chosen artists are all strongly committed to the format of jewelry. This allows them to approach the interview questions with a great degree of intensity and insight. It is easy to overlook the big questions that are often taken for granted in a field. For art jewelry, these questions include: What does it mean for something to be wearable? What is function? What is the cultural relevance of jewelry today? When was it that someone first looked at an object and experienced the mystifying need to hold it to their bodies, to pour into that object a meaning simultaneously about and beyond themselves? I suspect that this strangely ethereal power is what drew many of us to jewelry in the first place, but the opportunities to discuss the deep, pervasive, eons-old power of jewelry are disturbingly few. In reading this collection of brief interviews, the attractive force of this mode of expression bleeds through the pages and eddies in the contrasting responses of experienced and innovative artists.
Take, for example, the differing opinions presented on the nature and importance of wearability. Manfred Bischoff adopts a modernist approach, claiming that a "ring must be able to survive without the hand or fingers. You can turn it, and it must function from all viewpoints like a sculpture." (65) Compare this statement with the fiercely reductive approach of Ruudt Peters, who takes the opposite tack. "When you wear it, then it's jewelry. When you don't, it's an object." (158) Between these poles, there are a myriad of subtler, more conditional views. Ted Noten posits, "People are so obsessed that you have to wear jewelry, but I always say you don't have to wear it. That it can have meaning by itself." (148) Piecing together these views, we arrive at a sort of choppy conversation, allowing us to map out these artists in relation to one another, which in turn helps us understand the nature of the field.
The clarity and commitment of this book's mission is admirable. It aims to provide primary source documentation of the motivations behind influential European jewelers working today. As such, it will certainly be a boon to educators and practitioners alike. Toward the end of the book, I found myself wishing that one or two interviews had been conducted jointly to turn the focus from a single artist's practice to the future of the field. Here's hoping for another book.