A dealer gallerist with 20 years' experience is going to be closer to this subject than most other people. She comes into contact with a constant stream of new jewelry, is in constant touch with what the public likes (or doesn't) and is constantly searching for the best workmanship. Two decades ago Renata Slavik opened a new gallery in Vienna dedicated to art jewelry. In Art Meets Jewellery, the book of her experiences, she confesses that, from selling antiques, she was entering an entirely new world. 'I had no idea I was setting out to explore a little known field,' she writes. How did she get to this present point in her career where she could understand how art meets jewelry and the challenges involved?
Art Meets Jewellery is a book which provides a nice insight into a dealer gallery in action. Its most joyful section is 24 full-page, color portraits of Slavik's gallery attendants. They are photographed mostly in a state of rapture – laughing, preening, occasionally pregnant or holding a dog. What is important is that each piece of jewelry they wear is a perfect example of how jewelry allows them to express themselves in a totally new way. To quote Hermann Jünger, 'A piece of jewellery is incomplete without the person who is to wear it, who will identify with it and who wants to live with it. Art jewellery does not come alive until it is worn, borne around, and seen from near and far. For them it become a part of life and so much more than just an exhibit or an investment.'
The work they choose to wear and display is very varied – from a gold geometric cube by Giampaolo Babetto, to a large, flamboyant necklace of multicolored pendants by Claudia Cucchi. Unfortunately, there is no detailed description provided by the jeweler, though some of the work shown in the book's catalog comes with an artist statement. And these statements are revealing if you look closely. Mari Ishikawa says, 'The shape of plants attracts me . . . they show me a perfect pattern again and again and again.' Margit Jäschke notes that, 'My jewellery often evolved from a spontaneous impulse inspired by the sensuousness of materials and forms.' According to Gabriele Lehsten, 'The theme of my necklaces is connecting geometric forms.'
The women are photographed on a golden background – presumably the work of the Hoke brothers, who have created an ideal setting for them and their jewelry. The gallery has flexible display features that have hosted a variety of exhibitions and proved an excellent meeting place for artists and collectors. Over the past 20 years, Slavik has put together a menu of exhibitions, initially representing Austrian and German artists, both well-known and up-coming. Then she branched out to include Italy, notably Giovani Corvaja, Stefano Marchetti, Barbara Paganin and Annamaria Zanella. The search for art jewelry took her to Catalonia, with Ramón Puig Cuyàs. In 2002 she sat on the jury of the GRASSI Museum of Applied Arts in Leipzig and founded the GRASSI prize, which is awarded at the museum's annual decorative arts fair. Today she represents a stable of international artists, coming from countries as far afield as Denmark and Japan.
Of the eight different contributors to the book, four do not throw any particular light on 'art' jewelry. The foreword, by Slavik and Claudia Lehner-Jobst, a freelance art historian and curator for a private collection, provides a detailed history of the gallery. Thomas and Edmund Hoke write about some details of the architectural and display work involved in the gallery environment. The most interesting text is by Barbara Maas, a lecturer at the University of Applied Sciences, Dusseldorf and a widely known author. She begins by acknowledging ignorance – 'jewellery had never interested me all that much' – and then continues to provide an erudite introduction to a series of important jewelry exhibitions and the burgeoning of galleries in Europe. Her essay addresses contemporary jewelry in Japan, the work of Mirjam Hiller, the influences of art styles including Art Informal, Kinetic, Pop and Minimal Art and the spirit of 'provocation, rebellion and renewal,' which included the rejection of traditional goldsmithing techniques.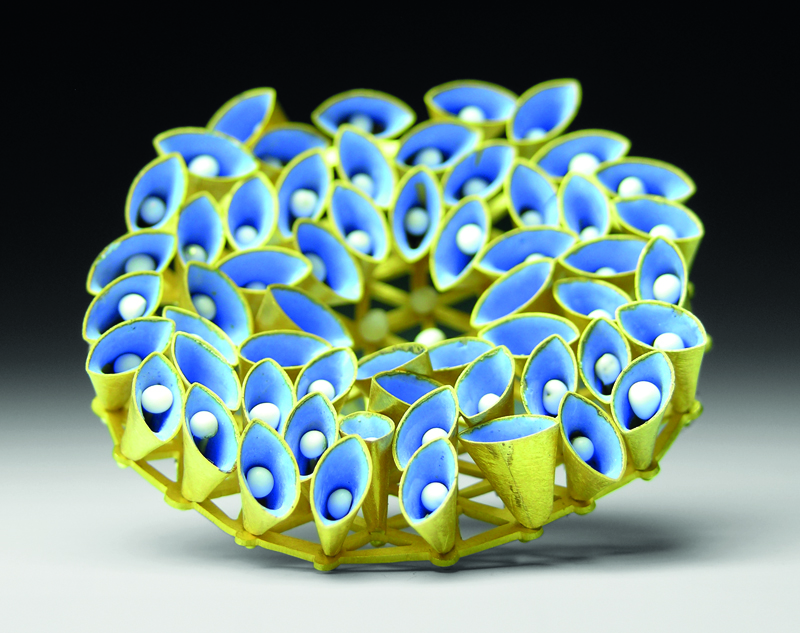 The most important contribution of Art Meets Jewellery is the enormous variety of high-class work illustrated in its pages. Color plates of all the 63 jewelers featured in the book are gorgeous and supplemented by biographies at the back, plus a handful of enthusiastic comments by visitors and purchasers. As Walter Pater put it, 'Art comes to you proposing frankly to give nothing but the highest quality to your moments as they pass.' Art Meets Jewellery shows how art jewelry can contribute to exactly that experience.