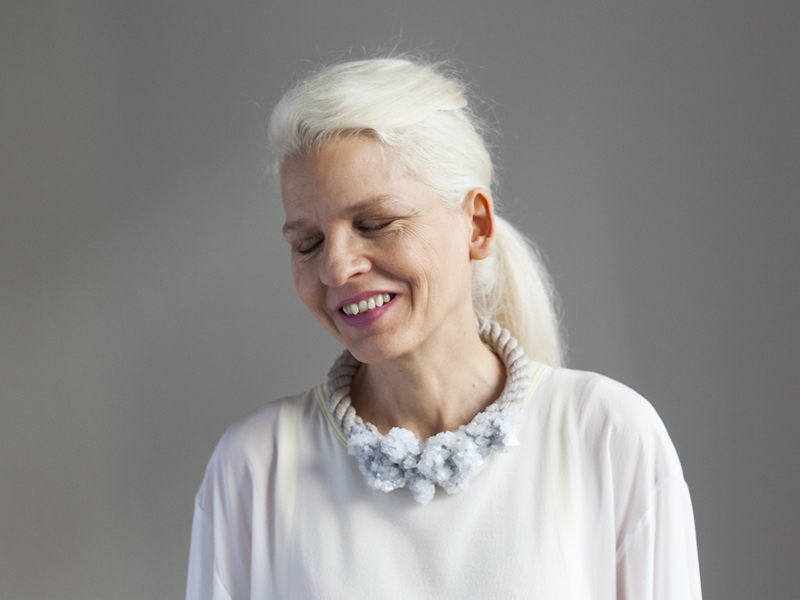 As part of Stockholm Design Week 2016, and in conjunction with the Czech Centre in Stockholm, Platina has shown the work of design duo Daniel Pošta and Zdeněk Vacek, who work under the brand Zorya. In this interview we talk to one half of the team, Daniel Pošta, about their exhibition, Virus, and the thinking behind it.
Sandra Wilson: With backgrounds in architecture and traditional design, what is it that drew you both to contemporary art jewelry?
Daniel Pošta: Zdeněk studied traditional goldsmithing and for a short while after completing his studies he worked repairing antique jewelry but, in his free time, he created original pieces for his friends. I studied architecture and design at UMPRUM—the Academy of Arts, Architecture and Design in Prague. Our collaboration started with a joint exhibition during Prague's Designblok in 2005.
We were both greatly surprised and honored when we received the prize for Best Presentation; Zdeněk also received the title of Talent of the Year. After that, we worked together on various projects in which design and fine arts overlapped. However, it was not until 2011, when I returned from my internship at the Dutch Makkink & Bey design studio, that we decided to focus on jewelry presented under a common label.
Our focus on jewelry must be viewed within the slightly broader context of the environment that formed us. At that time, design in the Czech Republic was presented at exhibitions and in luxury magazines, only slowly entering the mainstream. For the most part it consisted of prototypes that never went on to be produced. Thanks to the wild onset of capitalism in the 1990s and the subsequent financial crisis, most of the original enterprises either went bankrupt or were not yet at the stage where they could employ fresh young designers. Those companies that remained usually exported their products to Russia and to the Near East, where expectations of the visual aspects of objects far exceeded our understanding.
By that time, Zdeněk had already earned a good reputation among local clients. Establishing a jewelry-making workshop, where we were able to influence every step, from the initial concept to the final presentation, was a natural alternative to emigrating and working abroad.
What does your brand name, Zorya, mean, and where does it come from?
Daniel Pošta: Zorya is our alter ego, embodying the soulfulness that we want to have permeate through all our jewelry. The basic ingredients are philogyny—fondness toward women—and the motif of time in the positive sense of the word. We perceive it as transformation and rebirth.
We found this concept personified in the triune guardian of the stellar canopy. In Slavic mythology, Zorya is three entities—the evening star, the midnight star, and the morning star. She is depicted as a woman who, every night, transforms from young maiden to mother, then from mother to old woman. She is reborn every evening and disappears when the morning comes. Her strength lies specifically in this never-ending fluid transformation.
You've been working together since around 2005—what is it that each of you brings to the partnership?
Daniel Pošta: In Zdeněk's case, in addition to his expertise in his trade, it is his typically playful and spontaneous approach to creation. He has a talent for transforming hard cold metal into soft natural shapes, thus breathing life into it. Through intuitive playing with various combinations of materials, he is able to evoke both the fascinating fragility as well as the energetic liveliness of nature. In comparison, my approach is more analytical and I have a tendency to place the structure of an item into a broader context where form follows meaning.
These two apparently contradictory approaches are why we complement each other.
What joins us is our desire to experiment with form and meaning, and to combine technological processes with the creative ones that are not present in traditional goldsmithing. We let ourselves be inspired by chemical processes together with natural and physical phenomena. We are interested in manipulating technology and we consider an error in the process as a creative impulse.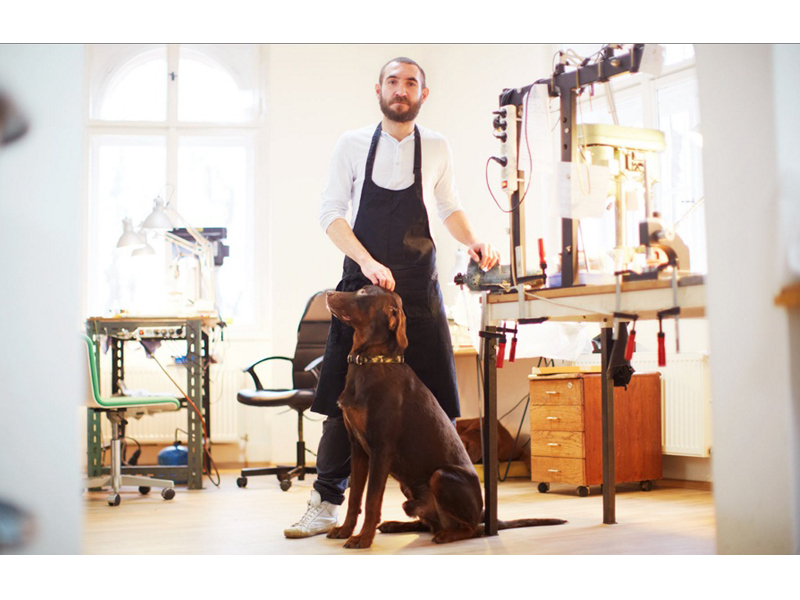 For the show Virus, how long did you spend experimenting in the laboratory, and what was most surprising and unexpected from this period?
Daniel Pošta: We first presented the core of the collection in Prague in 2011, when we actually exhibited only the sketches of the items that are now on display at Platina gallery. We were primarily experimenting with the crystallization of minerals without any plans to create wearable jewelry.
At that time, the collection caused an unexpected sensation in Czech art circles. When we were first working on it, not even in our wildest dreams did we think that we might one day see the designs on the main evening news and on magazine covers!
We started converting the sketches into their functional forms only thanks to the unexpected interest of clients and the media, which peaked after we received the Czech Grand Design award, which is the most prestigious national prize in the field of applied arts and design.
During the next five years, we continued to perfect the crystallization process in order to make the jewelry practical and wearable in spite of its size and apparent fragility. Nowadays we are able to artificially intervene in the process to blend the effects of time and chance.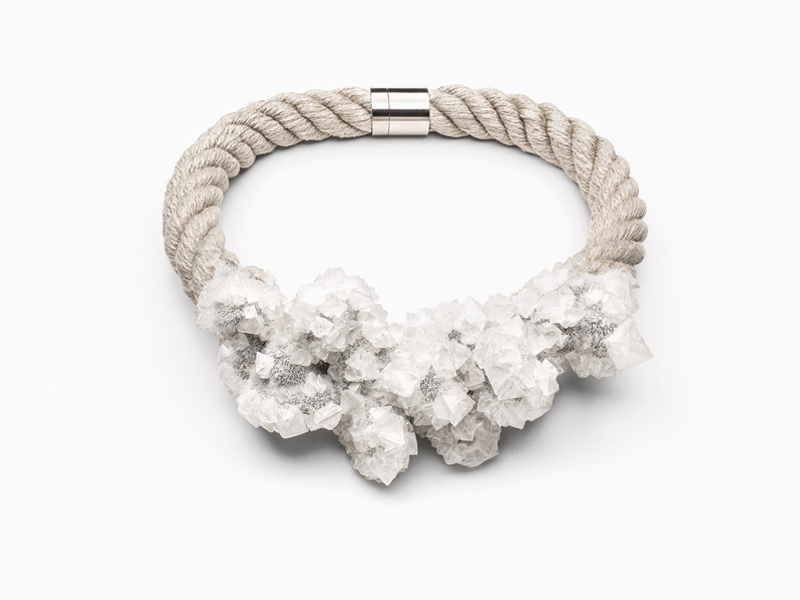 There is a close-knit team of people who work with you to realize your ideas—how has this team come together, and how do you decide on the division of labor?
Daniel Pošta: We consider the concept of creation by an individual to be outdated, i.e., that a single person should create a concept, design and produce an entire collection, and then possibly even photograph it and prepare a show. We live in a time when it is normal to share information, data, and even our homes. Innovation in science has sped up thanks to the interconnection of apparently distant fields of study. This trend has seemingly bypassed the jewelry and art fields, where the individualist model still prevails over consensus and the sharing of knowledge.
There are another seven members in the permanent team that has grown around us over the past few years and which has organically evolved into an extended family. Other than one goldsmith, who studied both traditional jewelry-making techniques as well as art, all have a different background and skills. Zdeněk's sister, a former dancer, is head of the manufacturing division. Their mother, thanks to her sense for detail acquired over many years as a calligrapher, sets stones and works with the point-welding machine. We also have a self-taught jeweler, who originally worked as a blacksmith, and a young woman who came to us from the arena of museum archives and now does our surface finishing. Two graduates—one in the field of biomedicine and the other in art therapy—who are in charge of research, development, and management complete the team. In addition, we work with external partners and experts from many fields, from attorneys, developers, and scientists to designers and artists.
Are you willing to share with us what tailor-made tools and technologies you have developed to realize Virus?
Daniel Pošta: The crystallization of salts is not an unknown process and several artists work with it. In some places it is taught during chemistry classes. For us the trickiest part was how to preserve the crystals so they would last over time.
You have chosen to make your work available through high-end jewelers and fashion boutiques and galleries. This wide range is somewhat unusual. What do you feel each of these segments of the market offers your work? Do you adapt your display strategy to the sort of environment you are showing in?
Daniel Pošta: Our work has always been influenced by various fields and lies at the threshold between art and design jewelry. To be honest, it confused us when, during one year and in relation to the same collection, we received positive reviews from representatives of entirely different sectors of the jewelry market, such as the more collector-oriented SOFA Chicago, and then the more commercial Inhorgenta and Premiere Classe during Paris Fashion Week. For a while, we thought that this was a negative thing and had the feeling that we should define our creations more clearly to fulfill unwritten rules of different markets. We had to reassure ourselves that our ability lies specifically in blending both art and design principles and we should not change the way we work.
As far as jewelry distribution is concerned, it is important for us to work with people who have similar values and with whom synergy is established. Looking at it today, we consider it a plus that we are able to understand the context of the environment, space, and vision in the presentations planned by individual sellers. On the other hand, however, we do not want to lose sight of our mission, which is to create jewelry with a high artistic value and which tells a story; we do not want to devalue the work through excessive commercialization.
You have also chosen to showcase your work on older models. Why is this? How do your clients and dealers react to this?
Daniel Pošta: In mythology, Zorya represents a woman who is constantly transforming and who takes on many forms. Based on this, the models we have chosen for the photos in our catalog are people from our surroundings, who are linked through natural creativity, positive energy, and strength, coming from not just an internal harmony with passing time. Frequently these include clients and women we work with; some are our friends. So far, together with photographer Johana Pošová, we have created portraits of over 60 girls and women, aged seven to 70.
We see this as the natural presentation of our work, better expressing the soulfulness contained in it, as opposed to photos of anonymous models. The response of our clients to this photo series has been amazingly strong. I think that we have all overdosed on the flood of digitally modified photos of often-adolescent girls that are usually used in advertising and in fashion magazines.
The title of the show, and the physical aspect of your work, imply dangerous and fragile life forms, and suggest that the work itself may (1) contaminate its surroundings and (2) self-destruct (at least partially). How far are you willing to push these aspects of your work?
Daniel Pošta: The collection's theme is meant to call to mind the spread of a virus during which the infectious agent destroys the host and itself at the same time. We can, however, also perceive this process of apparent destruction as a stimulus triggering a metaphysical rebirth.
We started with some marine rope and salt, combined with the effects of time, which can change objects beyond recognition. Instead of decomposition, though, in this case there is an almost magical transformation, and ordinary things change to the point they cannot be recognized.
In the case of the last pieces, displayed at Platina, we worked with this motif in more depth. Tiny stainless steel balls are attached to some of the necklaces with magnets and they can be randomly regrouped into various patterns. Of course, some drop off when the necklace is worn, and scatter in all directions.
Time, which is central to your work, can be understood in different ways (for example as a linear or circular phenomenon). How do you perceive it?
Daniel Pošta: Time is often viewed as a negative phenomenon. This can most be recognized in language. We never have enough time. We count time. Time runs away from us. We say things are a waste of time.
We do not want to see it this way. We see time as a never-ending transformation of energy into various forms.
Where do you see the intellectual dimension in your work? (In the concept/idea or processes or both?) Is this aspect something that plays a part in the promotion of your work?
Daniel Pošta: We do not look at our studio and manufacturing space solely as a production environment, but primarily as a platform for cooperation, discussion, and experience-sharing. Sometimes we talk about seemingly minor issues in our lives, other times we discuss current society-wide topics, such as the refugee situation in Europe and our concerns about how the world is developing.
It would be unnatural for me if we tried to separate that which takes place in our minds from our creation. The process is only a mechanism for telling a story, which we try to reflect in our jewelry pieces in spite of their limited physical size.
This process is natural for us and there is no calculated intent behind it.
You use mood photographs in your work. In what ways do you think these mediate the experience of your art jewelry?
Daniel Pošta: When doing the research for each new collection, we look for visual materials, as well as for films, literature, and music, all of them serving as an internal mood board, which we use in the studio to define the direction we would like to take. At the end of the process, we return to the beginning with the intent to capture a specific story at a different visual level, stripped free of being a simple depiction of an object.
For our Virus collection, we decided to approach photographer Bet Orten and set out with her to visit an abandoned flooded quarry near Prague. It was just when winter was changing into spring and the atmosphere of the entire location changed several times over the course of the day. We shot the surroundings, the objects we found in the post-industrial landscape, such as rusted anchoring cables, coal, and lichen-covered trees. Amongst the photos there is even an imaginary figure, whose appearance is a composite image of several women's faces.
How important to you is it to be aware of what others are doing in the art jewelry scene?
Daniel Pošta: As opposed to design, fashion, architecture, and art, all of which also fall within our field of interest, there is only a fairly narrow range of creators, galleries, and media that refer to the art jewelry scene. At first, it was difficult for us to break through into this somewhat closed world. I have the feeling that over the past few years the way art jewelry is presented has significantly changed, definitely also due to the democratization associated with the expansion of the Internet. Personally, I consider websites such as AJF, Klimt02, the initiatives associated with Current Obsession, and even what might seem like a minor detail, like the unification of the Munich Jewellery Week navigation system, to be very important, as they open the door to the art jewelry scene to the general public and help people better find their way within it.
Whose work do you most admire right now and why? (This could be from any discipline!)
Daniel Pošta: Wow, there are so many talented people! As far as jewelers are concerned, I find the young creators from Asia to be most interesting due to the unbelievable precision of their work and the humility emanating from it. I am always amazed by how innovative and detailed their work is. My long-time favorites in the art world are Olafur Eliasson and Anish Kapoor; their exhibitions take me into an almost meditative state of mind thanks to their fairly simple optical and physical games. In the case of fashion, it is probably Iris van Herpen, because of how she interlinks haute couture with innovative procedures. My favorite Czech authors are Kryštof Kintera and Jiří Černický, due to their humor and the detached point of view they use to comment on societal topics.
What are you intrigued with or experimenting with now that we might see in future collections?
Daniel Pošta: We approached several of our friends, talented designers and artists, with whom we are working on the designs for new collections. For quite a while now we have been working with the University of Chemistry and Technology in Prague on developing processes and materials that are not yet being used in jewelry design. In addition, we have discovered some interesting technical experts in materials science and engineering instruments. I am not sure when we will be able to present the first results, but working on these projects is extremely exciting.
Thank you!
The works in the exhibition are priced between 300 and 1000 euros.
With thanks to Veronika Lopaurová for translation of the interview.