Spain
08/31/2009
Leo Caballero in Conversation
Leo Caballero and Amador Bertomeu, both from Barcelona, met in the late 1990s while sharing a studio-workshop. In 2003 they began the website Klimt02, which has become the go-to website for all matters that involve art jewelry worldwide. Last year they opened a gallery space in Barcelona. At the 2009 SNAG conference in Philadelphia, Leo gave an informative lecture about the web and its relation to art jewelry. He also attended an informal lunch and discussion with AJF members who were on the Philadelphia trip, hosted by Velvet da Vinci owners Elizabeth Shypertt and Mike Holmes. Elizabeth Shypertt asked him the following questions.
Elizabeth Shypertt: What were your motives for starting the Klimt02 website?
 
Leo Caballero: Amador and I had good rapport right from the beginning and we used to often have long discussion about art. At some point in one of our typical conversations about work that was interesting to us, I showed Amador the work of jewelers with a creative potential that seemed to us on a par with that of recognized artists in other disciplines. Then we started to explore and we became aware of the lack of information and accessibility regarding the jewelry discipline, along with its scattered nature, mainly in terms of what we considered to be relevant and important work. And with regards to publications, it was very difficult to find up-to-date information. We had the internet by then, a tool which did give us access to this information, but in a very scattered way which was not very productive with respect to the time invested and the results obtained. So then we said to ourselves: Why not? Why not bring together and display the information that we would have liked to find? A task that perhaps we would have liked somebody to have done for us.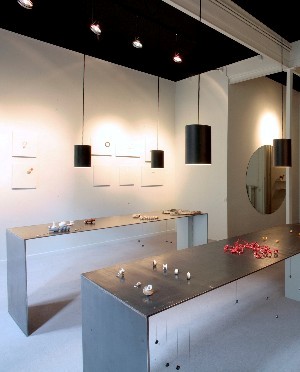 What were your motives for starting the gallery? 
 
The gallery was the obvious next step: from virtual to physical. We were showing and sharing all things we considered interesting from the internet platform, but felt we had to open a place to show the actual work.
 
Where do you see Klimt02 in five years?
 
Now we are working to make Klimt02 a brand, not just a gallery, publishers or just a platform. The initial concept of the website defined eight years ago is still valid. In five years, we will be making something that most people think is not possible to do for jewelry. We will create a wider and bigger net, collaborate with other galleries, formulate new ways of understanding the market and leave behind the topics that hold us all back. I recommend you read Bianca Capello's text about Klimt02 to understand more about us.
Will you be publishing your talk and/or video from the Philadelphia SNAG conference on-line?
Yes, the video is already available and the text will soon be published on Klimt02, as we are making a condensed version.