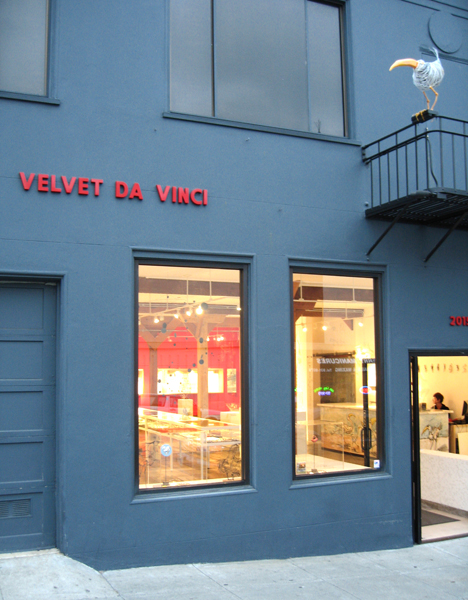 Missy Graff: What is your background with contemporary art jewelry? What led you to be a dealer?
Elizabeth Shypertt: I studied jewelry making starting in high school and continued with night classes when I returned to San Francisco after college. Mike and I met in a class, and after some time, we decided to open a store to show our work and the work of friends.
Mike Holmes: I studied jewelry and metal arts at the California College of Arts.
Can you please explain how your gallery came to be located in San Francisco, California, and how you chose your particular location in that city?
Elizabeth Shypertt : We live in San Francisco, so it was the logical place to open a business. We started the gallery in Hayes Valley behind the Symphony Hall, which at the time was a run-down area with promise and has since become very trendy.
Mike Holmes: At that time, most of the storefronts on Hayes were vacant, and we looked for the smallest and cheapest space on the sunny side of the street. After 13 years, our rent was going up to $6000 per month, so we moved to our current Polk Street location in a terrific old furniture factory on Russian Hill.
Elizabeth Shypertt : The gallery is large, roomy, with lots of good, natural light.
Mike Holmes: Because of the size of the gallery space and the amount of foot traffic, most of the jewelry is displayed in cases or under vitrines. Running a gallery in a city means that security is always a concern, but we understand that people need to have the jewelry in their hands and on their bodies, so we make a point of taking work out as much as possible. We have special exhibitions every five or six weeks that are shown at the rear of the gallery. With ample storage for pedestals and cases upstairs, we can change the look of the gallery with every show. We have a 25-foot (7.62 m) atrium with a skylight at the top where we can feature site-specific installations of jewelry or sculpture. Artists love to work off of that fantastic space.
Velvet da Vinci often works with outside curators to plan exhibitions. Can you explain why?
Mike Holmes: Actually, we curate or initiate most of our exhibitions, but we also love to work with outside curators because of the opportunity to showcase a different point of view. Frequently, we will commission a curator, give him or her an idea, and see where they take it. I think these collaborative projects produce interesting results. Earlier this year, our Ferrous show was organized with Brigitte Martin of crafthaus and was a great success. Our upcoming La Frontera exhibition is about the border between the US and Mexico. We curated it with Lorena Lazard of Mexico City because we felt it important to have a Mexican voice in this very political show. I think Velvet da Vinci is unusual in that we also work with other craft institutions to help fund some of our exhibitions. Over the years, we have partnered with the British Crafts Council, The Mondriaan Fund, The Society of Arts and Crafts, Boston, Society of North American Goldsmiths, Victoria and Albert Museum, and most recently the Museo Franz Mayer.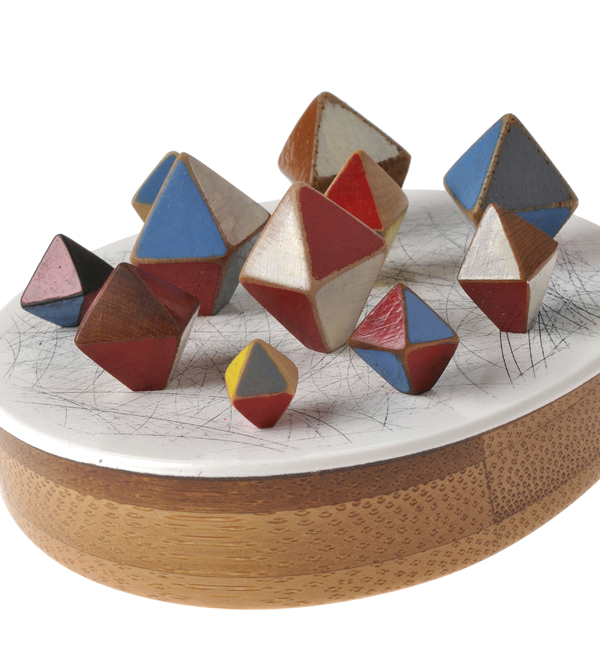 Elizabeth Shypertt : Yes, we generally fund the catalogues. Though this is a big financial commitment, we try to produce catalogues because we feel it still is the best way to have a permanent record of an exhibition. A catalogue can be a very good advertising tool.
Mike Holmes: We also have an enormous archive of past exhibitions on the Velvet da Vinci website. We understand our role as a resource for the field and have always tried to have a large online presence for our shows.
Can you describe your traveling exhibitions? Do you also have a core of jewelers you consistently represent? Are they mostly American?
Elizabeth Shypertt : We wish we could travel more of our exhibitions, but it gets expensive even when the other venues pay for shipping costs.
Mike Holmes: But mostly, the logistics of touring shows are too time consuming. Sometimes the nature of an exhibition demands that it be toured, such as our Anti-War Medal exhibition about the Iraq war. It toured for four years with new pieces added in each country where it was displayed and eventually included 200 pieces from 16 countries. We hope that La Frontera will tour to venues along the border, and we are working on making that happen right now.
Elizabeth Shypertt: We do have a core of about 60 to 70 jewelers who we represent full time. About one-third of the jewelers are from the San Francisco Bay area, one-third are from the rest of the US, and one-third are international.
Elizabeth Shypertt : Good work is good work.
Mike Holmes: And although I think that there can be a European sensibility in much contemporary jewelry, it would be hard to pin down where something is made. I think a lot of US work still employs traditional metalsmithing techniques and uses precious materials. Because our audience is pretty broad in terms of familiarity with art jewelry, we show work that is very approachable as well as the most cutting-edge pieces that push the boundaries of materials and wearability.
Many jewelers have shifted toward using nontraditional materials and incorporating found objects into their work. How do you explain the value of this type of work to those who are not familiar with contemporary art jewelry?
Elizabeth Shypertt: From the beginning, much of the focus of Velvet da Vinci is on educating the public. Fortunately this is less and less necessary, because over the years, customers have become more aware of art jewelry. Many of our customers do understand the workmanship of a piece makes it more valuable regardless of the materials used.
Your gallery represents a lot of skilled craftspeople. How do you feel about artists who reject good craftsmanship in their work?
Elizabeth Shypertt: Except for a few collectors who never intend to wear the work they buy, our customers want to be able to wear their jewelry.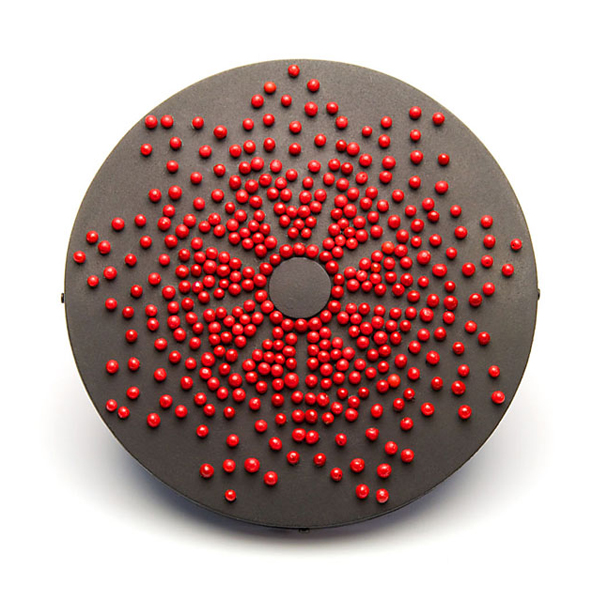 Elizabeth Shypertt: We never want pieces returned to us because they have broken.
Mike Holmes: Clasps are supposed to clasp and pin backs to stay pinned. Obviously things happen, but we try not to show work that is not well made.
As the field grows and materials shift, do you see a change in the collector?
Elizabeth Shypertt : Many of our collectors have become more daring over the years and have embraced changes in the nature of contemporary jewelry.
Mike Holmes: But many older collectors are not buying as much as they used to, and this has meant we have reached out to a new audience. We think the whole concept of "Collector" has changed, and many of our best customers would hate to be categorized that way. We think our younger customers are looking for new, stimulating experiences, and that could be buying a necklace or going to a nightclub or trying out a new restaurant.
What is your relationship with your collectors like? Do you develop friendships? Do you take them out to dinner a lot?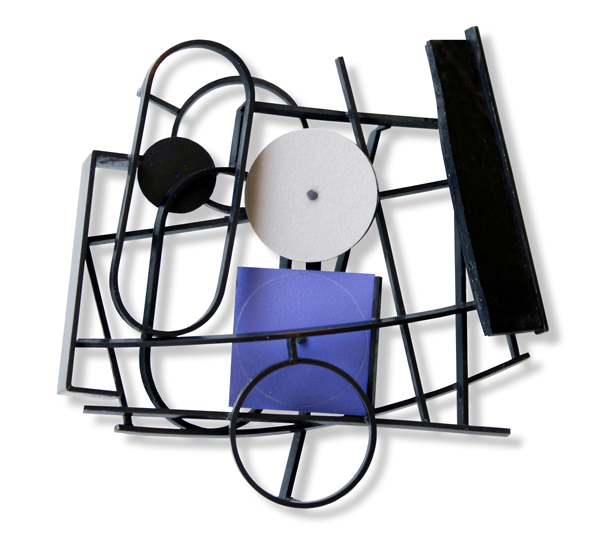 Elizabeth Shypertt: We have developed wonderful friendships with some of our collectors and do try to share meals with them when they are in town. Many of our collectors do not live here, so the relationship is long distance,
Mike Holmes: … but our shared enthusiasm for jewelry can easily bridge that distance. Jewelry buyers tend to be a fun group, and we enjoy getting together.
What advice do you have for emerging artists?
Elizabeth Shypertt: Make excellent work!
How can the art jewelry community help support the success of the art jewelry market moving forward?
Mike Holmes: To both makers and buyers of art jewelry we would say, "Wear jewelry!" Our challenge always has been to grow the field. There is no point in competing for the business of the same 100 women when there are thousands of other women (and men!) who would love what we do if they only knew we existed.
Elizabeth Shypertt: In order for the art jewelry market to move forward, the community needs to buy work and support us through their purchases and by spreading the word.
Thank you!