Tura Sugden is an artist based in San Francisco who composes golden architectural spaces in her meticulously constructed jewelry. Sugden has studied advanced goldsmithing techniques in Belgium, Maine, Tennessee, Kansas, and California. Her show, Silhouettes, at Shibumi Gallery, gave me a chance to interview her.
Olivia Shih: You were classically trained in sculpture for your BFA, and you worked as an apprentice to goldsmiths and contemporary jewelry artists for seven years. How do these experiences translate into your jewelry?
Tura Sugden: My background in fine art has been instrumental in developing design, composing pieces, mapping processes, and drawing. It gave me a solid foundation in photography and an understanding of space and form.
But it was during the assistantships that I formed an in-depth knowledge of what it meant to be a jeweler. I learned how to cultivate a durable, wearable, cohesive collection and how to build a life around the work that I love. Working with artists that I admired shaped who I am as a goldsmith and as an artist. It's an intimate experience, to be a part of someone's business and life in that way. The women I worked for left impressions on me, and they influence me still both in design sensibility and in how I run my business. The community that you build around yourself will shape you.
Could you describe a day in the studio for us?
Tura Sugden: My studio is in my home, so my personal life tends to cross over into my days in the studio. Here's a timeline of a typical day:
7:30 – grab a coffee, head to the dog park.
8:30 – head back to the studio, start answering email and checking today's to-do list. Check Google Analytics of my website, which I'm obsessed with.
9:00 – open the safe, pull out trays that have in-progress work on them. Lay out work for the day on my center table.
9:15 – Sit at the bench, turn on my book on tape!
12:00 – break for lunch (homemade chicken broth + pasta + carrots + parmesan).
12:30 – trip to FedEx!
1:30 – back at the bench, solder solder solder, file file file!
4:00 – do a little setting! I love my setting bench, and I like to end the day by finishing new pieces; it gives me a sense of accomplishment.
8:00 – pricing and inventory (so fun!).
8:30 – wrap up in the studio, do a little tidying, put everything back in the safe. Throw together a simple meal, fall asleep, do it again tomorrow!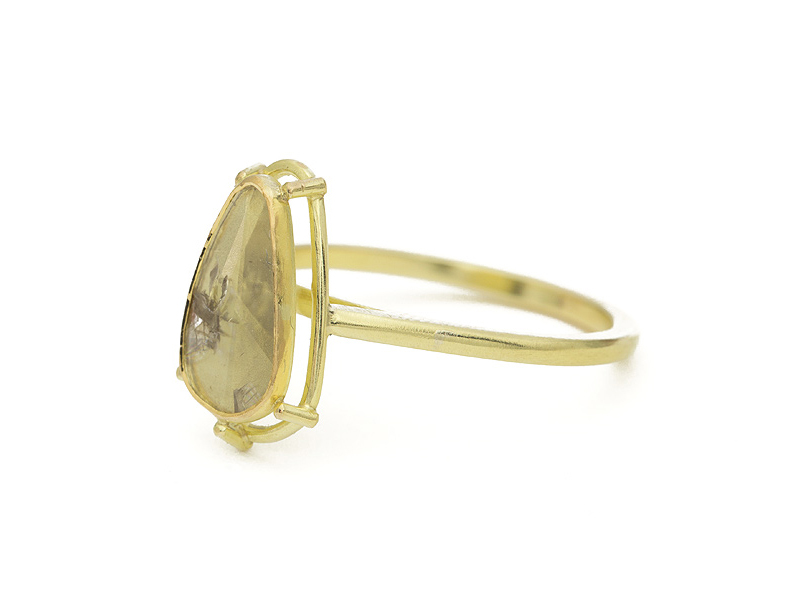 As an apprentice, you were trained to use a traditional German blowpipe in the soldering process. Could you describe this tool and why you've chosen this technique?
Tura Sugden: I was trained to use a traditional German blowpipe, a once-common tool that has become a dying technique. It incorporates the power of breath to supply oxygen, and gas, which is controlled by a hand-adjusted valve. By blowing air into a tube and controlling the flow of propane with the left hand, the operator of the blowpipe can control a very fine flame, suitable for gold-working and ideal for intricate work. I use this method of soldering for most jobs in the studio. I love the tradition of goldsmithing and I incorporate ancient methods and techniques as much as I can.
Your jewelry is often described as contemporary jewelry made with traditional methods. How would you define contemporary jewelry?
Tura Sugden: "Contemporary" design casts a wide net. My work respects the history of jewelry design while offering a new perspective. It's not controversial, but it's always the culmination of my development as an artist. It will develop as I develop, fluidly from season to season. Most of the pieces in the collection are one-of-a-kind, which allows for artistic growth from one piece to the next. I keep pushing myself, and the boundaries of the design. It's fine jewelry, reimagined.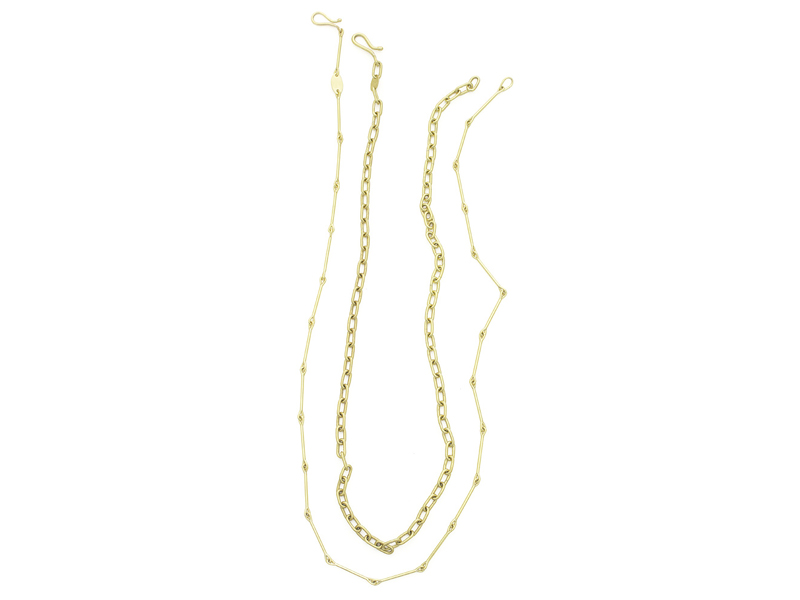 Your current collection of jewelry elevates the gemstone, creating breathing space within each delicate fabrication. From where do you draw your inspiration?
Tura Sugden: Negative Space: I build each piece by hand in solid gold, incorporating a setting style that both emphasizes the gold work and frames negative space under each stone. The negative space allows the work a delicate, airy quality that is unique to the collection. This white space has become an element of the work as essential as gold and stones; it gives the pieces life and breathability. These pieces are constructed with that negative space in mind; you could say that negative space itself is a huge inspiration.
The City: San Francisco itself is another inspiration. It's a city of people who appreciate craftsmanship and quality; it has a rich industrial history with a love of gold. The architecture, from the skeletons of abandoned buildings to the framing of the skyscrapers that are changing our horizon, is what I refer to when I sketch a new piece. The sentiment of my work is inspired by days when the fog rolls down our hill and blankets our neighborhood. I work best in this feeling of contented coziness, trapped inside the studio by the wind. The weather, the architecture, and the landscape here are muses.
Diamonds: A stone will whisper—it can dictate the design of an entire piece. I love the characteristics and colors of all of the stones in the collection, but my true mineral inspiration are sliced diamonds. They are flat slices of diamonds, usually faceted with either a table or with a rose-cut top. They often have shapes dictated by the natural perimeter of the stone. This means that each slice has a unique shape and size, and multiple pieces can be sliced from a single diamond. This allows for a consistency in color, inclusions, marbling, and imperfections, if not shape and size. They are a unique challenge to work with due to their structure and thickness, but they lend an organic and ethereal quality that is peerless.
I also love that rose-cut diamonds are back in fashion. The cut dates back to the 16th century and variations of it were used through the Victorian era. It fell out of popularity after the turn of the century, but the cut is back in style and I'm in love with it. Using these diamonds feels like homage to that time period.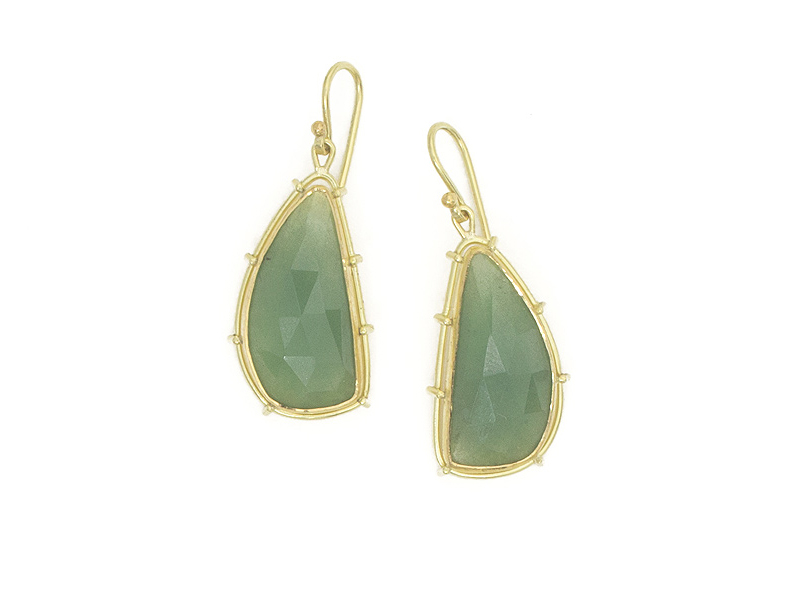 Could you name three jewelry artists who inspire you?
Tura Sugden: Polly Wales, Nak Armstrong, June Schwartz.
Have you heard, seen, or read anything you would like to recommend?
Tura Sugden: My favorite book of all time is East of Eden; I keep it always on my bedside table. My favorite podcast: Serial. Favorite music in the studio: Florence and the Machine.
Thank you.
AJF has decided to begin posting the prices of pieces in the gallery shows we are highlighting each month. The works in this exhibition are priced between $150 and $6,200 US.