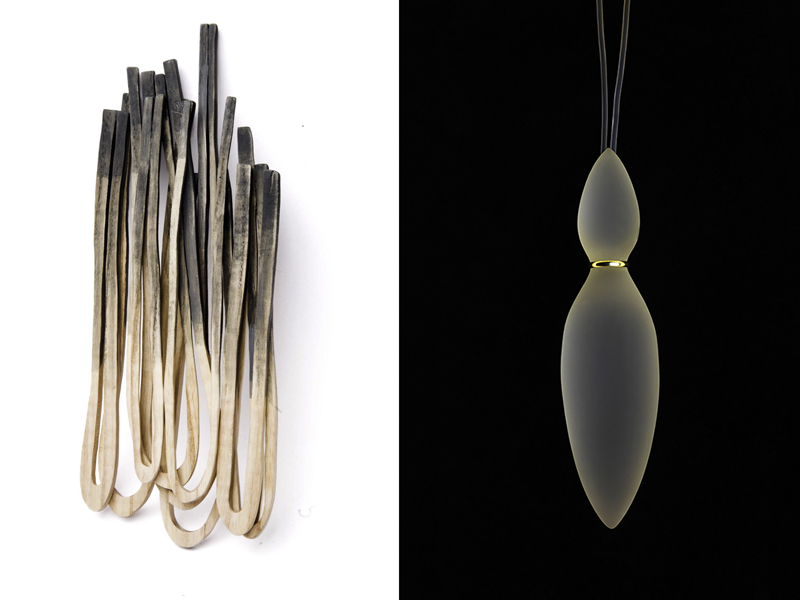 The roots of the ESTONISHING! exhibition start in Estonia, where in 1999 seven Estonian jewelry artists founded the group called Castle in the Air/õhuLoss. The members are all graduates of the Estonian Academy of Arts and they count their professor, artist Kadri Mälk, among them. Since the group's founding, they have exhibited in Europe and Asia, and published several catalogs and books.
Thomas Cohn, the esteemed gallerist from Brazil, connected with jeweler Julia-Maria Künnap first, and decided upon visiting Tallinn that it was time to bring Estonian jewelry to Brazil. The opportunity consolidated around Galeria Thomas Cohn's participation in Schmuck 2016, the art fair in Munich where he showcased ESTONISHING! for the first time. The current exhibit in São Paulo followed shortly thereafter.
What bonds the Estonian artists' work and likely inspired the Brazilian gallerist's vision is best described in the words of Tanel Veenre, exhibiting artist and co-curator of the exhibit with Thomas Cohn:
"What connects us?
Is it patience—trained to make a stare drill through iron and stone?
Is it an endeavor for holiness—in spite of contempt for religion?
Is it assurance—that someone somewhere is slower than us?
Is it hope—that there's always escape from long darkness?
Is it a forest-dweller who dismisses a parquet's fineness?
Is it the scent of mushrooms in a September forest?
Is it belief that the body merely clothes the soul?
Is it snow melting between shoe and sock?
Is it belief that the senses will sense?
Is it merely insane dedication?
Is it Kadri Mälk's teaching?
Is it mosquito-symphony?
Is it melancholy?
Is it jewelry?"
Adriana G. Radulescu: Thomas Cohn and Tanel Veenre, kudos to both for such a wonderful curatorial collaboration that connects Estonia and Brazil. This a complex project involving two exhibit locations, a beautiful catalog, and a film.
Thomas, how did you become aware of and interested in contemporary Estonian art jewelry? How did you connect with the Estonian artists?
Thomas Cohn: The challenge as a newcomer at Schmuck was to show good and different work at a venue where the best-known jewelers were already exhibiting at the best-known galleries. The choice was to focus on one specific creative community, curiously enough an apparently paradoxical one, which led me all the way from sunny Brazil to faraway Estonia. Since I made the decision to embrace contemporary jewelry in order to challenge the boundaries of the art world, Estonia ended up being an obvious choice.
The factors: My visit to Tallinn two years ago was the most fulfilling (and Estonishing!) experience of my apprenticeship in jewelry; showing Estonian artists would be a comprehensive follow up of the Castle in the Air exhibitions, while keeping up with the quality of my fellow galleries; my personal reverence for Kadri Mälk as an artist and the results of her academic work at the Estonian Academy of Arts.
What was the reaction on the Estonian artists' side when approached by Thomas Cohn? Thomas's visit to Estonia, a couple of years ago, sounds a little like Marco Polo arriving at Kublai Khan's court. Is that how it all started?
Tanel Veenre: There aren't many shortcuts in life. The first letters sent from a Brazilian gallerist named Thomas Cohn to Estonian jewelry artists arrived in the late summer of 2013. At the far end of the world, the From the Coolest Corner exhibition catalog had stoked intense interest in this rather unusual vision of jewelry. Mildly worried—"Should he prepare for snow, too?"—we arranged a two-day artists' studio visitation program for the 3rd and 4th of November that same year. The bridge had been built. Early November was chilly in Estonia. And his passion for the jewelry was genuine. I think we all were grateful that jewelry had brought us together.
Did the exhibition project materialize from the first encounter? What was the process of conceiving the exhibit?
Thomas Cohn: On my visit to Tallinn, Tanel had arranged a visit to the Academy of Arts, where I personally met most of the artists. The Schmuck fair was the opportunity to exhibit 13 artists with a common nationality and background, while preserving their own identities.
ESTONISHING! is a great title for the exhibition, and an unexpected one, given the subtle, quiet, raw power of Estonian work. How did you come up with it?
Tanel Veenre: We had several options to choose from—for example ESTrange, because we have always felt a bit like strangers at the ball. Thomas came up with ESTONISHING!—which seemed to us over the top at first, almost a campy title. But then I felt that we just had to trust someone with such a sharp mind and great experience.
Thomas Cohn: As Tanel mentions, some other titles were discussed. ESTONISHING! seemed a good one to me—firstly because it can be read as "having something to do with Estonia," secondly because the "wrong" spelling calls for an immediate instinctive reaction.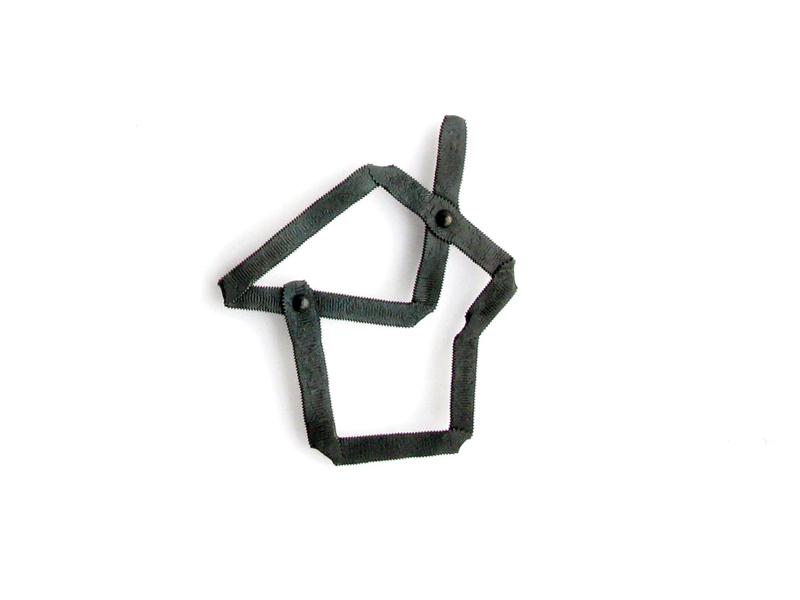 You both curated this exhibit. What were your artists' selection criteria? And why 13 artists?
Thomas Cohn: The core was already in the Castle in the Air. The additions were basically made by Tanel and Kadri, who are closer to the evolution of the chosen artists.
Tanel Veenre: I was looking for a certain sensibility, melancholy and thoughtfulness, which reflects in my mind the Estonian identity. There would have been many more convincing artists to bring in—but the physical space was a limit. To be honest, I have a fascinating relationship with numbers, some of them feel closer than others. Thirteen is a good number and still each of the artists can stand out.
How did you balance your double role as an exhibiting artist and curator?
Tanel Veenre: Sometimes the hardest was to balance the curator's role with the role of a friend—because we are all a very close community here, almost like family. I think that I normally tend to compromise, but I consider the human factor as my ultimate benchmark. There is always a human being behind every artifact, we should keep that in mind at a time when art jewelry (or art in general) is getting extremely objectified, hardly conceptualized, and dehumanized in catalogs and exhibitions.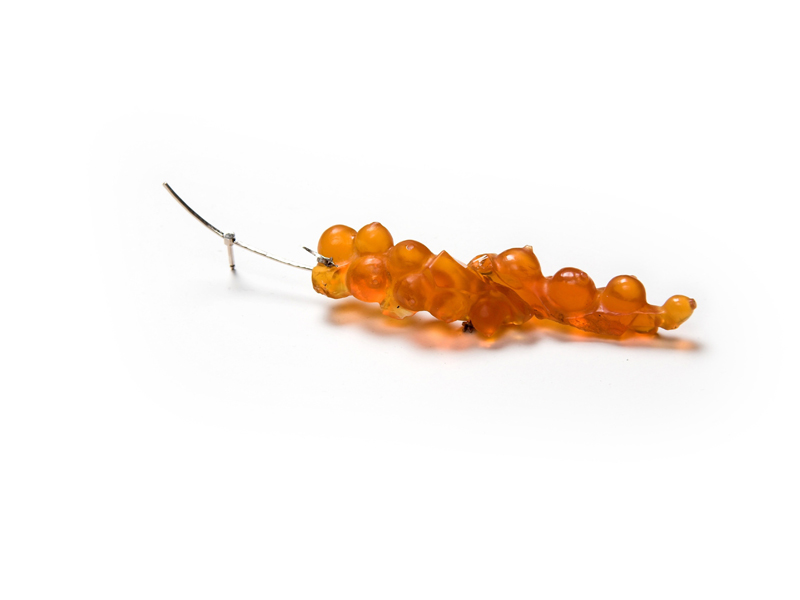 The exhibition catalog is very poetic, opening with a poem by Thomas, titled "The Colour of Darkness." The poem contains four beautiful haiku; I quote the second one:
Far from tropics, long nights and short days, Moon reigns over Sun, snow hides the trees, wood and bones, metal and stones become the structure of people's identities.
What made you choose to write a poem versus a prose introduction? Do you write poems for all your exhibitions?
Thomas Cohn: No, I do not. I tried to find an adequate language for this specific exhibition; if it is read as a poem, I am flattered.
Each artist's entry starts with a poem, a riddle, or a small essay from the artist or from Estonian folklore, each based on an Estonian word. Some are philosophical, some are funny. How did the artists choose their "word"? Can you give examples of how the chosen words relate to the artists' exhibited pieces?
Tanel Veenre: This was a personal choice for everyone—so you could read it as a statement or hidden message. Knowing the actual person makes this game even more fascinating—how voice, gestures, way of living align with this short linguistic statement. If Eve Margus-Villems, who is most precise and accurate and has a caring soul, chooses as her word nüri (blunt, bootless, dull, obtuse, torpid), it loads the word with upside down meanings. She is an excellent stone carver; her tools and eye are anything but nüri. Or Maria Valdma's ära (do not, don't, off, out, away)—this abstract absentness is so present in her work. And Kadri's tume (dark) … there is no other way.
A quote from the catalog: "Ornament, adornment; solid, pure, genuine. Estonian is probably the only language in the world where a single word—ehe—means both jewellery and sincerity." In this context, are the natural materials used in many of the selected pieces—wood, horn, pigments, metal—epitomizing the Estonian culture and tradition? Are the contemporary pieces related to traditional Estonian jewelry and crafts?
Tanel Veenre: Our crafts culture is rooted in the forest. It seems simple at first, but this simplicity hides its magic. Rustic, archaic plainness evokes skills of abstraction. There is no need to be loud; whispering in twilight might be enough.
Being at the periphery of Europe has given a certain sensitivity in dealing with borders—blurred areas where there is less action, less wealth, less power hierarchies. There seems to be still some rawness, which can reveal sincere layers of being a human.
How do the qualities of Estonian art jewelry connect with your own artistic interests?
Thomas Cohn: The word that best describes that may be "mystery." I am fascinated by whatever (a film, a piece of music, a work of art) I somehow cannot fully grasp.
All the artists represented in the exhibit have been Kadri Mälk's students at the Estonian Academy of Arts' Department of Jewelry and Blacksmithing. In the exhibition catalog, she quotes this Estonian proverb: You need to fertilize the cabbage that is growing. Besides academia, are there professional associations, galleries, and institutions collaborating to stimulate and support emerging Estonian art jewelry?
Tanel Veenre: Right now the Academy is really a center of contemporary professional jewelry—with visiting lecturers, workshops, exhibitions, and, of course, a holistic philosophy rooted in the chain of strong teachers (Kadri Mälk's teacher was Leili Kuldkepp). But it seems that the studio-hive in old town, which contains almost 50 jewelers' benches, has also become a center of jewelry life. It has a great atmosphere, almost like a 19th-century Parisian dream. Meanwhile, in 2008, Kadri Mälk established the Young Estonian Jewellery foundation, with the aim of supporting the work of new, outstanding, talented young local jewelers.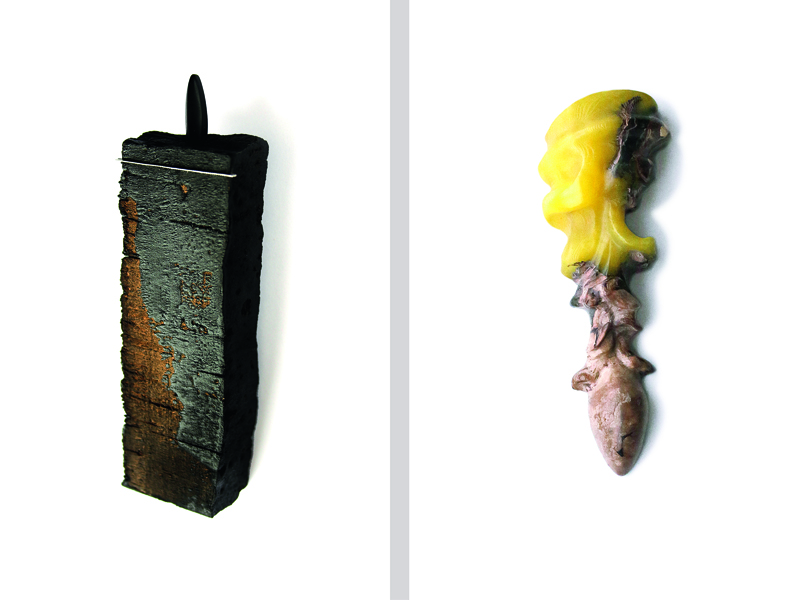 I saw news of a film based on exhibitors' interviews, called An Estonishing Experience. Is the movie finished, and where can it be seen?
Thomas Cohn: The film is in process; we hope to complete it this year.
This is the second display of the ESTONISHING! exhibition, following the premiere at Frame during Schmuck 2016. Were there any curatorial challenges, given the two different locations?
Thomas Cohn: Nothing substantial. The artists are the same; a new set of their works is being shown in São Paulo.
Tanel Veenre: To be really honest—the biggest challenge with Brazil was logistics. Sadly, we couldn't stage it with the clear and freestanding display we had in Munich, which we prepared at home and carried there.
How have Brazilian collectors and the Brazilian public responded to the exhibit so far? Were there different reactions in Munich?
Thomas Cohn: The concept of contemporary art jewelry is incipient in Brazil; we are working with art collectors and people from the fashion world to develop collections. In Munich, we sold to famous international collections of art jewelry.
Thomas, you have been an art collector for decades, and an established, innovative art gallerist for almost 30 years. What made you start anew with a contemporary art jewelry gallery? What do you hope to achieve in terms of public awareness and interest in the field?
Thomas Cohn: I fail to understand why jewelry designed and/or hand made, unique or in editions, by Picasso, Lichtenstein, or Anish Kapoor is considered art, while the work of jewelers—mostly unique pieces, which are to be worn by the owner instead of being forced onto walls or floors—should be objectified. In the last 50 years, the art world (and the art market) has been enriched by accepting photography, video art, installations, performance—the idea being to expand boundaries. The bias against contemporary art jewelry is being overcome by important museum shows, but the field has yet to be endorsed by the art market (fairs, galleries, etc.). One aim of my gallery is to fight for the recognition of jewelry as artistic expression.
Do you see the ESTONISHING! collaboration as a bridge for Estonian artists' future connections and opportunities with other international galleries?
Tanel Veenre: I think Estonians are most often too cool to be good networkers. But I believe in building friendships through art. And I know that there are several bridges between souls that started with this show.
Will you consider revisiting the project and doing it again in a couple of years?
Thomas Cohn: ESTONISHING! should be a project, not a recipe. On the other hand, I am considering solo shows by several artists, as I've already done with Tanel. I have been too shy to ask Kadri directly, but she needs only to name a date.
Tanel Veenre: I love the energy of starting things, the smell of freshness. So if we find a new facet for this identity-game—then why not?
Thank you!
Exhibiting artists: Sofia Hallik, Nils Hint, Piret Hirv, Julia Maria Künnap, Kristiina Laurits, Kadri Mälk, Eve Margus-Villems, Maarja Niinemägi, Villu Plink, Darja Popolitova, Ketli Tiitsar, Maria Valdma, Tanel Veenre
The works in this exhibit are priced between US$1,200 and $4,800.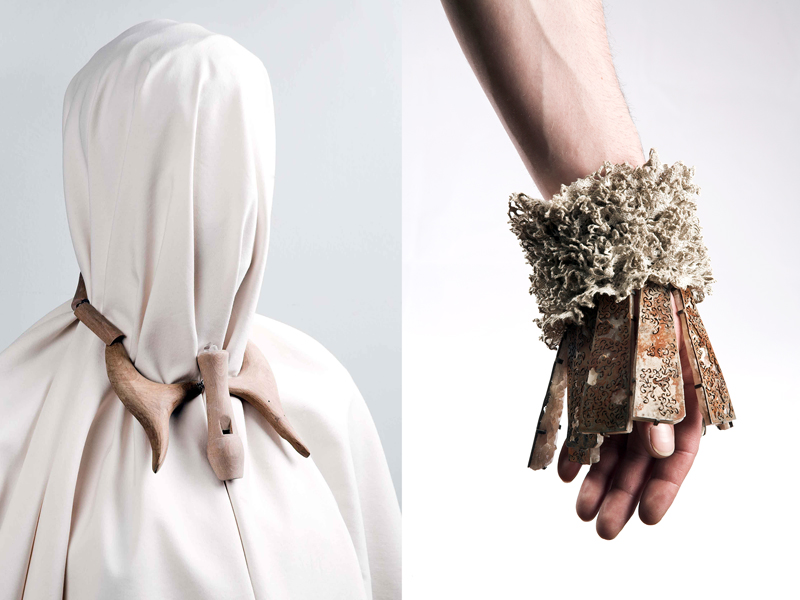 INDEX IMAGE: Thomas Cohn, photo: Sofia Borges