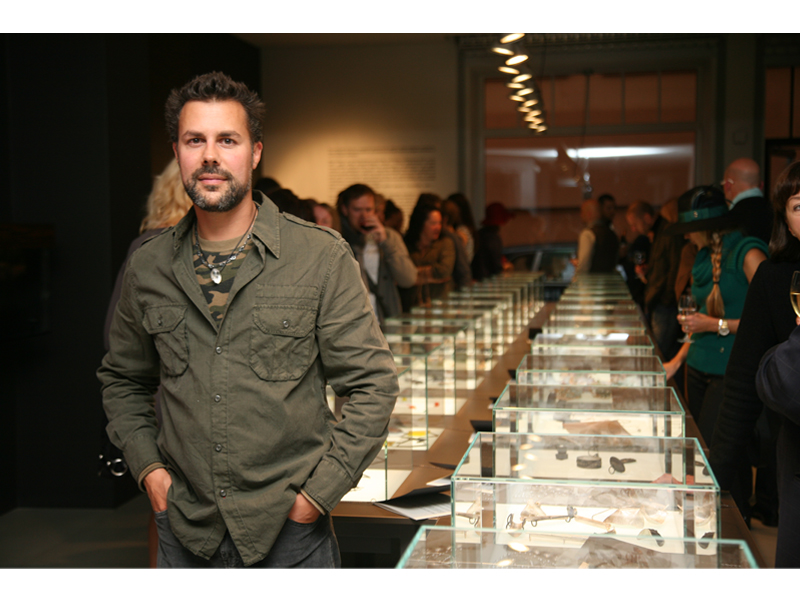 Leaving Colombia to train for a highly successful career in international business before enrolling at the Massana school in Barcelona, Nicolas Estrada brought new life and light to the world of art jewelry through his entrepreneurial endurance, his alliance with the world of publishing, and with his own highly acclaimed portfolio of art jewelry. Sam O'Hana spoke with him about the violence in his home country, taking his first holiday in five years, and receiving 10,000 emails while on the road in France.
Sam O'Hana: How did your work in jewelry and books begin?
Nicolas Estrada: I earned a BS in business from Babson College in Massachusetts in 1995, when I was 23. I was given the option to stay, working for a multinational in the US, but couldn't stand New England's cold weather anymore. After graduation, I returned to Colombia, hoping to become a successful marketing and international business executive. I achieved my goal three years after my return to the country. In 1998 I was invited to reorganize the marketing department of one of the most ambitious companies in Colombia. I accomplished much more than was expected from me, but the efforts left me completely burned out. I quit my job and went to Barcelona in May 2000 to enjoy my first holiday in five years. This is how and where my life as a jeweler began: While trying to find a new direction in my life, a new goal to look for, I discovered jewelry.
I enrolled in a master's program in marketing in Barcelona while figuring out a new direction for the future. I had always been good at working with my hands, using tools, creating things, and telling stories, but I had a successful business CV already. Yet there was an opportunity to enroll in a jewelry school, and I thought, "Why not?" I ended up studying jewelry in the mornings and marketing in the afternoons. One day, I went with my new jewelry class to an exhibition in a design museum in Barcelona and I saw beautiful jewelry I hadn't known existed: artistic jewelry. I saw works by Ramon Puig Cuyàs, Carles Codina, Paul McClure, Xavi Domènech, and others. Most of them had been former students of the Escola Massana, so I went there, spoke to Ramon, expressed my desire, and got in.
When I graduated from Massana in 2003, my final work received the highest recognition and was sent to the Marzee International Graduate Show, where it got one of the Marzee Prizes. Then, along with the other Marzee Prize winners, I went to the Midora Fair and got first prize there. Before Marzee, with the same final project, I had already won the Enjoia't award in Barcelona, probably the best jewelry prize given in the city. In this way, the path chose me, so many signs told me that this could be my new goal in life, and I accepted it because I really liked the craft.
A few years later, a very good client introduced me to Promopress. This Catalan publisher of artistic books wanted to make a jewelry book; the owner saw my work and my achievements and decided to take the risk with me. I got hired to make the first New Rings book. It became a bestseller—two editions completely sold out. Then New Earrings came along, then New Necklaces, and then the revised edition of New Rings.
Were your years at the Escola Massana very important for you?
Nicolas Estrada: Massana was crucial for me as a person and as a jeweler. With Ramon, Carles, Carmen, Hans, Xavy, and all the other professors at Massana, I was able to develop the basis for the language and technique I have today. I will always be grateful to Massana. The school showed me a new jewelry world and opened a new possibility in my life.
Are there other formative experiences you had which led you to your current work?
Nicolas Estrada: I was 27 before enrolling at Massana. I had lived in three countries on two continents, had traveled around most of the world on a ship, and had a career with a master's degree close to completion. I was extremely angry at the violence that was devastating my country at the time: From 1989 to 1993 Colombia was leading a terrible war against Pablo Escobar and the violence then was extreme. In 1995 the president in charge gave the country to one drug cartel and in 1998 another president failed to sign a peace agreement with a very powerful and old guerrilla movement. So during the 90s, many Colombians from my generation had to look for a decent future somewhere else, leaving family and friends behind.
Europe, by contrast, opened the possibility for new development, a new life and a new person. I got the chance to discover the life I wanted to live and the work I wanted to do on this continent, and I am extremely grateful for what I was able to achieve here: three years at Massana, my own jewelry studio in Barcelona for six years, and an MFA with an emphasis in gemstones and jewelry at the Hochschule in Idar-Oberstein. And these feelings of gratefulness can be easily recognized in my line of work, at least for me.
Books that collect the works of different artists can be quite complicated projects. What was the process like for you, putting New Rings and New Earrings together?
Nicolas Estrada: New Rings was an extremely difficult book; it took me many months to complete it. My name was unknown in the artistic jewelry scene. I had to do very extensive research and contact lots of people. I was doing everything by myself, and the legal side of it had extremely complicated language, meaning I had to explain thoroughly things that I did not even understand myself. I remember a group of jewelers from Argentina who claimed that I wanted to steal their images and that almost ruined the whole project. But in the end I managed to gather a lot of good images and trust from very good jewelers.
New Earrings was a bit easier. Since New Rings was a success, people realized that I was not joking and that my projects were serious ones. This time around, I got some help from the publisher—they provided a professional lawyer who could explain and deal with the legal matters.
New Necklaces was again a very difficult one. The day the call for submissions ended, I was moving back to Barcelona after two and a half years living in Germany pursuing my MFA. I was in a motel in the middle of France when my email inbox crashed due to the number of applications. It felt like too much for one person to handle, but in the end I chose around 400 necklaces from the more than 10,000 I received. Still, many people were angry because their works were not included in the book.
When these books get published, I get to see them, open them with my hands, smell the newly printed pages, see how beautiful they look. It's then that you realize that every effort was worth taking and every frustration worth suffering.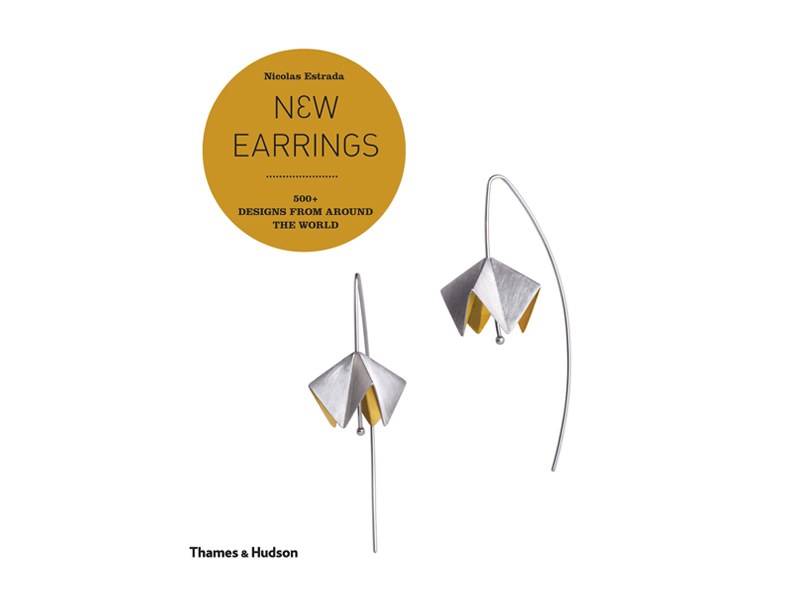 Was Lark Craft's 500 series, or anything else, a useful comparison to work with?
Nicolas Estrada: Of course! I remember the first time I saw a jewelry compilation, back in 2001, when I had begun at Massana: It was a small, beautiful book published by Mobilia Gallery in Cambridge: The Ring—The Art of the Ring. I was fascinated with such powerful works in such a small book.
After that, I devoted a lot of time to reviewing and studying amazing jewelry compilations like the magnificent book The Ring (2000), by Sylvie Lambert for RotoVision; the incredible collection of books by Anne Van Cutsem for Skira, A World of Rings (2001), A World of Earrings (2001), A World of Bracelets (2003); also A World of Necklaces (2004), by Anne Leurquin, for the same publisher. And of course, the amazing 500 collection by Marthe Le Van for Lark Books.
You became known as a jeweler after being a professional in another area, and much of your work is considered at the forefront of art jewelry. Do you think that part of your success is that you've broadened the appeal of jewelry to newcomers, or worked within existing audiences and markets?
Nicolas Estrada: Here I have no data to support any answer. However, I think that the books I make sell well because they display a wide variety of jewelry, you can have a very artistic piece next to a very commercial one; therefore, viewers who are looking for avant-garde or artistic work find it, as do viewers who are looking for interesting jewelry with white gold and stones. I think the secret is the balance, the possibility of finding a bit of everything but very well selected, well organized, and beautifully displayed. There has to be a subtle connection between all the pieces featured in the book and an amazing story to captivate the viewers.
When I make books, I don't have in mind the audience who is interested only in the Schmuck catalog. Instead, I try to please everybody who has an interest in jewelry as a whole, and, for me, this might be the reason why the books I make sell well.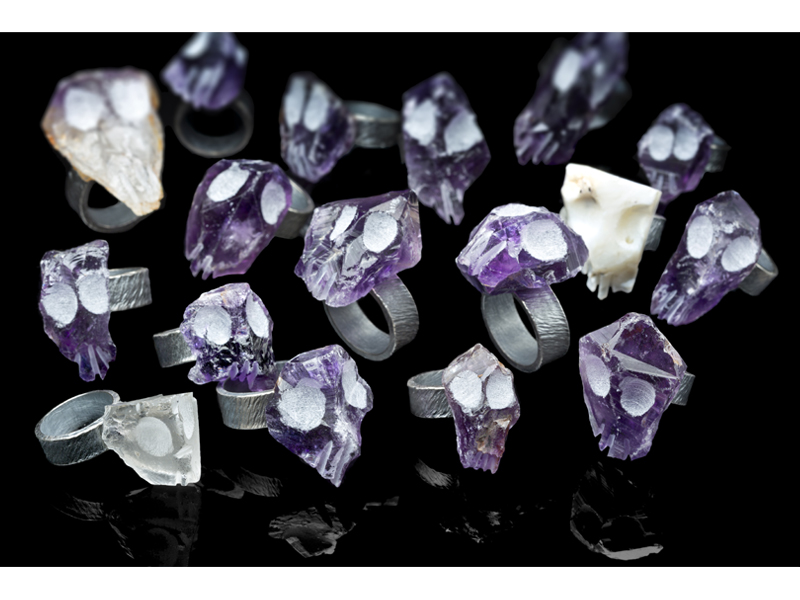 Has there been a consistent thread of interest in making since your early days?
Nicolas Estrada: I was always good with my hands but went to study what was expected from a young man in my city. Jewelry always appealed to me, but in 1989, studying jewelry in Medellin was not even a remote possibility. I always wanted to do some jewelry as a hobby, but I was always too busy doing something else: what was expected from me. I never had time for me; I never did what I wanted to do until I moved to Barcelona in 2000.
Are there useful skills and practices that you've brought from life in the business world to that of art jewelry?
Nicolas Estrada: Definitely. I did a bachelor of science with emphasis in marketing and international business. I was working in huge corporations, learning how the business world worked. Selling my work is not the same as selling consumer goods or garments, but past experiences are always helpful.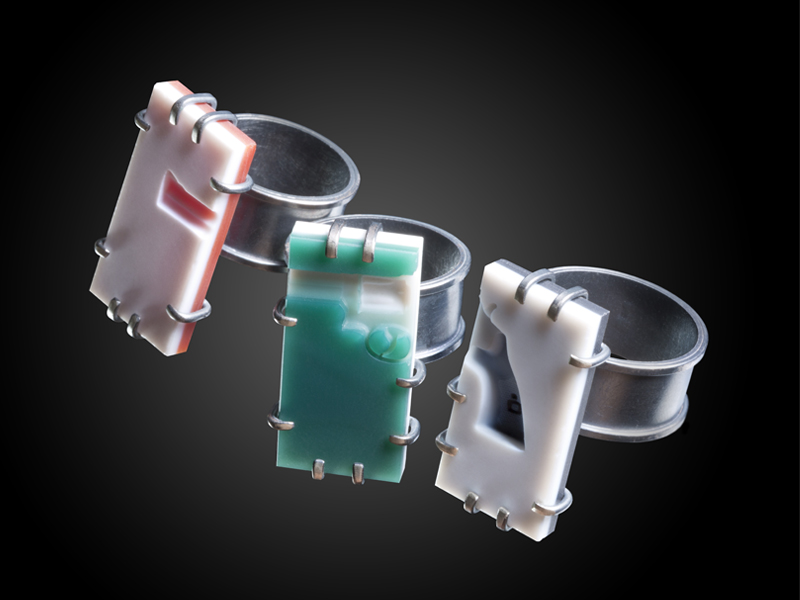 Was there much interest in books like yours from the start?
Nicolas Estrada: I think the publisher hired me to do New Rings, New Earrings, and New Necklaces because he saw a business opportunity in the artistic jewelry niche. He was right: New Rings was a commercial success.
Do you think you've been able to cultivate a larger audience for books like these?
Nicolas Estrada: I think I have been able to cultivate a bigger audience that was neglected by publications released only in English and available only in certain markets and countries. Publishing in different languages broadens horizons and reaches new people.
How do you see these roles cohabiting as you move forward?
Nicolas Estrada: For me, everything related to jewelry cohabitates perfectly and I am always open to new experiences and adventures inside the jewelry world, it helps me broaden my horizon and connect with other jewelers and jewelry lovers. Networking is really important to me because jewelry is a lonely craft and publishing the work of other people provides great balance.
Books like New Rings and New Earrings are a fundamental way of demonstrating the breadth and strength of the work of other makers. Does promoting the work of other makers continue to be important to you?
Nicolas Estrada: Pieces made with great passion by amazing artists who, like me, love this amazing craft and struggle to make a living from it, are exactly what I look for to show in the books, and, fortunately, there are plenty.
With my books I expect to please contemporary and artistic jewelry lovers and also reach an audience that did not even know that this kind of jewelry even exists.
Do you have thoughts about how you might continue this kind of work?
Nicolas Estrada: I do my best to build books that fulfill me as a curator and as a maker, satisfy the contributors so that they continue to trust me and send me their work, and, most importantly, get interest from the audience who will buy such books. Without buyers, these books would not be possible. As long as this equation works, there will be more jewelry books in the future.
Curating, teaching, giving lectures, and sharing knowledge with others will also be a great way to continue promoting my work and the work of other jewelers. However, for this I will need involvement from bigger and more relevant institutions as well. I am always open to interesting offers because I love the craft, the job that I do and my role in it.
You have an exciting future ahead as a maker and book producer.
Nicolas Estrada: Thank you! I hope so! [Laughs]