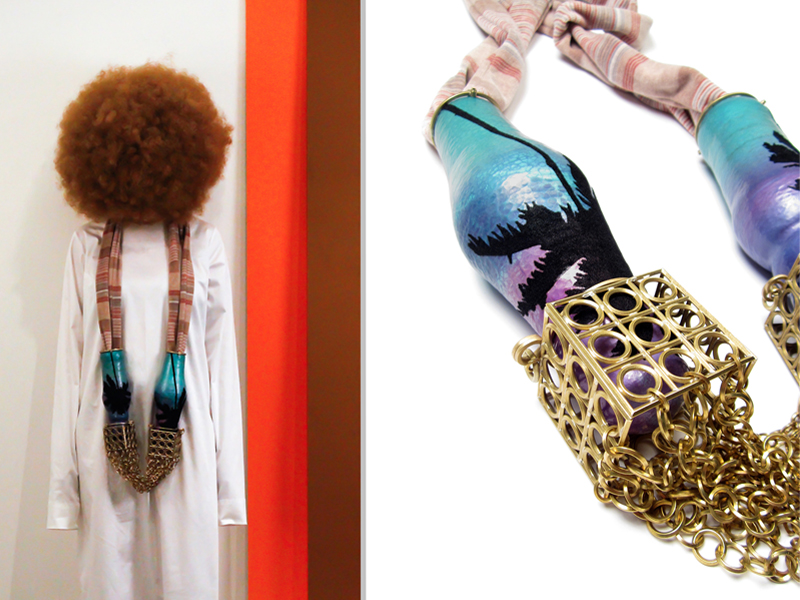 AJF asked this year's five young 2016 Artist Award finalists to tell us a bit about their backgrounds and their thoughts on the future of the art jewelry field. Their work represents a group of outstanding pieces of contemporary jewelry. This is the third of five interviews.
For this, the 15th annual AJF Artist Award, the jurors were Philip Clarke of New Zealand, inaugural director of Objectspace; 2014 Artist Award winner Seulgi Kwon, from South Korea; and AJF board member and collector Susan Kempin, who is from the United States. The jurors met in December and selected the following five finalists for the 2016 AJF Artist Award: Lynn Batchelder, Seth Papac, Carina Shoshtary, Aric Verrastro, and Timothy Veske-McMahon. The choices were based on originality, depth of concept, and quality of craftsmanship. These artists were all under the age of 35 at the time of the application deadline.
There will be an exhibition of the five finalists' work at Platina's booth in the International Trade Fair hall in Munich, in the Frame area surrounding Schmuck.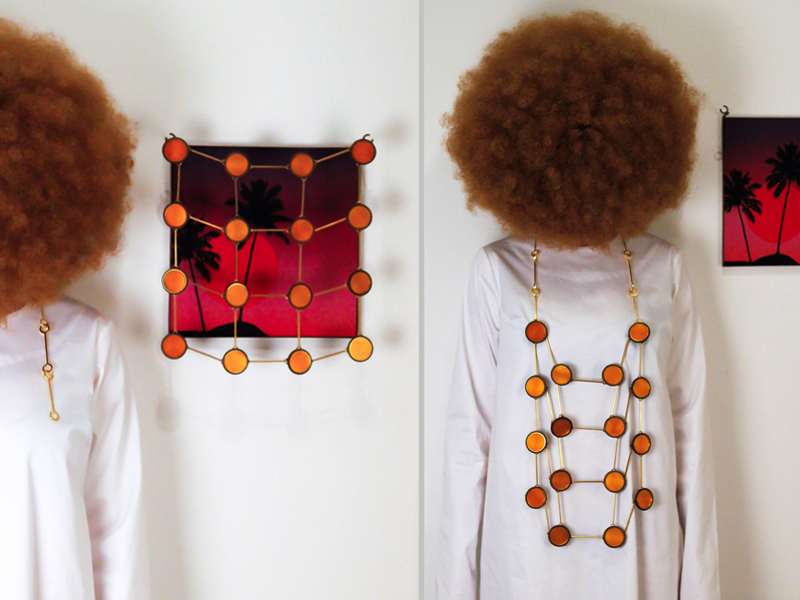 Bonnie Levine: Congratulations on being one of the five finalists of the 2016 Artist Award competition—that's quite an accomplishment! How did you become interested in jewelry, and what inspires your work?
Seth Papac: Thank you! I am grateful and honored to be named a finalist.
The body, as a mediator, has consistently been the most important aspect in my vocabulary of expression. Intimacy (contact) has always been critical—this, I attribute partially to the experience of having a twin sister, a complex relationship of being one and two at the same time. This desire for interaction instigated an interest in architecture, a container for the body, and fashion, another container for the body. Both exist as outward expressions of the inner body. Jewelry, with its intimate scale, placement on the body, and deep history as personal signifier, presented itself as an even more potent format to reveal aspects of my inner body.
Conceptually my work has always dealt with a narrative. In my most recent body of work, Cali Condensation, tacky images of palm trees and sunsets, mid-century modern architectural screens, men's striped velour sweaters, and phallic vessels coalesce to illustrate a story on the landscape of the body, in the context of the body and with the language of jewelry and architecture.
What does being a finalist mean for you? Do you think it will influence you in any way?
Seth Papac: It is an honor and pleasure to have my work recognized by the jury.
Where do you think the art jewelry field is going?
Seth Papac: Our field is very complex and encompasses a beautiful array of histories, cultures, and attitudes that dictate a non-linear evolution. This diversity is a strength, and something that should be embraced as a means to expand and enrich the vocabulary of materials, techniques, and forms utilized in the creation of innovative and idiosyncratic work. I hope the prevalence of loud, poorly done assemblage/collage work will diminish and work that shows awareness and sensitivity begins to set a standard of sophistication and quality. Access to images and information has become easy and immediate via social media and online platforms, becoming the mode in which we experience most of the work we see. Within this two-dimensional format, the possibilities of adding layers of content and context are limitless. This aspect of presentation has become increasingly important and considered, and will be an essential component of studio practice.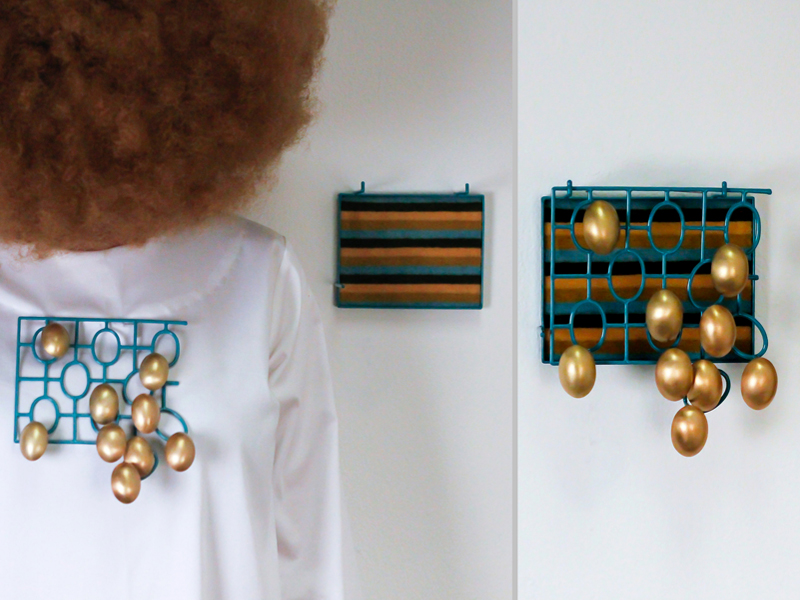 What excites you about the art jewelry field?
Seth Papac: Jewelry is such an exciting and fertile format for conceptual and formal artistic expression. It presents a unique set of parameters and challenges that, when approached with integrity, awareness, and passion, can result in inspiring and transformative work. I am most excited about work that accomplishes this, and am inspired by artists whose practice illustrates rigorous commitment to consistent evolution.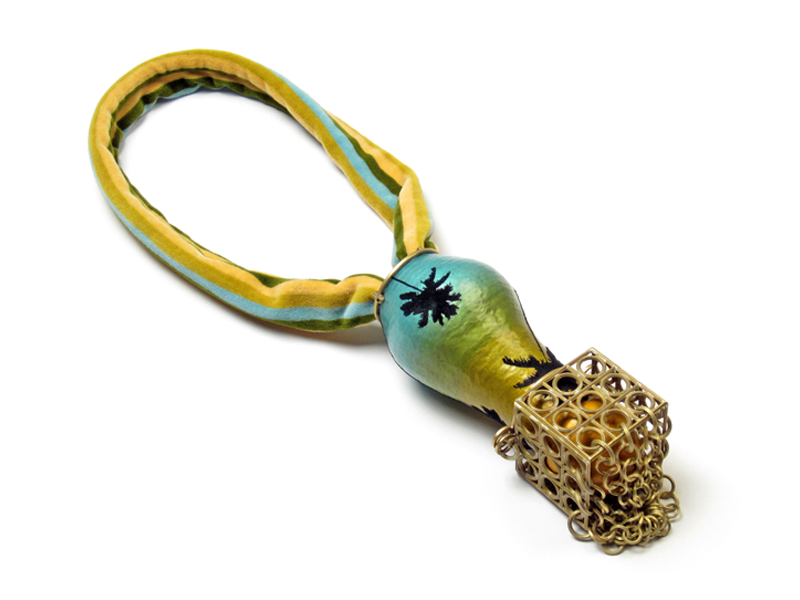 What frustrates you about it?
Seth Papac: Offering criticism of the field can be a precarious proposition, but I believe it is absolutely crucial for its health and development. For nearly 15 years I have been privileged to be an engaged member of this community as an artist and educator. Reflecting on the field … some observations:
The art jewelry field is dependent upon artists, educators, writers, and curators who create and support work that enriches, expands, and propels its evolution. We are much better equipped to accomplish this when we are educated about our history and mindful of the international field. Unfortunately, most educational institutions and their jewelry/metalsmithing programs can't/don't provide a dedicated jewelry art history component and often lack the ability, resources, and rigor to demand comprehensive, current knowledge of the field. Many compound this with a lack of self-motivation to become informed, and ignore, or are unaware, that this complacency can have a negative effect on the perception of the field. The proliferation of derivative work in the field is the consequence, aided by gallerists, writers, curators, and institutions that share their inattentiveness.
Also, the integrity of the field relies on the professionalism of its practitioners. We must commit to a high standard of professional communication and presentation, respectful collegiality, and the well-being of the field.
Lastly, craftsmanship is important. It is the physical manifestation of intent. Purposeful and confident craftsmanship is absolutely crucial to the visual and conceptual clarity of work.
Jewelry is not "less than".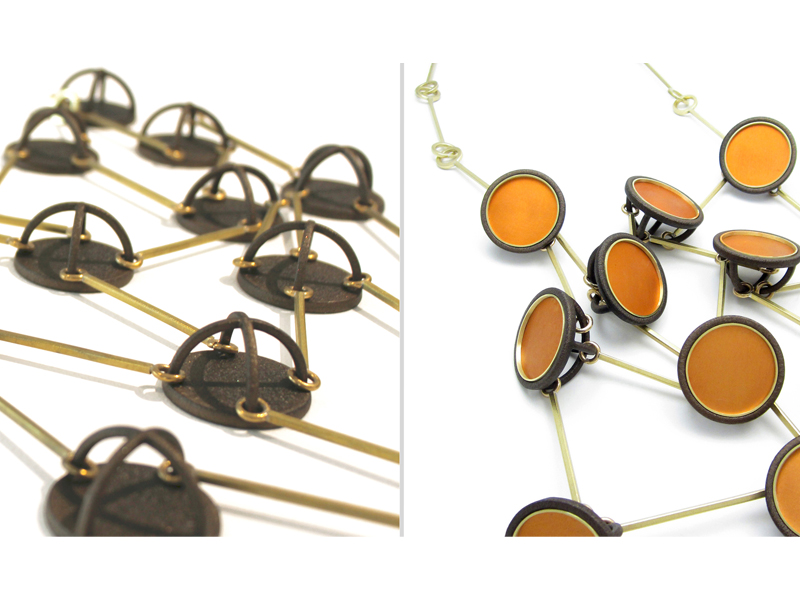 What do you think your direction will be five years from now?
Seth Papac: I love jewelry, and will always be engaged in a conversation with it.
"In any weather, at any hour of the day or night, I have been anxious to improve the nick of time, and notch it on my stick too; to stand on the meeting of two eternities, the past and future, which is precisely the present moment; to toe that line."
―Henry David Thoreau
Thank you very much.