Seth Papac is a modern-day Renaissance man who divides his time among his full jewelry production line, teaching at San Diego State University, and developing comprehensive collections of art. Papac has exhibited internationally—from the Netherlands to Vienna to France—and is a recipient of the prestigious Louis Tiffany Comfort Foundation Award. In this interview, he talks more about finding a "flavor" for each piece of artwork.
Olivia Shih: Your collection, Cali Condensation, is based on the visual language of 70s SoCal. What drew you to the "clichéd glory" of "palm trees and sunsets, mid-century modern architectural screens, men's striped velour sweaters, and phallic vessels"?
Seth Papac: My work is sequential in nature—each body of work initiated by a surprising or uncomfortable discovery made in the previous series. This initial jumping-off point can be a particular material, a color, a process or combination deemed mandatory. These required characteristics determine what I call the "flavor" for the essence of that piece. This taste for the essentials of each piece is very elusive, affording the opportunity for surprise that is critical in producing dynamic work.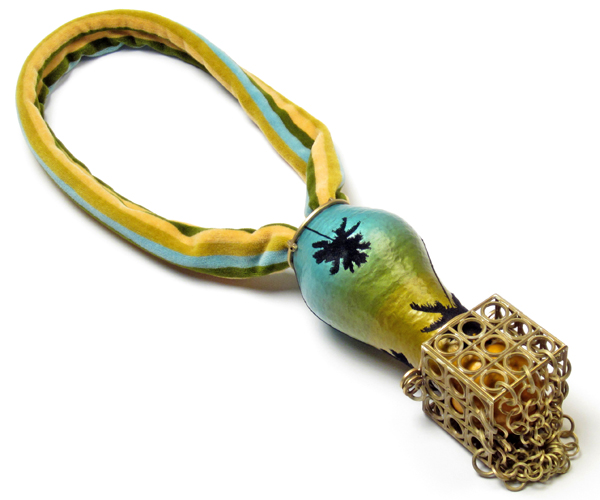 Visual research and sketching are rarely, if ever, part of the process of producing the pieces. Rather, an investment in physical manipulation and exploration of materials, through particular processes to create specific forms, permeates the work with a precise energy/reference that is supportive and necessary to illustrate the conceptual thrust of the series. The production of the work is not linear, shifting from piece to piece, resulting in reflective and spontaneous design resolutions. Each piece addresses the work's conceptual goal from a singular perspective, creating a conversation about the topic with variegated voices.
I am not interested in making slight variations of the same thing. The only design characteristic of my work that is standard is its relationship to the body. Through scale, my work consistently challenges the body, moving beyond the preciousness associated with jewelry and focusing on its efficacious and revelatory potential. Conceptually my work has always dealt with uncovering a narrative or the structure of narrative as such. In the Portrait series the investigation is personal, using materials, processes, color, form, and specific constructs of these variables to describe/reflect upon relationships I have with specific individuals in my life. A more general investigation takes place in the sets/accessories series where illustrations of domestic interiors attempt to allude to the type of character who would reside there. This investigation of the revelatory potential found in domestic space continued in the put on the lights series, where I zoom in on the formal and symbolic language of light fixtures. As objects of literal and metaphorical revelation, light fixtures illuminate space, exposing its secrets and history. When the lights went on, aspects of a narrative, perhaps personal, were revealed: men's striped velour sweaters, anodized aluminum, raised phallic vessels, mid-century modern architectural screens, and graphic images of cliché sunsets. These elements coalesced to create Cali Condensation.
Breeze block screens, which you describe as architectural dividers in front of residential structures, are referenced throughout your collection as a means to create privacy but increase anticipation of the hidden. Could you talk more about the role of breeze block screens in your work?
Seth Papac: Breeze block refers to modular, decorative cement blocks that were popular in mid-century modern architecture. They were widely used to create architectural screens at the front of residential structures—allowing for privacy but not inhibiting air flow into interior spaces. The decorative aspect of these screens, as well as the way in which they frame a partial view into a private space, acts to highlight and increase speculation of the interior. This duality and contradiction in purpose and function is very similar to how jewelry operates. Jewelry, in its intimate scale, has the concentrated capacity to protect a wearer, enhance confidence, hold a memory, celebrate love, commemorate life, beautify the body, and invite connection. Jewelry, like architecture, is essential.
You have a BFA and MFA in jewelry and metalsmithing, but your work now has expanded to creating environments and conversations between interior and exterior. How does jewelry figure in this collection?
Seth Papac: Jewelry itself is always engaged in a conversation about exterior and interior, public and private. I have been interested in this conversation from the moment I made my first piece of jewelry. Within this conversation, I began to see and understand a strong connection between jewelry and architecture, which has continuously influenced and motivated my work. In Cali Condensation, this relationship is explored very directly with architecturally scaled wall screens with removable, wearable elements. Conversely, there are jewelry pieces that, when not being worn, hang as screens in front of materials or images on wall-mounted frames. This variation in types of context and scale, as well as the act of removing/replacing, reinforces the analogous nature of jewelry and architecture. Both contain more than just the body.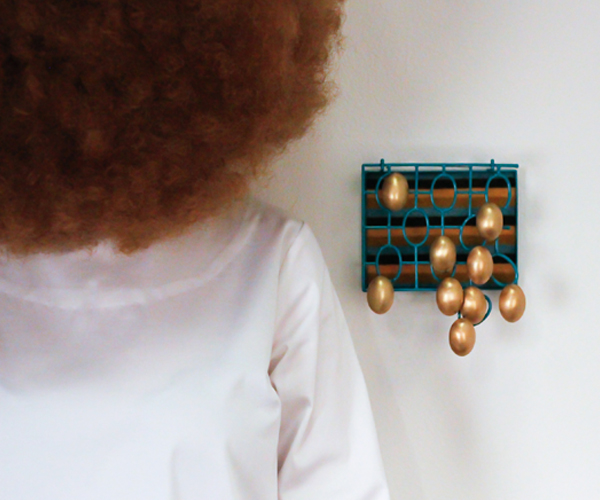 In previous collections, such as Portraits and tool sets, you created work that clearly occupied the body and manifests the wearer's persona. In Cali Condensation, the work melts into the person, creating an ambiguity between object and person. Could you talk more about this?
Seth Papac: In Cali Condensation, there is a mercurial relationship between space and the work, between the jewelry and the context of its mount, between the mounted/contextualized jewelry and the wearer, between the wearer and the jewelry, between the wearer wearing the jewelry and its mount/context, and between the jewelry wearer and space. This dynamism stimulates a complex question—who, or what, is doing the wearing?—and invites contemplation of connectedness. With this invitation, beyond the screen and behind the jewelry, is the narrative of the interior. This particular scene is wrapped in men's striped velour sweaters, decorated with clichéd images of sunsets and velvety palm trees and occupied by bodily forms. The setting may be as microscopic as my memory and/or as magnified as the wider experience of a certain time and place. In either case, a story is told on the landscape of the body, in the context of the body and with the language of jewelry and architecture. Utilizing this vocabulary, a range of spaces and places are explored—from the personal to the clichéd, from the past to the present, from the mental to the physical, from the obvious to the mysterious.
You have been teaching at San Diego State University, running a jewelry business, and creating whole collections of art. How do you manage it all?
Seth Papac: I am passionately committed to my students, to my work, to the field, and lucky enough to be in a position where I can diligently invest in all three. To nurture a healthy and multi-faceted studio practice, I find it beneficial to commit to a creative process in which various modes of production are utilized and explored to satisfy divers areas of interest. Along with producing conceptually driven one-of-a-kind work meant for gallery presentations, I am equally interested and motivated to produce production jewelry driven by process and formal design inquiries meant for wider distribution in the commercial, fine, and fashion jewelry realms. I believe it is crucial to be tuned into these various contexts in which my work, and the work of my students, can exist as a means to holistically inform, enhance, and expand my studio practice. As an artist and educator, academia provides the opportunity not only to share my knowledge but to guide, support, and invest in the evolution of the field. Engagement with, and advancement of, the field in its various amalgamations—academia, one-of-a-kind art jewelry, production jewelry, fashion jewelry—is the guide with which I gauge the success of my work. Although the objectives in each context are different, commitment to excellence, ingenuity, and evolution is standard. I am, and will always be, exploring and advancing each of these ambitions.
Have you heard, seen, or read anything of interest lately?
Seth Papac:
• Music: Jasmine Sullivan's "The Reality Show" and Tamar Braxton's "Love and War"
• Movies: Under the Skin, directed by Jonathan Glazer, and Yves Saint Laurent, directed by Jalil Lespert
• Fashion: Mary Kantrantzou's Fall 2015 RTW and Delpozo by Josep Font's Fall 2015 RTW
• Jewelry: Thomas Gentile (always), Melanie Isverding, Eva Fehren, Monique Pean
• Reading: Ruth Koelewyn's essay in the Cali Condensation exhibition catalogue!!! And The Interpretation of Dreams by Sigmund Freud