In 2013, Rutger Emmelkamp took over the direction of the jewelry department at the Gerrit Rietveld Academie in Amsterdam. The success of the academy's alumni, on the one hand, and the glowing reputation of the department's former directors—Ruudt Peters, Iris Eichenberg, Manon van Kouswijk, and Suska Mackert—on the other, has made the "succession" a matter of international interest and the choice of a non-jeweler particularly provocative. Half a year after stepping into his new director shoes, Rutger kindly answers Morgane de Klerk's questions.
Morgane de Klerk: You are originally a visual artist based in Amsterdam. Can you tell me a little bit about your background? Where did you train, and how did your career develop?
Rutger Emmelkamp: I started my studies at the Design Academy in Eindhoven, which at the time was known as the Academy for Industrial Design (AIVE). I was seventeen.
For me, this was the first important step away from the countryside where I grew up. Although I felt quite at home at the AIVE and things went well, the program turned out to be too product orientated to address the kinds of questions I had. After three years of studies, I decided to quit without having an alternative plan. This wasn't easy, but I felt empowered by a comment my teacher Koos Flinterman once made: "It's not always the worst students who quit."
I left Eindhoven in quite a depressed state. While on the dole, I started taking welding lessons along with young outlaws. Eventually, I got myself a job in a cheese factory in my hometown. Later that year, I had the luck to move to Sevenoaks, close to London, for six months. I stayed there with family friends. To make some money and utilize my newly acquired skills, I bought a welding machine and fixed fences and furniture. I enjoyed the physical work, learning on the spot how to weld big constructions. It was also there that I met a family for whom I restored a big iron sculpture they displayed in their garden. It was the first artwork I handled and inspected so closely. Renovating it, I discovered its original color and proposed to the family to paint it the way it used to be. They agreed. Such an environment and the people I came to know a bridge to the art world created for me. Around then, I also met Robert McKellar, a classic painter, who gave me painting classes in his garden shed. My decision to go back to art school was in big part his influence.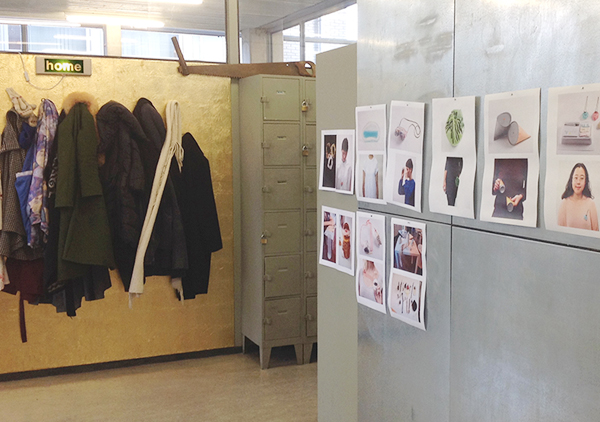 I graduated in 2001 and quickly found myself a studio. A damp place. No windows, no daylight, but it was exciting to be so independent. No one looking over my shoulder, watching. Just me, my work, and a lot of books on the old couch near the gas heater.
My teaching career at the Rietveld Academie started in 2005, after I'd gotten back from my post-graduation travels around Canada and China. Together with a friend, I contacted the fine arts department with an exhibition proposal. Having lacked, as students, a chance to exhibit outside of school, we felt the urge to create this opportunity for students. The first such exhibition took place in an old factory building, and it was a successful experience. Afterwards, I was invited to teach the foundation year, and from then on, teaching became an important part of my art life.
In September 2013, you became the head of the jewelry department at the Gerrit Rietveld Academie. What brought you to this position? Why do you think a non-jeweler, as opposed to the tradition-favored jeweler, was chosen this time?
Rutger Emmelkamp: Similar to my career as an artist, what led me to do what I do today is a succession of minor experiences, coincidences, and fruitful meetings.
After my four-year contract as a foundation-year lecturer drew to a close, I knew I'd miss teaching a lot, so I stayed in close contact with the academy. One day, I was asked if I knew someone who could replace Lucy Sarneel, then the interim head of the jewelry department. Later on, however, the question got more specific when I was invited to apply for this position myself. I was excited, but I must admit I had my doubts about it at the beginning. For instance, how much space would I have to change things if need be? Those kinds of thoughts, you know. But the department is so small, with 20 students on average, and I felt there could be plenty of room for me to establish a continuous and confident dialogue between the students and me. I could guide and follow their creative growth. A big incentive. This idea prompted me to accept the invitation, and I applied for the position.
Even though my work has often been associated with jewelry because of its size, tactility, and refined execution, I have never presented it as such. I was aware that inviting a visual artist was a big step for the department, and somehow, I expected it to be very resistant to the idea of accommodating a non-jeweler for this position, which hasn't been the case at all.
It has been a generous welcome thanks to Lucy Sarneel, Pieter Elbers, and the students. We have had an enthusiastic and energetic start of the year. I had little time to prepare a program, so my strategy was to build the curriculum around my own endeavors to get familiar with contemporary jewelry. The topics I choose as assignments are strongly related to my own process of understanding this discipline. This allows me to think and explore together with the students instead of thinking for them. I demand a very autonomous stand from the students. They have to learn to formulate their own questions and adopt a stance toward the fundamental issues in contemporary jewelry.
Who are the teachers, guest teachers, and other professionals who will contribute to this year's program?
Rutger Emmelkamp: There are about 30 guests and teachers involved this year, so unfortunately, I won't be able to list everyone. In addition to Pieter Elbers for technical practice and Alena Alexandrova for theory lessons, I have invited Ellert Haitjema, who was already part of the staff some years ago. He will help the students work on their autonomous projects that they develop alongside the more thematic assignments. Another new teacher this year is Merijn Bolink. He is a sculptor with a strong capacity to connect with diverse artistic mediums and can assist the students in their attempts to stretch the horizons of the field. Jantje Fleischhut is also a part of the team, and Lucy Sarneel will be back later this year. Each semester, I will form a team of specialists, guest teachers, and lecturers who relate to the topic we focus on. Each given team as a whole will be able to shape a broad spectrum of knowledge and bring to life desired experiences.
Are there any specific projects you would like to realize with your students?
Rutger Emmelkamp: We are now working on a topic related to plastic surgery. Quite a tough but rich subject to deal with. There seems to be a strong relation to jewelry, yet at times, it feels as if we are striving for the opposite. There is a sizable contrast in the overall attitude toward beauty. The project confronts us with serious ethical questions and forces the students to take a stance. For this project, we had Christopher Zellweger, Sonja Baumel, and a number of surgeons give talks about trans-gender operations and cosmetic plastic surgery. The students have attended live surgeries, and we also had the art collective "Skinship" come over from London to give a workshop on its medical approach of pattern making. Later this semester, Liesbeth den Besten will be lecturing on the subject, and we invited a specialist in the sense of smell in art to give a small workshop. It is an intense program all together, but all these confrontations result in a deeper understanding of the norms of beauty, the human desire, and the role of jewelry in relation to these issues.
We'll take another step to explore the topic in May, when together with the architecture department, we'll spend five days working and camping around a dying oak tree in the middle of a forest. It will be a purely hands-on project. No electricity, no machines. Not unlike surgeons, we will examine the tree using scalpels and all sorts of fine and not-so-fine instruments. The idea is that through such an intense experience, we can get to a more thorough understanding of what exactly a tree is. And the empirical knowledge such as this will influence, in turn, the way we look at our environment.
How did your teaching position influence your own practice?
Rutger Emmelkamp: Being at the academy around three days a week changed the working rhythm in my studio drastically. I needed to simplify the logistics around my practice. Making sculptures or installations is time consuming and demands a great deal of organization. I had to make sure that my days at the studio are fruitful and productive, so I decided to pick up painting. It is a medium that allows me to uncover questions my mind may harbor. Paint and brushes wait for me. I simply sit down and start. I am searching for recipes, if you will, to translate observations into fine details. The focus on the fine and meticulous is something I share with my students. It is very inspiring to see them develop their own signature style and inventiveness. I learn a lot from them, too.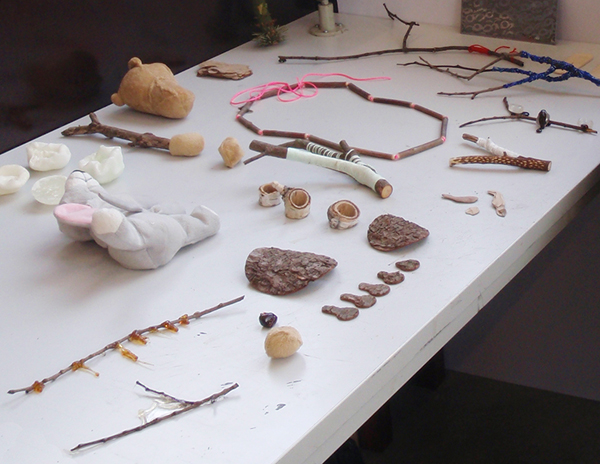 Rutger Emmelkamp: I see it as a long-term investment. At an art school like the Rietveld Academie, the students get self-critical and are able to stir, boost, and sharpen their own work and progress.
We provide them with opportunities for intense experiences that challenge them. They get to question, doubt, and experiment. It is a place to act and to experiment with the audience, too. A place to initiate, organize, and take part in various projects. There is a lot to acquire in three years, but the most important thing is for students to discover the nature of their intrinsic urge to create. You don't educate students to fit in the world as it is now. You educate them to challenge and redefine it.
Can you name three books that have shaped your artistic practice?
Rutger Emmelkamp: Marjan Unger's essay "Sieraad in context" ("Jewelry in Context") is important for me as it encouraged me to start my own research into jewelry.
John Cage's biography Where the Heart Beats by Kay Larson is beautiful because of its personal perspective through which you learn about the coincidental development of contemporary art discourse. I have recommended my students read it, too. I like the obsessive way Gregory Bateson looks for "the pattern that connects" in To an Ecology of Mind, and recently I have read After Nature by W.G. Sebald, which made me look at my own work quite differently. I'm amazed by how he observes Grünewald's paintings and manages to translate them into poetic writing.