Reinstein|Ross Gallery and the i-i team up to align the worlds of art jewelry and street art in a novel exhibition, Placement. In this interview, Bella Neyman of Reinstein|Ross Gallery and Will Atkinson and JB Jones of the i-i talk about the origin of the crossover exhibition and the similarities between the two fields.
Olivia Shih: Could you talk about how the concept of a crossover exhibition between street art and art jewelry came into existence?
Bella Neyman: The idea for this exhibition came from a series of conversations that I have had with artists, people on the street, and my desire to work with Will and JB of the i-i. I have long been a fan of jewelry that provokes conversation, and often wear things that I hope will lead to one. I get very excited when people approach me on the street and ask me about my jewelry. Similarly, I find myself in certain areas where the walls are covered in street art and I want to know more. I do not go seeking out these walls—they are just there. And so when I wear a piece of jewelry, people do not seek me out, it is out there in the world for them to engage with. I realized that these two mediums have equal power to stimulate conversations out on the street. About a year ago, Will and JB gave me a tour of the streets and pointed out work that I never even knew was considered street art, and I was endlessly fascinated by it. I also had a conversation with artists, like Tara Locklear, who were using materials that have a life out on the street and what types of ideas are revealed through the use of these materials.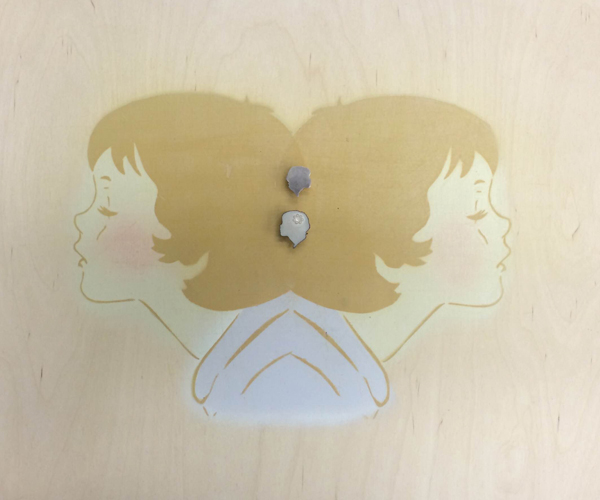 As implied in the title of the exhibition, Placement, street art and art jewelry rely heavily on location, whether on the streets or on the body. What else do the two have in common?
The i-i: The same things that drew us to graffiti we also found present in art jewelry: freedom of expression, experimentation with "the rules," a wide breadth of skills and materials are utilized, the excitement of being on the forefront of a movement.
Another aspect of similarity we find intriguing about each art form is that the work lives a life of its own and has experiences beyond what the artist could imagine. These experiences stem from audience/owner participation or lack thereof: who will see the jewelry or the street art, will the jewelry be worn or put in a drawer forever, will the graffiti be painted over or added to, will the jewelry owner wear that ring on their finger or hang it from a necklace?
Three of the seven jewelry artist have direct connections to street art. Tara Locklear uses wood from skateboards, which are part of street culture; Mallory Weston taps into popular visual language and symbols like smiley faces; and Arthur Hash creates jewelry with a strong graphic vocabulary. How did you select the seven jewelry artists?
Bella Neyman: There were many things that I had to consider when compiling my dream team for this exhibition. I spent many hours poring over images of work and reading about the artists' background and interests. Primarily I needed to make sure that the work could lend itself to this type of collaboration—and that the artist would be willing to take me up on this project. I came up with a list of artists that I presented to the i-i and they reciprocated with a list of street artists and together we played with the pairings. Thankfully, no one declined my invitation!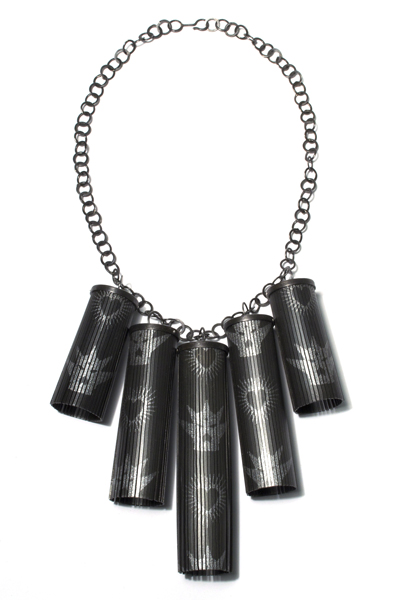 Were there specific reasons behind each pairing of street artist and jewelry artist?
The i-i: We chose to pair artists who were similar in either concept, form, material, or execution. Each street artist in the exhibition represents a different genre of street art, and each is respected as one of the best within that genre. The same is true of the art jewelers. The artists' skill sets and levels of professionalism allowed us to trust that the work would be exceptional, despite them not knowing each other previously, working on a completely new concept together, and not being able to collaborate in person. The final products of each pairing truly exceeded our expectations. As a curator, you always start with a story in mind, based on what you know of an artist and your relationship with them. This show was exciting because we were able to work within a genre where we were learning as we went—just like the street artists we brought to the table. It was exciting to be part of a story unfolding in a completely new way.
Bella Neyman: It was important that the collaborations made sense, otherwise we would risk getting work that did not have a cohesive voice. Luckily for us, every collaboration turned out very strong. For example, Sharon Massey is inspired by urban architecture and both her Streetview series and her Brickwork series plays into the street art genre. We immediately knew that Sharon would be an ideal partner for Logan Hicks, a stencil artist inspired by gritty street scenes. The driving force behind every pairing was whether aesthetically the artists were speaking the same language and if they were inspired by the same themes.
Street art is seen by many as the defiant upstart in the art world, but jewelry has enjoyed a long history with royalty, tradition, and established value systems. Do you see potential friction between the two?
The i-i: Just as street art is seen as the "defiant upstart" in the art world, art jewelry is seen as the same in the traditional jewelry world. Rather than friction, we found that the artists, because of their ability to think outside the box within their respective "traditional" worlds, found understanding in the defiance of thought, material, and execution.
Bella Neyman: I agree; while on paper these two may have some friction, they are actually ideally suited for each other.
Lastly, art jewelry has often been criticized as being too exclusive, catering to a small group of jewelers, artists, craftspeople, educators, students, scholars, and collectors. Do you think this crossover exhibition with street art will generate discussion and connect with a wider audience?
Bella Neyman: Absolutely! In fact, the show has already done this. I have had many people interested in the show who are not art jewelry collectors. For me as a curator, it is very important to bring in a new audience and broaden art jewelry's reach. I also believe that people who are interested in art, who collect it and seek it out, do not care so much about titles but are interested in ideas and technique.