Pat Flynn is a master metalsmith and a meticulous craftsman whose work is all about dichotomies and contrasts—blacksmithing and goldsmithing, iron and gold, nails and diamonds—and combining them into organic jewelry forms that are at once rough-hewn yet sensuous. Raised on a dairy farm in rural Pennsylvania, he captures images and memories from his childhood in his work, turning common objects like nails and slate into fine jewelry. Today his work is in the permanent collections of the Renwick Gallery of the Smithsonian Institution, the Art Institute of Chicago, the Museum of Arts and Design in New York, the Museum of Fine Arts in Boston, and the Metropolitan Museum of Art in New York. Here, Bonnie Levine chats with Flynn about his work and career.
Pat Flynn: I started making jewelry in a high school art class. I liked the speed and scale of the work. I saved up money and bought a Craftool jewelry making tool kit, and taught myself silver soldering, annealing techniques, and other processes.
After high school I attended Edinboro State College, in Edinboro, Pennsylvania, which is where I grew up. I was able to start taking jewelry classes as a freshman. After three years I transferred to SUNY New Paltz. I studied there for two years and graduated with an undergraduate degree from the metals department.
In your early years, you worked in the studios of other artists and as a bench jeweler in a jewelry store. Who were they? How did these experiences influence what is today your iconic style of mixing iron with precious metals and gemstones?
Pat Flynn: After I finished school I went to work in jewelry factories in New York City. Later on I did contract and model work for David Yurman, and a few things for Christopher Walling. I worked as a repair bench jeweler at Hummingbird Jewelers in Rhinebeck, New York. I wanted to be in an environment where I could practice my craft and get paid. There I learned how important jewelry is to people. I also learned to be a good mechanic as well. I liked being able to restore work back to original condition. It was challenging work, but I felt it was important work to do.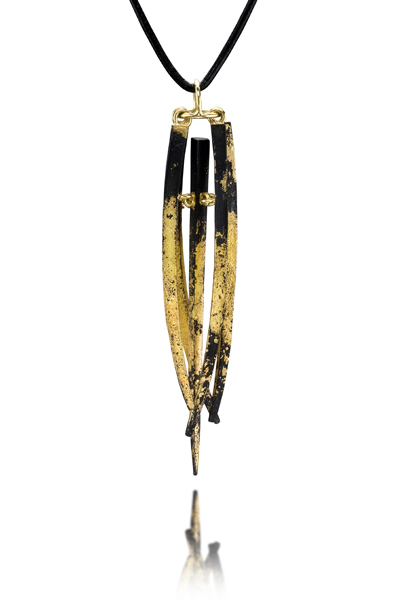 Your work is about contrasts in both materials and technique—iron and gold, the wildness of forging juxtaposed with the elegance of goldsmithing. Can you talk about this dichotomy that exists between materials and process in your work?
Pat Flynn: The beginning processes I use are borrowed from a blacksmith tradition. The iron and steel are worked hot. Then they transition to more fine jewelry techniques incorporating gold. I like the dichotomy and the underlying tensions, contrasts, and dualities of opposite materials and qualities, working in a loose fluid manner, in conjunction with very accurate goldsmithing techniques.
You've been called a "goldsmith's goldsmith," a "meticulous craftsman," a "highly skilled technician." But technique is only part of the equation. Your pieces have a simplicity that is highly considered, refined, and contemporary. When you create a piece, do you have a clear picture of the design at the beginning, or do you start working with the material and the design evolves from there?
Pat Flynn: I am skilled enough to build what I need to at the bench. I'm not a great technician. I'm not really interested in that. I practiced to reach this "German goldsmith" level of skill, meaning the very architectural, geometric, hard-edged style often associated with German jewelry. Once I felt like I had done that, proved that to myself, I could move on and do other things. Yes, the work is highly considered, but many things are left unrefined. I respond to the qualities of a sawn or forged edge. I try to touch the work just enough, not to wring the life out of a piece. I try to think as little as possible as I work. I often leave the studio late at night, feeling like I need to try to be a better maker.
One thing I love about your jewelry is that it's somewhat androgynous—not pretty or feminine in the classical sense. It could appeal to women or men. Is that intentional?
Pat Flynn: I'm not interested in making pretty, feminine work. I don't find the word "pretty" a compliment. I want my work to be strong and authentic. I am also very careful about the use of gemstones. I like that the work is enjoyed by both men and women. I also like that my name is both male and female. It's fun for me when people who don't know me think I'm a woman.
Iron and gold are your signature materials. Have you experimented with other materials or techniques? If not, how do you keep your jewelry fresh and interesting to collectors?
Pat Flynn: My first use of iron was as a found object. The work evolved from there. I found pure iron a pleasure to work with; it had the qualities I liked.
I work a lot, because I'm concerned with exploring and growing. I feel there should be a connecting thread in one's work, through a career of slow, deliberate evolution. I have lots of boxes of experiments that didn't work somehow. It's my job to be a little uncomfortable at the bench.
I've read that you feel strongly about the human connection to jewelry—that it should be beautiful, sensuous, and worn rather than displayed as an art object. Why is this important to you?
Pat Flynn: Like many studio jewelers I think that the brooch is the primary 'art statement' object . I grew really tired of brooches, and still am to some extent.
I wanted to make work that was more intimate, objects that were in contact with the wearer's skin. That was the original impetus for the bracelets. I like that my work is worn. They are built to function. The work goes out into the world to communicate for me. I think that is what good jewelry is, not to be in a box or in a safe.
Today in the contemporary jewelry world there's a wide continuum between "art" jewelry and "studio" jewelry. You call yourself a goldsmith. Do you also consider yourself to be an "artist"? Is this a meaningful distinction?
Pat Flynn: I guess I'm a studio jeweler. I'm not an art jeweler, artist, or designer. I don't like how undefined the word "maker" is. I don't really worry too much about these terms. I feel the work should speak for itself. I don't feel like I really fit anywhere, which is fine with me.
What have you seen, read, or heard lately that made an impression on you?
Pat Flynn: I enjoyed the tool show that was recently at the Cooper-Hewitt in New York City. I also loved the tool museum in Troyes, France.
I just saw the MET's production of Bluebeard's Castle and Iolanta. I thought they were magical. I look forward to seeing Björk's show at the Museum of Modern Art.
Thank you.