Morphogenesis, Mi-Ah Rödiger's exhibition at Galerie Rob Koudijs, is a sensory banquet overflowing with symbolic forms, pulled from nature and translated into Mi-Ah's idiosyncratic aesthetic. In this interview, we talk about how Mi-Ah defines aspects of human nature through jewelry.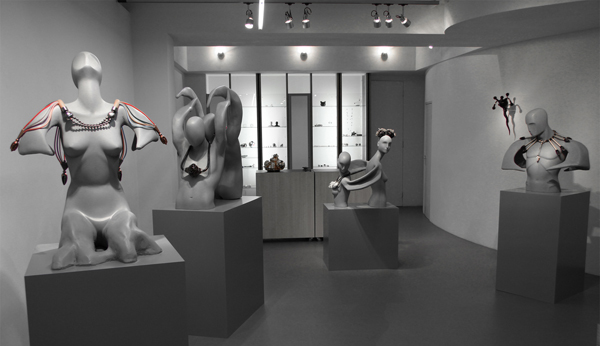 Olivia Shih: You studied as a goldsmith's apprentice, continued your studies at Gerrit Rietveld Academie, and then interned with Ted Noten. Could you talk about how your education and background have influenced you?
Mi-Ah Rödiger: From a very young age I was fascinated by the mastery of goldsmithing. Forging metals into any desired shape and finding technical solutions for making complex structures are very satisfying. Goldsmithing goes very much into detail, and it has definitely augmented my affinity toward elaborateness.
I studied at the Gerrit Rietveld Academie to develop my concepts. My studies helped me analyze my work in an art context and fueled my interest in deepening the sculptural element of my creations. Jewelry being body related, and sculpture being space related, I started investigating possibilities of combining the two.
I am fond of Ted Noten's work. Working in his atelier was a valuable experience. I appreciate his approach toward this field. It is beautiful how Ted Noten's personality and his art blend into each other, both being very open and witty.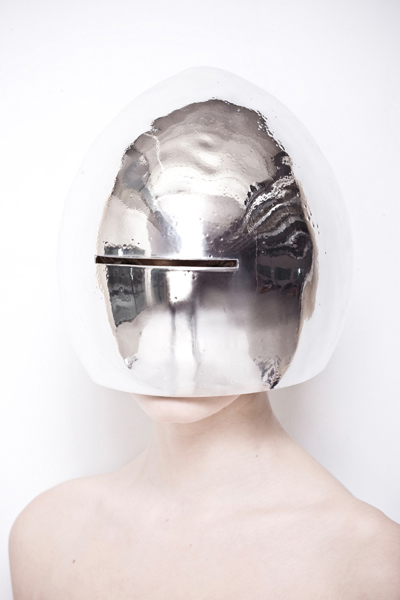 Morphogenesis, your show title, implies an amalgamation of metamorphosis and inception. Could you talk more about this choice of title?
Mi-Ah Rödiger: It is amazing how in nature the creation of something new can evolve through the transformation of the existing. How a single cell can transform into something formidable. I am applying this in my work. By discovering different shapes that offer the possibility to extend and transform, I follow certain details or directions that emerge. During the creation process I have the notion that the shapes are growing and in that process transforming themselves.
The natural forms in your work often hold symbolic meaning. For example, the ram's horns are a sign of power and stubbornness, while the lotus seedpod recalls purity and rebirth. Are you trying to depict human nature through your use of natural forms?
Mi-Ah Rödiger: Applying natural forms or using artifacts from nature as metaphors in my work does evoke the strongly embedded associations we carry inside of us. It is inspiring how things contain certain life energies. Although they may seem like inanimate objects, they do radiate the energy innate to the animal that they come from (like these horns). Rather than depicting human nature, I see it as a quest of how to define the distinct aspects of human nature in a visual way, by materializing them and giving shape to them.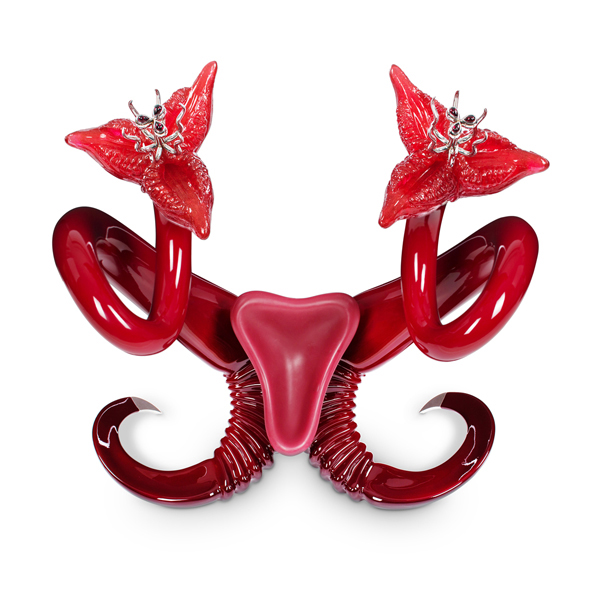 You often manipulate a wide range of materials—including silver, gemstones, resin, silicone, rubber, and horns. How did you begin working with such diverse materials? Is it difficult to incorporate everything seamlessly?
Mi-Ah Rödiger: I investigate the effects you can create by combining different materials, contrasting and elevating each other. The materiality radiates certain energies, emphasizing the shape and the sensation of the object. I manipulate each material to an extent that it's not obvious anymore what it is, thereby supporting the fantastical qualities of the piece.
With each artwork, I encounter new challenges, a lot of research and experimentation of different materials that lead to interesting results that I can incorporate in the making process. It is a long process to adapt everything in order to achieve the effect of a homogenous object.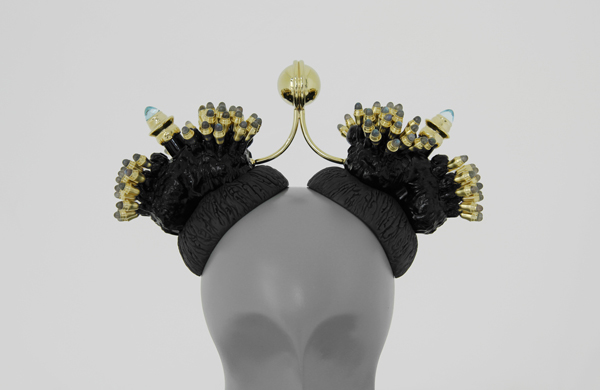 Mi-Ah Rödiger: I seek inspiration in shapes, patterns, or textures found in nature. Seeing the world as a big field of energy that is in a constant exchange and flow, I visualize what lies beyond the physical reality and translate this into my work.
Each piece of jewelry in this exhibition is larger than life and brings a surge of emotion and adrenalin. Is it your intention for the jewelry to overwhelm, and perhaps engulf, the wearer?
Mi-Ah Rödiger: If someone is immersed in the object, it provides a sense of empowerment.
It is an important aspect of my work to generate an emotional and physical connection to the audience. The silhouettes of these works were conceived considering the human body and posture. They connect to it at certain points, indicating a change of attitude. The idea behind these pieces was to express certain states of emotions that we might find ourselves in and that have a strong influence on us. I wanted to express the phenomenon of something intangible that has the power to take control, but I also want to simultaneously represent this state of being overwhelmed by a state of overcoming.
Could you describe a day as a working artist for us?
Mi-Ah Rödiger: At times it can be very stressful—there are long work periods, which are physically demanding. But I appreciate the freedom that comes with it and how I'm able to take time for delving into my interests and reflecting on life.
Have you seen, heard, or read anything of interest lately?
Mi-Ah Rödiger: I have been reading Life as Energy by Alexis Mari Pietak. In her book, she questions the scientific establishment and proposes that there are different ways of explaining growth and creation.