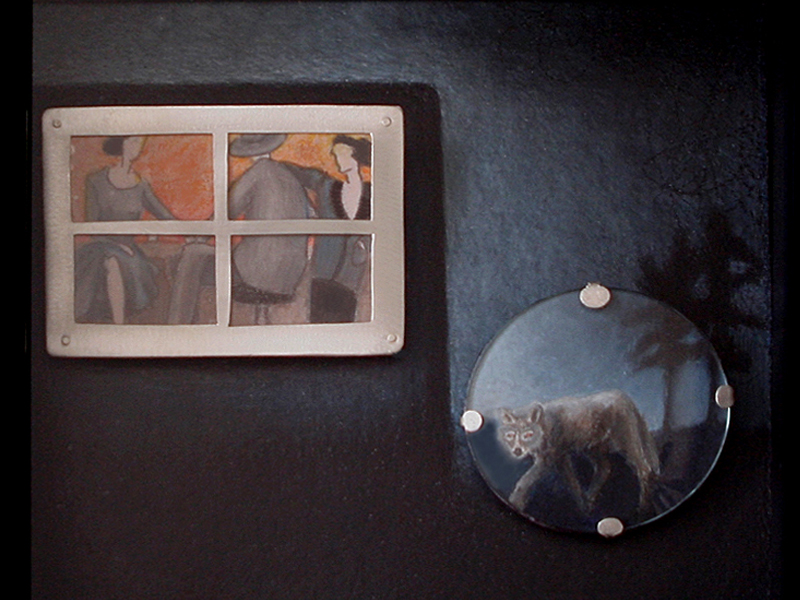 Facèré Jewelry Art Gallery recently presented Nocturne, an exhibition of new work by Kathleen Faulkner exploring her visions of the night. Incorporating metalwork and oil pastel, Kathleen Faulkner's jewelry captures nature in dreamlike landscapes and portraits. Sandra Wilson asks her about combining painting and jewelry, and about her iconography.
Sandra Wilson: You paint and make jewelry—which came first and why were you drawn to the other? Which do you find comes easiest?
Kathleen Faulkner: I've been painting since I was a kid. I used to illustrate the camping trips my family and I would go on. I don't remember much about that, but I was told it was before I could read. Later, in elementary school, I taught myself how to paint with oils and did a series of wild animal portraits. I've continued with painting but now I use mainly oil pastel as my medium.
Painting has always been easier for me. I see it as a type of escape, a meditation, unlike jewelry, where I have to be intensely focused at all times. I was drawn to jewelry as a way to get back into a part of the art world that would allow me to make a living.
Tell us about your apprenticeship. How did it come about, what did you cover, and have you taken on any apprentices yourself?
Kathleen Faulkner: One day, while working on a small ferry, I watched as the local jewelry artist walked onto the boat. I was envious. I thought about how much I wanted a change, to do something different that related to art. I was tired of my day job, which I had been doing for several years. Suddenly I found myself walking up to her and saying, "I think you need an apprentice". Much to my surprise, she replied, "Why, yes, I do. Can you start Monday?" That was the beginning of a five-year jewelry apprenticeship.
She taught me to fabricate her overlay production line. I learned the many steps of overlay construction: pattern making, drilling, sawing, filing, soldering, sanding, and buffing. My apprenticeship allowed her to be free to do more creative, one-of-a-kind work.
I have never had an apprentice. I'm not a good teacher. I forget that others can't read my mind.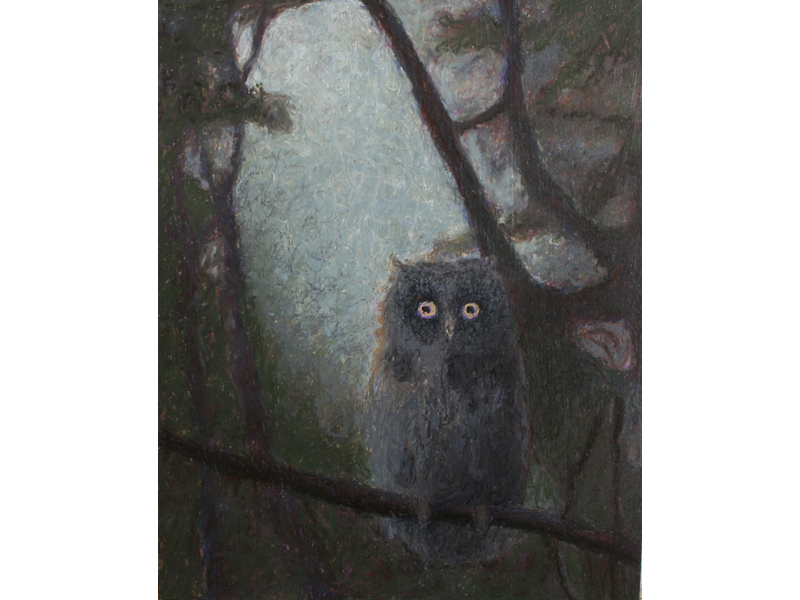 A connection to the environment and your local landscape is important to you. Do you feel your work changes with the seasons?
My painting is mostly about the light here, which changes during the different seasons. I find that I prefer the moody, changeable weather seasons. Rain is good and clouds have character. Summer is sometimes too bright and/or too bleached out. With jewelry the seasons aren't an issue. I find I'm able to make more jewelry in the summer months because I'm not distracted with painting.
What kinds of narratives do you use in your work?
Kathleen Faulkner: I like to tell stories and keep track of things, events, and places. I want to remember what is here now because someday it may be gone. So much of what was a part of my childhood is gone now, forever. I want to remind people that nature is a wonderful and necessary part of life for all living beings.
What's your favorite jewelry technique?
Kathleen Faulkner: I like best what I'm doing now. Framing small images with riveted sterling silver: simple yet satisfying to me.
Do you often show your paintings/prints and jewelry together, and what is the extra value of doing this?
Kathleen Faulkner: I don't usually show both paintings and jewelry together. Lately, though, I have been creating small shadow boxes that combine jewelry with 2D backgrounds. The jewelry pieces are the characters in the stories that these shadow boxes tell. I'm looking forward to creating some larger works.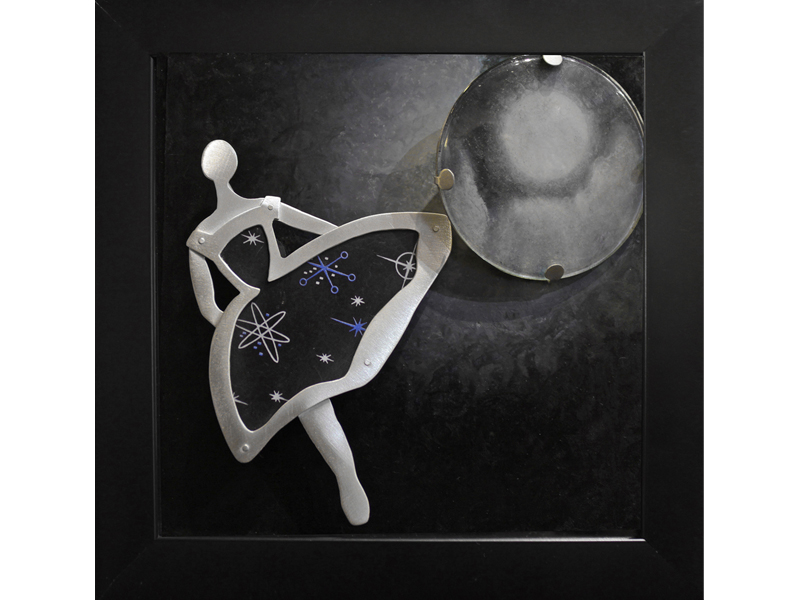 You use colored pencils in your jewelry, and silver is often used to frame your images. Do you see your jewelry as miniature painting?
Kathleen Faulkner: I've used colored pencil, graphite, gouache, oil pastel, pen and ink, and so on. I do think of some of them as miniature paintings, but I mostly think of them as the characters for my paintings, a vital component in the "story." Since I usually haven't shown jewelry and paintings together, it's been all in my mind. That's why I decided to do the shadow boxes.
What is it about the night that attracted you for this particular collection?
Kathleen Faulkner: It came out of nowhere. I picked the title but had no idea what I would do with it. That, in itself, was exciting and challenging. Once I started thinking about what happens at night, the ideas came.
What do you do to keep your approach fresh, and do you ever produce more three-dimensional work?
Kathleen Faulkner: I spend quite a bit of time outside and, for me, nature is the best inspiration of all.
I do make some 3D work, but not as much now as in the past. I collect found objects for jewelry pieces and I majored in sculpture at Cornish in Seattle. I have some ideas for larger work.
There is a dreamlike quality in your work. How would you describe your output? Narrative, abstract, figurative?
Kathleen Faulkner: I make work to tell stories. Most pieces have actual stories that go with them. I write about each piece.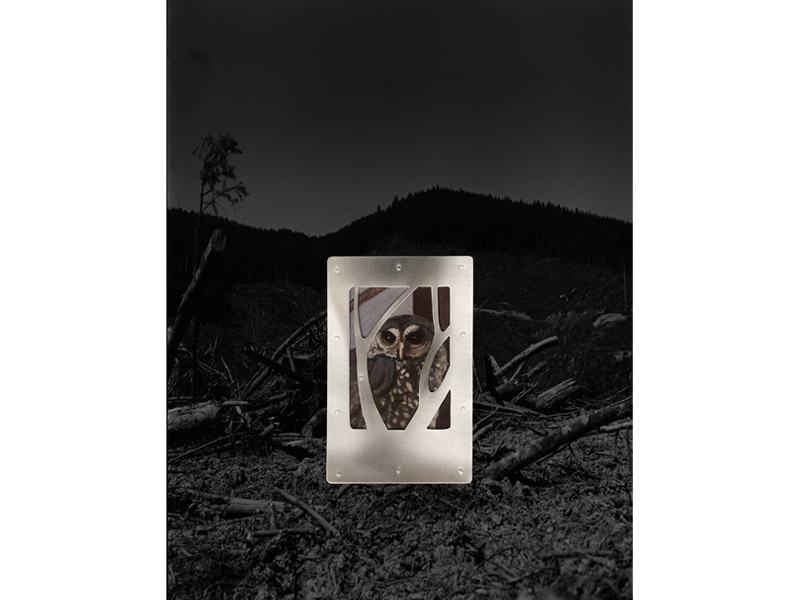 Your iconography leaves the door open to many interpretations: one can read your bestiary as magical, romantic, but I suppose also simply as a collection of animals. How do people tend to connect with this dark universe?
Kathleen Faulkner: I hope there is more of a connection than just as a collection of animals. I hope their stories come through. There is so much we have barely begun to know about the lives of animals and even plants. I read recently that fish have feelings and feel pain. Trees sleep at night. Dolphins use teamwork to find prey, and these stories go on and on. Recently, New Zealand declared non-human animals to be sentient beings. This is the magic and romance I wish to convey.
What jewelry artists inspire you?
Kathleen Faulkner: There are so many inspiring jewelry artists in the world. Some that inspire me are Nel Linssen, Kiff Slemmons, Sarah Hood, Denise Wallace, and, of course, Alexander Calder and William Spratling.
What books are you reading at the moment?
Kathleen Faulkner: The Man Who Tasted Shapes, by Richard Cytowic, is a story about a neurological phenomenon called synesthesia. The great abstract artist Wassily Kandinsky had this condition. Having always been a science fiction fan, I'm also rereading Dune, by Frank Herbert. I consider it one of the finest science fiction stories ever written.
Thank you!
The works in this show range in price from US$194 to $1,561.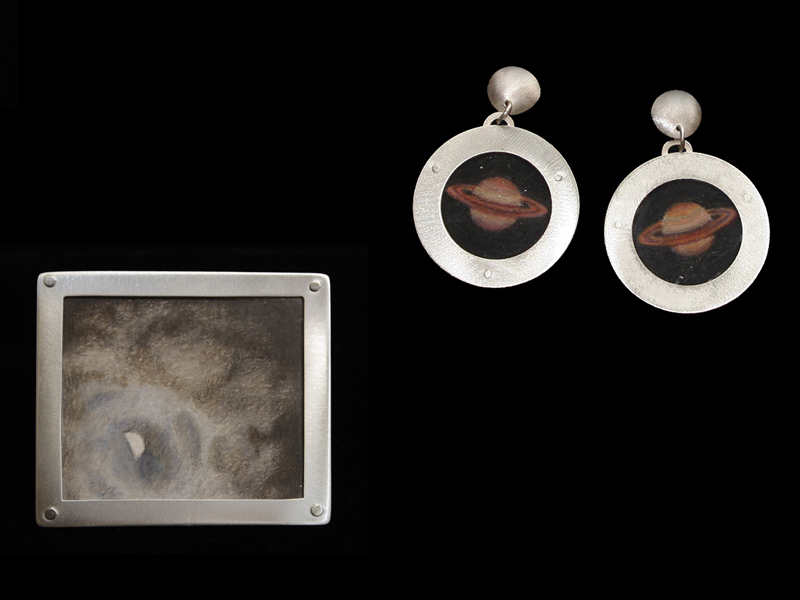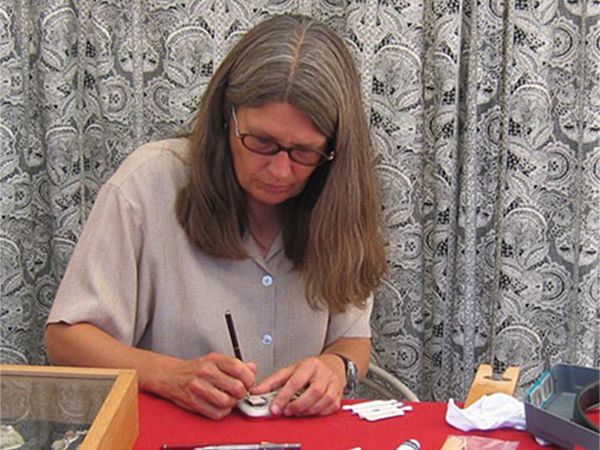 INDEX IMAGE: Kathleen Faulkner, Fly by Night, 2016, brooch/pendant, sterling silver, colored pencil, mica, 50.8 x 76.2 mm, photo: artist