Established in 2010 and located in Gothenburg, Four's concept combines a contemporary jewelry gallery, shop, and workshop in a creative space that showcases the owners' own work, as well as artists from around the world. In a vibrant art jewelry city such as Gothenburg, Four is a young and unique space aiming to be a catalyst for contemporary art jewelry. Its four founders, all jewelry artists and HDK (Academy of Design and Crafts) alumni, give Four its name. On their behalf, Karin Roy Andersson graciously took time to discuss with me Four's history and its processes and goals.
Adriana G. Radulescu: Four gallery has, as was mentioned, four owners, all jewelers: Malin Lövgren, Linnéa Eriksson, Hanna Liljenberg, and you, Karin Roy Andersson. Please tell us what brought you together. When and how did you decide to start Four?
Karin Roy Andersson: We got to know each other when we were studying at HDK (Academy of Design and Crafts) in Gothenburg. We were all in different classes but we became good friends and we had similar ideas about what we wanted to do after our graduation.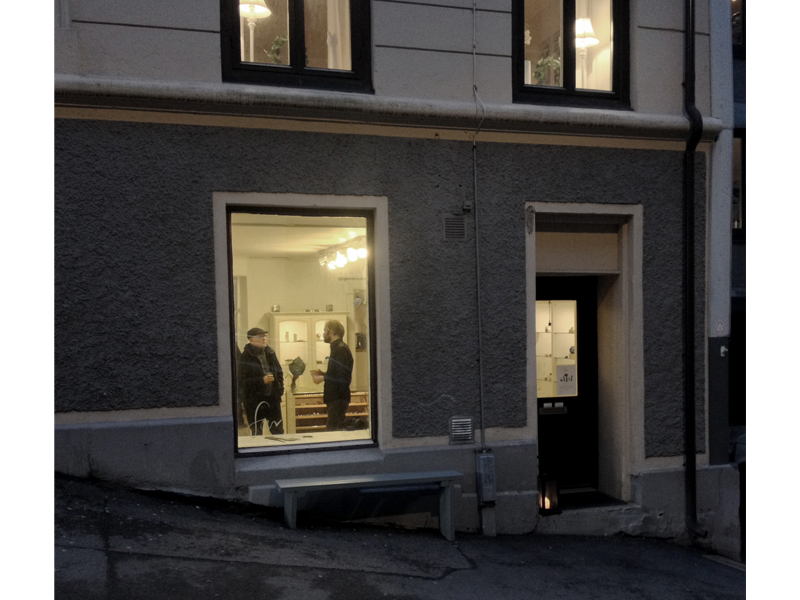 What was your original concept, and how does Four today compare to it? How long did it take from concept to implementation, and what was your process of actually opening the gallery and engaging with other artists?
Karin Roy Andersson: I don't think we had a clear view of what Four would become. We started looking for a space where we could both work and sell our pieces and we found a place located in Linnéstaden, in the central parts of Gothenburg. We started on a small scale, inviting some artists to sell their work on commission, and we decided to also make exhibitions with both our own work and with invited artists.
The first year we were only open on Saturdays and by appointment. At that time I was working with the Klimt02 team and I got more and more interested in the international art jewelry scene. I realized that if we wanted to have exhibitions with famous jewelry artists from abroad we had to run the gallery on a long-term basis. I decided to take over most of the responsibilities and to keep the gallery open four days a week. I started to invite artists who I really admire, writing them mails, explaining why I wanted to show their work to Gothenburg's audience. I guess my very honest flattery was an efficient way to make them accept the invitation. Today we show some of the most talented and well-recognized artists in the world in the gallery.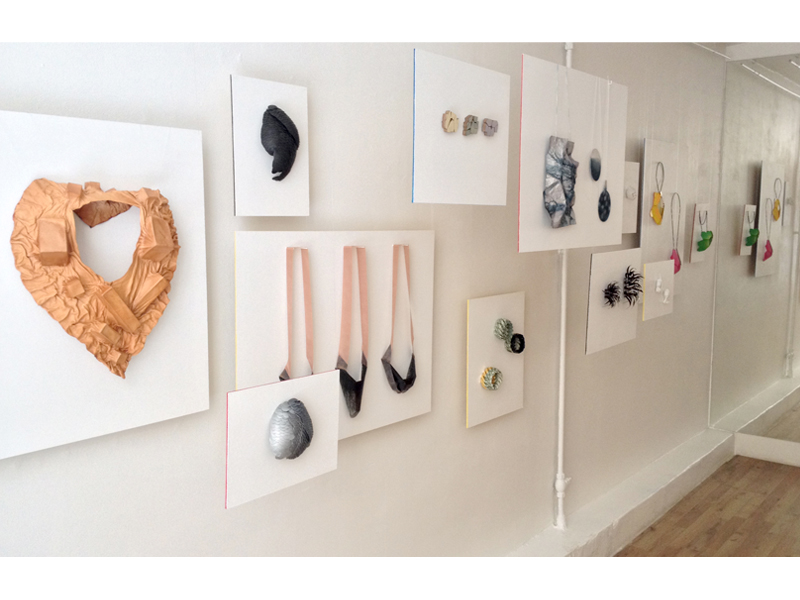 You have several exhibitions per year, a combination of invited artists' solos and group shows. What are your criteria for the shows, and how do you curate them? In your double role as an artist and gallerist, what are the joys and challenges of running the gallery?
Karin Roy Andersson: There are so many joys of running a gallery! Four is the only contemporary jewelry gallery in Gothenburg, and I see no point in keeping a certain image or style—I just want to show the highlights from this art field. When I plan the exhibition program I try to pick out a varied, interesting group from all of the skilled, intelligent, humorous, poetic, provocative, and beautiful work that is to be found on the contemporary jewelry scene. Once I have confirmed the schedule I start writing short texts about each show. Investigating the artists' work and trying to figure out the core of the work—why I find it so interesting and how I should explain to other people why they have to come and see the show—is often challenging but also one of my favorites parts of the work.
As a maker myself, it can be frustrating to have to put my own work on hold to make the exhibitions and run the gallery, but the advantages certainly prevail. In the end, the work with Four gives energy to my own work, too.
Most of the artists come here to set up their shows and, so far, all of them have been such lovely people! I have a lot of collaborative projects going on with artists who I got to know through Four. For example, Hanna Liljenberg and I are making an exhibition together with Lauren Tickle and Kevin Hughes at SNAG in New Orleans this spring. In April, Carina Shoshtary and Attai Chen will come to Gothenburg to work on a project together with Hanna, me, and two other Gothenburg-based artists, Sanna Svedestedt Carboo and Åsa Christensen. The project will be a kind of interactive exhibition that will be shown at Four.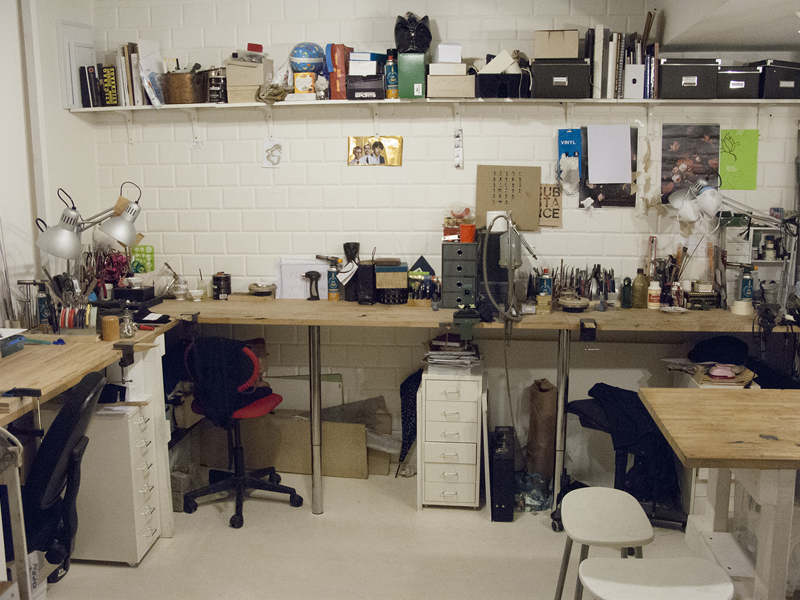 Four's description of itself on its website says, "part workshop, part gallery and shop." How do you define each part, and how do they work together as a business?
Karin Roy Andersson: The space is divided into two rooms—the workshop where we make our own work, and the shop/gallery where we set up the shows and where we sell pieces. The shop and the gallery are integrated, but there is a difference in how we think about the exhibitions and the pieces that we sell in the shop. All of the works are usually for sale, but we focus less on the selling when it comes to our own gallery pieces, and we also have a lower commission fee on those objects. But all of the parts overlap—sometimes we invite customers to the workshop and sometimes the gallery becomes a workshop.
You mentioned Four would be moving to a new space at the beginning of 2017. How is this space different than the original one?
Karin Roy Andersson: Yes—we are just about to start moving, and our next exhibition will be the last one at the old address. The new place is a little bit smaller but located close to a cluster of art galleries that we are collaborating with. It is really just two blocks away from our current location, but in an area where people stroll around more, so I hope we will get more spontaneous visitors.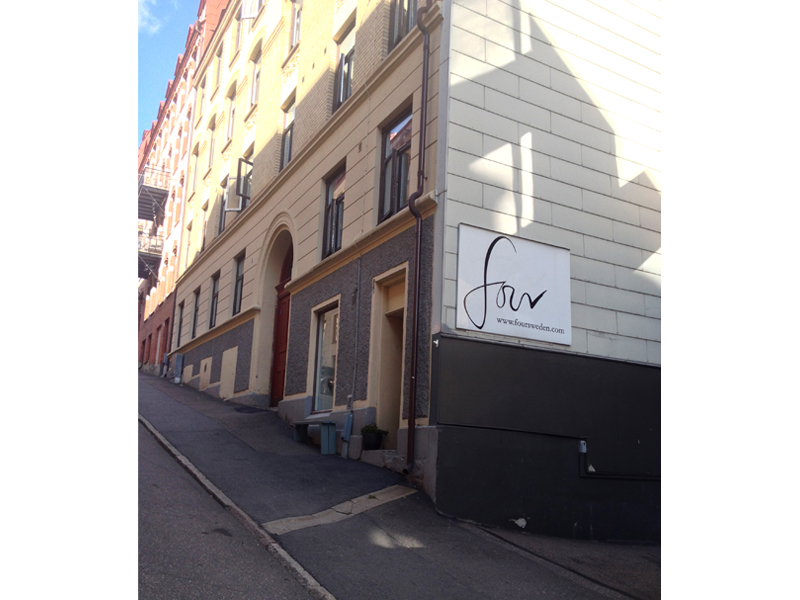 Given that all four of you are jewelers with distinctive styles, what is your process of choosing the artists you represent, and how do you negotiate the selections?
Karin Roy Andersson: I am the one who selects most of the artists, and I try to choose a wide range of styles and expressions and to get a good mix of artists from different parts of the world, and of different ages and gender. And of course, in order to represent their work in the best way, it has to be work of high quality.
What are the most important things you look for in an artist's work?
Karin Roy Andersson: I think it is very important that the pieces be well made and have a strong, personal artistic impression, and that there be no compromise due to lack of time, thought, or technique. Sometimes a well-performed concept impresses me, and sometimes a wordless composition of color, shape, and material is more than enough to just cut straight to my heart. In the end, what I think I am looking for are pieces with a strong attraction.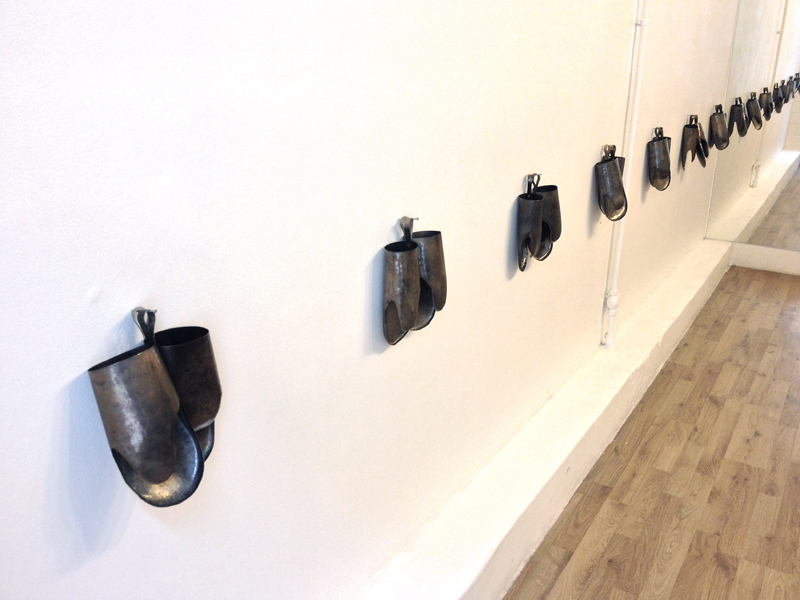 How would you describe your collection in a few words?
Karin Roy Andersson: Our collection consists of wearable hand-made pieces with artistic qualities that you do not find in other jewelry shops in Gothenburg. In the beginning it was mostly smaller pieces, in a price range from about US$50 to US$500, but we are moving toward selling more advanced and more expensive pieces. I think our clients are slowly starting to see that the pieces have more qualities other than just to serve as good-looking accessories. That has been one of the goals with Four, so I am really happy to see this development.
How do you promote to the general public the artists you represent and the shows you put on?
Karin Roy Andersson: I promote the shows on different online guides and platforms—through AJF, Klimt02, and local magazines, and through Facebook and Instagram. Usually the shows get reviewed in the daily newspaper. We are very lucky to have an interested and well-initiated journalist who writes about most of our shows. That always brings new people to the gallery. We also collaborate with the university, and the majority of our artists are invited to give lectures there. The lectures are open to the public, and they become a way for people to get to know a bit more about the artists' backgrounds and the ideas behind their work.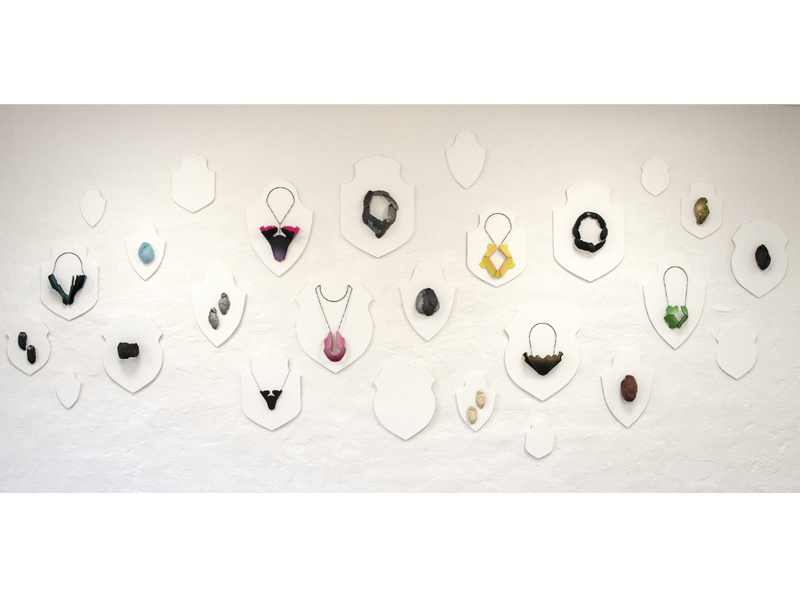 Can you describe what type of clients you have?
Karin Roy Andersson: Some of our customers are collectors and art organizations, but the majority are people who started to buy jewelry from us at the Christmas market at HDK—people with an interest in art fashion and design but who are not necessarily that interested in contemporary jewelry. Or at least, they weren't before they started to visit us at Four.
You all studied at HDK, the Academy of Design and Crafts in Gothenburg, and graduated not that long ago. All of you also expanded your studies and artistic experiences outside Gothenburg and Sweden. Do you maintain relationships as gallerists with your alma mater schools? For collective projects, for example, or as venues for finding/encouraging new talent?
Karin Roy Andersson: Absolutely! Gothenburg is a small city and we have a strong network of jewelry artists. I think one of the main reasons we're able keep in contact and continue to develop projects in collaboration with other former HDK students is that most of the alumni students retain a connection to the school.
Gothenburg has a very dynamic and collaborative jewelry community supported by several institutions such as HDK, the Hnoss Initiative, and the Röhsska Museum for arts, crafts, and design. How do you see Four's role in this community now and in the future?
Karin Roy Andersson: The gallery Hnoss, which was run by the Hnoss Initiative until 2012, played a very important role in connecting the school, the education, to the international jewelry world. The artists often came to their show openings, and meeting them in a small, often not-very-crowded gallery was a nice way to be introduced to working artists and discuss with them their work.
Both Röhsska and the Hnoss Initiative bring a lot of international art and artists to Gothenburg. At Four, we put a lot of effort into creating a relaxed atmosphere that is inviting and inspires students, collectors, creators, and people outside the "contemporary jewelry bubble" to experience and discuss jewelry. I think an intimate gallery space for meetings and discussions is valuable, and I hope Four plays, and will continue playing, that part.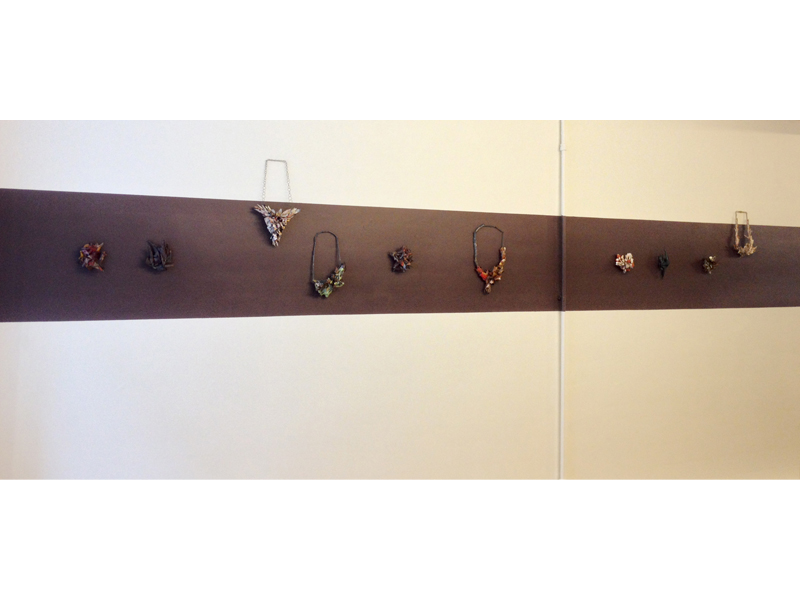 Are there any books that influenced you in life, or as a gallerist, or as an artist?
Karin Roy Andersson: As a child I loved the books by Michael Ende, especially Momo. Back then, the "Men in Grey" were completely unimaginable. But today I can see both their perspective and Momo's in my working life. There are the slow, monotone periods of endless repetition that often characterize my own artistic work, and then these days when everything has to move fast, when I am struggling to do everything as efficiently as possible just to save a little bit of time. Often, I'm trying to do two things at the same time—discussing a project with someone on the phone while I editing images, or answering emails in the supermarket when the queue is moving too slowly. Usually this isn't efficient at all, and I sometimes wish Momo would tap on my shoulder and remind me what time is.
Thank you!