Karin Herwegh is known for creating jewelry that depicts intimate human narratives through her use of stylized figures and simple yet nuanced forms. In her show at Galerie Ra she draws inspiration from folk art and lore from around the world, and her work often carries undertones of dark whimsy. For her latest series, she utilizes elements both from far away and close to home. These elements range from memories of her carpenter grandfather to a specific shade of orange that references coral in regional folkloric costume.
Olivia Shih: Could you talk about your background and how you found your way to creating jewelry and objects?
Karin Herwegh: Actually, it took me a while to figure out what I wanted to do. After graduating from the Academy of Fine Arts in 1991 as a fashion designer, I soon discovered that the fast pace of the fashion industry wasn't for me, and for nearly nine years I tried all different kinds of things. During that time, I carefully documented everything inspiring (documentaries, the news, films, books), and made small scribbles and sketches of every idea I had, hoping it would become useful one day.
In 1999, I went to the night school for gold- and silversmithing in Antwerp, and started a course working in wax. From the moment I carved my first sculpture—a 3D translation of one of my sketches—I knew that that was what I had been looking for all those years. By that time, I had eight large books filled with thousands of ideas waiting to be materialized, so it took off from there …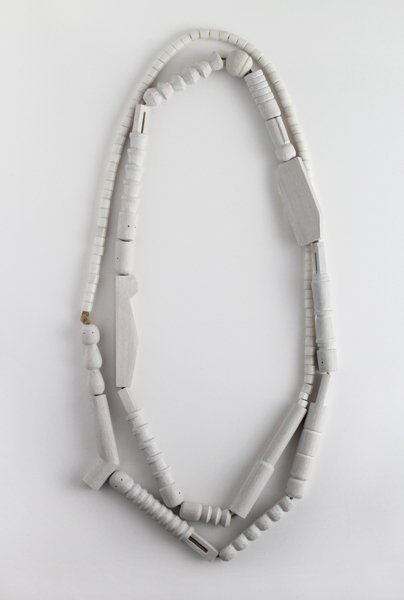 The title of this series at Galerie Ra is From the Familiar to the Wonderful, and your work meanders from the simplicity of daily life to fantastical narratives. How do the "familiar" and the "wonderful" figure in your work?
Karin Herwegh: For me, they can take place at the same time—trying to find the wonderful in the familiar and the familiar in the wonderful is a way to go beyond what is there at first sight.
Last summer, I bought a book about the Solomon Islands, and while looking at the photos of the objects, I was really moved by their beauty, and my mind immediately started to wander. Though I have never been there, the objects felt strangely familiar and close to me. I wondered: Was it because I recognized something specific in them or that they possess a universal beauty?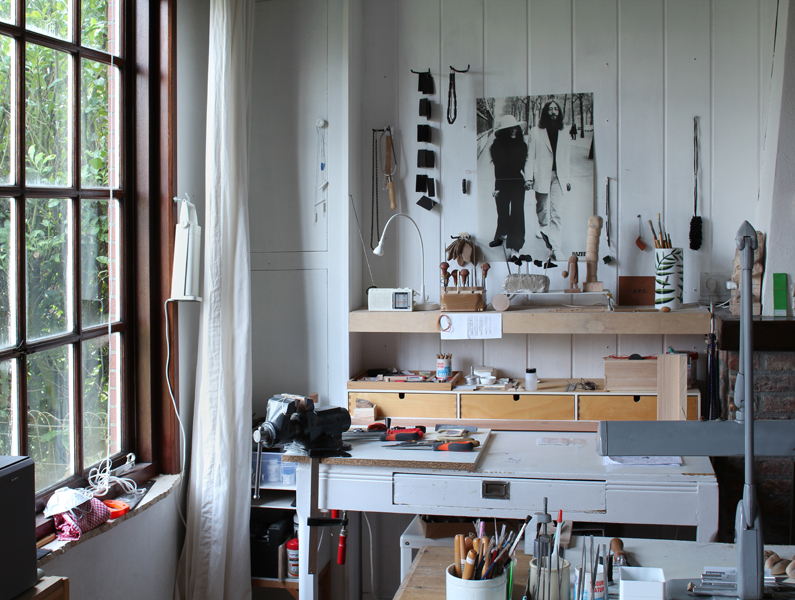 Karin Herwegh: Since I work at home, my living space and studio space are one and the same, so my work is always present. For me, this is ideal because there are no strict working hours and everything I do—from browsing through a book to listening to the lyrics of a song, from arranging elements to carving objects—it all becomes part of the working process. However, most of the day, and often 'til after midnight—especially when there's a deadline—I'm sitting at my table concentrating on the piece, and I'm working without getting up for hours and hours at a time, forgetting the world around me. (All the while, I take notes of all the thoughts and ideas that race through my mind, notes for new things to make … )
Your work is often described as being created from available materials and tools. Where do you find your materials, and specifically, why choose wood?
Karin Herwegh: From 1999 'til last year, my work mainly consisted of small figures carved out of hard wax before being cast in silver, sometimes gold.
The last few years, I gradually became more interested in increasing the size of my work or adding other elements, which would give me the ability to make more complex images. In metal, they would become too heavy, and maybe they also needed another "feel" or "touch."
Because wood can be carved in almost the same way as wax is, it seemed to me the obvious material to choose, and it was easy to come by. A small piece of wood, a knife, some files, a hand drill, and a saw are basically all I need. I like to work with the object in my hand, slowly sculpting it and deciding on the form as I go along. I know the subject I want to depict, but I only have a rough idea about how it should look.
The working process is very direct; to me it's not about exploring new materials or searching for technical perfection—rather, it's about figuring out how to translate the "spirit" of my thoughts or ideas into the final objects.
Karin Herwegh: First, I was mainly inspired by African cultures, but after a while I discovered many other cultures and the marvelous objects they created.
My book collection is filled with books of people, customs, utensils, art, and jewelry from all over the world, from ancient times 'til today. The objects depicted vary from kachina statues, decorated skulls, African gold weights, Pacific Island fishhooks, or Egyptian amulets to a Rietveld chair. The one thing that's important in all of these objects, and that makes them very special to me, is that they are all made by hand.
I'm amazed, every single time, by the craftsmanship and inventiveness with which they are made; each object holds irregularities and traces of the decisions made by the maker. Most of the pieces are functional and/or have a special meaning within the community, instead of being a mere object for show.
That is also one of the main things I try to achieve in my own work—that is, creating something that is more than just a product.
Karin Herwegh: The "I" in the title does not refer to me personally, but easily could have …
The title is actually a sentence I read in a book a few years ago and wrote down in one of my notebooks. When I was making this necklace, I remembered the sentence and thought it fit perfectly. In this case, I used it more as a metaphor: Wherever you grow up or are now, you should always be aware of your surroundings—trying to be at home or at ease in an environment can be very demanding, and any environment can be devious, or even dangerous.
The necklace can be a representation of the company of friendly beings, or of the awareness of, or the protection against, the not-so-friendly ones. It is worn as a choker and close to the neck, creating a classic appearance but suggesting amulet-like qualities at the same time.
The necklace called Family Plot provides a title that can be interpreted a number of ways, including as a familial burial plot or as a map of relationships within a family. Why the ambiguity?
Karin Herwegh: Like the title of the show, I think the title of the work adds value to the work if you can look at it from different angles. It doesn't have a specific message; it's more a basic thought that can be shaped by the viewer himself or herself. If I say the necklace is about this and this exactly, then it wouldn't be all the other things … and that would be a shame.
Although I choose certain elements and put them together in a certain way, it's not clear what to make of them exactly. By using stylized forms, creating ambiguous meaning, or putting things together in a certain way, I leave room for interpretation, and each viewer is invited to create his or her own story.
The figures and forms in this necklace have different shapes (some are upside down, or are only half of one); they might be members of a family, with all kinds of relationships, past, present, or in the future … In addition, the color white has associations with something unknown, anonymity, the spirit world, the ancestors … the cycle of life.
Finally, have you seen, heard, or read anything interesting lately?
Karin Herwegh: Because I have been working really hard on this collection for the past four months, I haven't been out much. Even so, I tried to make time to watch movies four or five times a week, and one I saw I thought was really special because each frame was a beautiful photographic composition. It's called Au pan coupé (Wall Engravings), by Guy Gilles (1968).
While working, I switched the radio station by accident and heard a piece of music that was new to me, and also very beautiful: "Piano Music in the Continuous Mode," by Lubomyr Melnyk.
And this month I'm going to Paris to see a large exhibition of works by Sonia Delaunay at the Musée d'Art Moderne de la Ville de Paris, which I'm looking forward to …