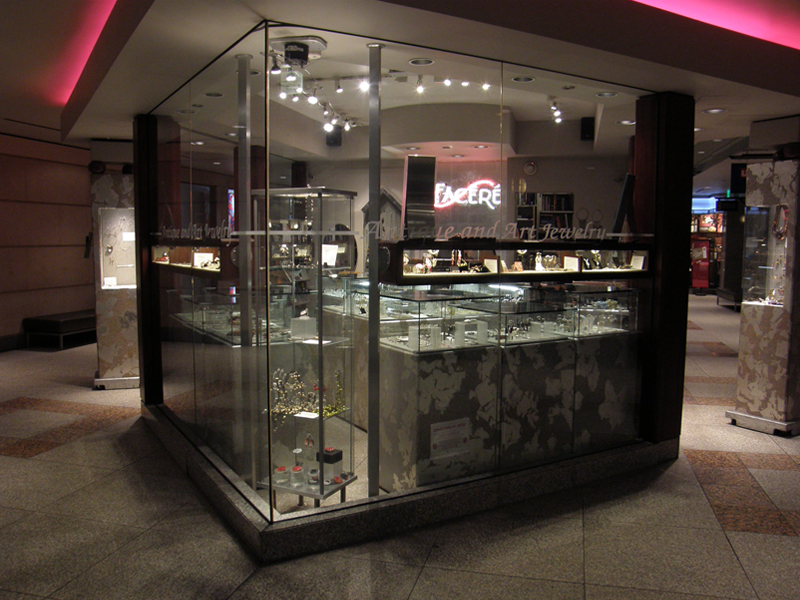 Facèré Jewelry Art Gallery, located in the City Centre building in downtown Seattle, Washington, offers a unique blend of both antique and contemporary art jewelry. In this interview, gallery owner Karen Lorene discusses the many talents, including her training as an appraiser and a passion for writing, that culminate in Facèré's successful presentation of contemporary art jewelry.
Adriane Dalton: Facèré is unique in that antique and vintage jewelry are included alongside contemporary art jewelry. I understand that you started out as an antiques dealer; can you talk about the origins of Facèré, when the gallery was established, and what compelled your transition from general antiques to antique and art jewelry?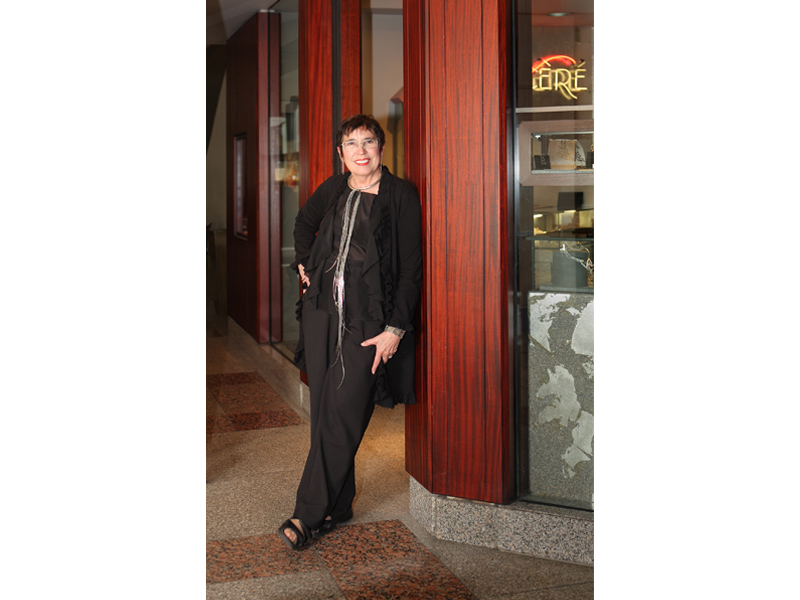 Karen Lorene: My business began in 1972 in the world of antiques—turn-of-the-century oak and assorted collectibles. One day I moved a cast iron stove, piece by piece, into the store. The stove was glorious. Heavy. Interesting. As I finished polishing the chrome trim, a customer came in and asked, "How much?" I said the first number that came into my head: $800.
"Great!" he said and took out his wallet. "Please deliver it." I almost cried.
That day I turned my focus on something small, delicate, and light. Something that would fit in the palm of my hand: Antique jewelry. A few years later, thanks to people like Mary Lee Hu and Ramona Solberg, I learned about jewelry art. It was love at first sight!
What are the challenges of presenting antique and contemporary art jewelry within the same space? How do they relate?
Karen Lorene: Today we focus on jewelry art, and only about 10 percent of our business stems from antique jewelry. The reason the two types of jewelry work together? They both represent the unique makers of one-of-a-kind jewelry. I also believe it is important for the young jewelry artists to see what shoulders they stand on—the metalsmiths of earlier years.
How long have you had a gallery showing contemporary jewelry? How have you seen the field develop in that time?
Karen Lorene: In the 1980s, jewelry art came into focus when we sponsored a yearly competition juried by academics and esteemed jewelry artists in the Northwest. Later I was to learn about SOFA, SNAG, and the Seattle Metal Guild. Our contacts grew along with my knowledge and appreciation.
Has your training as an appraiser had some bearing on your approach to selecting antique jewelry? What criteria do you have for selecting contemporary jewelry artists to represent? Do you go through a special process?
Karen Lorene: My training and knowledge as an appraiser was enhanced by selling antique and jewelry art. Membership in the International Society of Appraisers and the National Association of Jewelry Appraisers taught me the requirements necessary to write appropriate appraisals and led me to six wonderful years on the Antiques Roadshow. The contemporary artists we show at Facèré are chosen not only for their craft, but also for their unique and wearable art (and we choose the antiques of their predecessors for much the same reasons).). Accepting jewelry and jewelry artists for Facèré is part knowledge and part sheer joy when the unusual comes through the door.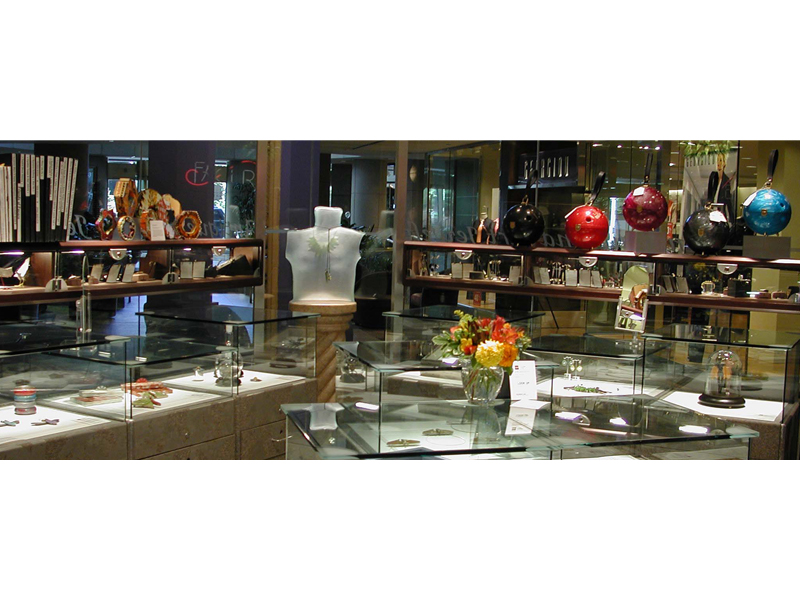 The eleventh installment of Facèré's annual jewelry and literature exhibition, Signs of Life 2015, closed in late October. Can you reflect on the concept of this show and how it has changed over time? Can you tell us about some of the highlights from this year's show?
Karen Lorene: The idea of creating a literary magazine appealed to the two sides of my life: writing and being a gallerist. The two worlds are wedded in a show and a publication. If you've not seen or read a copy of Signs of Life, please visit our website and place your order! The best $12 you've ever spent!
Over 11 years we have featured jewelry artists who particularly capture a "narrative" presentation. We want the writers to use the single image as an inspiration for their poetry, their essay, or their flash fiction. One of the most startling readings (opening night) was novelist Sam Ligon, responding to a boxed brooch of gold and silver by C. James Meyer. Sam's first sentence? "We killed Kitty's husband with a harpoon!" It cemented the audience's attention!
Tell us about the concept for the upcoming invitational exhibition Bewitched, Bothered and Bewildered (which opens February 3, 2016). What inspired this show, and how did you select the featured artists?
Karen Lorene: We chose artists making jewelry that bewitched or bothered or bewildered. The name gave us a broad range of jewelry artists. It is a clever, evocative name, and a tuneful title. Now we wait and see what work will come our way.
Do you ever have solo exhibitions? Who have you featured recently?
Karen Lorene: We do not have solo shows. Our tiny space is not conducive to such an idea and financially the risk is too great. With three to nine artists in any given show, our chances of selling increase. Does it sound mercenary? We love what we do and who we show, but we also have to pay the rent!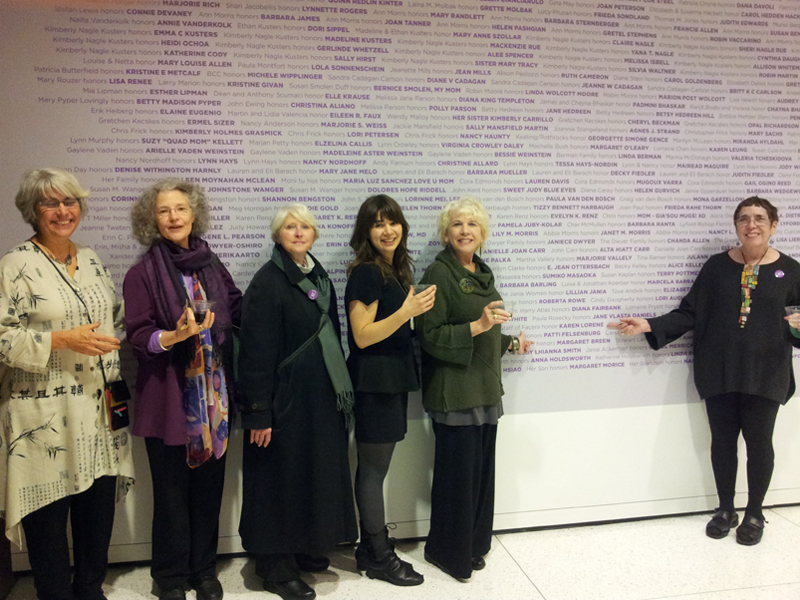 Who are Facèré's staff members and what are their roles in the gallery?
Karen Lorene: Maddy, Lorraine, Susan, Mēgan, and Dana are my wonderful staff. Madeline Courtney was a Fulbright Fellow. She creates our newsletter and prepares all of our advertising pieces and, as manager of the gallery, is responsible for the work of the rest of our staff. Lorraine Vagner takes care of all of our payments to artists and keeps track of all sales. Nancy Mēgan Corwin is in charge of inventory (as well as a jewelry artist who shows at Facèré). Dana Shaw executes all preparation of appraisals. Susan Walsh creates displays for seven major windows in our building and makes cards for all special occasions. Everyone works on displays and regularly rearranges work by each artist so that all pieces get the best exposure possible.
Trudee Hill (another jewelry artist we represent and a Fullbright Scholar) comes on board one or two days a week, when she is not home with her babies, and while at work she edits most everything that goes out of the gallery. Everyone who works for us is a talented salesperson and knows how to sell the work of our 50+ artists.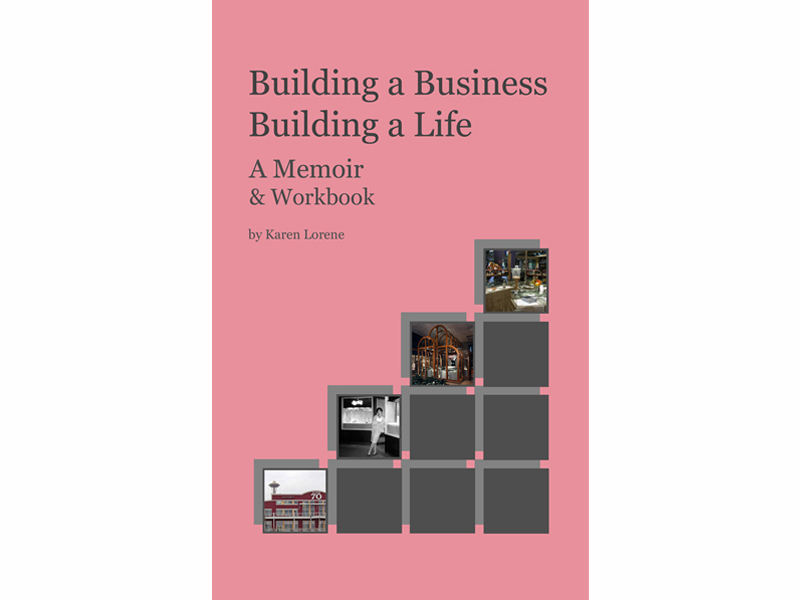 In addition to your role as gallerist, you are also an author. Could you talk about your literary works, in particular your publication of Building a Business, Building a Life: A Memoir & Workbook?
Karen Lorene: I try to write every day. I have written and published five books. I am presently working on my third novel. The memoir, Building a Business, Building a Life, is a tell-all retailer's book. I wrote it in hopes that someone entering this field might be helped and encouraged by my words.
What advice do you have for emerging jewelry artists and art jewelry curators?
Smile. Enjoy every day. Stretch. Say what's on your mind. Laugh. Tell good stories. Write. Love public speaking. Don't pass up opportunities. Wear jewelry art!!!!