AJF asked this year's Young Artist Award four finalists and winner—who were chosen from among more than 135 international applicants—to tell us a bit about their backgrounds and their thoughts on the future of the art jewelry field. Their work represents a group of outstanding pieces of contemporary work.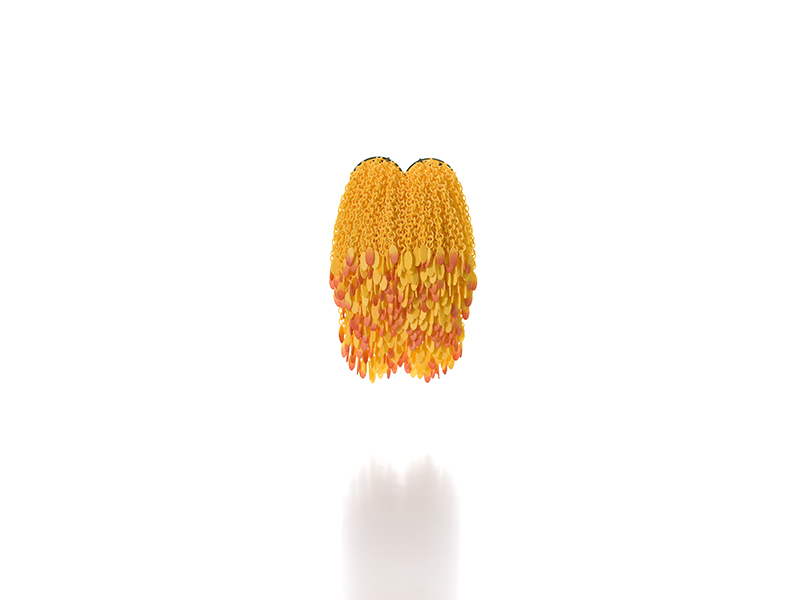 While studying computer programs, Ryungjae Jung became fascinated by metal craft and began studies in the field. In 2012, he attended Pforzheim University, in Germany, as an exchange student, and visited Alchimia, in Italy, in 2015 after being selected as the winner of the Alchimia Award at the Joya Fair, in Spain. Since finishing the graduate program for metal craft and jewelry at Kookmin University in 2016, he has exhibited in Europe, America, and Asia. His work features a direct relationship between jewelry and the human body through 3D printing and traditional metal crafting techniques, with a focus on movement. Thousands of chains are printed through digital replication in the form of indeterministic bundles. This provides the chance of "coincident luck" that represents the perfection of the limitless possibility of choice, transformation, and adjustment when the work is on the body.
This is the fourth of five interviews with the honorees. (Read the interview with winner MJ Tyson here. The interview with finalist Junmin Bae is here, and the one with finalist Lore Langendries is here.)
AJF's Young Artist Award acknowledges promise, innovation, and individuality, advancing the careers of rising artists. The competition was open to makers of wearable art age 35 and under who aren't currently enrolled in a professional training program. Judging was based on originality, depth of concept, and quality of craftsmanship. This year's jurors were curator Barbara Paris Gifford, historian Toni Greenbaum, and Chinese artist Bifei Cao, the winner of the 2018 Artist Award. The planned exhibition of the winner's and finalists' work, slated for display in Platina's booth at Schmuck, unfortunately didn't take place because of the cancellation of the Internationale Handwerksmesse this year due to the global coronavirus outbreak.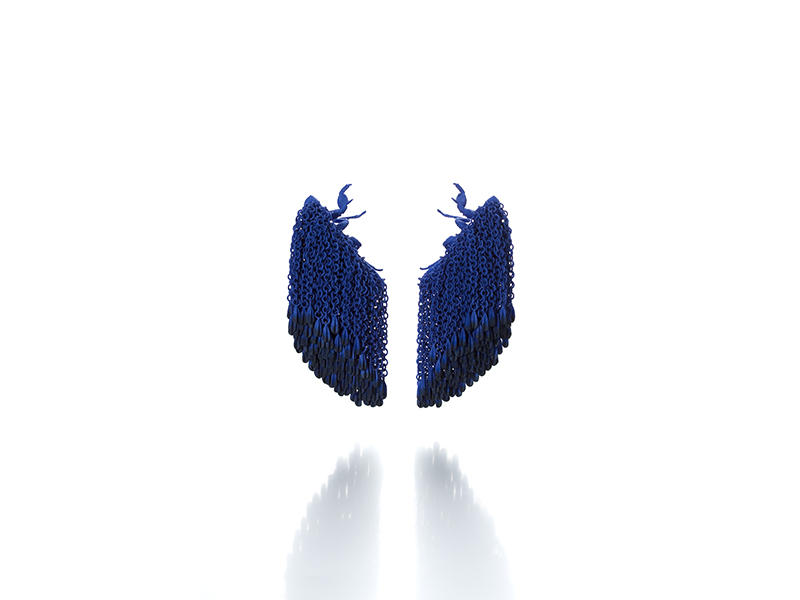 Bonnie Levine: Congratulations on being one of the five finalists of the 2020 Artist Award competition—that's quite an accomplishment! Please introduce yourself to our readers. How did you become interested in jewelry and what inspires your work?
Ryungjae Jung: Hello! I make jewelry with 3D-printing technologies and metalsmithing techniques. I started by studying computer software, such as C language and Java, then I was attracted to metalsmithing, which led me to study at Kookmin University Graduate School, where I got interested in jewelry as well. My main subject there was 3D printing using tessellations, and I received my MFA in 2016. Modern materials and production technologies greatly inspire my work. My work theory is to combine traditional metalsmithing techniques and principles of materials with progressive design and production methods, and also to find out a new thing between self-consciousness and a concept.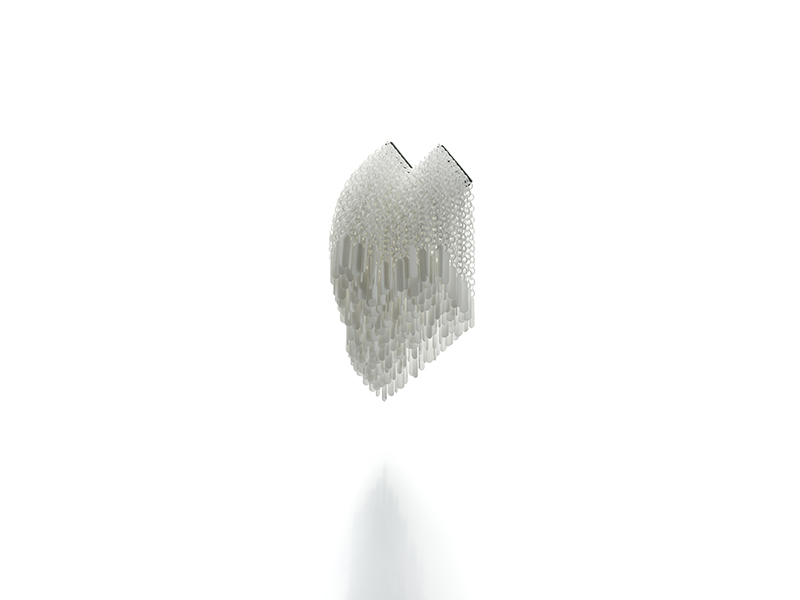 Tell us about the work you applied with.
Ryungjae Jung: Thousands of chains created with digital reproductions are printed as an undecided bunch of forms. All of the processes are done to represent the perfection of an unlimited selection, constant transformation, adjustability, and also happenstance: The jewelry forms differently depending on who wears it. A bundle of elastic polyamide chains is worn on body, and completes its form upon sensitively reacting to body movements and gravitational change. The wearer is the one who completes a piece of work, and it brings mental responses to viewers, and then expands meanings. I try to deliver a straightforward relationship between jewelry and human body using 3D printing technologies and traditional metalsmithing techniques, and movement.
What excites you about the art jewelry field?
Ryungjae Jung: Art jewelry itself. Even a small piece of jewelry can tell endless stories, and it's very subtle, spontaneous, and precious. Jewelry contains stories, symbols, and the marks that an artist gives, which I feel is the artist's other self. Also, the stories of the private relationships created between a jewelry piece and its wearer are really interesting. Working with jewelry is fun most of the time, but sometimes it makes me struggle for those kinds of senses.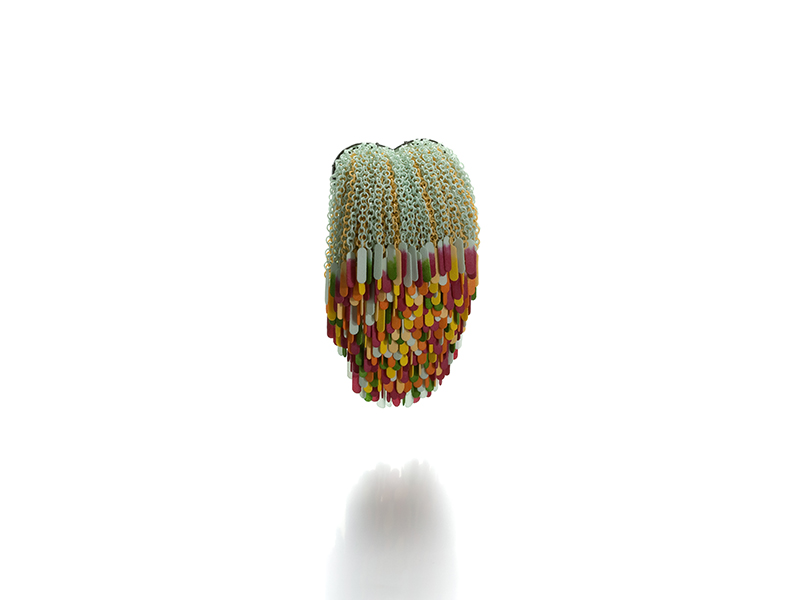 Any frustrations that you see or have experienced?
Ryungjae Jung: For the past few years, I've seen people expressing an antipathy toward grafting 3D-printing technologies onto jewelry. There are people who still feel very unfamiliar with it and are suspicious of emotional communication using digital technologies. This phenomenon especially stands out when it comes to jewelry because of its very close connection with the human body and jewelry-making traditions and histories. I, too, am also deeply concerned and have a critical mind about this.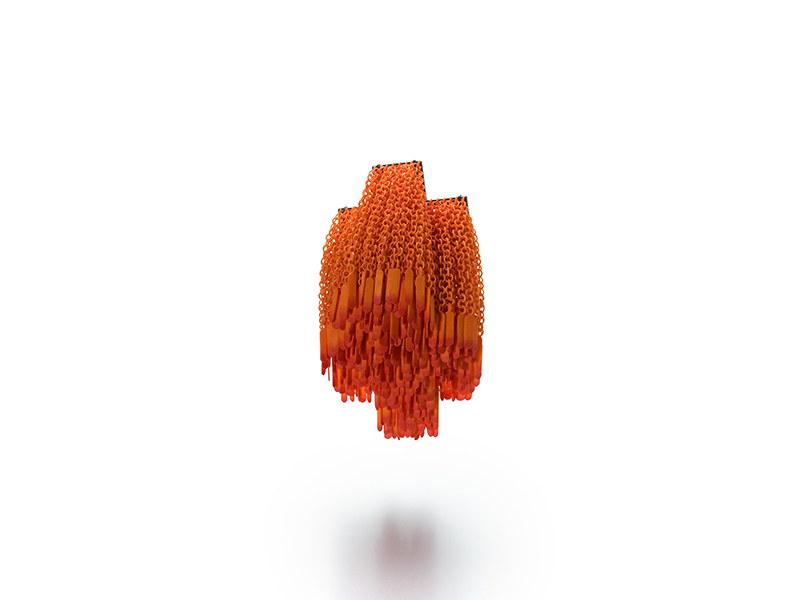 Where do you think the art jewelry field is going? Are there new and exciting trends that you see?
Ryungjae Jung: Turning new materials and forms into jewelry is very challenging and requires a lot of time. However, I always find it thrilling to see materials and forms of jewelry pieces with fresh ideas, especially when I see jewelry pieces done by artists in different media such as textiles, ceramics, glass, and woodwork. Their skills and understanding of materials contribute to a high level of completion and are totally incredible to see.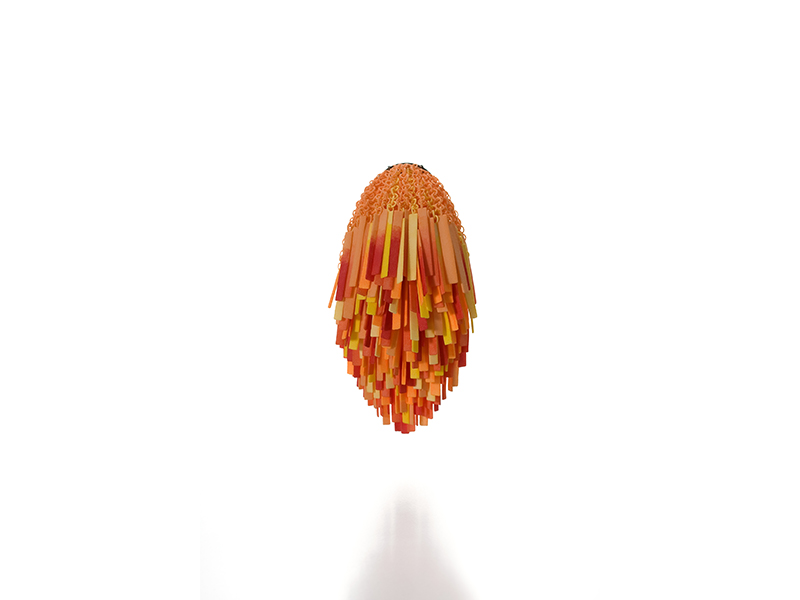 If you could write a master plan for your practice, where would you like to be five years from now?
Ryungjae Jung: I've been working at the Art Space Sindang Artist Residency, run by the Seoul Foundation for Arts and Culture, for three years. What really inspires me about being here is that I can experience works from different fields, because we have about 40 artists working in metalsmithing, ceramics, textiles, woodwork, and painting. Their works are always amazing and give me a lot inspiration. And in the next few years, I'd like to open my own studio and a gallery.
What does being a finalist mean for you? Do you think it will influence you going forward?
Ryungjae Jung: I appreciate it and feel very honored to be selected as a finalist. It's a pleasure to have my work be appreciated in competitions.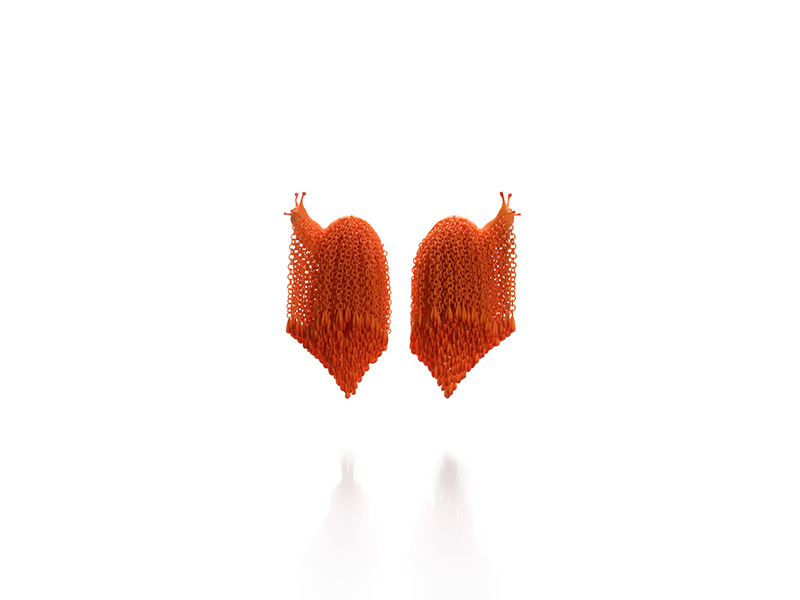 Congratulations again! Thank you very much for the interview!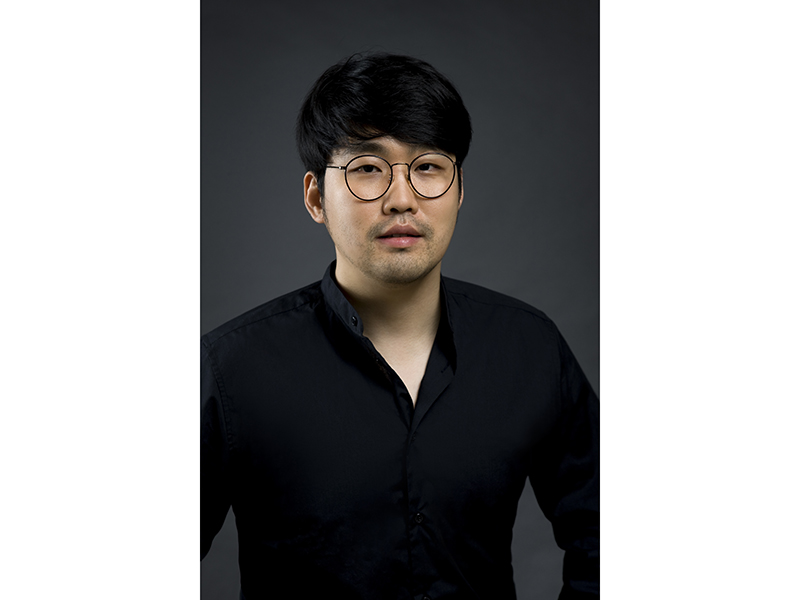 "This playful, yet sophisticated, series is comprised of colorful brooches, which utilize both time-honored and up-to-the-minute technologies. Undulating elements and auditory features expand their dimensions beyond the purely decorative." —Toni Greenbaum
"An accumulation of chains creates soft and moveable tassel characteristics. Each piece makes sounds while worn." —Bifei Cao
"Innovative, fresh, playful, and very wearable." —Barbara Gifford