Wolfgang Lösche has headed not only the craft gallery at the Chamber of Crafts for Munich and Upper Bavaria but the department for trade fairs and exhibitions
"In jewelry," he says, "everything comes together in the smallest space. Everything that could happen in life can take place there."
Loesche is interviewed here by Petra Hölscher, the curator of the annual jewelry exhibition at Die Neue Sammlung – The Design Museum in Pinakothek der Moderne, Munich
Petra Hölscher: Thank you very much for taking the time for this conversation. As I prepared, I realized that the world doesn't actually know much about you, and that's why I would like to start at the beginning, namely with Dießen am Ammersee, the town where you grew up. I imagine that the course for your career and efforts was perhaps already laid back then.
Wolfgang Lösche: That's true. I was born in Dießen am Ammersee in my parents' house, which still exists today. In 1945, after World War II, my father, Ernst Lösche, and my grandfather, who worked as a sculptor, set up a ceramics workshop there—practically from scratch, with a borrowed kiln and with all the improvisations that the post-war period brought.
The large property is still like an enchanted paradise for children today. Meadows and bushes—raspberries and strawberries—and this ceramics workshop. I more or less grew up in the workshop. Until I was six years old, I would see my grandfather setting up a small room in the house in which he modeled with Plasticine. There are still small animals and sculptures there today. For me, it was a completely familiar sight to see someone standing at the modeling bench or being in the ceramics workshop, smelling of clay and glazes.
As a child, did you pick up a chunk of clay and try to shape something?
Wolfgang Lösche: Of course. Every potter's child plays with clay in the workshop. What child wouldn't grab a chunk and model it to make little figures out of it? That's how I grew up.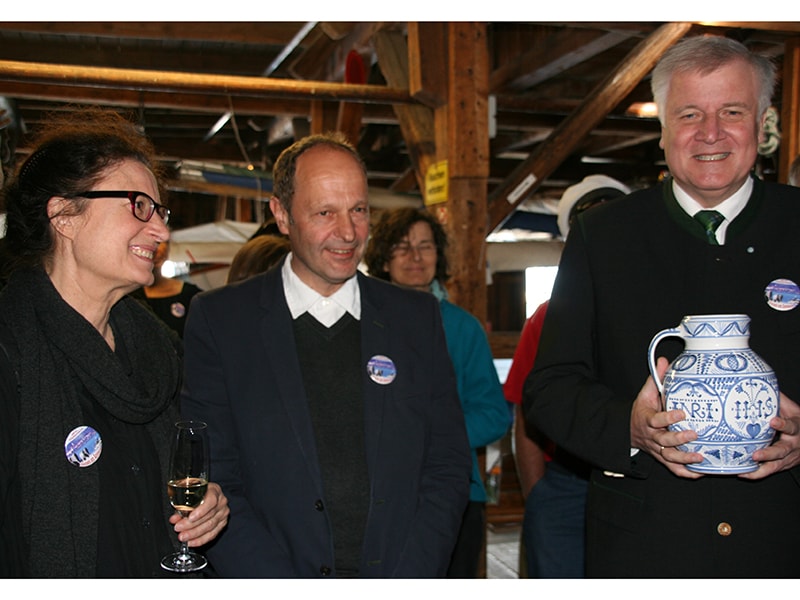 Over time, did this play give you the opportunity to earn extra pocket money when you were older?
Wolfgang Lösche: You're not entirely wrong in this assumption. When you're 10 or 11, you naturally make things in the workshop with the great hope of selling them. Among the buyers were a surprising number of aunts and uncles, relatives, and friends who were extremely pleased to do so. I painted some vessels with cobalt glaze and a glazing bulb and was amazed that I could actually sell them and use them to supplement my pocket money.
Of course, my father quickly realized that I could also be used in the workshop. From the age of 12 or 13 I really worked in the workshop. In ceramics there are many steps that are necessary until an object is finished. I helped with glazing, filling the kiln, and cleaning up the ceramics when the glazes needed to be retouched. I can still do that quite well today. The older I got, the more demanding my tasks became. At the age of 18, I got my driver's license so that I could drive to Frankfurt and set up the exhibition stand at the next Frankfurt trade fair. Experiencing the Frankfurt trade fair at the end of the 1970s was great; you met the ceramists and my father's and my parents' colleagues there. They all presented themselves at the Frankfurt spring fair and especially at the Frankfurt autumn fair. As a young boy, I got to know all the German arts and crafts there.
May I chime in? If we're talking about the 70s, then perhaps we should also talk about the founding of Galerie Handwerk, in Munich.
Wolfgang Lösche: Yes, it was the same time and the same mood. Galerie Handwerk opened in October 1968. Of course, this was preceded by a long planning phase. I was 10 years old at the time and experienced the entire process.
… because your father co-founded the gallery.
Wolfgang Lösche: Yes, because my father was one of the two founders of the gallery, which was originally intended as a producer's gallery for Munich. A completely new type of gallery, namely by artisans for artisans. From the beginning it was called the "Gallery for International Applied Arts." The name said it all. It was a gallery for handicrafts—not for art, but for crafts and artisans, who at that time had a large forum at the Munich Chamber of Crafts thanks to Herbert Hofmann as head of the crafts department in Bavaria. The department that cultivated and developed crafts had the task of organizing special international shows at the craft fair (IHM). Hofmann brought about a lot of exhibitions, making Munich more and more a center for international handicrafts and applied arts. The presentations took place here in the Chamber of Crafts building, where we are now sitting and having this conversation. It all started downstairs in the foyer in the 1950s/1960s. Then Galerie Handwerk came along and the whole thing became even stronger. And I grew up in this atmosphere.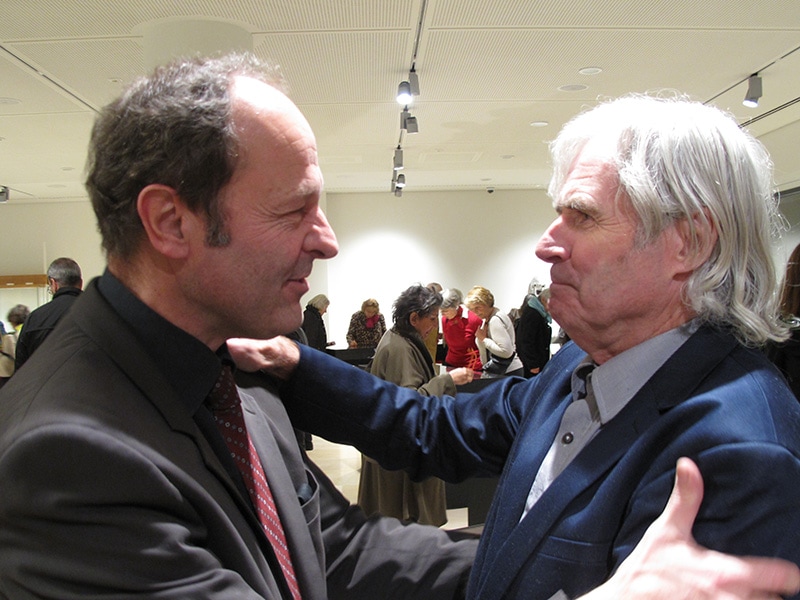 What career aspirations did you have when you were 10 or 12 years old? Was it clear from the start that it would have something to do with crafts?
Wolfgang Lösche: There was a very strong relationship with the craft professions, that was very clear. Ceramics were everyday life at home. I felt incredibly comfortable in this climate and in this atmosphere, in this artisan atmosphere.
Maybe I should explain it in more detail. These people I met there, these craftsmen, applied artists, from the point of view of a 10-year-old little boy, they were real gentlemen. In tweed suits, bow ties, and smoking pipes. These were personalities who made an impression, who discussed, who talked about art and craftsmen. I always found them fascinating.
But back to your question. Back then, my father took me almost everywhere with him. That wasn't so easy for a little boy when I had to sit somewhere until 12 or 1 a.m. On these trips we often went to the Bavarian Forest, which in turn had to do with the founding of Galerie Handwerk.
Glass played an important role at that time, and glass was also to play a major role in the newly founded gallery. The reference person was Erwin Eisch, with his glassworks in Frauenau. He and my father soon became close friends. At the end of the 1960s and the beginning of the 1970s, I regularly visited the glassworks in the Bavarian Forest, especially near Eisch and Theresiental. I originally wanted to become a glassblower.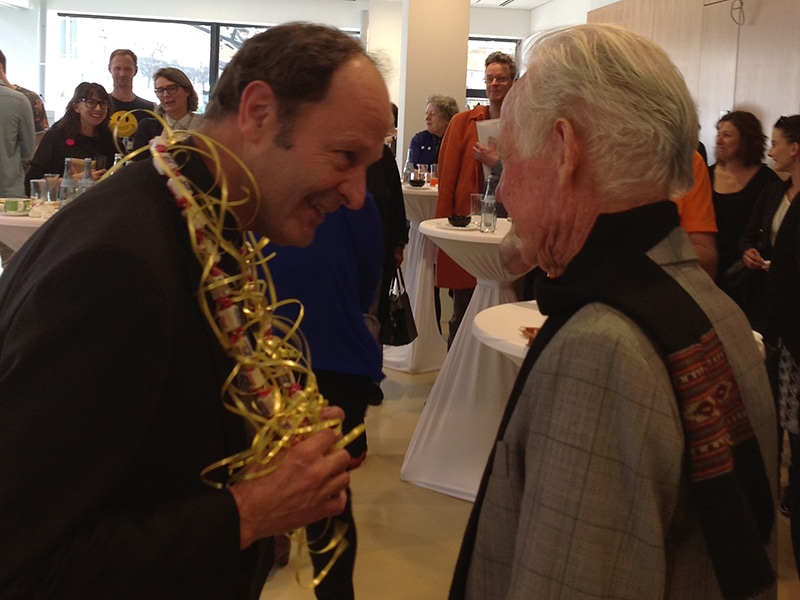 That's exciting!
Wolfgang Lösche: It thrilled me so much, this energy in the glassworks, when the teams there were working on piecework in front of these glowing furnaces, in this crazy atmosphere. Later, in the late 1960s, the studio glass movement emerged. Erwin Eisch brought the first American glass artists to Munich—dungarees and long hair and the hippie scene. It was all so cool and exciting that you wanted to pack your backpack straight away and go with them.
But by then I was already in the final stages of high school. At school I was lucky that a few teachers were able to get me incredibly excited about the topics of art, design, and history. And in high school there were those term papers that you had to write.
But first you must know that at the end of the 1960s my father discovered that the property on which we lived and still live today was an old pottery estate from the 17th century. By pure chance, while digging in the garden, he discovered a first waste pit in which there were such a large number of broken shards that it quickly became clear that these were not household items that had been thrown away, but rather production waste. This was waste from a pottery workshop. That was around 1965. At the same time, my interest in history and historical contexts began, except that since the ceramics were discovered, they also had something to do with my own family. We then promptly began to systematically dig for old remains of this pottery in our garden.
When I had to write this term paper in high school, I was already interested in archaeology. The homework was about Heinrich Schliemann and his excavations in Troy. A fire for archeology and historical connections was finally lit in me. That was also the time when kids and their parents went to the big exhibitions like Tutankhamun in the Haus der Kunst in Munich. The exhibition World Cultures and Modern Art [Weltkulturen und modern Kunst], during the Olympic Games in Munich in 1972 was a sensation for me. Even though I was still very young, it really excited me and strengthened my interest in archeology, art history, and ethnology. By the way, after doing this homework I was nicknamed Schlieman.
At the end of high school, the question arose: ceramics or something else? If ceramics, the Landshut Ceramics School would have been the option. But the registration deadline had already passed. So they said, let's bridge the interim by studying. I just wanted to find out what was available. I was at the student advisory service and, among other things, in the antique collection. That wasn't for me at all. From there I went to the Bavarian National Museum to see Ingolf Bauer. He welcomed me into his office with open arms. He spent two hours telling me what he did as a ethnologist. I didn't know what ethnology was. He told me that they were currently researching ceramics, during a period that archeology was not yet interested in because the finds were too young—i.e., late medieval and modern ceramics. That was exactly what we were researching in our garden in Dießen. My interest was piqued.
Bauer drew my attention to the Institute for ethnology on Schellingstrasse. There I met people who welcomed me so openly and warmly that I am still friends with some of them today. In the end I studied ethnology, art history, prehistory, and early history. Ingolf Bauer became my great mentor. He encouraged and supported me a lot. From the beginning he found the research work in Dießen to be extremely important. Bauer encouraged me a lot and immediately took me to international ceramic symposiums. When I was in my early 20s, I gave lectures and wrote my first article in the specialist journal Keramos. He also took me to the Obernzell Castle Ceramics Museum [Keramikmuseum Schloss Obernzell] and, as a young student, involved me in developing a concept for the museum.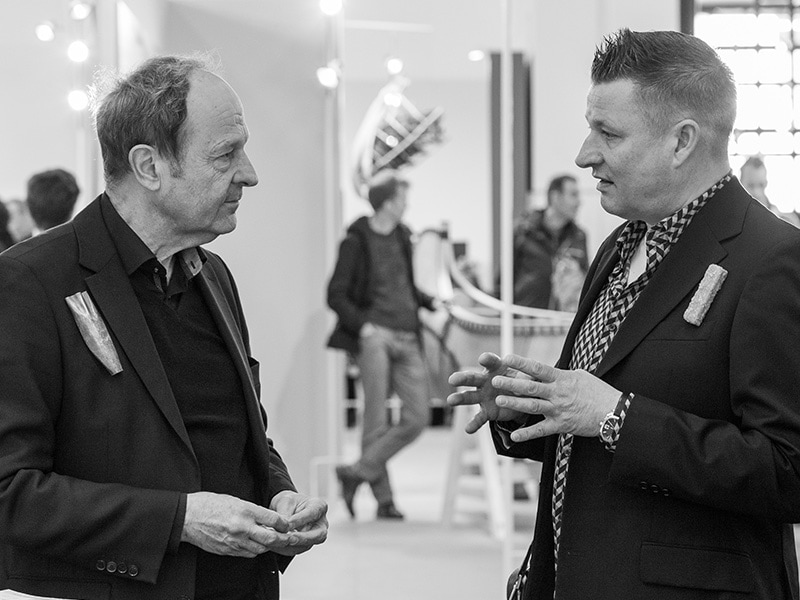 It sounds a bit like Ingolf Bauer saw you as his successor. Is this the case?
Wolfgang Lösche: Yes, he did. Then my studies were over. In the fall of 1984, Bauer brought me to the Bavarian National Museum [Bayerisches Nationalmuseum] so that I could gain my first practical and professional experience. At that time there was a ceramic find from Lower Bavaria, Renaissance ceramics, about which a small exhibition was to be made—a tiny exhibition, just three showcases, but with a publication. My first test run, so to speak. When that was over, I then worked on the Hafner archive.
My temporary contract, for which Bauer had received money from the Danner Foundation, expired at the end of December. That was my first contact with the foundation. At that time, I already had contact with Galerie Handwerk. In 1983, my predecessor here in the house, Peter Nickl, created the large exhibition Earth, Ash, Fire: Ceramic Glazes [Erde, Asche, Feuer – Keramische Glasuren] for my father at Galerie Handwerk. It was an exhibition for the 15-year anniversary of the gallery and, at the same time, completion of research work on ash glazes. I worked on this exhibition as a student. This is how Peter Nickl and I met. He immediately saw how I was anchored in the entire arts and crafts scene. In 1984, when I was still at the Bavarian National Museum, he drew my attention to a job posting from the Chamber of Crafts. They were advertising for the position of "consultant."
In the 1970s, in addition to the business consultancy, which took care of economic matters, the German Chambers of Crafts employed a so-called design consultant who was responsible for design issues. In the end, someone else got the job, but Peter Nickl called me to offer me a working student contract.
Fritz Gotthelf, who had been the head of the international special shows at the IHM, died in October 1984. Peter Nickl was appointed as his successor. Almost overnight, he took on the task of organizing not only Galerie Handwerk and the development of crafts, but also the special shows Exempla, Schmuck, and Youth Designed [Jugend gestaltet], as Talente was called at the time. He needed staff for this and he remembered me.
At the end of December I stopped working at the Bavarian National Museum. On January 1, 1985, I sat here in the kitchen and worked on the Exempla special show—wrote the exhibition texts and helped organize the exhibition. This was very easy for me because I already knew many of the exhibitors.
Since when have the four special shows at IHM actually existed?
Wolfgang Lösche: Schmuck is the oldest of the special shows. The first took place in 1959, then there was a small break, and since 1962 it has continued without interruption. Exempla was added in 1970. Since 1980 there have been Talente and Masters of the Modern [Meister der Moderne], which was originally called Designing Craft [Gestaltendes Handwerk] and later Portrait of the Masters [Porträt der Meister]. Masters of the Modern was unfortunately canceled after 2019.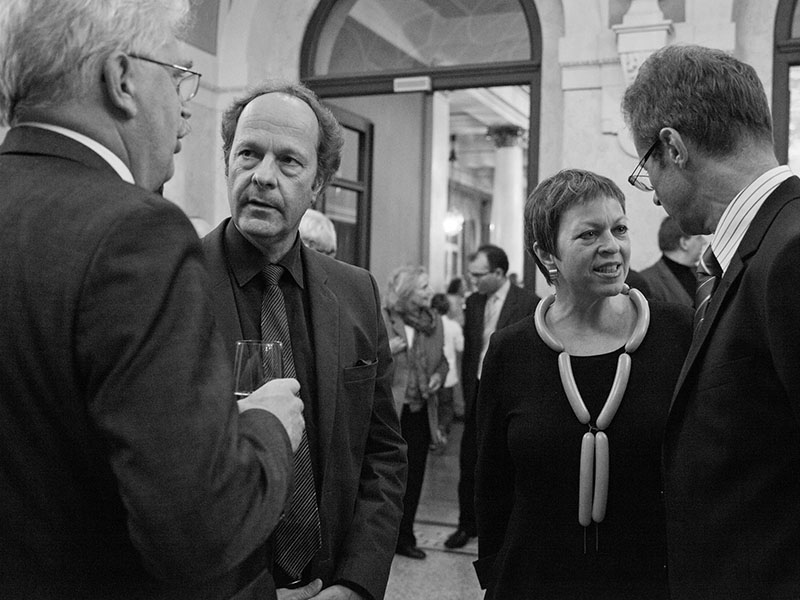 Can we say that you were more or less introduced to the subject of handicrafts through your work at Galerie Handwerk? You learned what constitutes good form from your parents. But now you also became acquainted with other handicraft techniques and materials: textiles, glass, wood, weaving, and so on.
Wolfgang Lösche: No, I already knew a lot about it. In the environment in which I grew up, all of this was part of everyday life. We were surrounded by handcrafted things. For me, that was my normal environment at home. The Frankfurt trade fair also played a big part in this. I loved shopping there as a teenager—from the textile workers, from the other trades, because I was really interested and excited about everything that was produced.
So I knew the material and the form, but working in Galerie Handwerk naturally broadened my horizons enormously. Not only did it become international, but above all it became systematic and conceptual work. What was purely a hobby, what was completely self-evident, suddenly turned into what then led to exhibition organization and planning: thinking about concepts and ideas, coming up with strategies, how to come up with a piece. How do I set up an exhibition, what kind of structure and what kind of presence should the exhibition have? Who do I want to reach? Who do I want to address? The whole exhibition-making thing was new.
Something that could be described as "professionalization." From what you describe, you were actually the man of the future.
Wolfgang Lösche: There is one more thing I would like to say using the example of production in my father's ceramics workshop when it comes to the search for a form. My father employed a serial lathe operator, one of the best at the time: Erich Happe, from Bürgel, in Thuringia, worked in our workshop for over 35 years. When a new shape was created, my father would come into the workshop with a drawing to discuss it. Then the prototypes were turned and the first corrections were made to these prototypes—the foot had to be narrower, the stomach had to be thicker, the neck and the shoulder had no tension, it had to be one way or another, the handle was particularly important, it had to form an ear because the space between the body and the handle is the decisive factor. These procedures lasted several days. At the end there was a board with 20 vessels and then this test came: "Now come with me and tell me, which vessel is the most beautiful?"
Those are always the moments you don't like, right?
Wolfgang Lösche: Yes, but in which you learn a lot and also have it explained why it is that way.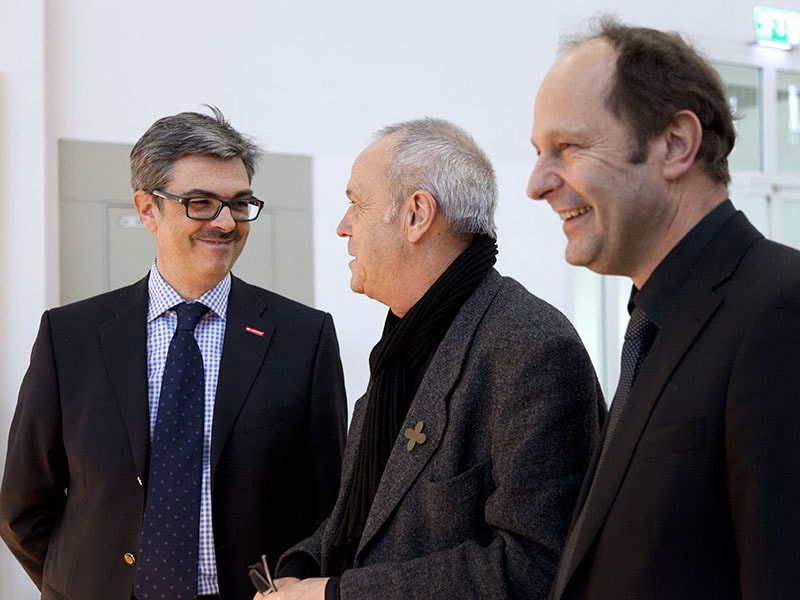 We were talking about the point when you got a contract to work at Galerie Handwerk.
Wolfgang Lösche: All in all, it took two years. I had this temporary student contract at the gallery and mainly worked on setting up the exhibition. Platforms were dragged, hammered, nailed, drilled, painted … just about everything that needed to be done. When there were no exhibition modifications, I worked on organizing exhibitions. Peter Nickl had incredible skill and was also incredibly well connected.
During this time, in addition to Galerie Handwerk and the special shows, there were still orders from the Bavarian Ministry of Economic Affairs [Bayerische Wirtschaftsministerium]. People were always happy to use our department when the Bavarian Business Days took place somewhere in Italy, the Czech Republic, or Austria. Then the craft development department was commissioned to create an exhibition about it. Those were exciting times!
1986 and 1987 saw two exhibitions in a row in Verona: once jointly with the Bavarian Decorative Arts Association [Bayerischer Kunstgewerbeverein] and once on behalf of the Ministry of Economic Affairs—La Baviera a Verona, in the Palazzo Gran Guardia, opposite the arena. It was a very large exhibition about Bavaria and the country and people under the special lens of handicrafts and fine craft. The same thing happened a year later in the port of Trieste, in an Art Deco building used for exhibitions. These representative exhibitions were initiated by the then Prime Minister Franz Josef Strauss and the Bavarian State Chancellery [Bayerische Staatskanzlei]. Economic relations between Bavaria and Trieste are important, because the port plays a key role in the transport of goods to Bavaria.
Were there already contacts with Die Neue Sammlung at this point? Perhaps craftsmanship and design were presented as a unit?
Wolfgang Lösche: Well, people always went to the exhibitions of Die Neue Sammlung because there were thematic overlaps—Japanese lacquer, ceramics, paper, porcelain. Peter Nickl was also very close to the then director of Die Neue Sammlung, Florian Hufnagl, the Design Center Munich [Design Zentrum München] would be founded at the end of the 1980s/beginning of the 1990s. But there was no real collaboration, besides a few exceptions, like when we were planning an exhibition and knew there were interesting items on loan from your institution—especially in the beginning of planning the Exempla special exhibition. I'm still very proud today that we were able to show the Anni Albers textiles from Die Neue Sammlung at the fair, on the theme of "Rhythm."
Wow, that's remarkable!
Wolfgang Lösche: There were points of contact between Peter Nickl and Florian Hufnagl in the Danner Foundation [Danner-Stiftung] and in the board of trustees of the Bavarian Decorative Arts Association. But my interactions with their institutions had more to do with borrowing and requesting loans. Die Neue Sammlung even acquired some of the objects from our exhibitions in Galerie Handwerk or from the special shows at the trade fair.
But back to your question, which I haven't fully answered yet, about whether it all flowed together so seamlessly for me. When my working student contract expired, the working hours of the man who had taken over the position of "advisor" at the Chamber of Crafts two years earlier actually ended. In September 1987 I started as a new form consultant [Form-Berater]. I then worked incredibly well as a team with Peter Nickl for 17 years. When Nickl retired in 2003, I was offered management of this department. An offer that I was very happy to accept.
2003 is also the year we both met. I can remember that you brought something to Die Neue Sammlung, which at that time had its offices on Prinzregentenstrasse, before they also finally moved into the Pinakothek der Moderne. Your predecessor, Peter Nickl, was very successful in his work at the fair and as director of the gallery. When you became his successor, what position did you want to take? Did you say to yourself, "I want to try to maintain this incredibly high level and continue in the same way," which was already difficult enough. Or did you have ideas about what you might want to do differently?
Wolfgang Lösche: Both, actually. For me it was a real challenge to live up to the high standards that Peter Nickl had set. Nickl was merciless in his assessment of quality. Michael Koch, a former curator at the Bavarian National Museum, once told me on the occasion of a Danner Prize ceremony that Nickl had a surefire instinct for quality. This had something to do with Nickl's biography—on the one hand with Fritz Gotthelf, who previously directed the special shows at the trade fair, and on the other with his friendship with the architect Hans Ell from Kassel.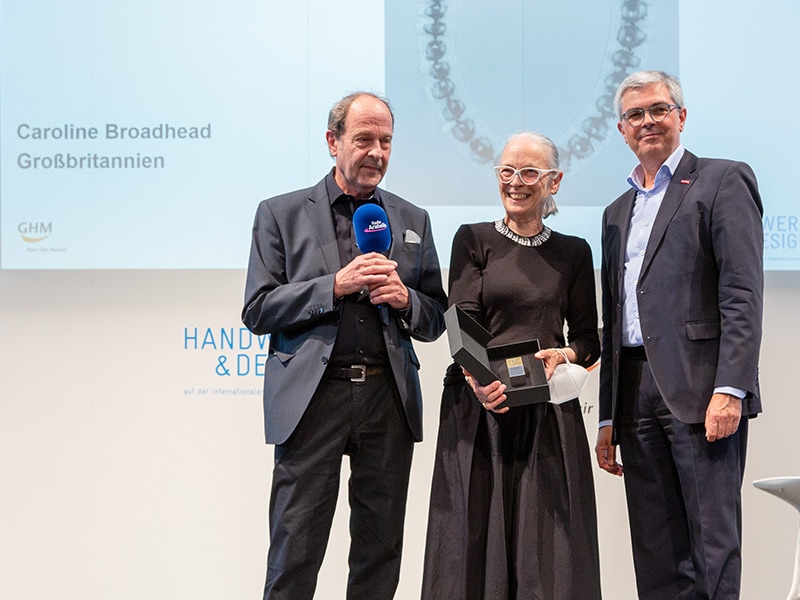 These were the people who really looked for quality in handicrafts, and represented it accordingly. When Nickl took over the management of Galerie Handwerk, he implemented his quality standards in the exhibitions and special shows. The bar was already set pretty high.
It makes a difference when you suddenly have all the responsibility yourself. I first had to take a deep breath and think about how I could live up to this standard. But it was a very clear decision for me that I wanted to build on what Peter Nickl had achieved and keep going. I didn't want to change it with a crowbar. I kept working with some of the same people, the same external companies and employees, and kept the same graphic designer for many years so as not to completely change the style. We only started making changes after 2004/2005, when internationalization increased and the networks suddenly expanded. It has been possible, not only in the special shows but also in the exhibitions of Galerie Handwerk, to present and compare international creative crafts of a very high quality and also to present interesting exhibition contributions to the Munich and international audience. Looking back, I'm particularly pleased about that. Galerie Handwerk thus became one of the most important institutions in Germany and Europe in this field.
At the first exhibitions you used one or two tricks—that's how I would read it today as an outsider. You let Hermann Jünger make the selection for the jewelry exhibition at the trade fair. It was a safe bet, because you knew he would make very good choices. And for Exempla, you chose the Olympic Games, an extremely popular topic that still inspires everyone today.
Wolfgang Lösche: That was carefully considered, of course. I was particularly interested in whether Hermann Jünger would take on the task. Until then he had always rejected the idea. That was at a time when his illness was already noticeable.
Believe me, every time I asked someone, no matter who, to make the selections for the jewelry show and they agreed to do so, in the next second I asked myself, was that the right decision? During the selection process, our department held back completely. We have never actively intervened in the selection of jewelry contributions.
And as far as the craft and sports example from 2004 is concerned, I must go into a little more detail. The responsibility for Galerie Handwerk is a great one—its external image, its reputation. We definitely want to maintain and perhaps even increase what has already been achieved. That's one thing. At IHM it is a completely different situation in terms of responsibility. The Exempla special show alone has to be approved by several institutions. This is how it works: We suggest a topic. The proposal will first be discussed here in the Chamber of Crafts and must be approved by the general manager and the president. Then the suggestion goes to the trade fair's management, as the actual organizer. If both institutions agree, the proposed topic will be sent to the Federal Ministry of Economics with a request for approval.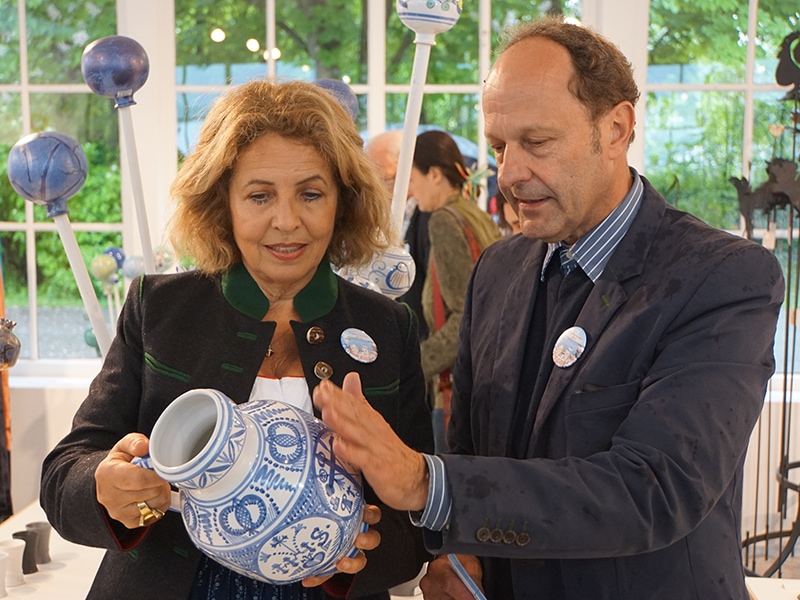 Very interesting to find out more about the processes.
Wolfgang Lösche: We could put it this way: With Galerie Handwerk I have my own institute, the trade fair is the organizer, and the ministry which is giving the money—all three together have the controlling authority. I bear the responsibility that, firstly, it has to work, but secondly, it should also be successful. Because otherwise the three institutions might say at some point, why are we doing this? You always propose something that you believe is feasible and has an impact on the public and is also worthwhile for the exhibitors. In terms of responsibility, this is very high.
That's why the decision was made to focus on sport, because people are simply interested in it. The fact that craft plays such a large part in this was very surprising to many of the visitors. Exempla always wants to present craft in a special way, namely in a way that we don't see it every day or as we know it.
You always manage to do that wonderfully! You said earlier that Peter Nickl discussed the exhibition design together with the architect Hans Ell.
Wolfgang Lösche: When the trade fair took place on the grounds in the Theresienhöhe district, there were frequent architectural changes, as historical photographs show. The Exempla special show was varied from the start according to the theme, but more or less of Ell's architectural design. The really big change came in 1999 with the move to the new exhibition center in Riem, when Ell was commissioned to redesign all of the special shows. We still use his exhibition design today.
It makes sense to use architectural language to visually draw together trade fair areas.
Wolfgang Lösche: Yes, of course, absolutely. I would just like to point out that back then a lot of money was invested in high-quality materials and the question of non-reuse therefore did not even arise. Every year the system is carefully set up and dismantled again. It's a showcase project for sustainability, if you will. In this example, the walls or floors sometimes break and have to be replaced accordingly. Of course I would be interested to see how this all develops in the next few years.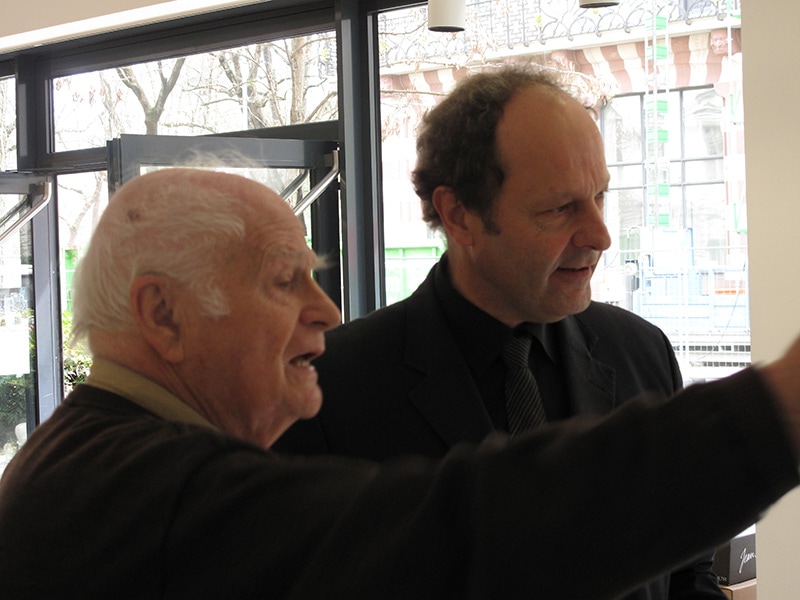 Maybe at this point we should take the conversation in a different direction, namely jewelry. For example, when did you open the first jewelry exhibition in your new role at Galerie Handwerk?
Wolfgang Lösche: Jewelry has always been an important topic in Galerie Handwerk's exhibition program. Perhaps I could use our conversation to list the most important jewelry exhibitions in the gallery:
1969: Steinreiches Handwerk (Stone-rich Craftsmanship)
1972: featured two exhibitions with costume jewelry and necklaces made of ivory and glass
1977: Nur 10 Gramm (Only 10 Grams)
1982: Sommerschmuck (Summer Jewelry)
1983: Schmuck aus dem modernen Japan (Jewelry from Modern Japan)
1985: Schmuck aus Katalonien (Jewelry from Catalonia)
1986: Silberschmiede und Images, Niederländische Schmuckkünstler (Silversmiths and Images, Dutch Jewelry Artists)
1990: Metallklasse Hössle (Hössle Metal Class)
1992: Glasschmuck (Glass Jewelry)
1994: Broken Lines – Emmy van Leersum
1996: Silbertriennale (Silver Triennial)
1997: Klasse Hössle. Silberschmiede Nürnberg (Hössle Class. Nuremberg Silversmiths)
1998: Familie Jünger (The Jünger Family)
1999: Homage an Herbert Hofmann (Homage to Herbert Hofmann)
2001: Körperschmuck. Burg Giebichenstein. Klasse Dorothea Prühl (Body Jewelry. Giebichenstein Castle. Dorothea Prühl's Class)
2002: Giampaolo Babetto
When I took over management in 2003, there was a turning point. In the beginning I viewed the jewelry exhibition at the trade fair as our big contribution to jewelry, so I put the brakes on shows in the gallery. It was only when the whole thing took another leap after the opening of the Danner Rotunda in the Pinakothek der Moderne that we decided to also hold jewelry exhibitions in Galerie Handwerk parallel to the IHM.
That was in 2008, with the exhibition about Enrico Nagai. After this first jewelry exhibition shown in the gallery in parallel to IHM, there was no turning back. My concern was always: can we do it, can we manage it, can we do it in a good, interesting way? So we really got into it.
Right from the start, it was incredibly nice to see how much interest there was from abroad in this jewelry exhibition venue, Galerie Handwerk. And then we managed to exhibit Schule von Padua (School of Padua) in 2009. It had taken many years for this exhibition to come together in Padua. It was staged in 2008 at the Palazzo della Ragione, a Renaissance building in the wonderful Piazza delle Erbe. I seized the opportunity then and asked the exhibition curator, Mirella Cisotto, whether we could bring over parts of the exhibition to show at the IHM in Munich. The promise came immediately.
The whole thing had already been designed and the selection of objects had already been made—or so I thought. When I was in Padua to negotiate the takeover, she asked me to go to the exhibition and make the selection for Munich. I actually only had that one day to make the selection, which is always risky. But in the end it all worked out well and Galerie Handwerk was able to show this very interesting exhibition parallel to IHM.
Inquiries soon followed from Australia, New Zealand, and Scandinavia as to whether we could show their exhibitions here. We really enjoyed doing that. In 2010 the Australians, with Robert Baines and Treasure Room Australia. In 2014 Wunderruma, from New Zealand, a really wonderful exhibition! Then in 2015 The Coolest Corner, from Scandinavia, and in 2019 21 Grams, from China.
Over time, we naturally became ambitious to create our own concepts. These were exhibitions with which we wanted to honor specific artists: Affären – eine Werkübersicht von Gerd Rothmann (Affairs: An Overview of the Works of Gerd Rothmann), in 2016; 2017's Hommage an Manfred Bischoff (Homage to Manfred Bischoff); and Francesco Pavan and Tore Svensson, in 2018. These exhibitions were also very well received by the audience. Thematic exhibitions followed: Steine – der letzte Schliff (Stones: The Finishing Touches), in 2020; Gesichter (Faces), in 2022; and this year's exhibition, Schmuck und Gerät (Jewelry and Devices), which my deputy Angela Böck and I designed together. That's the last joint jewelry exhibition for both of us. We just wanted to do what we like again.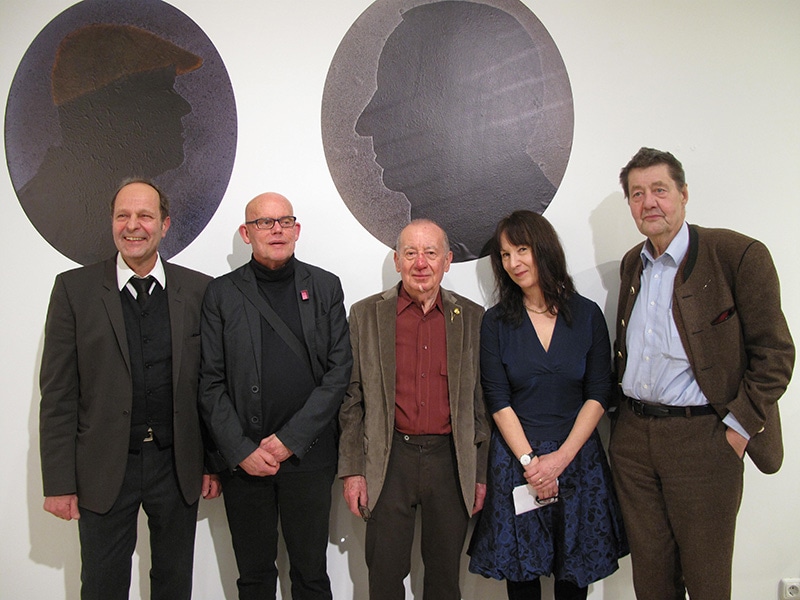 You apparently started showing jewelry exhibitions parallel to IHM at the time when the then director of Die Neue Sammlung, Florian Hufnagl, made his decision to include solo exhibitions under the glass roof of the Pinakothek der Moderne in the program every March. A nice get-together: they showed the exhibitions of national work and Die Neue Sammlung showed the monographic exhibitions.
Wolfgang Lösche: As already mentioned, there had been jewelry exhibitions in Galerie Handwerk before. The exhibition about Giampaolo Babetto in 2002 was particularly important for Peter Nickl.
At the risk of jumping around a bit, how do you actually select the Klassiker der Moderne—the modern classics—at the trade fair's jewelry exhibition? Maybe there are sometimes bigger considerations behind it.
Wolfgang Lösche: Of course there are bigger considerations behind it. We sit down together in advance, go through certain things, think about them, and then possible names come up. By "we" I mean my colleague Eva Sarnowski and me. In our organization, Eva mainly deals with jewelry. Some aspects are discussed, such as: was the person important as a teacher and/or as a goldsmith, did they achieve something in their time, the standing they had in the scene.
Sometimes how often a person's work has appeared in the Schmuck special show has played a role. But with Ono Boekhoudt, for example, that didn't play a role at all. Although one would think that he was often invited to Schmuck, that is not the case. The fact that Anna Maria Zanella died so unexpectedly and suddenly led us to include her as a classic. She is actually the person who has been featured most in the Schmuck show. She was selected 17 times by a wide variety of jurors.
What an achievement! Eva Sarnowski is part of the jewelry team. How long has she been there?
Wolfgang Lösche: Eva Sarnowski has been at the Chamber of Crafts since 1986, but has only been here in this department since 1987. She came to us because she is a trained foreign language correspondent and speaks French fluently. The Bavarian Chamber of Crafts maintains a partnership with the Breton Chamber of Crafts. This is Eva's sideshow and her second major task here in our chamber. Even under Peter Nickl, she was responsible for communication and maintaining contacts, and helped organize the special show. She quickly built a large network. Thanks to her, the listing of events, the so-called jewelry flyer, was created—a truly heroic deed! Many people from outside had asked us what else they could see in Munich while they were here. Eva said, "I'll just write it down for you." In the end, this jewelry program listing was initiated.
Since 1999, the most current Schmuck show has traveled from time to time, which is a clear sign of its recognition. Over the years it has been seen at:
1990 Deutsche Bank, Cologne
1991 Powerhouse, Dublin
2001 Wilhelm Wagenfeld Haus, Bremen
2002 The Dick Institute, Kilmarnock, Ayrshire, Scotland
2006 Museum of Arts and Design, New York
2007 Oratorio di San Rocco, Padova
2008 School of Jewellery, Birmingham City University, and Miejak Galeria Sztuki-Gallery Willa, Lodz
2009 RMIT Gallery, RMIT University, Melbourne
2011 Espace Solidor, Cagnes-sur-Mer
2012 Museu de la il.lustració i de la Modernitat, Valencia
2013 Gallery Sztuki, Legnica
2015 Mercedes Benz Fashion Week, Prague
2023 CCCI Museu Carme Contemporeana, Valencia
The jewelry team at the trade fair also includes Alexandra Bahlmann, who has been setting up the showcases for several years. And then there is Mirei Takeuchi, who is the contact person during the trade fair if Eva is not on site.
Wolfgang Lösche: Yes, exactly. But I would like to give a little more credit, because presenting the special jewelry show is a very big challenge. There is not a lot of time available for the construction or conception and assembly, as is the case in your museum. Instead, everything has to work within a few days. This happens while the entire trade fair is being set up alongside. Now I am not only responsible for the Schmuck special show, but also for the other special shows and especially for Exempla.
Thanks to my very good and committed team, which includes Elke Hügel, Sabine Buhrs, and Evamaria Lösche, Galerie Handwerk runs parallel to this.
Michaela Braesel is completely responsible for the Sonderschau Talente show at IHM and Angela Böck is responsible for Exempla. Our assistants, Ulrike Möller-Asbeck and Claudia Lassner, support us all. Of course, I can't be there 24 hours a day setting up the Schmuck special show, so we try to get people on the team who work very well. This would be Eva Sarnowski and the Munich goldsmith Alexandra Bahlmann for the presentation. And of course you also need technical support. Mirei Takeuchi, also a goldsmith from Munich, helps sew the jewelry onto the tableaux. Some are just laid, but some have to be fixed. Finally, there is Alexandra Bahlmann's husband, Andreas Stetka.
This is someone barely visible to the viewers.
Wolfgang Lösche: Andreas Stetka is actually an artist, very quiet and withdrawn, and has provided strong and very professional support in the assembly of the works over the last few years. We are very sad that he passed away this year.
We have a room on the first floor at the trade fair where we unpack and where the tableaus are designed. Then the panels are taken down. Security personnel must be present at every step of the way. It's basically open-heart surgery, and the clock is always ticking.
Unfortunately, time is running out for us, too… You have a very broad overview of what is happening in jewelry. Do you wear jewelry yourself?
Wolfgang Lösche: Not really. I wore jewelry as a young man, but eventually stopped. I'm really not a jewelry wearer, with small exceptions, because I actually received something from someone that I will really enjoy wearing from now on.
Oh, would you like to tell us a bit more about it?
Wolfgang Lösche: It is a very beautiful brooch by Dorothea Prühl. There is this fish series of hers and a detail from it. Then there is also a match from Margit Jäschke, and a very beautiful geometric brooch from Gerd Dobler.
So in the end jewelry caught you in its net!
Wolfgang Lösche: Yes, actually.
Well, from an early age you were surrounded by beautiful things in a wide variety of materials, and then something special like jewelry came along.
Wolfgang Lösche: So please let us rewind briefly to the late 1970s/early 1980s and go back to discussing the Frankfurt trade fair.
Yes, gladly.
Wolfgang Lösche: There were a few goldsmiths there at the time and, especially in the area of the Bavarian Arts and Crafts Association, there were also a lot of people from Bavaria who I got to know. Without anyone bringing it to my attention, I immediately developed an affinity for this jewelry. Jewelry as an object has always held a great fascination for me. Certainly through the historical models—through archaeology, through Greece, through Egyptian jewelry—and then above all through the completely new ideas that emerged in the 1960s. All of this is where my interest in jewelry began.
For me, jewelry is like a magnifying glass of design. In jewelry, everything comes together in the smallest space. Everything that could happen in life can take place there. For me, jewelry is an absolutely all-encompassing creative expression, regardless of whether it is about wearable jewelry, non-wearable jewelry, or a performance. For me, jewelry is pure life. Even though I rarely wear jewelry myself, I am convinced that jewelry is an essential statement of life and a form of life. This is clear to anyone who has a bit of a feeling for form and enjoys decorating.
Which is why it's all the more surprising how little jewelry finds its way into museums. Ultimately, what you describe is actually the quintessence of good art.
Wolfgang Lösche: Yes, I see it that way too. In museums it always depends on the individual employee who plays a crucial role there and, above all, what kind of approach that person has to the subject of jewelry. Yes, I think that is quite crucial. If you and Florian Hufnagl didn't exist, if Die Neue Sammlung didn't exist, then perhaps things would look completely different.
The opening of the Danner Rotunda in 2004 clearly showed Hufnagl that people have a great interest in jewelry. But it was only after the successful opening of the Hermann Jünger exhibition in 2006 that he made the decision to hold annual jewelry exhibitions. If he hadn't made that decision, then Die Neue Sammling wouldn't be where it is today in the jewelry sector.
Wolfgang Lösche: I don't know why there aren't more international collections. Maybe you just need to spark interest or attention to spark that fire that just isn't there in many people.
They live it, and when you live something, you act accordingly and then you can get people carried away and excited about new ideas—as you have more than done in all these years as director of Galerie Handwerk and as the person responsible for the special shows at IHM. Thank you very much for this very nice and pleasant conversation!
© 2023 Art Jewelry Forum. All rights reserved. Content may not be reproduced in whole or in part without permission. For reprint permission, contact info (at) artjewelryforum (dot) org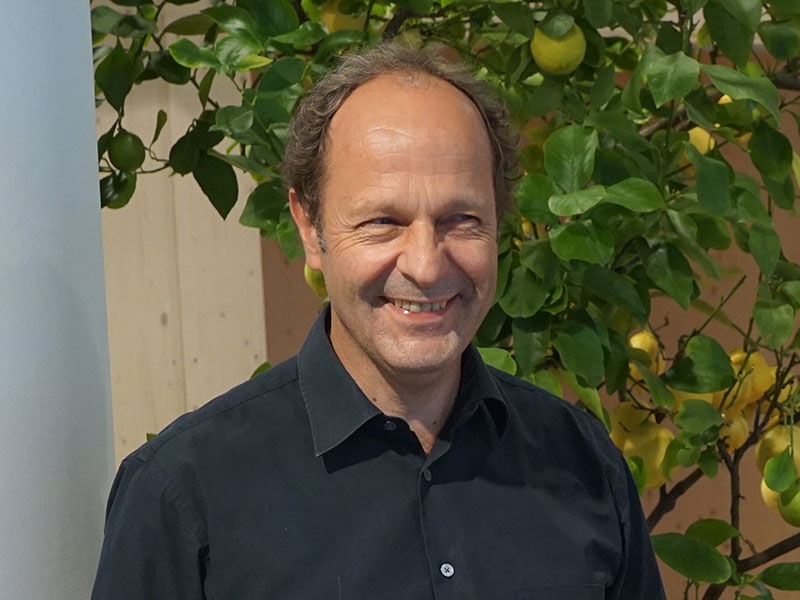 Petra Hölscher: Lieber Herr Lösche, haben Sie ganz herzlichen Dank, dass Sie sich die Zeit nehmen für dieses Gespräch. Bei der Vorbereitung habe ich festgestellt, dass die Welt eigentlich nicht viel über Sie weiß und deshalb würde ich gerne ganz vorne anfangen, nämlich mit Dießen am Ammersee. Dort sind sie aufgewachsen und ich könnte mir vorstellen, dass damals vielleicht schon die Weichen für Ihr späteres Handeln und Tun gelegt worden sind.
Wolfgang Lösche: Das stimmt. Ich bin in Dießen am Ammersee in dem Haus meiner Eltern geboren, das es heute noch gibt. 1945, nach dem Zweiten Weltkrieg hat mein Vater Ernst Lösche mit meinem Großvater, der als Bildhauer tätig war, dort eine Keramikwerkstatt aufgebaut – quasi aus dem Nichts heraus mit einem geliehenen Brennofen und mit all den Improvisationen, die die Nachkriegszeit mit sich brachte. Das große Grundstück ist für Kinder heute noch wie ein verwunschenes Paradies. Wiesen und Sträucher – Himbeeren und Erdbeeren – und eben diese Keramikwerkstatt. In der Werkstatt bin ich mehr oder weniger groß geworden. Ich habe meinen Großvater bis zu meinem sechsten Lebensjahr noch erleben können – wie er sich ein kleines Zimmer im Haus eingerichtet hat, in dem er mit Plastilin modellierte. Noch heute stehen dort kleine Tiere und Skulpturen. Für mich war es ein vollkommen vertrauter Anblick, jemanden am Modellierbock stehen zu sehen oder in der Keramikwerkstatt zu sein, in der es nach Ton und Glasuren roch.
Haben sie als Kind schon einen Batzen Ton in die Hand genommen und versucht, etwas zu formen.
Wolfgang Lösche: Aber sicher. Jedes Töpferkind spielt in der Werkstatt mit Ton. Welches Kind würde nicht in diesen Batz greifen und mit Ton modellieren, um kleine Figuren daraus zu machen – so bin ich aufgewachsen.
Und hat sich dann mit der Zeit aus dem spielerischen Umgang mit dem Ton vielleicht irgendwann die Möglichkeit ergeben, sich ein Taschengeld dazu zu verdienen, als Sie älter waren?
Wolfgang Lösche: Sie haben nicht ganz Unrecht mit ihrer Vermutung. Mit zehn, elf Jahren hat man natürlich Dinge in dieser Werkstatt gemacht mit der großen Hoffnung, sie auch verkaufen zu können. Unter der Käuferschaft fanden sich erstaunlich viele Tanten und Onkel, Verwandte und Freunde, die darüber höchst entzückt und erfreut waren.
Ich habe zum Teil Gefäße bemalt mit dem Malhörnchen auf blauer Kobaltglasur und war erstaunt, dass ich das tatsächlich verkaufen und damit mein Taschengeld aufbessern konnte. Mein Vater schaute sich das natürlich ganz genau an und merkte schnell, dass ich auch in der Werkstatt eingesetzt werden konnte. Ab dem zwölften, dreizehnten Lebensjahr habe ich in der Werkstatt richtig mitgearbeitet. In der Keramik gibt es viele Handgriffe, die nötig sind, bis ein Gegenstand fertig ist. Ich half beim Glasieren, beim Befüllen des Ofens und beim Versäubern der Keramiken, wenn die Glasuren retuschiert werden mussten. Das kann ich heute noch ganz gut. Je älter ich wurde, umso anspruchsvoller wurden meine Aufgaben. Mit 18 Jahren machte ich den Führerschein, um bei der nächsten Frankfurter Messe den Messestand nach Frankfurt zu fahren und aufzubauen. Ende der 1970er Jahre die Frankfurter Messe zu erleben, war großartig, man traf dort die Keramiker und die Kollegen meines Vaters bzw. meiner Eltern. Sie alle präsentierten sich damals auf der Frankfurter Frühjahrs- und speziell auf der Frankfurter Herbstmesse. Dort habe ich als junger Bursche das gesamte deutsche Kunsthandwerk kennengelernt.
Vielleicht darf ich da einhaken. Wenn wir über die 1970er Jahre sprechen, dann sollten wir vielleicht auch an dieser Stelle über die Gründungszeit der Galerie Handwerk in München sprechen.
Wolfgang Lösche: Aber ja, das war die gleiche Zeit und die gleiche Stimmung. Die Galerie Handwerk ist im Oktober 1968 eröffnet worden. Vorangegangen ist natürlich eine längere Planungsphase. Ich war damals zehn Jahre alt und bin mit der ganzen Situation hier konfrontiert worden.
… weil ihr Vater die Galerie mitbegründet hat.
Wolfgang Lösche:  … weil mein Vater einer der beiden Galeriegründer war, die im Ursprung als Produzentengalerie für München gedacht war. Ein ganz neuer Typ von Galerie, nämlich von Kunsthandwerkern für Kunsthandwerker – von Anfang an mit dem Titel "Galerie für Internationale Angewandte Kunst". Der Name war Programm. Es war eine Galerie für das Kunsthandwerk, also nicht für die Kunst, sondern für Handwerk und Kunsthandwerker, die damals in der Münchener Handwerkskammer dank Herbert Hofmann als Leiter der Handwerkspflege in Bayern ein großes Forum hatten. Die Handwerkspflege hatte die Aufgabe, internationale Sonderschauen auf der Handwerksmesse (IHM) zu organisieren. Hofmann realisierte sehr viele Ausstellungen, wodurch München mehr und mehr zu einem Zentrum für internationales Kunsthandwerk und angewandte Kunst wurde. Die Präsentationen fanden hier im Haus der Handwerkskammer statt, wo wir jetzt sitzen und das Gespräch führen. Angefangen hat alles unten im Foyer in den 1950er/1960er Jahre. Dann kam die Galerie Handwerk dazu und das Ganze hat sich noch einmal verstärkt. Und in dieser Stimmung bin ich groß geworden.
Welche Berufswünsche hatten Sie als Zehn- oder Zwölfjähriger? War von Anfang an klar, dass das etwas mit Kunsthandwerk zu tun haben würde?
Wolfgang Lösche: Da war eine sehr starke Beziehung zu diesen kunsthandwerklichen Berufen, das war ganz klar. Keramik, das war der Alltag zuhause. Ich habe mich wahnsinnig wohlgefühlt in diesem Klima und in dieser Stimmung, in dieser Kunsthandwerker-Atmosphäre. Das muss man vielleicht noch ein bisschen unterscheiden und genauer erklären – also diese Personen, die man da getroffen hat, diese Kunsthandwerker, angewandten Künstler, das waren aus Sicht des 10-jährigen kleinen Jungen richtige Gentlemen. Im Tweed-Anzug, mit Fliege und Pfeife rauchend. Das waren Persönlichkeiten, die Eindruck machten, die diskutiert haben, die sich über Kunst und Kunsthandwerker unterhielten. Die fand ich immer sehr faszinierend.
Aber jetzt zurück zu Ihrer eigentlichen Frage. Mein Vater hat mich damals fast überall mit hingenommen. Das war zum Teil für einen kleinen Buben nicht so ganz einfach, wenn man bis nachts um 12 Uhr oder bis 1 Uhr in der Früh irgendwo mit dabeisitzen musste. Bei diesen Fahrten waren wir auch ganz oft im Bayerischen Wald, was wiederum mit der Gründung der Galerie Handwerk zusammenhing.
Glas spielte damals eine wesentliche Rolle und das Glas sollte auch in der neu gegründeten Galerie eine große Rolle übernehmen. Die Bezugsperson war Erwin Eisch mit seiner Glashütte in Frauenau, ihn und meinen Vater verband bald eine enge Freundschaft. Regelmäßig war ich Ende der 1960er / Anfang der 1970er Jahre speziell in den Glashütten im Bayerischen Wald unterwegs – speziell bei Eisch oder auch bei Theresiental. Ursprünglich wollte ich eigentlich auch mal Glasbläser werden.
Das ist ja spannend.
Wolfgang Lösche: Das hat mich dermaßen begeistert – diese Energie in den Glashütten, wenn die Teams dort auf Akkord gearbeitet haben, vor diesen glühenden Öfen, in dieser wahnsinnigen Atmosphäre. Später, Ende der 1960er Jahre, kam die Studio-Glas-Bewegung auf. Erwin Eisch brachte die ersten amerikanischen Glaskünstler nach München – Latzhosen und lange Haare und Hippi-Szene. Das war alles so cool und spannend, dass man am liebsten sofort seinen Rucksack gepackt hätte und mit losgezogen wäre. Aber da war ich dann schon in der Endphase im Gymnasium. In der Schule hatte ich das Glück, dass ein paar Lehrer mich für die Themen Kunst, Gestaltung und Geschichte wahnsinnig begeistern konnten. Und dann gab es in der Oberstufe diese berühmten Hausarbeiten, die man schreiben musste. Dazu muss man aber zunächst wissen, dass mein Vater Ende der 1960er Jahre die Feststellung machte, dass das Grundstück, auf dem wir lebten und heute noch leben, ein altes Töpferanwesen aus dem 17. Jahrhundert ist. Durch puren Zufall hat er beim Graben im Garten die erste Abfallgrube entdeckt, in der zerbrochene Scherben in einer so großen Zahl lagen, dass relativ schnell klar war, das ist kein Hausrat, der weggeschmissen wurde, sondern das ist Produktionsabfall – das ist Abfall einer Töpferei. Das war um 1965. Zur gleichen Zeit begann auch mein Interesse an Geschichte und historischen Zusammenhängen, nur dass sie seit dem Keramikfund noch dazu etwas mit der eigenen Familie zu tun hatten. Man begann dann sehr rasch, in unserem Garten systematisch nach alten Überresten dieser Töpferei zu graben.
Als in der Oberstufe dann diese Hausarbeit geschrieben werden musste, interessierte ich mich bereits für die Archäologie. Die Hausarbeit hatte Heinrich Schliemann und seine Ausgrabungen in Troja zum Thema. Da war das Feuer für die Archäologie und für die historischen Zusammenhänge endgültig entbrannt. Das war auch die Zeit, als man mit den Eltern in München in die großen Ausstellungen wie "Tutanchamun" im Haus der Kunst gegangen ist. Die Ausstellung "Weltkulturen und moderne Kunst" während der Olympischen Spiele in München 1972 war für mich eine Sensation. Obwohl ich noch ganz jung war, hat mich das sehr begeistert und mein Interesse an Ethnologie, Archäologie und Kunstgeschichte und der Völkerkunde bestärkt. Nach der Hausarbeit trug ich übrigens den Spitznamen Schlieman. Am Ende des Abiturs stellte sich tatsächlich die Frage, Keramik oder doch etwas anderes. Und wenn Keramik, dann wäre die Keramikschule Landshut eine echte Option gewesen. Doch die Anmeldefrist war schon abgelaufen. So hieß es, überbrücken wir die Zwischenzeit mit einem Studium. Ich wollte mich einfach orientieren, was es alles gab. War bei der Studienberatung und unter anderem auch in der Antikensammlung. Das war überhaupt nichts für mich. Von der Antikensammlung bin ich ins Bayerische Nationalmuseum zu Ingolf Bauer. Der hat mich in seinem Büro mit offenen Armen empfangen. Zwei Stunden lang hat er mir erzählt, was er als Volkskundler so macht. Ich wusste überhaupt nicht, was das ist – Volkskunde. Er erzählte mir, dass sie sich gerade mit der Keramik-Forschung beschäftigen, und zwar mit der Zeit, die die Archäologie noch nicht interessiert, weil die Fundstücke zu jung sind – also spätmittelalterliche und neuzeitliche Keramik. Das war ja genau das, was wir gerade in unserem Garten in Dießen erforschten. Mein Interesse war geweckt. Bauer machte mich auf das Institut für Volkskunde in der Schellingstrasse aufmerksam. Dort begegnete ich Menschen, die mich dermaßen offen und warmherzig aufgenommen haben, dass ich heute noch mit manchen von ihnen befreundet bin. Am Ende war es dann das Studium der Volkskunde, Kunstgeschichte und Vor- und Frühgeschichte. Ingolf Bauer wurde mein großer Mentor, der mich sehr förderte und unterstützte. Von Anfang empfand er die Forschungsarbeit in Dießen als ausgesprochen wichtig. Bauer hat mich sehr ermuntert und nahm mich sofort auf internationale Keramik-Symposien mit. Als Anfang-Zwanzigjähriger hielt ich Vorträge, schrieb meinen ersten Aufsatz in der Fachzeitschrift Keramos. Er nahm mich auch zum Keramikmuseum Schloss Obernzell mit und bezog mich als junger Student in die Entwicklung einer Konzeption für das Museum mit ein.
Das hört sich ein bisschen danach an, als hätte Ingolf Bauer in Ihnen seinen Nachfolger gesehen. Kann das sein?
Wolfgang Lösche: Ja, das hat er, genauso wie Sie sagen. Dann war das Studium zu Ende. Im Herbst 1984 holte Bauer mich gleich ans Bayerische Nationalmuseum, damit ich erste Praxis- und Berufserfahrung sammeln konnte. Zu der Zeit gab es einen Keramikfund aus Niederbayern, Renaissance-Keramik, über die eine kleine Ausstellung gemacht werden sollte – eine winzig kleine Ausstellung, de facto drei Vitrinen, aber mit einer Publikation – sozusagen mein erster Probelauf. Als das vorbei war, arbeitete ich im Anschluss am Hafner-Archiv. Ende Dezember lief mein befristeter Vertrag aus, für den Bauer das Geld von der Danner-Stiftung bekommen hatte. Das war meine erste Berührung mit der Stiftung. Damals hatte ich bereits Kontakt zur Galerie Handwerk. 1983 machte mein Vorgänger hier im Haus, Peter Nickl, für meinen Vater die große Ausstellung "Erde, Asche, Feuer – Keramische Glasuren" in der Galerie Handwerk. Gleichzeitig war es die Ausstellung zum 15-jährigen Jubiläum der Galerie und zugleich Abschluss einer Forschungsarbeit über Ascheglasuren. An dieser Ausstellung arbeitete ich als Student mit. So lernten Peter Nickl und ich uns kennen. Er sah sofort, wie ich in der ganzen kunsthandwerklichen Szene verankert war und machte mich 1984, als ich noch am Nationalmuseum war, auf eine Stellenausschreibung der Handwerkskammer aufmerksam. Ausgeschrieben war die Stelle eines "Beraters".
Die deutschen Handwerkskammern hatten in den 1970er Jahren neben der Betriebsberatung, die sich um wirtschaftliche Belange kümmerte, einen sogenannten Formgebungsberater beschäftigt, der für Fragen der Gestaltung zuständig war. Am Ende bekam jemand anderes die Stelle, aber stattdessen rief mich Peter Nickl an, um mir einen Werkstudentenvertrag anzubieten.
Im Oktober 1984 war Fritz Gotthelf gestorben, der bis dahin der Leiter der Internationalen Sonderschauen auf der IHM war. Zu seinem Nachfolger ernannte man Peter Nickl. Der übernahm quasi über Nacht die Aufgabe, nicht nur die Galerie Handwerk und die Handwerkspflege, sondern auch die Sonderschauen Exempla, Schmuck und "Jugend gestaltet", wie Talente damals noch hieß, zu organisieren. Dafür benötigte er Personal und da bin ich ihm wieder eingefallen.
Ende Dezember hörte ich am Bayerischen Nationalmuseum auf. Am 1. Januar 1985 saß ich hier in der Küche und arbeitetet an der Exempla-Sonderschau mit – schrieb die Ausstellungstexte und half bei der Organisation der Ausstellung. Das fiel mir sehr leicht, da ich viele der Aussteller bereits kannte.
Seit wann gibt es die vier Sonderschauen auf der IHM eigentlich?
Wolfgang Lösche: Die Schmuck ist die älteste der Sonderschauen. Die erste fand 1959 statt, dann gab es eine kleine Zäsur und seit 1962 gibt es die Schmuck ohne Unterbrechung. Die Exempla kam 1970 dazu. Seit 1980 gibt es die heutige Talente und die Meister der Moderne, die zuerst den Titel trugen "Gestaltendes Handwerk" und später "Porträt der Meister". Meister der Moderne wurde nach 2019 leider gestrichen.
Kann man sagen, dass Sie durch die Arbeit in der Galerie Handwerk mehr oder weniger in das Thema Kunsthandwerk reingerutscht sind? Was eine gute Form ausmacht, haben Sie durch Ihr Elternhaus in Dießen kennengelernt. Aber nun machten Sie die Bekanntschaft auch mit anderen kunsthandwerklichen Techniken und Materialien – Textil, Glas, Holz, Flechtarbeiten und und und.
Wolfgang Lösche: Nein, einen großen Teil davon kannte ich. In dem familiären Umfeld, in dem ich aufgewachsen bin, gehörte all das zum täglichen Umgang, man war umgeben von handwerklich hergestellten Dingen. Das war für mich mein normales Umfeld im Elternhaus. Großen Anteil daran hatte aber auch die Frankfurter Messe, auf der ich leidenschaftlich gern schon als Jugendlicher einkaufte – bei den Textilern, bei den anderen Gewerken, weil es mich einfach total interessierte und begeisterte, was alles hergestellt wird.
Also – das Material und die Form kannte ich, aber durch die Mitarbeit in der Galerie Handwerk hat sich dann der Horizont natürlich enorm erweitert. Es wurde nicht nur international, sondern vor allen Dingen wurde es ein systematisches und konzeptionelles Arbeiten. Aus der reinen Liebhaberei, aus diesem vollkommen Selbstverständlichem, wurde plötzlich das, was dann in einer Ausstellungsorganisation und Planung mündet: Dass man sich Konzepte und Ideen überlegt, dass man sich Strategien zurechtlegt, wie man zu einem Stück kommt – wie baue ich eine Ausstellung auf, was für eine Struktur und was für eine Ausstrahlung soll die Ausstellung haben. Wen will ich erreichen. Wen will ich ansprechen. Dieses ganze Ausstellungsmachen kam neu hinzu.
Etwas, das man mit dem Wort "Professionalisierung" bezeichnen könnte. Nachdem, was Sie schildern, waren Sie eigentlich der Mann der Zukunft.
Wolfgang Lösche: Eine Sache würde ich gerne noch am Beispiel der Produktion in der Keramikwerkstatt meines Vaters erzählen, wenn es um die Suche nach einer Form geht. Mein Vater beschäftigte einen Seriendreher, seinerzeit einen der besten, die es überhaupt gab: Erich Happe aus Bürgel in Thüringen hat über 35 Jahre in unserer Werkstatt gearbeitet. Wenn eine neue Form entstand, dann kam mein Vater mit einer Zeichnung in die Werkstatt, um sie zu besprechen. Dann wurden die Prototypen gedreht und bereits an diesen Prototypen nahm man erste Korrekturen vor – der Fuß muss enger, der Bauch muss dicker, der Hals, die Schulter hat keine Spannung, das muss so oder so oder so werden, der Henkel ist besonders wichtig, der muss ein Ohr ausbilden, denn der Zwischenraum zwischen Korpus und Henkel ist das Entscheidende. Diese Prozeduren zogen sich über mehrere Tage. Am Ende stand da ein Brett mit 20 Gefäßen und dann kam dieser Test: "Jetzt komm mal mit und sag mir, welches Gefäß ist das schönste?"
Das sind immer die Augenblicke, die man gar nicht mag, oder?
Wolfgang Lösche: Ja, aber in denen man einfach wahnsinnig viel lernt und auch erklärt bekommt, warum es so ist.
Wir waren im Gespräch schon an dem Punkt, dass Sie einen Werkvertrag in der Galerie Handwerk bekommen haben.
Wolfgang Lösche: Alles in allem waren das zwei Jahre – ich hatte in der Galerie diesen zeitlich befristeten Werkstudentenvertrag und habe hauptsächlich beim Ausstellungsaufbau mitgearbeitet. Podeste geschleppt, gehämmert, genagelt, gebohrt, gestrichen … eben alles, was so anfiel. Wenn keine Ausstellungsumbauten anstanden, arbeitete ich bei der Organisation von Ausstellungen mit. Peter Nickl hatte ein unheimliches Geschick und war auch wahnsinnig gut vernetzt. In der Zeit gab es neben der Galerie Handwerk und den Sonderschauen auch immer noch Aufträge durch das Bayerische Wirtschaftsministerium. Man bediente sich unserer Abteilung immer gern, wenn irgendwo in Italien, Tschechien oder in Österreich Bayerische Wirtschaftstage stattfanden. Dann erhielt die Abteilung Handwerkspflege den Auftrag, eine Ausstellung dazu zu machen. Das waren aufregende und spannende Zeiten. Die ersten zwei Jahre 1986/1987 waren gleich zweimal hintereinander Ausstellungen in Verona: Einmal zusammen mit dem Bayerischen Kunstgewerbeverein und einmal im Auftrag vom Wirtschaftsministerium – "La Baviera a Verona" im Palazzo Gran Guardia gegenüber der Arena – eine sehr große Ausstellung über Bayern, Land und Leute unter den speziellen Aspekten von Handwerk und Kunsthandwerk. Das Gleiche war dann ein Jahr später im Hafen von Triest, in einem Art Déco-Gebäude, das für Ausstellungszwecke verwendet wurde. Das waren repräsentative Ausstellungen, die von dem damaligen Ministerpräsidenten Franz Josef Strauß bzw. von der bayerischen Staatskanzlei ausgingen: Wirtschaftsbeziehungen Bayern – Triest, da sollte der Hafen eine tragende Rolle spielen bei dem Transport von Gütern nach Bayern.
Gab es zu diesem Zeitpunkt schon Kontakte zur Neuen Sammlung? Wurde vielleicht Kunsthandwerk und Design als Einheit vorgestellt?
Wolfgang Lösche: Also, man ist immer schon in die Ausstellungen der Neuen Sammlung gegangen, weil es thematische Überschneidungen gab – japanischer Lack, Keramik, Papier, Porzellan … Peter Nickl war auch dem damaligen Direktor der Neuen Sammlung, Florian Hufnagl, sehr eng verbunden, weil Ende der 1980er / Anfang der 1990er Jahre die Gründung des Design Zentrum München anstand. Eine richtige Zusammenarbeit gab es aber nicht. Bis auf ein paar Ausnahmen, wenn wir eine Ausstellung planten und wussten, es gibt interessante Leihgaben in Ihrem Haus – am Anfang speziell für die Sonderschau Exempla. Ich bin heute noch sehr stolz darauf, dass wir die Anni Albers-Textilien der Neuen Sammlung auf der Messe zeigen durften … beim Thema "Rhythmus".
Wou, das ist allerdings bemerkenswert!
Wolfgang Lösche: Berührungspunkte gab es zwischen Peter Nickl und Florian Hufnagl etwa in der Danner-Stiftung und im Kuratorium vom Bayerischen Kunstgewerbeverein. Ich selbst habe dann aber mehr mit ihrem Haus zu tun gehabt in puncto Ausleihe und Anfrage von Leihgaben. Zum Teil erwarb Die Neue Sammlung die Objekte ja sogar aus unseren Ausstellungen in der Galerie Handwerk heraus oder aus den Sonderschauen auf der Messe.
Jetzt aber zu Ihrer Frage, die ich noch nicht ganz beantwortet habe, ob das bei mir alles so nahtlos ineinander überging. Als mein Werkstudentenvertrag auslief, endete tatsächlich die Arbeitszeit von dem Mann, der an der Handwerkskammer zwei Jahre zuvor den Arbeitsplatz des "Beraters" übernommen hatte. Im September 1987 fing ich als neuer Formgebungsberater an. Anschließend habe ich 17 Jahre mit Peter Nickl unglaublich gut als Team zusammengearbeitet. Als Nickl 2003 in Ruhestand ging, bot man mir die Leitung dieser Abteilung an. Ein Angebot, das ich sehr gerne angenommen habe.
2003 ist auch das Jahr, in dem wir beide uns kennengelernt haben. Ich kann mich daran erinnern, dass Sie etwas in Die Neue Sammlung brachten, die damals mit ihren Büros noch in der Prinzregentenstrasse beheimatet war, bevor auch die dann schließlich in die Pinakothek der Moderne einzogen.- – – Ihr Vorgänger Peter Nickl war sehr erfolgreich in seiner Arbeit auf der Messe und als Leiter der Galerie. Wenn man sein Nachfolger wird, welche Position möchte man selbst da einnehmen? Sagt man sich, ich will versuchen, dieses unglaublich hohe Level zu halten und genauso weiterzumachen, was schon schwer genug ist. Oder hat man Ideen, was man vielleicht anders machen möchte?
Wolfgang Lösche: Beides eigentlich. Für mich war es eine echte Herausforderung, dem hohen Anspruch erst einmal gerecht zu werden, den Peter Nickl aufgebaut hatte. Nickl war gnadenlos in seiner Bewertung nach Qualität. Michael Koch vom Bayerischen Nationalmuseum hat mir mal anlässlich einer Danner-Preis-Verleihung gesagt, der hat einen todsicheren Instinkt für Qualität. Das hat auch etwas mit Nickls Biografie zu tun – zum einen mit dem Fritz Gotthelf, der vorher die Sonderschauen auf der Messe geleitet hat, und zum anderen auch mit seiner Freundschaft zu dem Kasseler Architekten Hans Ell. Das waren die Personen, die wirklich nach der Qualität im Kunsthandwerk gesucht haben, ganz konsequent und das auch entsprechend vertraten. Als dann Nickl die Leitung der Galerie Handwerk übernahm, hat er seinen Qualitätsanspruch in den Ausstellungen und Sonderschauen umgesetzt. Da lag die Latte schon ziemlich hoch. Und dann ist es auch nochmal ein Unterschied, ob man plötzlich selbst die ganze Verantwortung trägt. Ja, da muss man schon erst einmal ganz tief Luft holen und sich überlegen, wie werde ich dem Anspruch gerecht. Aber es war für mich eine ganz klare Entscheidung, dass ich auf dem, was Peter Nickl erreicht hat, aufbauen und es so weiterführen wollte. Ich wollte das nicht mit der Brechstange verändern – habe z.T. die gleichen Leute, die gleichen externen Firmen und Mitarbeiter übernommen, die gleiche Grafikerin viele Jahre beibehalten, um diesen Stil nicht komplett zu ändern. Damit haben wir erst nach 2004/2005 begonnen, als die Internationalisierung zunahm und sich die Netzwerke schlagartig vergrößerten. Es ist nicht nur in den Sonderschauen, sondern auch in den Ausstellungen der Galerie Handwerk gelungen, gestaltendes Handwerk von sehr hoher Qualität im internationalen Vergleich zu präsentieren und somit auch dem Münchner und internationalen Publikum interessante Ausstellungsbeiträge zu präsentieren. Das freut mich im Rückblick besonders. Die Galerie Handwerk wurde damit zu einer der wichtigsten Institutionen in Deutschland und Europa auf diesem Gebiet.
Bei den ersten Ausstellungen – so würde ich das heute als Außenstehende lesen – haben Sie schon den ein oder anderen Kniff benutzt: Hermann Jünger die Auswahl für die Schmuckausstellung auf der Messe machen zu lassen, war eine sichere Bank, denn man wusste, er würde eine sehr gute Auswahl treffen. Und bei der Exempla haben Sie mit den Olympischen Spielen ein ausgesprochen populäres Thema gewählt, das auch heute noch jeden mitreißt.
Wolfgang Lösche: Das war natürlich wohl überlegt. Speziell beim Hermann Jünger hat es mich gereizt, ob er die Aufgabe übernimmt. Das hatte er bis dahin immer abgelehnt. Das war zu einem Zeitpunkt, an dem die Krankheit schon spürbar war. – – – Sie können mir glauben, jedes Mal, wenn ich jemanden angefragt habe, egal wer es war, ob er die Auswahl für die Schmuckschau trifft und dann die Zusage vorlag, habe ich mich in der nächsten Sekunde gefragt, war das die richtige Entscheidung? Bei der Auswahl sind wir von Seiten unserer Abteilung so verfahren, dass wir uns komplett zurückgehalten haben. Wir haben nie aktiv in die Auswahl der Schmuckbeiträge eingegriffen.
Und was jetzt die Handwerk- und Sport-Exempla von 2004 anbelangt, muss ich ein bisschen weiter ausholen. Die Verantwortung für die Galerie Handwerk ist schon eine hohe – ihre Ausstrahlung nach außen, ihre Reputation. Dass man das, was da schon erreicht worden ist, auf alle Fälle halten und vielleicht auch noch steigern möchte, ist klar. Das ist das eine. Auf der IHM ist das noch einmal eine ganz andere Situation, auch von der Verantwortlichkeit her. Allein die Sonderschau Exempla muss von mehreren Institutionen abgesegnet werden. Das läuft dann so ab: Wir schlagen ein Thema vor. Der Vorschlag wird zuerst hier in der Handwerkskammer besprochen und muss vom Hauptgeschäftsführer und vom Präsidenten genehmigt werden. Wenn das erfolgt ist, geht dieser Vorschlag an die Messeleitung als die eigentliche Veranstalterin. Wenn beide Institutionen zustimmen, geht der Themenvorschlag noch an das Bundeswirtschaftsministerium mit der Bitte um Freigabe.
Sehr spannend, mehr über die Abläufe zu erfahren.
Wolfgang Lösche: Wenn Sie so wollen, habe ich mein eigenes Haus, die Messe als Veranstalter und den Geldgeber als Kontrollinstanzen. Ich trage die Verantwortung, dass es erstens funktionieren muss, aber zweitens auch erfolgreich sein soll. Weil sonst die drei Institutionen vielleicht irgendwann sagen, warum sollen wir das machen? Man schlägt immer etwas vor, bei dem man glaubt, dass es machbar und publikumswirksam ist und auch für die Aussteller lohnend. Von der Verantwortung her ist das sehr hoch angesiedelt. Deshalb fiel die Entscheidung für das Thema Sport, weil es die Menschen einfach interessiert. Dass das Handwerk daran einen so hohen Anteil hat, das ist für viele der Besucher dann doch sehr überraschend. Die Exempla will das Handwerk immer auf eine besondere Art und Weise präsentieren, nämlich so, wie wir es nicht jeden Tag sehen oder wie wir es kennen.
Das gelingt Ihnen auch immer ganz wunderbar. – – – Sie haben vorhin gesagt, dass der Peter Nickl die Ausstellungsarchitektur mit dem Kasseler Architekten Hans Ell zusammen entwickelt hat.
Wolfgang Lösche: Solang die Messe auf dem alten Messegelände auf der Theresienhöhe stattfand, gab es öfter architektonische Veränderungen, wie historische Aufnahmen zeigen. Die Sonderschau Exempla wurde von Anfang an entsprechend des Themas variiert, mehr oder weniger aber in der Gestaltungslinie von Ell. Die ganz große Veränderung kam 1999 durch den Umzug auf das neue Messegelände in Riem, als Ell den Auftrag für die Neugestaltung aller Sonderschauen erhielt. Seine Ausstellungsarchitektur benutzen wir bis heute.
Es macht Sinn, über die Architektursprache zu versuchen, Messebereiche optisch zusammenzuziehen.
Wolfgang Lösche: Ja, natürlich, ganz klar. Ich möchte nur darauf hinweisen, dass man damals sehr viel Geld für hochwertige Materialien investiert hat und sich die Frage der Nicht-Wiederverwendung deshalb gar nicht stellte. Jedes Jahr wird das System sorgsamst auf- und auch wieder abgebaut. Wenn Sie so wollen, ein Vorzeigeprojekt für Nachhaltigkeit. Bei der Exempla gehen auch schon mal die Wände oder die Böden kaputt und müssen entsprechend erneuert werden. Natürlich würde es mich interessieren, wie sich das alles in den nächsten Jahren weiterentwickelt.
Vielleicht sollten wir an dieser Stelle das Gespräch doch noch einmal in eine andere Richtung lenken, nämlich Richtung Schmuck. Wann haben Sie zum Beispiel in Ihrer neuen Funktion in der Galerie Handwerk die erste Schmuck-Ausstellung eröffnet?
Wolfgang Lösche: Schmuck war im Ausstellungsprogramm der Galerie Handwerk immer schon ein wichtiges Thema. Vielleicht darf ich unser Gespräch dazu nutzen, einmal die wichtigsten Schmuckausstellungen in der Galerie aufzulisten:
1969 Steinreiches Handwerk
1972 gleich zwei Ausstellungen mit Modeschmuck und Halsschmuck aus Elfenbein und Glas
1977 Nur 10 Gramm
1982 Sommerschmuck
1983 Schmuck aus dem modernen Japan
1985 Schmuck aus Katalonien
1986 Silberschmiede und Images, Niederländische Schmuckkünstler
1990 Metallklasse Hössle
1992 Glasschmuck
1994 Broken Lines – Emmy van Leersum
1996 Silbertriennale
1997 Klasse Hössle. Silberschmiede Nürnberg
1998 Familie Jünger
1999 Homage an Herbert Hofmann
2001 Körperschmuck. Burg Giebichenstein. Klasse Dorothea Prühl
2002 Giampaolo Babetto
Als ich die Leitung 2003 übernahm, gab es erstmal eine Zäsur. Anfänglich habe ich immer gebremst, weil ich die Schmuck-Ausstellung auf der Messe als unseren großen Beitrag zum Schmuck verstanden habe.
Erst als nach der Eröffnung der Danner-Rotunde in der Pinakothek der Moderne das Ganze nochmal einen Sprung gemacht hat, haben wir uns dazu entschlossen, auch in der Galerie Handwerk parallel zur IHM Schmuck-Ausstellungen zu machen.
Dieses exponentielle Wachstum nach der Eröffnung der Danner-Rotunde … 2004 ist schon ein wichtiges Datum für den Schmuck in München. Ab einem bestimmten Zeitpunkt habe ich dann meine Meinung geändert, das war 2008 mit der Ausstellung über Enrico Nagai. Nach dieser ersten parallel zur IHM gezeigten Schmuck-Ausstellung in der Galerie gab es eigentlich kein Zurück mehr. Meine Sorge war immer, schaffen wir das, kann man das stemmen, kann man das leisten auf eine interessante, auf eine gute Art und Weise. Also haben wir uns dann richtig ins Zeug gelegt. Gleich beim ersten Mal war es unglaublich schön zu sehen, welch ein starkes Interesse aus dem Ausland an diesem Ausstellungsort für Schmuck, der Galerie Handwerk, herrschte. Und dann gelang es, im Jahr 2009 die "Schule von Padua" auszustellen. Es hat viele Jahre gedauert, bis in Padua diese Ausstellung umgesetzt wurde. Sie fand 2008 im Palazzo della Ragione statt, einem Renaissance-Gebäude an der wunderbaren Piazza delle Erbe. Ich habe dann die Gelegenheit beim Schopf gepackt und bei der Ausstellungskuratorin Mirella Cisotto angefragt, ob wir Teile der Ausstellung übernehmen dürften, um sie anlässlich der IHM in München zu zeigen. Die Zusage kam sofort. Das Ganze war ja schon konzipiert und die Auswahl der Objekte getroffen – so dachte ich. Als ich in Padua war, um die Übernahme zu verhandeln, wurde ich von ihr aufgefordert, in die Ausstellung zu gehen und die Auswahl für München zu treffen. Ich hatte tatsächlich nur diesen einen Tag Zeit, um die Auswahl zu treffen, was immer ein Risiko bedeutet. Am Ende hat dann aber alles gut geklappt und die Galerie Handwerk konnte diese sehr interessante Ausstellung parallel zur IHM zeigen. Bald folgten Anfragen aus Australien, Neuseeland und aus Skandinavien, ob wir diese Ausstellungen hier zeigen könnten. Das haben wir dann sehr gerne gemacht: 2010 die Australier mit Robert Baines und "Treasure Room Australia", 2014 "Wunderruma" aus Neuseeland. Eine ganz wunderbare Ausstellung! 2015 dann "The Coolest Corner" aus Skandinavien und 2019 "21 Grams" aus China. Mit der Zeit packte uns natürlich auch der Ehrgeiz, selbst Konzepte zu machen. Das waren Ausstellungen, mit denen wir bestimmte Künstler würdigen wollten – "Affären – eine Werkübersicht von Gerd Rothmann" (2016), "Hommage an Manfred Bischoff" (2017) und "Francesco Pavan und Tore Svensson"" (2018). Auch diese Ausstellungen wurden vom Publikum sehr gut angenommen. Es folgten Themenausstellungen – 2020 "Steine – der letzte Schliff", 2022 "Gesichter" bis hin zur diesjährigen März-Ausstellung "Schmuck und Gerät", die meine Stellvertreterin Angela Böck und ich gemeinsam konzipiert haben – für uns beide die letzte gemeinsame Schmuckausstellung. Wir wollten einfach nochmal das machen, was uns gefällt.
Sie haben scheinbar zu dem Zeitpunkt angefangen, Schmuckausstellungen parallel zur IHM zu zeigen, als auch der damalige Direktor der Neuen Sammlung, Florian Hufnagl, seine Entscheidung traf, Einzelausstellungen unter dem Glasdach der Pinakothek der Moderne jeweils im März in das Programm zu nehmen. Ein schönes Zusammengehen – Sie zeigten die Länder-, Die Neue Sammlung die monografischen Ausstellungen.
Wolfgang Lösche: Schmuckausstellungen hat es, wie schon gesagt, in der Galerie Handwerk auch schon vorher gegeben. Besonders wichtig war Peter Nickl die Ausstellung über Giampaolo Babetto im Jahr 2002.
Herr Lösche, auch auf die Gefahr hin, jetzt ein bisschen zu springen, wie wählen Sie die "Klassiker der Moderne" auf der Schmuckausstellung der Messe eigentlich aus? Stecken da vielleicht manchmal größere Überlegungen dahinter.
Wolfgang Lösche: Natürlich stehen schon größere Überlegungen dahinter. Wir setzen uns im Vorfeld zusammen, gehen bestimmte Dinge durch, überlegen und dann fallen mögliche Namen. Mit uns meine ich meine Kollegin Eva Sarnowski und mich. Eva beschäftigt sich bei uns im Haus hauptsächlich mit dem Thema Schmuck. Man bespricht einige Aspekte wie etwa: war die Person als Lehrer wichtig und/oder als Goldschmied, hat er etwas bewirkt in seiner Zeit, was hatte er für ein Standing in der Szene. Manchmal spielt auch eine Rolle, wie oft derjenige in der Schmuck vertreten war. Bei Ono Boekhoudt hat das zum Beispiel überhaupt keine Rolle gespielt. Denn obwohl man meinen würde, er war oft eingeladen, trifft genau das nicht zu. Dass Anna Maria Zanella so unerwartet und plötzlich gestorben ist, hat uns natürlich veranlasst, sie als Klassiker reinzunehmen. Sie ist tatsächlich diejenige, die am meisten in der Schmuck-Schau vertreten war. Sie wurde von den unterschiedlichsten Juroren 17 Mal ausgewählt.
Was für eine Leistung! – – – Eva Sarnowski gehört zum Team Schmuck. Seit wann ist sie dabei?
Wolfgang Lösche: Eva Sarnowski ist seit 1986 an der Handwerkskammer, aber erst seit 1987 hier in dieser Abteilung. Sie kam zu uns, weil sie ausgebildete Fremdsprachen-Korrespondentin ist, Französisch fließend spricht. Die Bayerische Handwerkskammer unterhält eine Partnerschaft mit den bretonischen Handwerkskammern. Das ist Evas Nebenschauplatz und ihre zweite große Aufgabe hier bei uns in der Kammer. Schon unter Peter Nickl kümmerte sie sich um die Kommunikation und die Kontaktpflege und organisierte die Sonderschau mit. Sie baute sehr bald ein großes Netzwerk auf. Dank ihr ist ja auch das Schmuckprogramm, der sogenannte Schmuck-Flyer entstanden – eine wahre Heldentat! Viele von außerhalb haben uns immer gefragt, was kann man in München sonst noch anschauen, wenn wir schon kommen. Dann hat Eva gesagt, ich schreib' es euch einfach zusammen. So ist am Ende dieses Schmuck-Programm initiiert worden. – – – Seit 1999 reist die aktuelle Schmuck auch immer mal wieder, was ein deutliches Zeichen für ihre Anerkennung ist. Sie war über die Jahre zu sehen:
1990 Deutsche Bank, Köln
1991 Dublin, Powerhouse
2001 Schmuck 2001 –  Avantgarde im neuen Jahrtausend, Wilhelm Wagenfeld Haus, Bremen
2002 Schmuck 2002, The Dick Institute, Kilmarnock, Ayrshire, Scotland
2006 Schmuck 2006, Museum of Arts and Design, New York
2007 Schmuck 2007, Oratorio di San Rocco, Padova
2008 School of Jewellery, Birmingham City University und Miejak Galeria Sztuki-Gallery Willa, Lodz
2009 RMIT Gallery, RMIT University, Melbourne
2011 Schmuck 2011, Espace Solidor, Cagness sur Mer
2012 Valencia, Museu de la il.lustracio i la Modernitat
2013 Galerie Sztuki in Legnica
2015 Mercedes Benz Fashion Week, Prag
2023 – Valencia, CCCI Museu Carme Contemporeana
Zum Frauen-Schmuck-Team auf der Messe gehört auch Alexandra Bahlmann, die seit einigen Jahren die Einrichtung der Vitrinen vornimmt. Und dann gibt es noch Mirei Takeuchi, die während der Messetage Ansprechpartnerin ist, falls die Eva gerade nicht vor Ort ist.
Wolfgang Lösche: Ja, genau. Aber da würde ich gerne etwas weiter ausholen, denn die Präsentation der Schmuck-Sonderschau ist eine ganz große Herausforderung. Für den Aufbau bzw. die Konzeption und das Montieren steht nicht wie bei Ihnen im Museum sehr viel Zeit zur Verfügung, sondern alles muss innerhalb von wenigen Tagen funktionieren. Und zwar während der Aufbau der ganzen Messe parallel läuft. Jetzt bin ich nicht nur der Verantwortliche für die Sonderschau Schmuck, sondern auch für die anderen Sonderschauen und speziell für die Exempla. Die Galerie Handwerk läuft dank meines sehr engagierten und guten Teams mit Elke Hügel, Sabine Buhrs und Evamaria Lösche parallel dazu.
Michaela Braesel kümmert sich bei der IHM komplett um die Sonderschau Talente und Angela Böck macht die Exempla. Uns alle unterstützen unsere Assistentin Ulrike Möller-Asbeck und Claudia Lassner. Natürlich kann ich nicht 24 Stunden beim Aufbau der Sonderschau Schmuck dabei sein, also bemüht man sich, Leute ins Team zu nehmen, die sehr gut arbeiten. Das sind jetzt Eva Sarnowski und die Münchner Goldschmiedin Alexandra Bahlmann für die Präsentation. Und man benötigt natürlich auch technischen Support. Mirei Takeuchi, ebenfalls eine Goldschmiedin aus München, hilft beim Aufnähen der Schmuckstücke auf die Tableaus. Manche Arbeiten werden ja nur gelegt, aber manche müssen fixiert werden. Schließlich gehört noch der Ehemann von Alexandra Bahlmann dazu, der Andreas Stetka.
Das ist jemand, der kaum in Erscheinung tritt.
Wolfgang Lösche: Andreas Stetka ist eigentlich Künstler, sehr ruhig und zurückgezogen, und hat die letzten Jahre bei der Montage der Arbeiten stark und sehr professionell unterstützt. Wir sind sehr traurig, dass er dieses Jahr verstorben ist. – – –  Wir haben auf der Messe diesen Raum im 1. Stock, da wird ausgepackt, da werden die Tableaus gestaltet. Dann werden die Tableaus runtergefahren. Bei jedem Gang muss Sicherheitspersonal dabei sein. Es wird quasi am offenen Herzen operiert und immer läuft die Zeit.
Vor allem immer ein extremer Wettkampf mit der Zeit. Auch bei uns läuft leider die Zeit … Herr Lösche, Sie haben einen sehr großen Überblick über das, was im Schmuck passiert. Tragen Sie selbst auch Schmuck?
Wolfgang Lösche: Eigentlich nicht. Ich habe als junger Mann Schmuck getragen, das aber dann irgendwann abgelegt.
Ich bin wirklich kein Schmuck-Träger. Mit kleinen Ausnahmen. Weil ich tatsächlich von jemandem etwas bekommen habe, was ich ab jetzt sehr gerne tragen werde.
Oh, mögen Sie ein bisschen mehr darüber erzählen?
Wolfgang Lösche: Das ist eine sehr schöne Brosche von Dorothea Prühl. Es gibt diese Fisch-Serie von ihr und daraus ein Detail. Dann gibt es auch noch ein Streichholz von Margit Jäschke und eine sehr schöne geometrische Brosche vom Gerd Dobler.
Dann hat Sie der Schmuck am Ende ja doch noch eingefangen.
Wolfgang Lösche: Ja, tatsächlich.
Nun, Sie sind von Klein auf von schönen Dingen der unterschiedlichsten Materialität umgeben gewesen, wie Sie zu Beginn unseres Gesprächs erzählt haben, und dann kommt so etwas Spezielles wie der Schmuck dazu.
Wolfgang Lösche: Lassen Sie uns bitte deshalb noch einmal kurz die Zeit zurückspulen in die Zeit Ende der 1970er / Anfang der 1980er Jahre und noch einmal zurückkehren zur Frankfurter Messe.
Ja, gerne.
Wolfgang Lösche: Da waren damals auch einige Goldschmiede zu sehen und insbesondere auf dem Areal des Bayerischen Kunstgewerbevereins auch sehr viele aus Bayern, die ich dann kennengelernt habe. Ohne dass mich jemand darauf aufmerksam gemacht hätte, entstand bei mir sofort eine Affinität zu diesem Schmuck. Der Schmuck als Objekt übte schon immer eine große Faszination auf mich aus. Auch durch die historischen Vorbilder – durch die Archäologie, durch Griechenland, durch den ägyptischen Schmuck und dann vor allem durch die völlig neuen Ideen wie sie in den 1960er Jahren entstanden sind. In all dem liegt der Beginn meines Interesses für das Thema Schmuck. Für mich ist Schmuck wie ein Brennglas der Gestaltung. Im Schmuck vereint sich alles auf kleinstem Raum. Da kann alles stattfinden, was auch im Leben stattfinden könnte. Das ist für mich eine absolut allumfassende gestalterische Äußerung, egal ob es sich um tragbaren, um nicht tragbaren Schmuck oder um eine Performance handelt. Schmuck ist für mich das pure Leben. Auch wenn ich selbst kaum Schmuck trage, bin ich davon überzeugt, dass Schmuck eine essentielle Lebensaussage und eine Form des Lebens ist. Das ist doch jedem klar, der irgendwie ein bisschen Gefühl für Form und Freude am Schmücken hat.
Weshalb es dann umso erstaunlicher ist, wie wenig der Schmuck Eingang in die Museen findet. Letztlich ist das, was Sie beschreiben eigentlich die Quintessenz guter Kunst.
Wolfgang Lösche: Ja, das sehe ich auch so. In den Museen hängt es doch immer von der einzelnen Person ab, die dort eine entscheidende Rolle spielt und vor allen Dingen auch, was derjenige für einen Zugang zur Materie Schmuck hat. Ja, ich glaube, das ist schon ganz entscheidend. Wenn es Sie und Florian Hufnagl nicht, ja, wenn es Die Neue Sammlung nicht geben würde, dann könnte das vielleicht auch ganz anders ausschauen.
Die Eröffnung der Danner-Rotunde 2004 hatte Hufnagl damals deutlich gezeigt, dass die Menschen ein sehr großes Interesse am Schmuck haben. Aber erst nach der erfolgreichen Eröffnung der Hermann Jünger Ausstellung 2006 hat er die Entscheidung getroffen, jährliche Schmuckausstellungen zu machen. Wenn er nict so entschieden hätte, dann wäre Die Neue Sammlung im Bereich Schmuck heute nicht dort, wo sie heute steht.
Wolfgang Lösche: Ich weiß nicht, warum es nicht mehr internationale Sammlungen gibt. Vielleicht muss man einfach das Interesse oder die Aufmerksamkeit wecken, um so dieses Feuer zu entfachen, das einfach nicht bei vielen Menschen vorhanden ist.
Sie leben das und wenn man etwas lebt, dann tritt man auch entsprechend auf und dann kann man auch Menschen mitreißen und begeistern für neue Ideen – so wie Sie es in all den Jahren als Leiter der Galerie Handwerk und als Verantwortlicher der Sonderschauen auf der IHM mehr als getan haben. Ich danke Ihnen sehr für dieses sehr schöne und angenehme Gespräch.
© 2023 Art Jewelry Forum. All rights reserved. Content may not be reproduced in whole or in part without permission. For reprint permission, contact info (at) artjewelryforum (dot) org