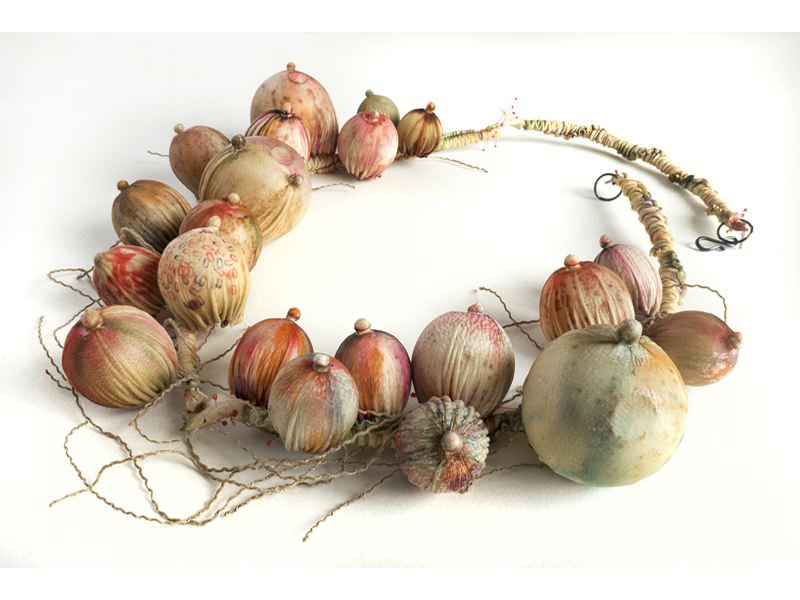 The Ilias Lalaounis Jewelry Museum (ILJM), based in Athens, Greece, is the nation's only institution devoted to the presentation and promotion of both historical and contemporary jewelry. Established in 1992 by the renowned jewelry designer Ilias Lalaounis, the mission of ILJM is to enhance public knowledge of jewelry art both nationally and internationally. In this interview, Director and Curator-in-Chief Ioanna Lalaounis discusses New Territories (on view from February 3–May 2016), an exhibition of 50 jewelry artists who exemplify the current cultural moment during which Greek studio jewelry is thriving.
Adriane Dalton: Tell us about your background and your role at the Ilias Lalaounis Jewelry Museum.
Ioanna Lalaounis: I took on my responsibilities as director and curator-in-chief of the ILJM upon its foundation in 1992. In January of 1993, I supervised the refurbishment of the buildings, curated the museological plans, and organized all museum departments. The two edifices used to house the Ilias Lalaounis main jewelry workshops—which were transformed into the main museum building—and a typical 1920s Athenian/Acropolis house where my father had grown up, which was transformed to house the library and the museum offices.
Since the museum opened in 1994, I have been assigned by the board to take full responsibility of its administration and cultural activities. I have curated over 70 temporary exhibitions, was involved as author or editor of all the museum's publications, designed over 120 educational programs, and fundraised. My mission was to develop a decorative arts museum that would specialize in the art of jewelry with respect to the surrounding environment, one that includes important collections, museums, and archaeological sites. The museum today remains a nonprofit private foundation with no government funding.
The museum's permanent collection is derived from the fine jewelry lines of Ilias Lalaounis, the museum's founder and namesake. In addition, the museum hosts numerous temporary exhibits. Can you talk a little about the collection, as well as the exhibition history and how New Territories fits among the exhibition lineage?
Ioanna Lalaounis: The permanent collection is comprised of 3,500 original works that were designed and supervised by Ilias Lalaounis between 1957 and 2002. This is only a selection from the 18,000 works manufactured under the supervision of Lalaounis. The archive includes over 80,000 designs, jewelry tools, the company's archive, and finally the Ilias and Lilas Art Library. Since 2004, new donations have been added to the permanent collection and it now includes approximately 600 decorative arts artifacts.
Lalaounis's works are narrated through 50 collections that present a panorama of his precious goldsmithery. Six sections are formed in the gallery halls and follow the artist's inspiration rather than the chronological order of the works' production. These sections describe stories of world art history from the prehistoric era until the modern era; they are inspired by ancient Greek art and literature, nature, and the evolution of modern technology. The inspiration is so diverse that one can see remarkable works inspired by subjects such as the fine arts, dance, modern physics, and computer sciences. The collection goes even further to display children's designs interpreted as kinetic jewels made in silver and polychrome Plexiglas.
Throughout the years, collaborations have allowed us to loan works from the permanent collections but also display artifacts borrowed from museums and private collections. It has been my mission to promote the Lalaounis legacy through traveling the museum's exhibitions abroad. A few noteworthy shows are the retrospectives at the Pushkin State Museum of Fine Arts in Moscow, in 1998, and at the National Museum of Art of Romania in 2008. In 2001, an exhibition of objets d'art from the collection was organized at the Alexander S. Onassis Foundation in New York City.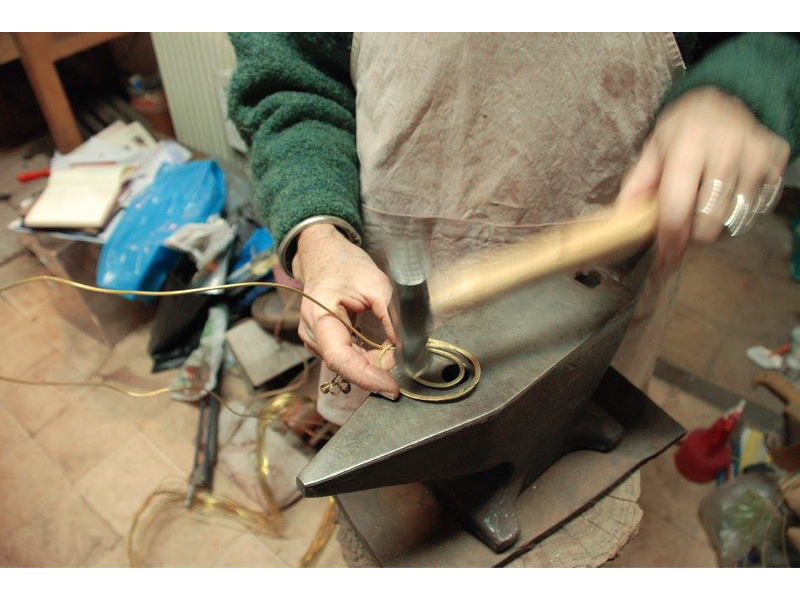 ILJM's decorative arts exhibitions have introduced Athenians to historic works from Argentina to Japan from both private and public collections. One such exhibition, which started with the vision of Helen Drutt English, was titled Challenging the Chatelaine. We also organized Boîtes de Luxe, an exhibition of 19th-century French boxes from the amazing collection of Janine Nessi-Parmentier—based in Italy and Switzerland. The exhibition revealed the use of boxes through the daily habits of men and women in France during the 19th century. Some of these exquisite boxes featured 19th-century craft techniques that tend to be overlooked nowadays. In our museum, we prioritize preserving such crafts for the next generations by including relevant educational programs during the exhibitions.
One of my proudest exhibitions was the unveiling of pocket watches from Greek museums and Greek private collections. This resulted in a unique exhibition entitled The Value of Time: Pocket Watches from Greek Collections that showcased sundials from the mid 16th century to the most modern, complicated contemporary mechanisms, and displayed the most lavishly decorated watches produced in Europe. This exhibition was a real treasure hunt; instead of borrowing works from the famous Swiss museums, we unveiled watches forgotten in the family chests of Athenian collectors. This exhibition valued Greek collections but was also a reminder that our own forgotten works of art can unveil incomparable treasures.
Fine arts and studio artists' collections are often showcased at the ILJM. We have hosted many exhibitions with objects from international museum collections, hence creating a new wave for decorative arts exhibitions in Athens. In 2000, we organized Artist's Jewellery in Contemporary Europe: A Female Perspective, which was the most important exhibition of avant-garde studio jewelry from eight major European museum collections. The public responded with great reservation to this show. Even 15 years ago there were very few studio jewelry artists in Greece. But 10 years ago, a team known as JAW (Jewelry Association Workers) asked me to curate an exhibition of their work. Since then, following their example, many more teams have evolved. Young artists can learn metalsmithing in Greece but many travel to study in schools in Europe, gaining knowledge of many different types, forms, and materials. The results of this recent development are evident in New Territories, which marks the dawn of a new era for Greek artistic jewelry.
The current exhibition New Territories (on view February 3–May 15, 2016) features a selection of 50 established and emerging Greek jewelry artists. How did this exhibition come together?
Ioanna Lalaounis: Handcrafted in the workshops of Greek artists, these jewelry objects are the antithesis of commercial high-end, fine, or mass-produced jewelry. These skills, which are steeped in traditions highly recognized in Greece since ancient times, are today put to the service of a Western European and American fine jewelry canon. My goal was to display the progression from traditional Greek metalsmithing to the use of new techniques and types, straying from the two-dimensional forms and materials of the traditional object. The exhibition aims to demonstrate talent as well as to highlight current designs as part of a vibrant current in Greek contemporary visual art.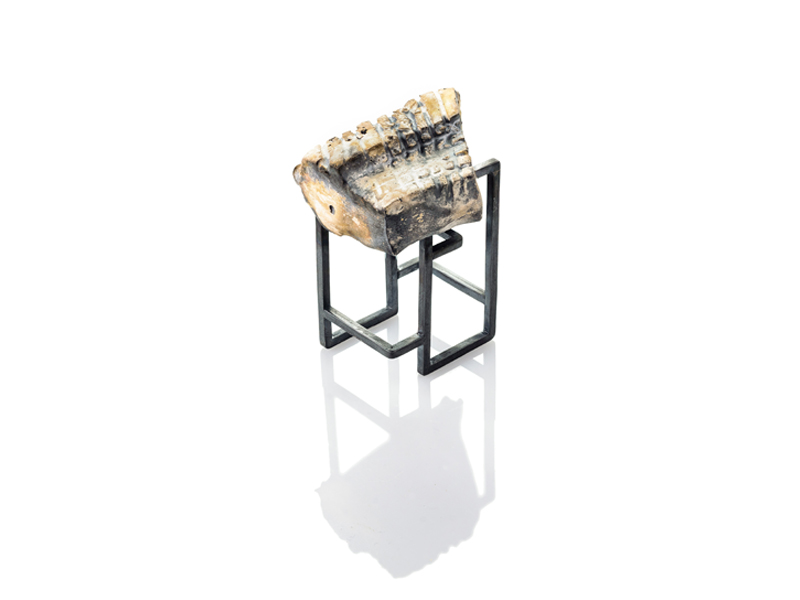 How were the artists selected? What criteria do you feel are essential for representing the current moment in Greek art jewelry?
Ioanna Lalaounis: Today there are over 150 artist jewelers working seriously in Greece. The criteria for the artists chosen were, firstly, all must be born and currently working in Greece. Many artistic jewelers have large workshops manufacturing for them. However, we looked for studio jewelers who designed and manufactured solely by themselves. What was essential to show was that in Greece, studio jewelry has progressed thanks to the education of Greek artists abroad, and their participation in gallery shows locally and internationally as well as in art fairs.
In the press release, you note this selection of artists as "evoking a moment in time." Can you elaborate on this statement and the role of Greek art jewelry within this moment?
Ioanna Lalaounis: Today it has become evident that it is crucial for artists to be recognized since their work defines the time that they live in and is defined by it. The creations are the result of the artist's capacity to learn their craft, their talent to experiment with forms and techniques, and their ability to keep abreast of current international and local tastes. Their work should tell us about the history of the culture that the artists grew up in but also about the current structure and habits of its societies. I find that many of the works are marked by their direct and close connection to sociopolitical developments and the world of fashion, and are very different from fine jewelry production in Greece.
What issues are at the forefront of Greek art jewelry? How are these issues reflected in the work presented?
Ioanna Lalaounis: I quote from my article in the exhibition catalogue: The exhibition's title New Territories alludes to the prospect of promoting the artists to new lands. Many of the artists have taken this allusion as inspiration for their work by referring to the new beginning of a bright future. From the body of work exhibited it becomes apparent that Greek history and cultural traditions are very much embedded in the Greek artists' agenda. The creators have been inspired by ancient Greek mythological heroes, Byzantine religious art, and Greek regional costumes from the 17th and 18th centuries.
Greek as well American histories are the inspiration in the works of Maria Koutmani and Maria Kalaoglou, two artists who often indulge in research and come across lost stories of the past. Always analytical, Koutmani is inspired this time by the prehistoric settlement of Kynos in Thessaly. Kalaoglou gives an industrial feel to her choker inspired by the portrait of the legendary American persona Consuelo Vanderbilt, Duchess of Marlborough, or "Dollar Duchess." Kalaoglou deliberately connects the past and present through selective abstraction. She combines features of historical jewelry such as the cameo, the choker, and the archetype of the dollar coin, with the Statue of Liberty to denote wealth, freedom, shadows of the past, and characters of the future—all emphasized by the oxidized metal produced in a most amazing handcrafted jewel. Similarly, Sofia Papalexiou recalls the legendary Ulysses, King of Ithaca, and Christopher Columbus, both travelers who struggled to find their promised lands. Her beautiful spheres are mapped with symbols that shine to promote peace, friendship, and advancement.
Meanwhile, personal experiences and emotions inform the work of many emerging artists. Traveling experiences are evident in the creations of Angeliki Rocanas. Wonderfully handling driftwood collected from the beaches of her favorite island of Aegina, she produces wearable jewelry not only of great taste but also reminiscent of the arts she studied in the Far East, the Middle East, and the Americas.
How has Greece's economic crisis impacted art jewelry? Furthermore, what is the impact on cultural institutions such as ILJM?
Ioanna Lalaounis: The impact on institutions has been dramatic. Public funding has decreased immensely and private funding has been halted. The ILJM never had or relied on substantial government funding, but 50% of its proceeds derived from private funding, so that was catastrophic. Since 2008 we have decreased staff and programs to a minimum. We are now trying to gain the confidence of potential private benefactors since companies will still need many years to recuperate.
Meanwhile, there were positive effects on studio jewelry production, and this is evident in Athens and other cities: Many people who are out of work took up their interest in crafts and creativity and attended courses. Very soon they have become students in artist's workshops and compete with their teachers in a new eclectic style. Arts and crafts courses have groomed many young and not so young women, now working to make a living out of creations sold in art fairs. Others already occupied in jewelry-making invested in it further and approached galleries in Europe—especially Germany, Spain, Italy, and France—with renewed vigor.
However, it must be noted that the public has become more mature in accepting studio jewelry both as an art form and as a type of jewelry valued as a wearable object. Studio jewelers have kept the cost of their works quite low so that collectors may acquire their works even in this difficult economic time.
Can you tell us which professional model Greek contemporary jewelers tend to adopt, and what their distribution network (national or international) tends to look like?
Ioanna Lalaounis: A wide range of categories of fine/precious jewelry is produced and sold in Greece. This includes traditional silver and gold jewelry; mass-produced and imported jewelry; studio jewelry and arts and crafts jewelry. The distribution of studio jewelry in Greece is achieved through art fairs, commercial exhibitions, privately owned shops, and galleries. Lately, museum shops distribute many of the new designs. Internationally we find a few of the Greek studio jewelers with a presence in jewelry fairs and galleries.
Greece, like France or Portugal, seems to have a very active, pull-yourself-by-the-bootstraps community of contemporary jewelers, but is not very "visible" on the international circuit. Why do you think that is?
Ioanna Lalaounis: To your list, I would add Spain and even Italy and say that is a large discussion. I believe that the reasons are mainly sociological and should be searched for within the structure of both the societies and the art these societies have been producing. Southern Mediterranean countries have had a long commercial tradition in fine and traditional jewelry-making. Buyers within local communities have always responded to makers, especially in Spain, Italy, and Greece. In these countries, artistic jewelry emerged later than in Western and Northern Europe or North America.
Fine precious jewelry houses never received government support, either through direct funding or exhibition opportunities. Production, distribution, and commercial activities were the responsibility of the owners who gained from their professional activities, and therefore were not in the priority of public efforts. This is in sharp contrast, for example, with what Norwegians may expect to receive from their Ministry of Foreign Affairs.
In short, I would say that because all Mediterranean countries have such a long tradition of jewelry making, we have a completely different attitude than Northern European countries.
What are your expectations regarding this exhibition and, in particular, what do you hope visitors will take away from their visit?
Ioanna Lalaounis: We are very excited to see the comments of both the press and the public. In the wake of a very successful opening with nearly 2,000 visitors and many articles in the news, the response has been very positive. Positive in that the public is ready to view artistic jewelry with respect. We hope that visitors will ask to see more hard work and personal style in further exhibitions. We expect that Greeks may embrace artistic studio jewelry as an art form equivalent to other contemporary applied and decorative arts, and that foreign visitors, with more to learn about current trends and fashions, will find it an interesting and unique temporary exhibition. It is also essential that sponsors see that response, and stay with us for future projects.
We also would like the artists to understand that their work cannot always be commercial. They have to indulge in unique, special works. They can teach or curate their own shows, but they have to work harder to produce works equivalent to international studio jewelry that are valued by international galleries and museums.
One of the roles of this museum is to assemble contemporary works—both local and international—that we believe will become historic. This project is one of the many that we have been involved in, but the first to show a significant number of recent works with specific criteria under one theme.
How do you gauge the success of an exhibition?
Ioanna Lalaounis: The success of an exhibition is measured by two facts: Its quantitative success—measured in ticket sales and attendance—and the much less quantifiable impact it has on society culturally and educationally. With the second goal in mind, we have offered the museum space during the exhibition to all artists, for them to lecture, perform, present workshops, inspire and aspire, etc. Speakers will take the stand while gallery and museum directors will have a one-on-one with the artists. Further educational programs for school groups have been organized by the curatorial department in conjunction with the artists. Programs will follow the exhibition and there is an option for the exhibition to travel abroad.
Finally it is important that artists create for themselves a platform of communication, through the ILJM and other organizations, to better promote their unique work and further evolve. Communication through listening to each other, discussing their work, and also learning more about what their environment may offer can lead to the development of both concept and use of materials.
What are some of the upcoming projects at the museum?
Ioanna Lalaounis: Although the educational cultural program in Greece is very specific due to the economic crisis, we are trying to open new bridges for collaborations, create new jobs, and apply new technologies. The museum is becoming more accessible while remaining the ambassador of an ancient craft.
In 2015, The American Friends of the Ilias Lalaounis Jewelry Museum (AFILJM) was established. It is a tax-exempt nonprofit organization. Its goal is to initiate and facilitate collaborative relationships among museums and nonprofits in the United States that will further the mission of the Ilias Lalaounis Jewelry Museum in Athens. Through these relationships, the AFILJM aims to collaborate with museums, educational institutions and organizations, and communities to establish unique cultural and educational programs for the general public, students, and people with disabilities. The AFILJM has launched a campaign in the US to share the richness and vision of the ILJM with millions of North Americans. The priority is to increase awareness of the Lalaounis legacy and Greek studio jewelry, enriching American collections with these works, and also to enrich the ILJM collection in Athens with international studio jewelry. We are starting an accredited summer school program in June of 2017 in collaboration with the University of Athens. Longstanding AJF supporter Helen Drutt English sits on the AFILJM Board of Directors.
Many more programs are on their way and we look forward to working closely with organizations both in the US and in Europe.
Thank you.
INDEX IMAGE: Voula Karampatzaki, Renaissancing Europe, Crown for a Gown, 2015, bronze, wire, pearls, semiprecious stones, glass beads, elements from traditional jewels, velvet, threads, photo: artist