Bilk Gallery has been showcasing contemporary glass and metal for more than 14 years. Established in 2000, the gallery moved in 2010 to its current location on Palmerston Lane in the heart of Manuka, in the inner south district of Canberra, Australia. The gallery brings together both the makers and the public to create a dialogue and promote the best of young emerging artists as well as established internationally renowned artists.
The directors, Helen Aitken-Kuhnen and Mio Kuhnen, hold up to nine exhibitions each year, consisting of a mix of solo and group shows. The artists are chosen for their individuality of approach, use of materials, recognizable style, and commitment to contemporary practice.
Sandra Wilson: Could you give us a brief history of your gallery?
Helen Aitken-Kuhnen and Mio Kuhnen: In 2001, Helen Aitken-Kuhnen and Johannes Kuhnen refurbished a warehouse in the south-eastern city of Queanbeyan to include a studio/workshop for metal and glass, a gallery, private tuition facilities, and a living space.
We slowly established a clientele, by exhibiting both metal and glass artists. We were in this space for almost 10 years, had some fabulous exhibitions, and became well known for the groundbreaking work/exhibits we showcased. In 2010 we decided to move the gallery to Manuka, which is a well-established high-end boutique shopping area in Canberra.
The reason for this move was to try and bring contemporary work to a wider public. It hasn't been easy, sometimes we have only just managed to pay the bills. Without the support of Johannes Kuhnen (an exceptional partner and father who is integral to the gallery), the gallery would not have been able to continue. At the end of 2013, Johannes retired from his position at the Australian National University (ANU) and now works with us in the gallery.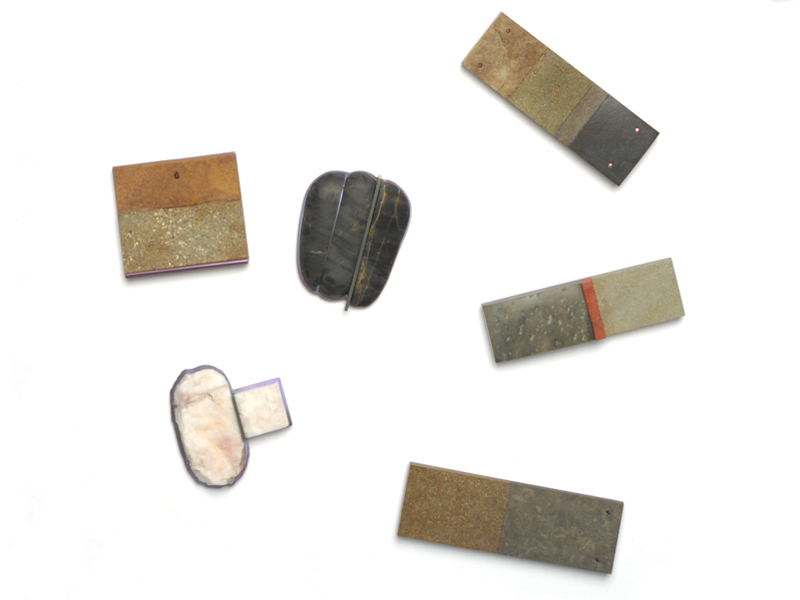 You've been around for 14 years now. During that time, the Internet has had a profound effect on all our lives—how would you say it has affected you as a gallery?
Helen Aitken-Kuhnen and Mio Kuhnen: It seems like the Internet has always been here. We put a lot of time and effort into our invitations and website as well as social media, and the Internet has made this so much easier. It has captured a wider audience as well. I certainly think it has opened up more interest and accessibility. This being said, we don't currently have an online shop for the gallery: people prefer to come in and purchase from us in person. That way they get to learn more about the pieces, the artist, and how to wear the piece. Which is why we are a destination for clients. They come to Bilk for the experience!
What do you see as the role of a metals gallery in the 21st century? How do you invest in the artist and their career?
Helen Aitken-Kuhnen and Mio Kuhnen: We tend to introduce new artists via group shows such as our annual Christmas exhibition. We build up a following for each of our artists (around 28) by explaining the work and ideas behind their work and promoting them through social media, our website, and our media contacts. With each exhibition comes press releases, a mailing campaign to our media contacts, an exhibition opening, and online advertising. Our role at the gallery is to explain the work, tell the artists' stories, take the pieces out, and encourage people to try them on to create an understanding of the wearability of the pieces.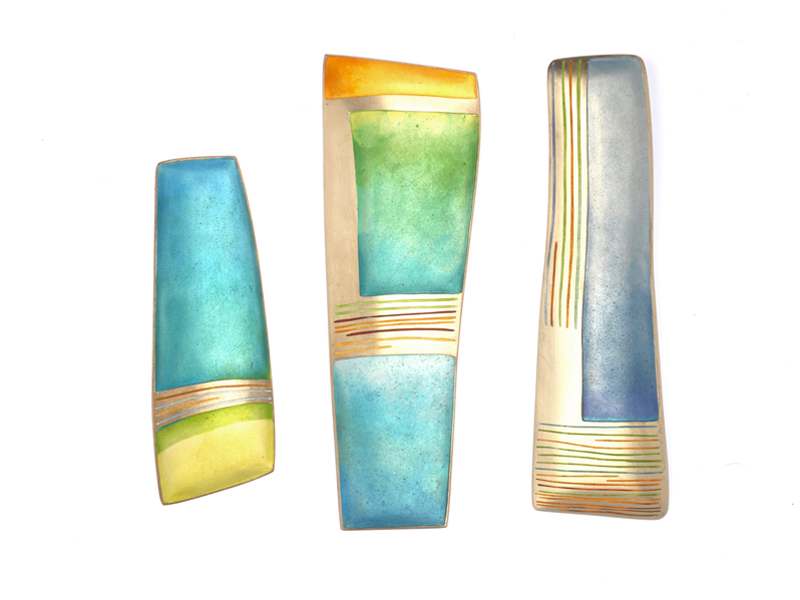 How do you imagine the "white cube space" for exhibiting contemporary metals will change over the coming years?
Helen Aitken-Kuhnen and Mio Kuhnen: We are a white cube and do this to let the work stand in its own space. Clients and visitors of the gallery appreciate the simplicity of the space when they come to view the exhibitions and pieces, as it enhances the beauty and individuality of the work of each artist.
You aim to give "a new value and concept to contemporary metal"[1]—can you expand on this?
Helen Aitken-Kuhnen and Mio Kuhnen: People value the work and artists we have here. We have work in the gallery that is not available anywhere else in Canberra and have become known for individual high-end art pieces that may be worn. I believe it takes time for the general public (as opposed to educated art collectors) to become aware of contemporary work and to be comfortable wearing it, which is one of the reasons behind starting the gallery. Our audience is becoming more accepting of contemporary jewelry and into purchasing interesting, thought-provoking work.
Do you have a process for reviewing work? What advice would you give artists keen to showcase their work through your gallery?
Helen Aitken-Kuhnen and Mio Kuhnen: The pieces must be well considered and beautifully made; they need to have an individual quality that reflects the maker and his or her philosophies. They do not—or in fact should not—follow a trend or fashion in contemporary jewelry but reflect an individual artistic expression that is recognizably that of the artist.
Which emerging contemporary artists are you excited by just now?
Helen Aitken-Kuhnen and Mio Kuhnen: The work should be easily accessible and thought-provoking, and at the same time quite beautiful. In June we have an exhibition of Nellie Peoples and Zoe Brand, both recent graduates from ANU, and they are looking at the relationship between objects and marks or text.
Nellie's work focuses on the concept of a "journey" taken by the object and the wearer/beholder. Zoe is working with sentences as a combination of text signs and objects. We are excited with this exhibition as it is something quite different to what we have shown before and will challenge a lot of our wider public.
Another emerging artist and recent graduate from ANU we are excited about is Larah Nott and her depiction of music concert halls through layers of titanium that are saw-pierced, slotted, and then anodized.
Two more artists have captured our attention: Bin Dixon-Ward, a recent graduate from Royal Melbourne Institute of Technology, is known for her selective laser sintering and beautiful necklaces. Wen Miao Yeh, from Taiwan, has authored some flamboyant printed earrings and brooches.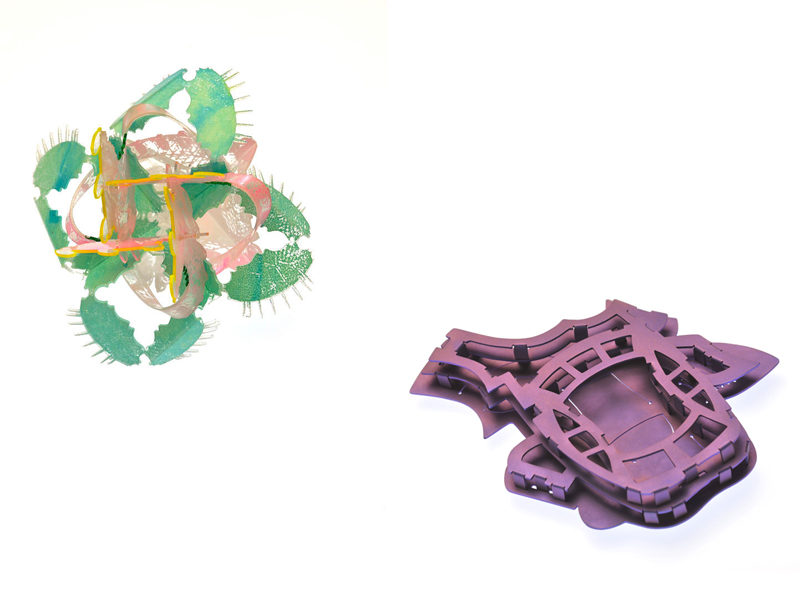 How important is it to you to connect with other contemporary metal galleries internationally? Do you ever collaborate with other galleries?
Helen Aitken-Kuhnen and Mio Kuhnen: It is very important to collaborate and where possible work with other galleries. Atta Gallery from Bangkok had an exhibition of Thai artists at Bilk in 2015 titled Anew Negotiation (reviewed on AJF by Julie Ewington), and we are in the process of taking a similar exhibition of Australian artists, titled Interchange, to Atta Gallery in March this year. We have all enjoyed the dialogue and greater understanding this collaboration has enabled.
It has also been a wonderful opportunity to share contemporary jewelry and expression from another culture with the public, in order to open their minds.
Nobody should work in a vacuum—the support from fellow artists and galleries is essential for growth and development, as this increases the public's appreciation of contemporary jewelry.
What similarities and differences do you see between US, European, and Antipodean work?
Helen Aitken-Kuhnen and Mio Kuhnen: A number of the works are similar—too similar as the movement has become a lot more international with the Internet. The European work is more analytical and considered. The American is more flamboyant. The Australian is influenced by both, but has its own unique qualities. But I think the edges between all three have become more blurred in the last 10 years or so.
What advice would you give someone setting up a new contemporary metals gallery?
Helen Aitken-Kuhnen and Mio Kuhnen: Have a lot of energy and patience and be prepared to spend a lot of hours promoting, displaying, photographing, writing, and collaborating both with artists and the public.
What are your ambitions for the next five years?
Helen Aitken-Kuhnen and Mio Kuhnen: To have every person in Canberra wearing contemporary jewelry and loving it—both male and female! There are men who do wear necklaces in Canberra, and we love them!
Thank you!
Gallery prices range from AUS$100 for small production pieces to between $440 and $25,000 for one-off limited pieces by internationally renowned artists.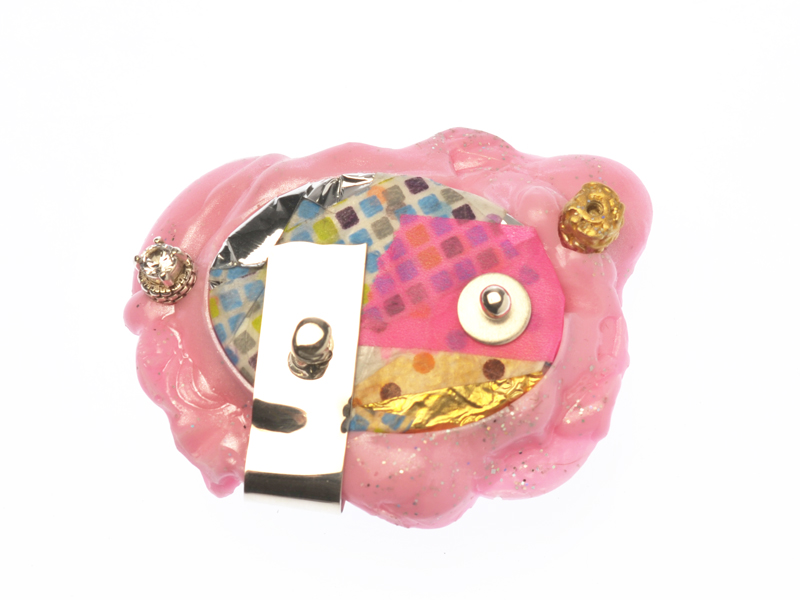 INDEX IMAGE: Larah Nott, Sydney Opera House, from the Music Concert Hall series, photo: Johannes Kuhnen
---
[1] http://www.bilk.com.au/#!contact/c1koc.