San Diego-based ENJI Studios produces one-of-a-kind jewelry and small-run production lines under a business model that makes giving back to the local community one of its core tenets. In this interview, I speak with 2016 Halstead Grant awardee Niki Grandics, founder of ENJI Studios, about the impact of the award on her small business, as well as her inspirations and her commitment to greener studio practices and fairmined metals.
Adriane Dalton: First of all, congratulations on receiving the 2016 Halstead Grant! Begin by telling our readers about where you're from and where you currently reside.
Niki Grandics: Thank you! I'm from Hungary and Southern California, and now live in San Diego, California.
What are the origins of your interest in jewelry?
Niki Grandics: I found jewelry in a pretty roundabout way. I've always loved art and design and have been drawing and painting since I was old enough to hold a pencil. When I started university at San Diego State I was a graphic design major because, at the time, I thought that was the only way to have a creative career and make money as an artist.
I quickly discovered that graphic design was not for me and began taking other art and design classes that I thought were interesting, such as sculpture and glass blowing. I began working on a series of wearable glass sculptures, so I enrolled in a jewelry and metalsmithing course in order to learn how to make them function as wearable pieces. Once I sat down at the jeweler's bench, I felt like that was where I needed to be. It was like love at first sight—or at first solder!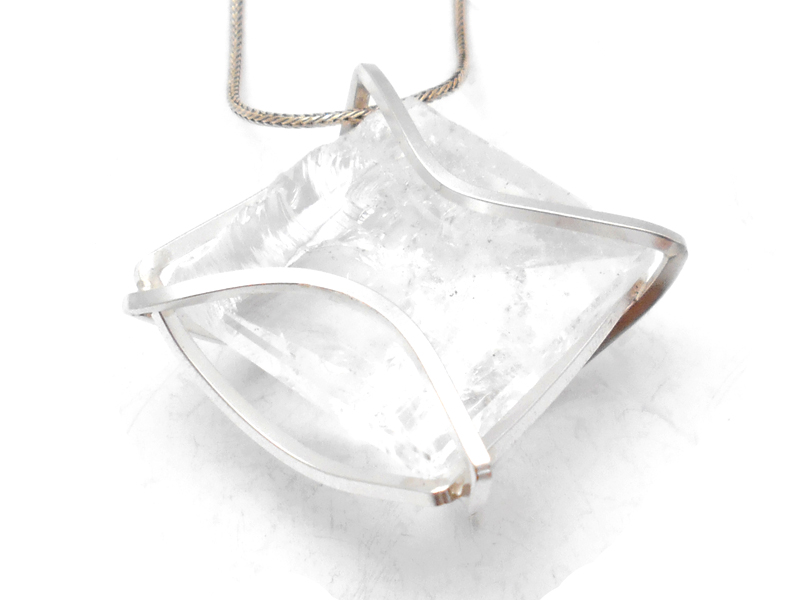 Describe a day in the studio. How do you find balance in all the intricacies that culminate in maintaining a small, creative business?
Niki Grandics: One thing I love about a day in the studio is that every day is different and it never gets boring. However, it's definitely a challenge to find balance. As a small business owner, I'm the CEO, jeweler, designer, marketer, sales rep, and janitor. You end up wearing a lot of hats, but I try to allocate certain timeframes to devote to one or two areas at a time. It can be hard to maintain that type of schedule or balance, though, especially when preparing for a show, or around the holidays. I do especially love my time at the bench, particularly time I can devote to designing new pieces and one-of-a-kind works.
What is the meaning or story behind the name ENJI?
Niki Grandics: The name ENJI came from how you would say my initials: NG. I wanted the brand name to maintain some connection to my name, while being separate from my art jewelry work.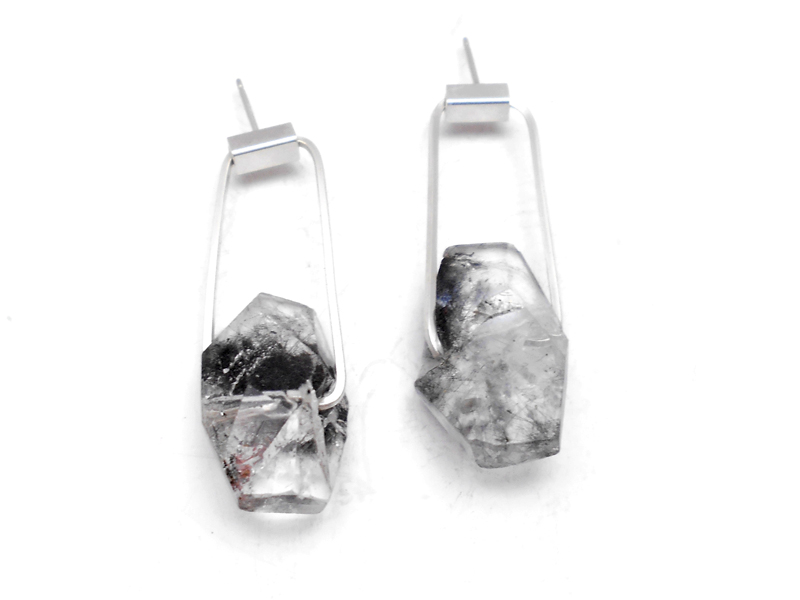 Do you create the works entirely in-house, or do you outsource and have studio assistants?
Niki Grandics: I do most of the work in-house, but outsource my casting. I'm looking to hire a studio assistant later this year and I usually work with an assistant if I'm blowing glass for my art jewelry pieces.
Tell our readership a bit about the Halstead Grant and the impact receiving this award has had on your business.
Niki Grandics: The Halstead Grant has really been an amazing opportunity. I applied last year as well, and the application itself is challenging. In addition to being judged on your designs, you're also being judged on your business plan. They ask a lot of questions that people might not have thought of before as artists or designers, such as questions about pricing, marketing, the competitive landscape, and future projections of income and expenses. We all have goals for businesses or personal studio practice, but this type of planning forces you to write down exactly how you want to get there, how long it will take, and what you need to achieve your goals.
The first year I applied, I had some uncertainties still about what I wanted to accomplish with my line. Since then, I realized that I wanted my jewelry to help create a positive change. I began working with local charities and changing some of my studio practices and buying habits to more environmentally conscious ones. The feedback I've received from the judging panel was definitely helpful and the award has helped me invest in new equipment and materials, as well as participate in upcoming trade shows such as Capsule NYC. I'm excited about the opportunities this award has given me and where it will take me in the next year!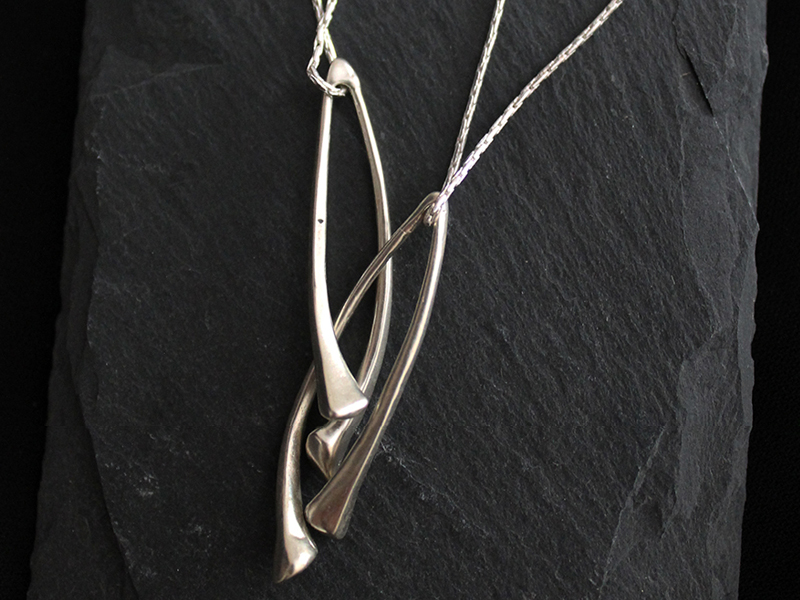 On the ENJI Studio website, you note your use of ethically mined materials. You're also a member of Ethical Metalsmiths. What are some of the triumphs and challenges you've encountered while incorporating green and ethical practices into your small business?
Niki Grandics: In terms of studio practices, it has been a series of smaller changes, such as using rags instead of paper towels, packaging and business cards made from recycled paper, fewer chemicals, and switching my pickle and polishing compounds to more eco-friendly options. In the collection that I'm currently designing, I'm using only ethically mined/recycled metals and ethically mined and lab-grown stones. It does greatly narrow down the pool of potential suppliers to work with. However, it also provides a really interesting design challenge. Some industry design competitions are also recognizing and creating categories for ethical and fairmined design entries. It's also really interesting to learn about where our metals and stones come from and how they make it from the ground to a piece of finished jewelry.
For ENJI you create both small production lines and some one-of-a-kind works using mostly silver and natural stones. However, you also have a separate artist's website that seems to focus on conceptual works. How, if at all, does your creative process differ between these two modes of creation?
Niki Grandics: I find that the processes overlap in many ways. In both, the metalwork is usually the last step I do. In both my production line and studio practice, I am inspired by the materiality of the stones and the glass pieces. They also share some of their working characteristics. It's not often I sketch, but I often write down ideas and inspirations I find for my work. In both practices I often begin by making components of the pieces or line and as I work on more of them it becomes clear how they'll work together in a piece or as part of the line.
In review of both ENJI Studio and your studio jewelry, there are a few noticeable aesthetic congruencies—the juxtaposition of rough, natural materials with soft, light elements (such as in your Ghost series); stones orchestrated into asymmetrical bezels and wildly folded prongs (such as in your Quartz Pendant or Smoky Ring). Am I off the mark in seeing well-orchestrated chaos in these works?
Niki Grandics: There definitely is chaos in both. I find contrasts, especially the chaotic ones that exist together in the world around us, intriguing and inspiring. In my Ghost series, I looked to the contrasts that surrounded me in my frequent travels. Growing up going between Budapest and Southern California, which at the time felt like different worlds, gave me a lot of inspiration. I feel like these strong differences and changes that made up much of my life had a strong impact on me and how I view the world and my design aesthetic. In my line, I approach a much simpler contrast between natural raw stones and geometric cast forms and square wire.
Do you have any suggestions, whether in creative practice or business strategy, for other jewelry artists?
Niki Grandics: One suggestion would definitely be don't be afraid to ask questions. I've learned a lot and discovered many new opportunities for my business, as well as for myself as an artist, by asking questions of mentors, former instructors, employers, other designers, etc. I would also say: apply to every opportunity you can. I often hear students or newer artists and designers doubt if their work is enough for a particular competition, exhibition, or grant. I've applied to a lot of these and, especially in the beginning, was rejected a lot, but I learned from these, too. Rejection is also just part of life as an artist and designer; not every client or juror or buyer will like your work, and that's ok. It's definitely important to take rejection as a learning opportunity rather than as a personal failure.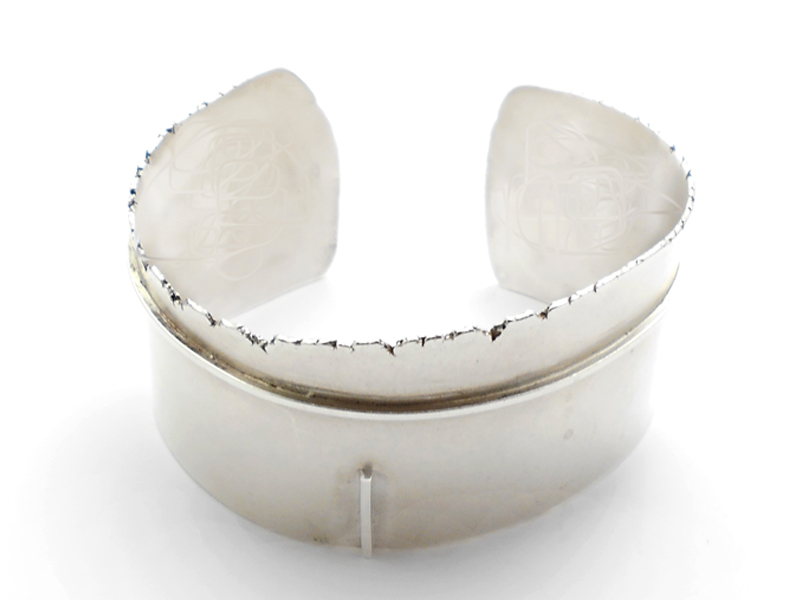 What books, articles, music, films, etc., have held your interest lately?
Niki Grandics: I'm just finishing up reading the book Stoned, by Aja Raden, which chronicles the effect jewelry and the desire for precious stones and pearls has had on our history. It's really interesting and is an excellent read. I would definitely recommend it to any fellow jewelry lovers!
Who are some artists, both in the field of jewelry and beyond, whose works are compelling to you?
Niki Grandics: There are a lot of artists whose work I admire, so here are just a few. I really love Seth Papac's work in both his jewelry line and his art jewelry pieces. His style is very distinctive, and I loved getting to wear a lot of the Breeze Block pieces and some of the pieces from his Torn line. (I was the model in a couple of his shoots.) I also really love Réka Lörincz's work, as well as Georgina Trevino's, and Li Liang's.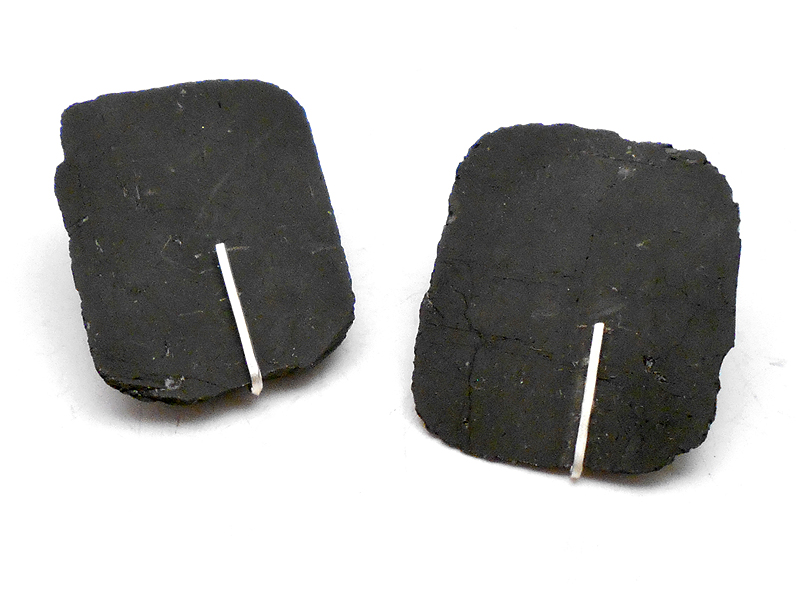 What's next for both your individual practice and ENJI Studio?
Niki Grandics: I'm currently working on a new collection for ENJI in both ethically sourced silver and 14-karat gold, and showcasing fairmined raw diamonds, which will feature more geometric details in the metalwork to contrast with the natural beauty of the stones. I will also be showing my work in a few larger trade shows, plan on expanding the custom bridal jewelry aspect of my business, and might also be in a show at Paris Fashion week this fall.
I have plans for a new series in my own studio practice as well, using some blown glass pieces I made in the last year as well as some embossings using a glass embossing plate I made. I think it will be the kind of progression I'm looking for from my last series, Ghost. It will still be full of controlled chaos, but will be very different than the Ghost pieces. I'm really excited for what this new year will bring!