Looking into an Eleanor Moty brooch is like gazing at a landscape or standing in a grand architectural space. Combining unparalled craftsmanship and attention to detail with a spare, sculptural design esthetic, she creates magical brooches that begin with a specially selected single quartz crystal. We recently caught up with Eleanor to talk about her highly regarded background as a pioneer in electroplating and photo-etching processes in the early days of the studio jewelry movement, her career as a maker, and reflections on being a professor. Her work is currently on exhibit at Atelier Courbet in New York City.
Bonnie Levine: Being raised on a rural farm in Illinois, how did you come to be interested in jewelry? Does your farming background and experience influence your work?
Eleanor Moty: The rural isolation requires a person to be independent and resourceful. Farm life introduced me to tools, machines, and problem solving—all important aspects of being an artist/metalsmith. I entered the University of Illinois, Champaign, to major in art education, but I was delighted to discover that jewelry making was offered as a studio major. I soon changed my major to studio crafts/jewelry, where I enjoyed the technical and creative challenge of the associated coursework.
My farm background influenced my work in a way that I hadn't initially recognized. I was well into my career before I realized how often I referenced the landscape in my designs. Each day on the farm I saw the horizon line and observed the expanse of land with its constantly changing quality of light, pattern, texture, and color. As crops grew and matured, they changed from green to golden hues and, after harvesting, the stubble remained in linear patterns until the land was covered by snow. These observations found their way into my work via planes of metal with incised or carved surfaces, unique stones, and complementary materials.
The early part of your career was defined by your pioneering work in electroplating and photo etching applied to jewelry and accessories, for which you were widely recognized and regarded. Tell us about this period in your career.
Eleanor Moty: I became aware of these processes as an undergraduate in the jewelry program at the University of Illinois, Champaign. An engineering student introduced me to the photo-etching process that was commonly used to create printed circuits and precise metal parts. At the same time, my jewelry professor, Robert Von Neumann, asked me to assist him in setting up a rudimentary copper electroforming facility in the studio. Working on these two diverse processes simultaneously was an efficient way to carry out experiments and led to interesting results. Using images from family photos or antique glass plates, I etched the photo into silver, copper, or copper alloys. These images served as the focal point, with heavily textured electroformed or electroplated copper surrounding and enhancing the etched image. At times, instead of photo-etching the image, I photo-electroplated it onto the metal, thus creating a subtle, textural abstraction of the original photo. I also experimented with patinas by selectively painting the chemical solutions on the photo-etched plates to color them in a way similar to how old photographs were hand-tinted.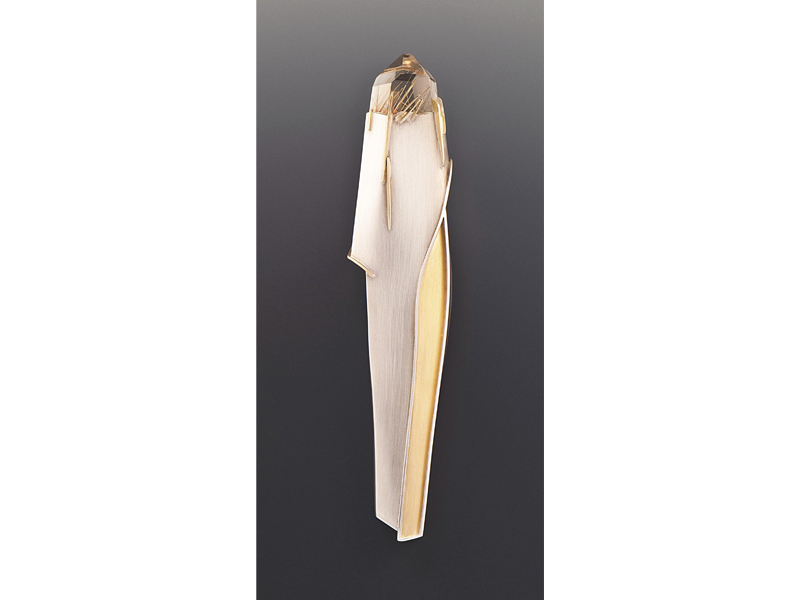 Some years later, your focus shifted from accessories to one-of-a-kind brooches that explored the interplay between light patterns, planes, quartz crystals, and precious metals. How, when, and why did this shift occur?
Eleanor Moty: In the late 1970s, I moved away from the chemical processes of photo-etching, electroforming, and electroplating, and focused on the essence of design using basic processes and fewer materials. This was a time of technical experimentation in our field, and work had become overly complex, with artists incorporating a variety of materials, images, and processes. Ceramic artist Howard Kottler remarked to me after viewing a show of contemporary jewelry, "You've all got the technique down, now what are you going to do with it?" That observation resonated with me. I felt that work in the exhibition, my own included, was overdone. I re-examined my work with a critical eye, replaced complex processes with basic fabrication techniques, and returned to purely formal design.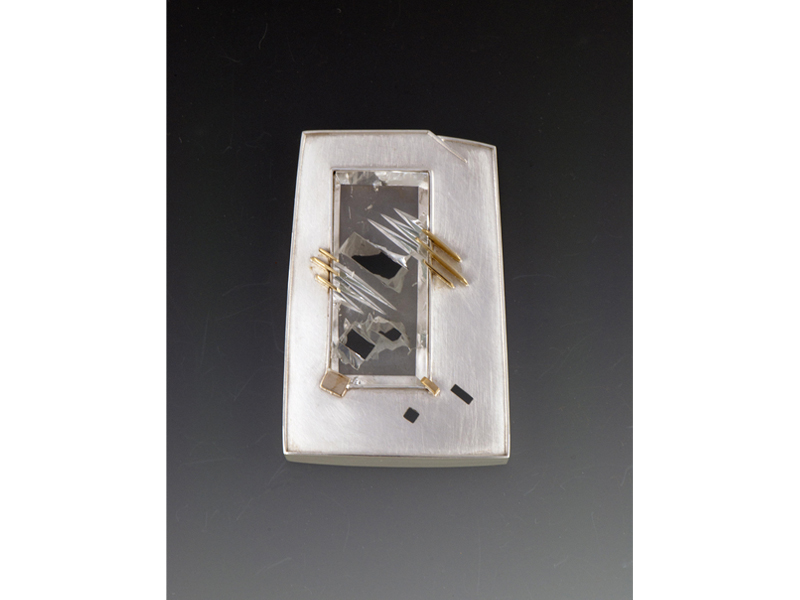 Each brooch features an amazing stone, usually a fantasy-cut rutilated quartz or tourmalinated quartz, which is the starting point of your creation. Why are you so drawn to this material, and what do you look for when choosing one stone over another? Tell us about your partnership with Tom Munsteiner and other lapidary artists.
Eleanor Moty: Much of my work is inspired by landscape and architecture, and I am fascinated by the linear imagery within rutilated and tourmalinated quartz. When selecting a stone, I look for dynamic inclusions, clarity, and a beautiful cut. I can accommodate nearly any shape of stone, as I often mask part of the stone with metal and change its format to integrate the stone with my design. The architectural aspect of quartz stones cut by Tom Munsteiner relates perfectly to my imagery. The slashes, grooves, voids, and matte surfaces are referenced in the planes of silver that I use to encompass the stone. My preferred color palette is white, yellow, and black. Clear quartz and the angles and planes in silver constructions create perceived variations of white, as in a room's interior or a wintry landscape. Accents of yellow from 18-karat or 22-karat yellow gold, topaz, sapphire, or citrine relate to the golden threads of rutile within a rutilated quartz stone, and black Micarta interjects a striking reference to the black lines of tourmaline inclusions in tourmalinated quartz. (Micarta is an industrial material made of resin-impregnated paper or fabric and is used in printed circuitry and for knife handles.) I also find inspiration in the artfully cut agates of Dieter Lorenz, and in recent years I have been attracted to the dynamic landscape imagery within specimens of black slate with inclusions of pyrite crystals.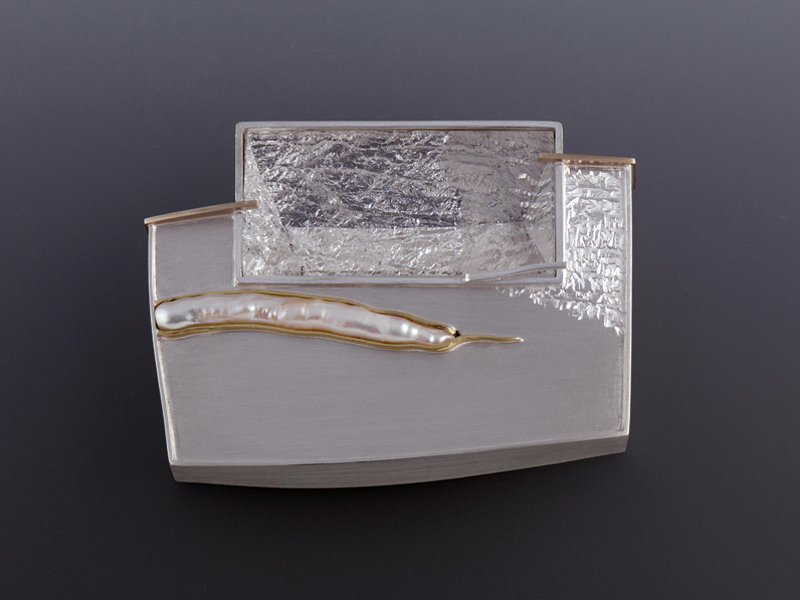 You've said that once a stone is selected, creating the piece is almost like pulling together a collage. Can you explain this and describe how a piece comes together?
Eleanor Moty: As I design the brooch, beginning with the stone, I draw the shape and major visual elements of the stone with a marker on clear acetate. I place the acetate drawing beneath tracing paper and sketch variations of designs, illustrating planes of silver that will surround and encompass the stone. The format and orientation varies as I sketch page after page of designs. Surface textures are drawn and accent colors and materials are added to enhance the imagery of the featured stone. I have a variety of accent or "collage" materials to select from and add to the construction of the brooch. These might be small stones, stem pearls, and black paper Micarta. Often when working with a stone with black inclusions such as tourmalinated quartz or with black slate, I use Micarta as a major design element. The material carves beautifully and can hold a texture or be polished to a satin finish. Sterling silver is the primary metal that I use to fabricate the brooches, and the surface is always left matte to avoid the distracting reflections of polished silver.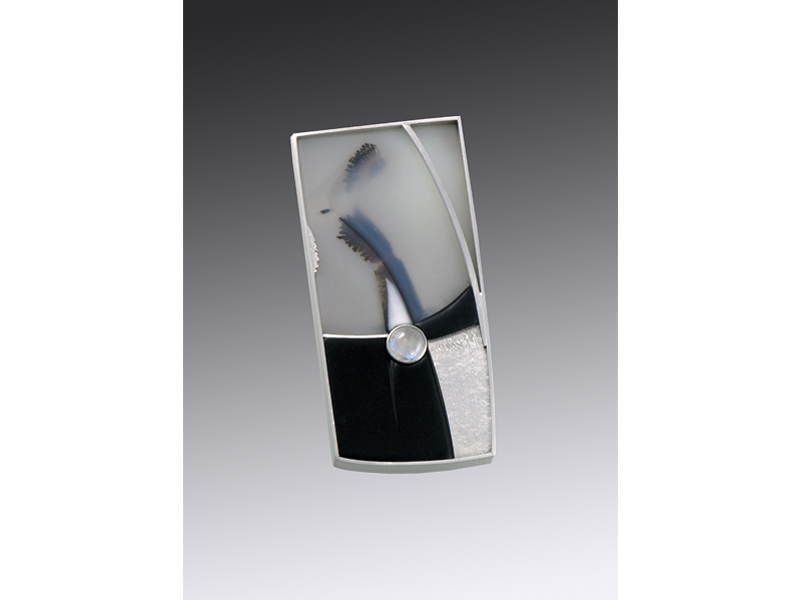 Your work is very sculptural, and their names evoke landscape, geography, and nature (Milky Way Brooch, Glacial Brooch, Arroyo Brooch, Crystal Cavern Brooch, etc.). What is your process for choosing titles?
Eleanor Moty: I don't intend for the titles to direct the viewer, but they are a convenient way to catalogue my work. Once I have completed and photographed the brooch, I study it to determine characteristics that suggest the title. This may sound simple, but it's always a challenge.
Why do you only make brooches?
Eleanor Moty: Brooches needn't be worn to be complete, however each brooch has a specially made pinning mechanism integrated into the back of the piece should one wish to wear it. Not having to fit the piece to the body, as is necessary with other types of adornment, I can concentrate on the sculptural aspects of the brooch.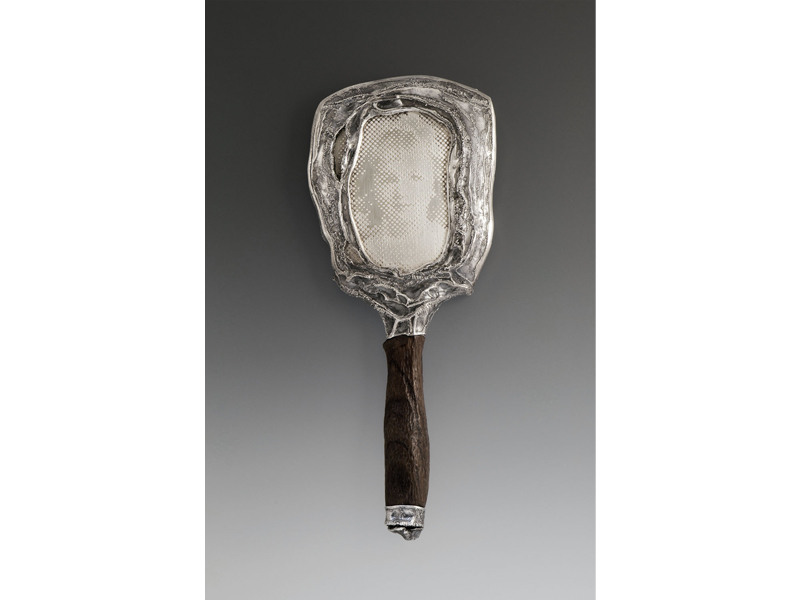 Who are the people who've most inspired/influenced you at different points in your career?
Eleanor Moty: Early on, I was inspired by the jewelry of Margaret De Patta and Miye Matsukata. Margaret De Patta's timeless design and innovative use of stones focusing on light reflection and refraction captured my attention at the start of my career. I was later introduced to the jewelry of Miye Matsukata and was struck by her beautiful compositions incorporating rough, nonprecious materials such as tumbled beach glass and ancient coins along with diamonds and colored gold. My undergraduate professor, Robert Von Neumann, and graduate professor, Stanley Lechtzin, served as inspirational and challenging mentors. Fred Woell, who I met when I was an undergraduate, used nonprecious materials and found objects to create jewelry that served as a platform for social and political commentary. Albert Paley, who was a graduate school colleague, created complex large-scale body sculpture that cantilevered away from the body or interacted with the movement of the wearer. Both artists' innovative work expanded and had an impact on my attitudes about jewelry.
You've recently retired after a 28-year career as professor of art at the University of Wisconsin in Madison. How has teaching influenced your jewelry making, and how has your jewelry making influenced your teaching?
Eleanor Moty: I taught techniques that I didn't use in my own work and solved more design and technical problems than I would have encountered in a lifetime of my own work. This experience allowed me to hone my skills and address my work with a critical eye.
Where do you see the contemporary jewelry field going in the future, and how do you feel about it?
Eleanor Moty: Much of contemporary jewelry is conceptual and edgy and has moved away from the finely crafted formal approach. I find some of this work to be intriguing but some is appalling—perhaps part of the "sloppy craft" movement. Like it or not, this work is at the forefront, receiving a good deal of attention and exposure.
Now that you're "retired," what's next for you?
Eleanor Moty: Having been retired from university teaching since 2001, I am well into the "what's next" phase. With an un-imposed schedule, I am able to create work, travel, and do whatever captures my attention. I have been urged to publish a book of my work and toward that end I have called back pieces to rephotograph and catalogue. This is an ongoing project with no set deadline; however, it is a serious focus.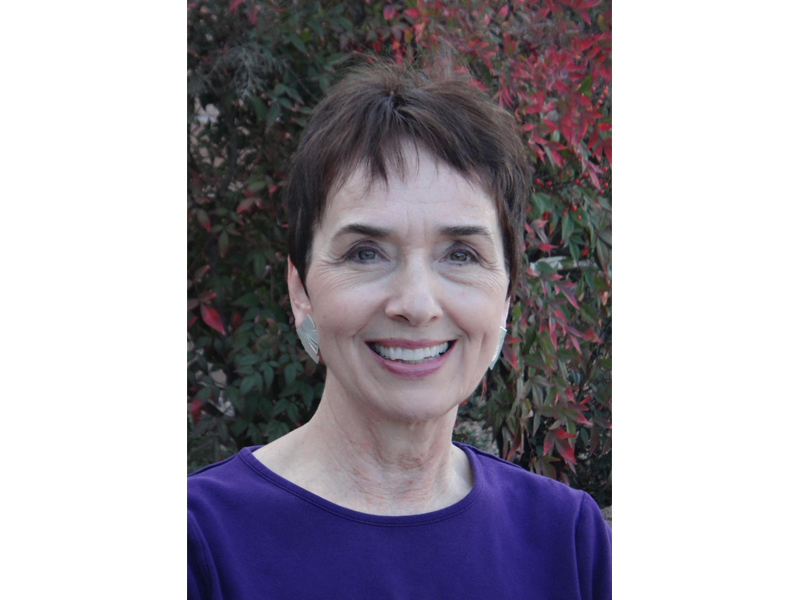 What advice would you give to young, emerging artists today about the key to a long and rewarding career as a maker?
Eleanor Moty: I would encourage emerging artists to be open to new ideas and information but not be a slave to trends. Find your own distinctive style and direction, gather a large vocabulary of experience, and be appreciative of the help and encouragement you receive. I might add that one of the most rewarding aspects of a long and successful career is to be in the position to help upcoming artists and to share knowledge and insight.
Thank you.
The price range of pieces in the show is $5,000 to $7,000.