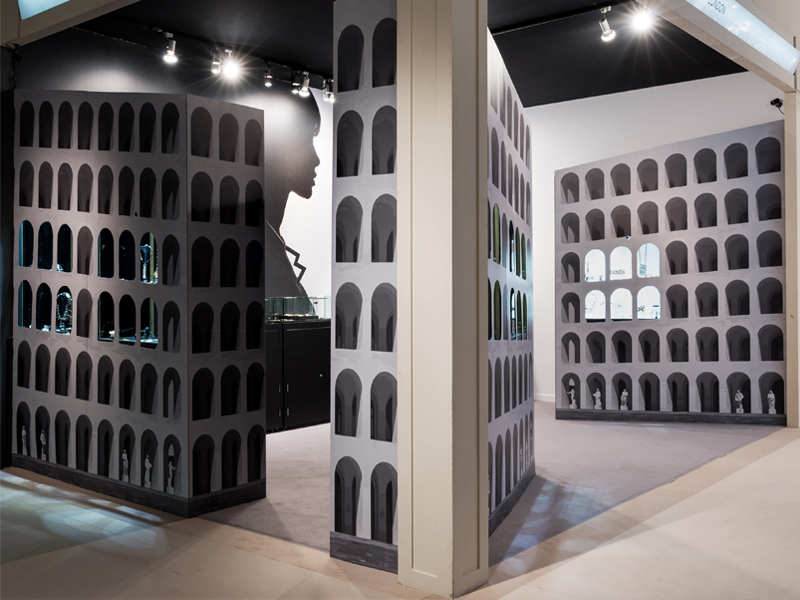 Didier, Ltd. is a London-based gallery founded in 2006 by Didier and Martine Haspeslagh. It specializes in jewelry created by leading modern masters—painters and sculptors—who are recognized internationally for their art. Didier, Ltd. frequently exhibits at international art and antique fairs, where the fact that distinguished fine artists also created jewels often comes as a surprise. Art Jewelry Forum caught up with Didier and Martine during the Palm Beach Jewelry, Art & Antiques Show.
Read more about Didier, Ltd. in a previous AJF interview by Susan Cummins.
Marthe Le Van: This is a very busy period, as you are currently attending the Palm Beach Jewelry, Art & Antiques Show. How important are fairs to your business?
Didier and Martine Haspeslagh: The fairs are the most important meeting place with our clients, and some we see from show to show. They see new stock, and we have conversations with clients to determine their needs. We try to do a show every other month, and it is about meeting new people as much as serving the existing collector.
Exhibiting jewelry made by artists at the Palm Beach Jewelry, Art & Antiques Show must garner a unique sort of attention. What is the reaction of attendees when they encounter your displays?
Didier and Martine Haspeslagh: Yes, we drew a lot of interest as we were offering such a different kind of jewelry. Most other jewelers serve up the usual safe and bland diamond variety. This makes our artistic offering stand out and it's an oasis in a desert of rocks. Some visitors do not care or notice, and others spend an inordinate amount of time studying it closely, drawing inspiration from this library of ideas.
The booth was intentionally designed to draw in the attendees. We could be seen from some distance, being at the end of the aisle and in an open space by the sushi bar. We observed people suddenly waking up, paying attention, and coming closer to investigate, as it was not immediately obvious that it was jewelry hidden between the arches. Once they looked in, we had their attention. As they registered some of the familiar artists' names, they were astonished to be looking at jewels by blue chip painters and sculptors. Few realized these artists also made adornments and wanted to know more.
In the past, we observed couples where the lady is interested but is dragged off by her partner who is definitely not wasting time looking at bling. The decor intrigues them enough to follow their loved one into the booth, and once he registers the names on the labels, they are usually hooked.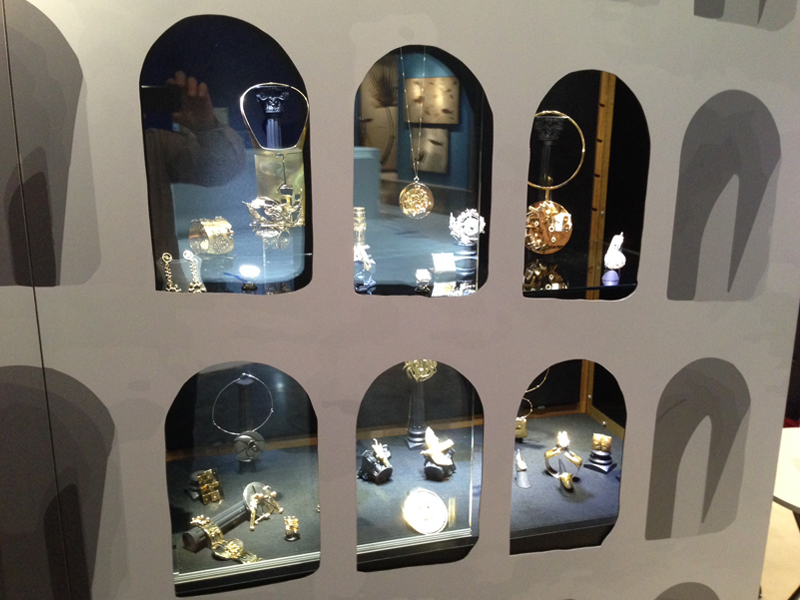 Your booth at the show featured a stunning de Chirico-inspired, multiple-perspective façade. Is that a nod to your commitment to Italian post-war jewelry?
Didier and Martine Haspeslagh: Yes, de Chirico was the inspiration behind the décor. We felt his eerie paintings with colonnades that draw you in could be scaled up to draw in the attention of the distracted visitor. This was in keeping with the Italian exhibition, all the way down to the specially manufactured miniature Roman columns and capitals, made for us by a dollhouse miniaturist. He had to double the size of the columns, however, as the usual 1:12 scale was too small.
What type of collector is most often purchasing jewelry made by master painters and sculptors? Is your market mostly individuals or institutions?
Didier and Martine Haspeslagh: The collector most likely to purchase from us already owns the art by these artists. He or she will be a fan of a particular painter or sculptor and covet a rare jewel by these proponents of specific art movements. Most of the jewels we sell are intimate moments in the artists' lives, as they were not made for public consumption but rather for special occasions in the lives of their creators. We have a story with every jewel!
What is the attitude of museum curators toward the jewelry made by sculptors and painters?
Didier and Martine Haspeslagh: We primarily sell to individuals, but the museum community is beginning to wake up from its slumber and take note of this little yet very rich seam of interesting artifacts created by important artists that perfectly encapsulate their principles in miniature. One can always immediately recognize who the author is, if one knows their work in other media. If it does not look typical, then it does not sell well.
Museum curators are beginning to pick up on the link between the jewel and the art by the same individual. They are totally connected, and some jewels can be prototypes for larger works. Some artists have worked out their ideas for sculpture in miniature before creating the full-scale version. Some create an entirely new body of work in jewelry, not drawing on their other art, and thus giving us a new aspect of their output. This area, in particular, is attractive to museums as they can show another facet of the artist in question, and it can be put alongside the painting or sculpture.
For instance, The Metropolitan Museum of Art in New York has an Alexander Calder necklace framed on the wall in the same room as his mobile and gouaches. It clearly shows that the necklace has nothing to do with the other art by Calder, and yet it is a big part of his oeuvre—he is now thought to have done 2,500 pieces of jewelry—and instantly recognizable as by his hand.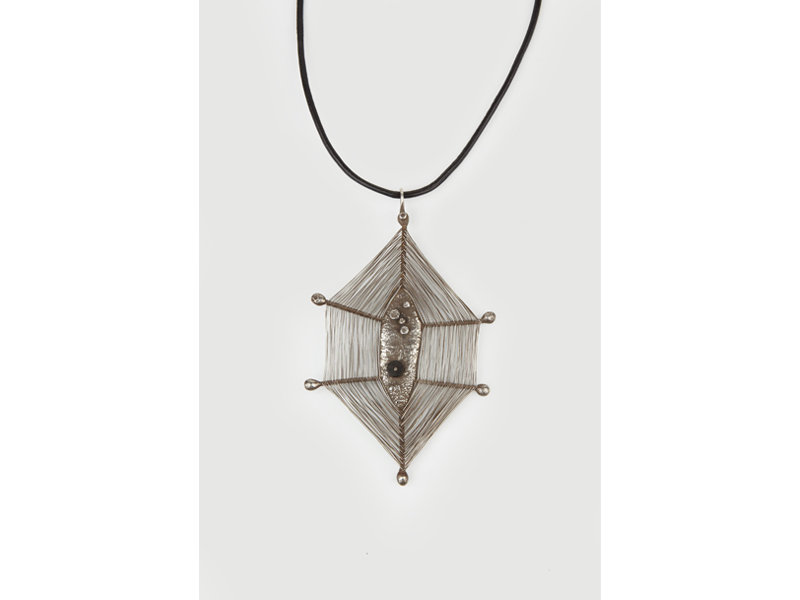 I imagine one of the essential challenges for you is getting access to important collections or tracking down historical pieces to their current owners. This is still a niche market. How big of a challenge is this?
Didier and Martine Haspeslagh: Tracking down great pieces is always a challenge, and we do not approach owners for pieces. We mainly purchase at auction or meet vendors at the shows, which is another reason why the shows can be important. These kinds of goods flow toward us because we are becoming known as the leaders in this niche market.
Do you find that the secondary market is lively, that collectors not only buy but also resell? How does that work?
Didier and Martine Haspeslagh: Mostly, collectors collect and keep the pieces. They may weed out the early mistakes or upgrade lower-end pieces. We do not wish to acquire those and advise anyone to put them into auction. In general, the owners only part with trophies upon death.
As you mentioned in a previous interview, the market is moving very fast, which must mean that it is becoming an interesting target for forgeries. When someone presents you with an historical piece, what criteria do you use to gauge its authenticity?
Didier and Martine Haspeslagh: The problem of fakes is not a big one. Some are innocently or mistakenly passed off as by a certain individual, and it turns out to not be by that artist. This can range from family members misremembering who made their mother's jewel to putting one and one together and making three. Auctions usually do not misrepresent pieces, which leaves our third source—other dealers who may over-represent or attribute some fanciful stories to the pieces.
I have yet to come across a downright fake made to deceive. It would be rumbled about pretty quickly, and with artists' estates guarding the legacy, forgers would soon run into deep water when found out, and they may even be sued by such organizations.
Didier and Martine Haspeslagh: I can give the example of the Pablo Picasso gold and sterling medallions that we see regularly appear at auction and subsequently in the trade. They are impressed on the reverse "Madoura Empreinte Originale De Picasso." These were cast in silver and 14- or 18-karat gold by the Hammerman brothers in New York in the 1960s, during Picasso's lifetime. This was an unauthorized issue and was taken from a pottery original. (Madoura was the pottery where Picasso made his ceramics.)
Picasso never did anything about this in his lifetime. Even if he knew about this, it was done in the USA (a long way from France at that time) and was such a minor infraction that it did not matter so much then. Today, the Picasso Foundation does not recognize these knockoffs, and, yes, they are 50 years old and clearly have Picasso's name on them. Are they, then, a fake? It certainly is not a good investment, as when one comes to resell it, this medallion will always be an inferior piece.
The original medallions are 22.5-karat gold, signed "Picasso," and dated Juin 58 (June 1958). They also have his fingerprints cast on the reverse, preserved from the wax original. Only a very few of these were made, and they were done in collaboration with his dentist, le Docteur Chataignier. Picasso was having some dental work done, and he was fascinated by the good doctor's sculptural procedure while casting a tooth in gold from the wax. They made some lost-wax jewels together, and we have one of those in stock right now.
This is why it pays to buy from a dealer who has a specialist knowledge built up over many years. We have made all the mistakes for you, and the client benefits from our experience. Anyone can stand in a court and argue their own case, but I would rather pay an experienced lawyer to do it for me. The same applies with buying jewels. Pay to have the right advice.
What piece or what artist is considered the "holy grail" in this market, and why?
There are many wondrous jewels by amazingly talented creators. It boils down to who your favorite artist is and then finding the best piece he or she made.
If you were looking at it in monetary terms, then we have to look at the record prices paid for the Calder necklace from the Mackler Collection at $2 million, or the Salvador Dalí Eye of Time pin, which sold for $1 million. Since three examples are known of this piece, another may yet surface.
Lucio Fontana made a small number of pins, and he would be my personal favorite. He would wander into the Pomodoro Brothers workshop, take a rusty nail out of his pocket, punch a few holes into a prepared roughly shaped gold sheet, scratch a line around them with the point of the same nail and sign it, while leaving the Pomodoros to add the pin fittings to turn it into a wearable jewel. It doesn't get any more personal and exciting than this. As good as any of his slash paintings! And quite a bit cheaper!
How do auctions factor into your business?
Didier and Martine Haspeslagh: With the advent of the Internet, we can now see worldwide. As more and more auctions join up, and as long as they are catalogued correctly, we can find the most amazing treasures popping up in unexpected places.
You featured a bangle by Emmy van Leersum at the Palm Beach Jewelry Art & Antiques Show. How do you frame master art jewelers for the antique jewelry market?
Didier and Martine Haspeslagh: The craft jewelry by artistic jewelers such as Emmy van Leersum and Wendy Ramshaw, to name a few, is presented separately in different showcases so as not to muddle them up with the painters and sculptors who do not make jewels as a day job.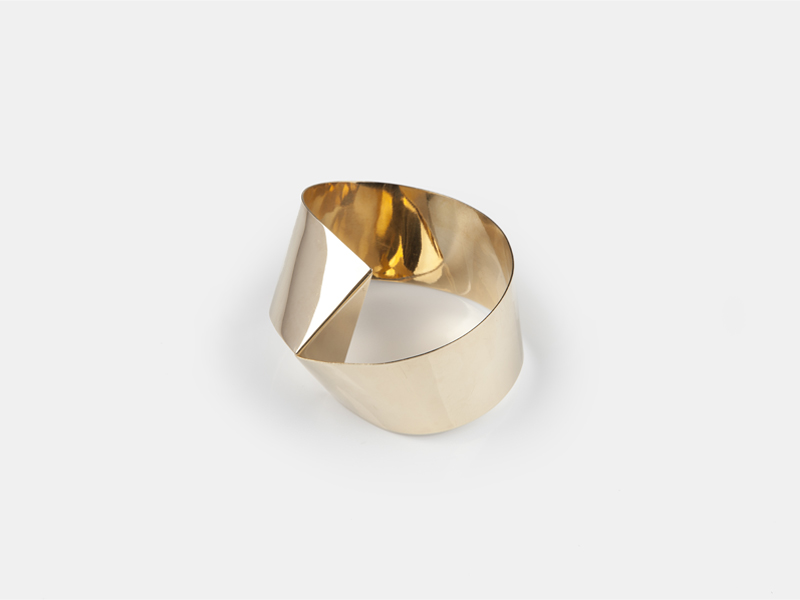 These highly artistic and talented jewelers may occasionally also paint or sculpt, but their main energies go into fashioning jewels. (Often the painters may seek out to collaborate with such entities and kindred souls to help them with the making of their jewels, should they lack the technical expertise.)
The post-war contemporary jewelry is beginning to appear on the secondary market and is becoming collectable, especially among those who already buy from the artists. We offer a historical aspect of these luminaries, and if you only got started 10 years ago and wish to acquire an early piece by an artist who has been making jewels for over 50 years, then we would be the place to look. We currently have a magnificent gold necklace by Wendy Ramshaw from 1971 that came from the collection of Barbara Cartlidge, director of Electrum Gallery. The Emmy van Leersum bangle came from another illustrious collection, and it has an original letter from Emmy with it.
These collectors did not always distinguish between the artist and artistic jewels, they just bought what they liked! More importantly, they liked not just the work but also the artists themselves, and often struck up personal relationships with these individuals. They trusted the artist's vision and became ambassadors for them, showing their art in places where it is not normally seen—at parties, in the street, or at home, not just in galleries or museums. It becomes a talking point and will bring in extra commissions for the artist as their fans point the way to their workshops.
What art fair are you attending next?
Didier and Martine Haspeslagh: We are next exhibiting at the Spring Masters Show from May 5–9 in the Park Avenue Armory, New York. It will be a busy weekend, taking place alongside the sales at the auction houses (Sotheby's, Christie's, and Phillip's), the Collective Design Fair and Frieze.
Thank you.