Daphne Krinos is a Greek jeweler living in London and taking full advantage of showing her work in a variety of venues there. She has a solo show in the US at Patina Gallery this month. A really active and intelligent maker, she answered some questions for us about her background and process.
Bonnie Levine: Tell us about your background and how you came to be a jewelry designer and maker.
Daphne Krinos: I was born and grew up in Greece, where I started making things at an early age. I was fortunate enough to spend a lot of time with my beloved grandfather, who, besides being a Nobel Prize laureate, enjoyed constructing funny things using all sorts of materials. He also taught me to love museums and ancient artifacts and it was always the glowing bits of gold and colored gemstones that appealed to and attracted me.
I had a strong desire to leave Greece at the end of school, and after seven years of military rule and knowing I wanted to go to art college, I came to London. It was during my first foundation year that I decided to study jewelry design.
I graduated after four years, and after a very successful degree show I decided to try and set up my own studio. I was lucky enough to get help from the Crafts Council, and that is how I bought most of my tools.
I also taught part-time in many colleges, to supplement my income, which really helped in the beginning.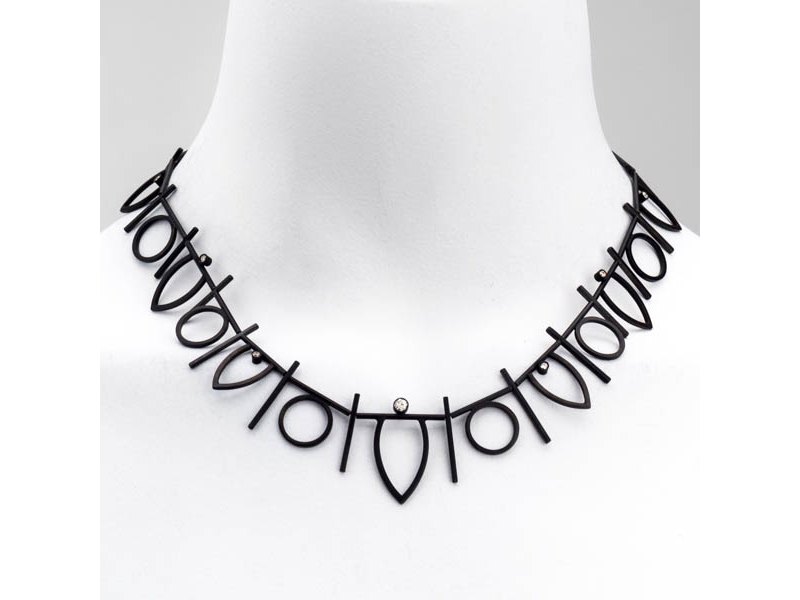 Are there references to your native Greece in your work? Can you describe where you live and work now, and how this influences your work?
Daphne Krinos: Although I left Greece a long time ago, it is and will always be with me. The intensity of light, the colors of summer, the beautiful gold treasures in the museums, I think it all somehow manages to surface in a lot of my pieces.
I have been living in London for over 30 years now and my studio is at home in East London, which is a very lively area, where many artists work. I am also near the City of London, which is rapidly expanding. I take many photos of building sites, and these images somehow crop up in many of my pieces. I have always been attracted by manmade structures and industrial sites, as well as cities, and the outskirts is where one finds these. Street art is often a source of inspiration, although this is not directly evident in my work.
Your new exhibition at Patina Gallery is called Anthracite. How is anthracite, a compact variety of coal, a metaphor for your jewelry? What work will you be presenting?
Daphne Krinos: I guess the name derived from the dark color I use on the silver pieces I make. I have made several works using heavy oxidization or hard ruthenium and rhodium plating, which gives a graphic quality to my jewelry. This look is what I have become more known for. I also often use small diamonds to highlight specific points on certain works, and maybe the fact they derived from coal has contributed to the title Patina chose to give my show.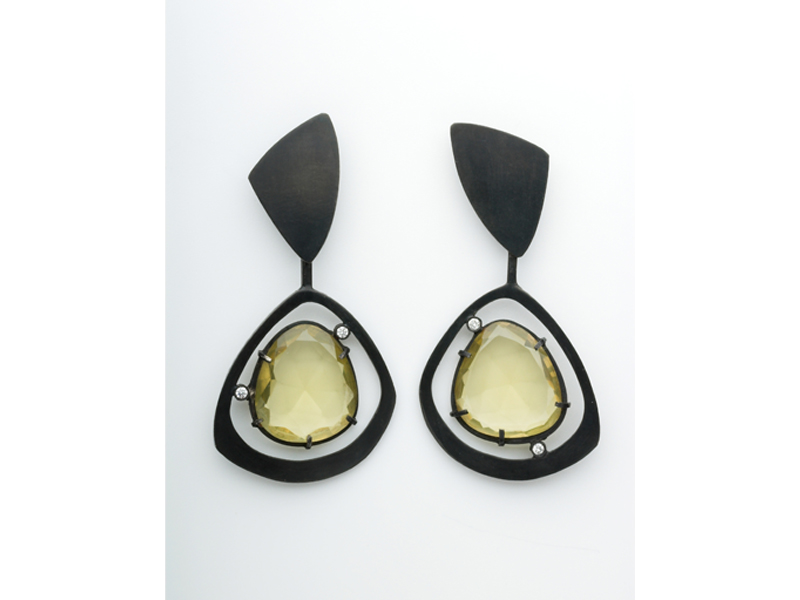 You work primarily in gold, heavily oxidized silver, and semiprecious gemstones like amethyst, citrine, beryl, and aquamarine. What attracts you to these particular stones? Have you ever experimented with other materials?
Daphne Krinos: I love translucent stones. There is something magical about seeing light through all the different colors, and quite a few of them somehow become more vibrant when framed in black. (I am incredibly particular about colors when deciding which stones will work with dark metal and which with gold. I spend ages looking at them and trying them out with samples of metal before I design anything).
Beryls have always appealed to me. They can be very subtle but also sometimes with beautiful inclusions. Amethyst and citrine is quartz, and often intensely colored. They work well with black. But I do not let stones restrict what I make. I am just attracted to them, sometimes by their inclusions or shapes, and I seem to have a large collection!
I have used other materials in my work, but somehow I always return to using stones. About 10 years ago I made a collection of production pieces using images, printed text, acrylic, and acetate. I thoroughly enjoyed working in different media, but I soon realized that what I loved most about those works was designing them and making the prototypes.
I would love to have more time to experiment with all sorts of materials and learn new techniques, but finding the time is a big problem: I work mostly with no help, and that is time-consuming. What spare time I have is spent doing admin or working for Studio Fusion Gallery and the other collectives I am part of, so there is no window for playing around with ideas.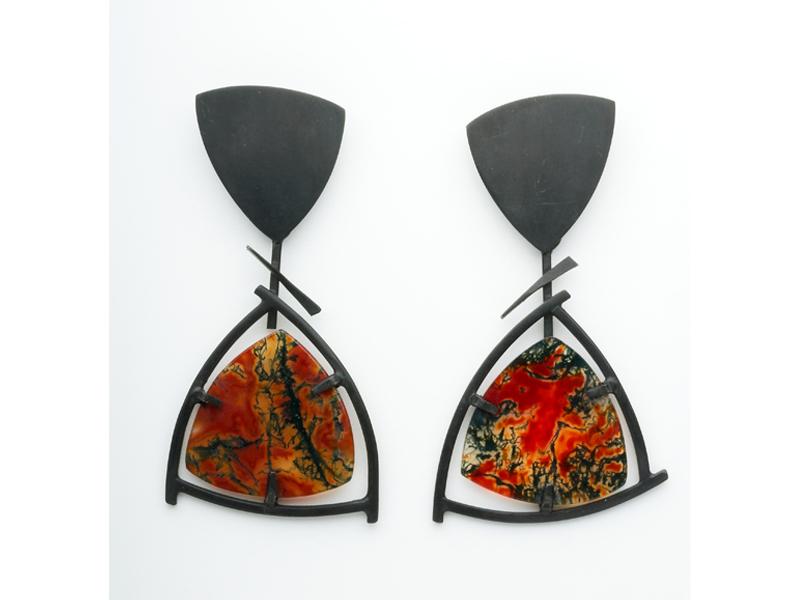 You've said it's important that your jewelry be easy to wear and comfortable, and you enjoy the challenges this presents to the creative process. What are those challenges?
Daphne Krinos: Shortly after I left college, I designed and made pieces that probably looked better on a box frame hung on a wall than on the body, mainly because they would not sit properly or were too large. Over the years, I have had to learn that weight as well as scale has to be taken into account in making a piece that will sell easily. I have to make a living from selling what I make, and I try to see this in a positive way.
Describe your process and how your pieces come to life. Do you start with a sketch, a stone, or nothing at all?
Daphne Krinos: It is not always the same way. I hardly ever draw, and this goes back to my early training: I was encouraged to make models and mockups, and this made perfect sense to me, because jewelry is three-dimensional. So this is what I did in the beginning. Over the years I have developed the habit of working directly in my chosen materials in order to resolve a design. This can be incredibly costly, particularly with gold (but I have learned a lot about recycling it!).
I have been known to design jewelry using stones as my design brief. It is often a helpful starting point for new work. When I was studying, I always worked with specific design projects, but after college I had to find ways of creating my own, and a stone of a particular color or shape can be that beginning point.
Sometimes, however, I start with an abstract idea in my head, which is possibly the culmination of lots of different things I have been looking at or have photographed. In the majority of cases, it is not until quite a long time after I have made the piece that I can identify where a particular design evolved from.
I do sketch ideas, but these are very early references to particular designs and I very rarely refer to them once I have started making.
You've been a successful maker for 25 years, with pieces in many noted collections and museums. How has your work evolved over time?
Daphne Krinos: Moving my work forward has been an incredibly important part of my practice. My jewelry has changed a great deal since I started making. I see so much work by several well-known designers that revolves around the same idea, and although I understand this is often because that particular idea sells well, I am completely opposed to doing it myself. I have always tried to push myself forward. Sometimes this happens when I notice copies of my designs. I see it as a sign to move on. Or I get over certain ideas and a look, and want to see what I can do next. I do not like staying in the same place. But at the same time I have to be careful not to be too different too suddenly: I have found in the past that people come to my shows looking for what they have seen before, so now I try to make the transition a little smoother. Having said this, I believe that in my work there are several elements that have always been there and are recognizably my own. And I find this the best compliment when people see it and tell me about it.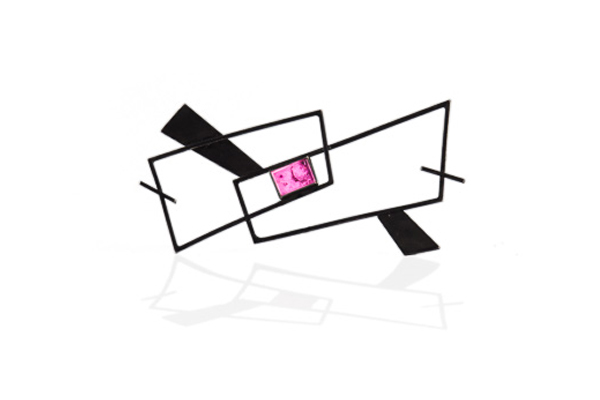 Have you seen a change in what customers and collectors are buying? Where do you see the field of contemporary jewelry going?
Daphne Krinos: I have noticed that buyers and collectors are more interested in work that looks different from what I would call mainstream jewelry. I keep hearing the same comments here in the UK: so much looks the same, so much is "average." This may well have a lot to do with the fact that new graduates have a much tougher time selling their work. There are no grants available in the UK, and at the same time most specialist galleries have closed down, so there are no places to show more adventurous work. Therefore a lot of young makers concentrate on developing more commercial work. This has possibly created a thirst for more "special" jewelry.
I would like to hope that contemporary studio jewelry will go on and on with more exciting work emerging for years to come. There is evidence that the public is appreciative of handmade objects, and apparently the demand is growing. These are undoubtedly very different times from when I came out of art college, and maybe showing these works has to change as well, certainly here in the UK.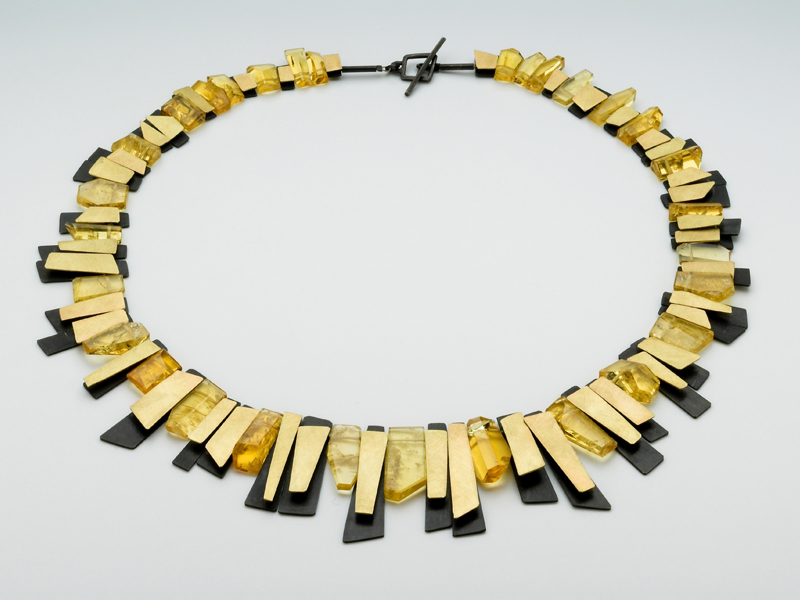 In addition to being a maker, you're a co-director of the Studio Fusion Gallery in London and a member of the contemporary jewelry collective, COSMIMA. Tell us about these ventures and your role in them.
Daphne Krinos: I was asked to join Studio Fusion Gallery in the OXO Tower just over two years ago. This is a small specialist gallery that has survived for 18 years with no financial support from any institution, which is incredibly admirable. It is run as a cooperative by people who are all makers themselves. We understand the field and try to support artist jewelers, while at the same time making sure we manage to keep afloat, which is not always easy. So we try to have a good balance of adventurous and more challenging work through special small exhibitions and jewelry that we know will sell in the part of London the gallery is situated in. It has been a learning experience for me, and rewarding, and it has certainly given me a better understanding of what people like to buy.
COSMIMA is a collective that was set up 11 years ago by a group of five studio jewelers (me being one of them). The idea was to have an annual short exhibition in a rented gallery space, with a few invited makers as our guests: Two more jewelers who work in different (nonprecious) media, and two silversmiths. We have grown from strength to strength, and our annual show is now a very successful event in the jewelry calendar. We have worked with some of the UK's most notable silversmiths and jewelers, and we all thoroughly enjoy organizing it every year. Again, I have learned a great deal about putting on a show.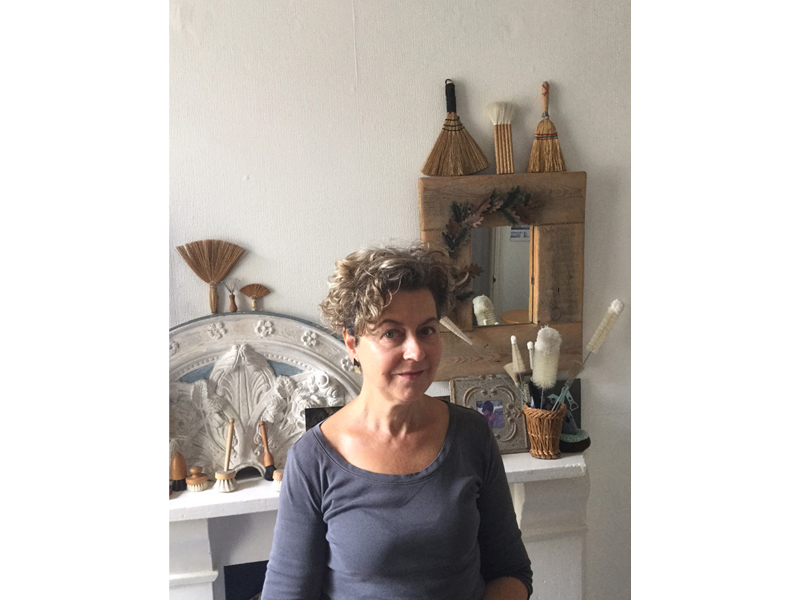 I am also part of another collective called WEAR IT OUT. We are four members, all jewelers, and we rent a pop-up shop every year for two months on Columbia Road, where there is a famous Sunday flower market. Again, it has been incredibly interesting for me to see how different the clientele can be from one part of London to another. This is an area where there are many younger professional people, who are maybe more interested in what is fashionable or trendy, who are not familiar with what we call studio jewelry, but they will be our future clientele and we have to make them aware that we exist. It is more and more the way makers operate here in the UK.
What advice would you give to young, emerging artists today about the key to a long and rewarding career as a maker?
Daphne Krinos: Don't be afraid to be adventurous and do not compromise easily. Set your goals high. Competition is not bad. It keeps you on your toes. Try to be different from the crowd and it will pay off. Work with a few established designer-makers; you will learn an awful lot. Team together with other makers and form collectives/groups, where you can use ideas and skills to good effect and find opportunities to show your work. And learn how to properly price your work.
Thank you very much.
AJF has decided to begin posting the prices of pieces in the gallery shows we are highlighting each month. For this show, the price range is between $535 and $12,800.