Rachel Sasporta is a senior curator at the Ramat HaSharon Geological Museum. She has worked there for about 15 years. Israeli artist Ariel Lavian says that Sasporta "caused a revolution when she generously brought exhibitions dedicated to contemporary jewelry into the museum and gave (and continues to give) a stage to contemporary jewelry artists from Israel and abroad."
The museum is on the outskirts of Tel Aviv. It has hosted quite a few art jewelry exhibitions. Among them: Jewelry of Utmost Importance; Local Boundaries, Handshake Project; Material World; Yearning; and several others that Sasporta speaks about here. This November, the museum will dig still deeper into art jewelry. It will host the first Israel Biennale of Contemporary Jewelry.
Nathalie Mornu: Does the Geological Museum have a specific focus?
Rachel Sasporta: The Ramat HaSharon Geological Museum was established about 20 years ago by a group of local geologists in order to educate both children and adults about geological sciences and to stimulate their interest in nature.
The museum contains a permanent exhibition hall of minerals from around the world. It has an open-air rock garden spread over an area of 6,000 square meters. The garden is a portal into the Land of Israel's history, as well as a compelling natural wonder by itself.
When I started working at the Geological Museum at the end of 2006, the museum featured a spectacular permanent mineral exhibition. As an art curator rather than a geologist, I introduced art exhibitions keyed to geological, geographical, ecological, and cultural themes. Contemporary jewelry was one of the subjects I dealt with.
You've placed the museum at the forefront of contemporary jewelry in Israel by hosting a number of jewelry exhibitions. What was the first one? How did it come about?
Rachel Sasporta: The museum's spectacular collection of minerals led me to start displaying contemporary jewelry. I was also encouraged by the museum's relatively small size. It lent itself to jewelry displays. In 2008 I invited Prof. Deganit Schocken, a well-known Israeli jewelry designer and curator, to curate an exhibition of jewels, including uncut stones. She took up the offer enthusiastically. NeoGemo was born. Twenty-four leading Israeli jewelry designers took part in this very successful exhibition, creating their own works for display.
While working on the exhibition, I got to know the community of contemporary jewelry designers in Israel. I learned from them that there are not enough places that display contemporary jewelry in Israel, and that many people here are not familiar with the subject. Since than I have presented one or two jewelry exhibitions per year. This advances my goal of providing a stage for the work of jewelers and introducing this field to the public. Over the years, both Israeli and overseas artists have participated.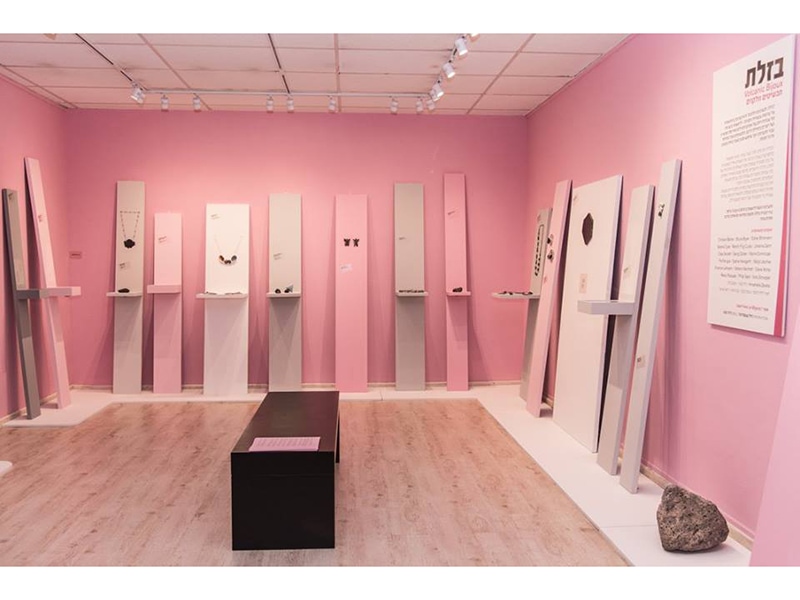 Do you seek out collaborators?
Rachel Sasporta: Collaborating with other curators is very important. It enriches the contents of the exhibitions and diversifies their ideas. It also provides exposure for a wide range of artists.
As I mentioned, the first collaboration was Neo-Gemo, with Deganit Schoken. In 2016 I invited the French jewelry curator Jean Yves Le Minion to curate the Basalt exhibition. It included powerful works from 26 well-known Israeli and European artists. Among them: Christian Balmer, Johanna Dahm, Georg Dobler, ilona Schwippel, and Annamaria Zanella. Their basalt stone jewelry emphasized the intensity of the medium. So did the fact that the walls of the exhibition hall and the display tables were painted pink. This was the first time we hosted foreign artists.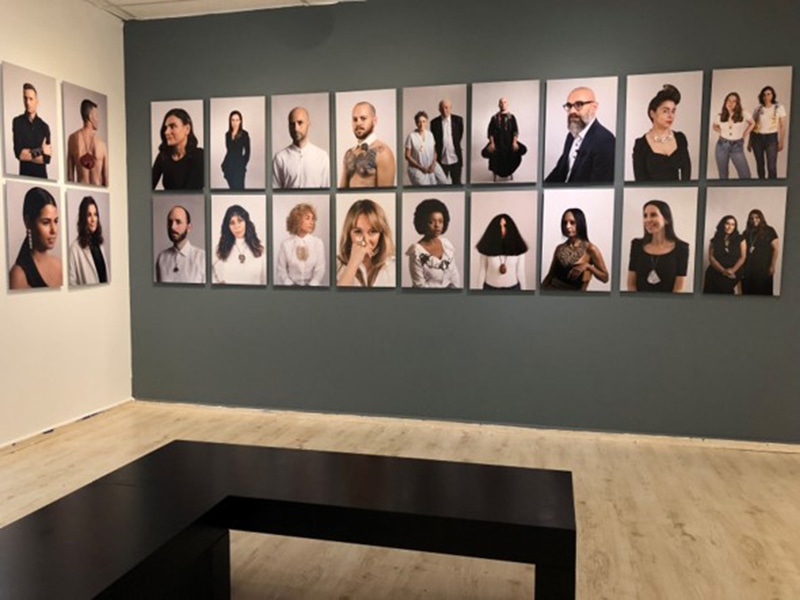 In 2019, together with jeweler and curator Vered Babai, I curated a ground-breaking exhibition called Wearing Contemporary Jewelry. The main idea was to take the jewelry out of our museum's boundaries. Twenty jewelry designers, with different levels of experience, provided pieces for our models. The models wore them over a one-week period. They then reported back on the responses they got from the public. The exhibition included the pieces themselves, large pictures of the models wearing the jewelry, and the public's written responses.
At the beginning of 2022, as part of a large art event I directed for the city of Ramat HaSharon, I invited jeweler and curator Ariel Lavian to curate a contemporary jewelry exhibition at the museum. The Truth—Mine and Yours is now ongoing. It includes work by Ruudt Peters, Mari Ishikawa, Sofia Björkman, Uri Samet, Ezra Satok-Wolman, Gigi Mariani, and Karin Roy Andersson. The works of 12 artists from Israel and abroad present their interpretations of the idea of "truth." The result is a variety of interesting works that offer different approaches to this fascinating subject. The walls of the exhibition hall have been painted black. Hung mirrors enhance the impact of the offerings.
What other jewelry exhibitions has the Geological Museum held?
Rachel Sasporta: The exhibition Objectivy (which in Hebrew means "objective," as well as "natural object"), by four women jewelers, all residents of Ramat HaSharon, was mounted in 2013. Each artist dealt with the theme of nature. Chen Pfeifer, for example, created jewelry made of gold and olive wood, an Israeli tree with political overtones in this part of the world.
In 2021, during the COVID-19 pandemic, we held the jewelry exhibition Meshubetzet ("inlaid" in Hebrew), by the artist Yael Friedman. Friedman presented a variety of works. Most were made of paper. She examined the various possibilities inherent in the material for creating jewelry. Her works were full of optimism, color, and joy. This stood in stark contrast to the general sense of melancholy felt during the COVID period.
The recent exhibition Aqua Marina included 10 jewelry and ceramics designers. The works in it were inspired by sea creatures. They directly addressed the problem of the destruction of marine life due to climate change. As a geological museum, we feel responsible for raising awareness of the sea. The exhibition's walls and display tables were painted deep blue, conjuring its depths.
The Geological Museum will host the first Israel Biennale of Contemporary Jewelry November 10–14, 2022. Its theme is "Colorful Recovery." You served as a juror. What can attendees expect?
Rachel Sasporta: So far there's been a great response to participate in the biennial. There will be works from many countries and diverse artists on display, both new and experienced artists. Attendees will see an abundance of creativity, optimism, and joy. The exhibit itself features plenty of color. After nearly three years of COVID-19, which forced us to stop much of our creative endeavors and in-person collaboration, it will be lovely to see a burst of creativity that expresses the joy of life as well as a return to normalcy!
Do you personally have a particular interest in art jewelry?
Rachel Sasporta: Until I was exposed to the world of contemporary jewelry I wore traditional jewels only. I even insisted they be made from high-quality gold and gems. Today, not only do I wear more contemporary jewelry, but I appreciate it more. There's great pleasure in putting on a piece of jewelry that is unique, a one-of-a-kind piece of art, and that expresses an idea. It is a much better feeling to wear something like this rather than a product that's clearly one of many from an assembly line. The essence of the material—be it gold or a cheaper metal—is no longer the most important thing.
What have you seen, read, or heard about recently that you found particularly interesting?
Rachel Sasporta: I recently visited a small exhibition by the Israeli artist Efrat Hakimi at the Tel Aviv Museum. The exhibition tells the story of the artist's family. It immigrated to Israel from the village of Asmir, in the Atlas Mountains in Morocco. Her family's story is rendered in photographs and objects from the village. Hakimi looked for documentation in public archives and tried to create a kind of jigsaw puzzle.
Hakimi employs a range of photographic practices: direct photography versus staged photography, video versus stills, black and white versus color, and documentary photography versus artistic photography. She handles her family's immigration saga with tenderness and care. This is in fact the story of many citizens of Israel, as the country has been built by immigrants from around the world. It is the story of my family, too. My mother yearned for faraway Spain, for her family, and for the culture she left behind. In my eyes she was the eternal immigrant. This has always caused me pain. For this one reason alone, Hakimi's show touched me deeply.