Aurélie Guillaume, a recent graduate of Nova Scotia College of Art and Design University (NSCAD), won the 2015 L.A. Pai Gallery student competition. This award is based on technical excellence, ingenuity, and strength of creative vision. Aurélie's intricate enameled pieces certainly fit the bill! This year's competition was juried by Susan Cummins (Art Jewelry Forum board chair), Leo Caballero (Klimt02 cofounder and manager), and Mary K. McIntyre (contemporary art jeweler and sculptor). Read on to hear Aurélie's thoughts on winning, her artistic process, and her source of inspiration.
Kamal Nassif: You won the L.A. Pai student competition. What does that mean for you?
Aurélie Guillaume: Winning this year's L.A. Pai competition comes as a great honor. The quality of work in the show this year from all of the other finalists was very high, and I feel very fortunate to have been selected as the overall winner. It is very motivating knowing that I have been given an opportunity in the coming year to have a solo show at L.A. Pai, which means that I will have to work just as hard this year to produce a new body of work.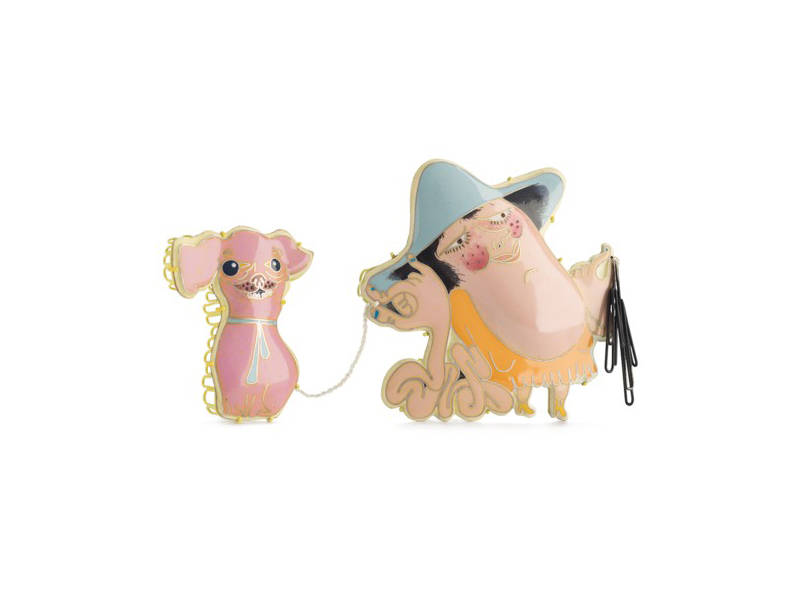 Tell me a bit about your background and how you came to jewelry as your artistic mode of expression.
Aurélie Guillaume: I started my studies in fine arts, and earned a diploma from the Cégep du Vieux Montréal. I wanted to be a professional illustrator so I enrolled in a graphic design program at school, but I hated having to do all of my work on a computer. I just felt so disconnected from my art. I wanted to be working with my hands in a physical way so I switched into jewelry without really knowing what to expect. I had just seen an amazing documentary about the different crafts programs at L'École Boulle and it seemed fascinating, so I enrolled in the jewelry program at École de Joaillerie de Montréal and went on to pursue a BFA in jewelry design and metalsmithing from NSCAD University. I loved it as soon as I started and still haven't quit.
Your work utilizes a traditional jewelry process with a rich history—cloisonné enameling—and collides it with a contemporary use of color and form. How did you find yourself using enameling techniques in this way?
Aurélie Guillaume: I have always had the desire to bring illustration and jewelry together. While at NSCAD, I took a class to learn various enameling techniques and I was immediately mesmerized by the glossy quality of the surface and the brilliance of color that it provided. I knew right away that this was my medium. I feel that the tradition of enameling is part of what makes the work so exciting for me. Centuries ago, enameling was used as a way of communicating religious stories in a visual way to a largely illiterate audience. My work definitely draws on this long tradition to tell new stories and revive the medium through a contemporary context that is fueled by street art, comics, pop art, and counterculture.
Do you consider your work to be narrative?
Aurélie Guillaume: My illustrations use popular culture as a reference point, and they definitely convey narrative. But the stories they tell are ultimately left for the viewer to imagine on their own. Someday I might want to tell a specific story, in which case my work might take on a different form or medium. I know that I would love to illustrate a book or work on an animation, but for now I am really happy with the ambiguous nature of my enameled work.
Do your characters represent an emotion, a story line, or a moral? Or something else?
Aurélie Guillaume: When I draw my characters I do not usually have any preconceived notion of what my character is going to look like. The process is more organic. I usually start with a particular facial feature, and then I imagine what kind of creature would have such a face. My character might be inspired by someone I see on the bus, or on television, but often it just comes from my hand and that is a hard thing to describe unless you are an illustrator yourself. In general, my illustrations have a tendency towards hyperbole, but I think most illustrators use this as a technique to convey emotion.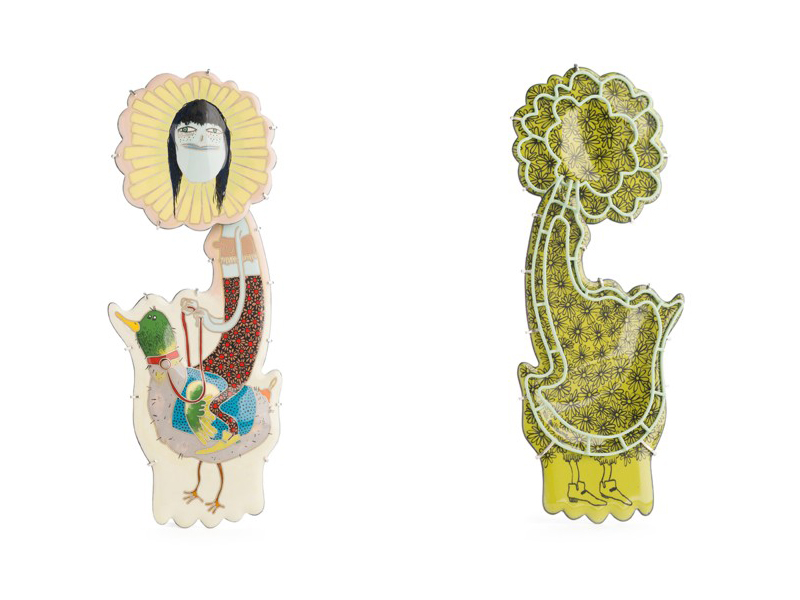 Can you tell us the backstory about some of your characters? They have such personality.
Aurélie Guillaume: The title of my piece Barbe Mauve alludes to the gruesome 17th-century French folk tale of Barbe Bleue, and to the French word for cotton candy, known as barbe à papa. Barbapapa is also the name of a well-known children's cartoon in France. Together, these influences collide into a new illustration and a new narrative that is entirely its own. I feel that my characters are light-hearted in nature. I want viewers to smile and laugh when they see my pieces, but I also want my work to be edgy and surprising.
What artists have influenced your drawing style? What do you think most drives your aesthetic sensibilities?
Aurélie Guillaume: Comic books and cartoons have had a major influence on my style. My aesthetic sensibilities probably draw most heavily on cartoonists like Loïc Sécheresse, Julie Doucet, and Simon Bossé. I love that Doucet isn't afraid of dealing with taboo subject matter, and her stark style is so well-suited for that. Sécheresse is an amazing colorist, and what I love most about Bossé's work is his humor. They are all great artists whose work has had an impact on me in one way or another.
How much of the "drawn" elements in your enameled work are planned, and how much happens organically in the process of making?
Aurélie Guillaume: The process of enameling is so labor-intensive that I have no real room for error. Everything is planned and carefully executed right from the beginning. My sketchbook is the only place where there is room for playing around. Once I am happy with an initial drawing, I will often make several different versions to play around with colors or other minor variations until I settle on something I like. As I mentioned earlier, my drawing process is very organic, but once I am happy with a drawing, I try to stay as close to it as I possibly can throughout the enameling process.
From where do you draw inspiration for your use of color?
Aurélie Guillaume: When it comes to color, I find inspiration everywhere. I tend to use a lot of pastel colors but I always juxtapose patterns and complimentary colors to create vibrant combinations. Some colors get even richer through the process of enameling, becoming more and more brilliant through each successive firing, and this always gives me so much satisfaction to see.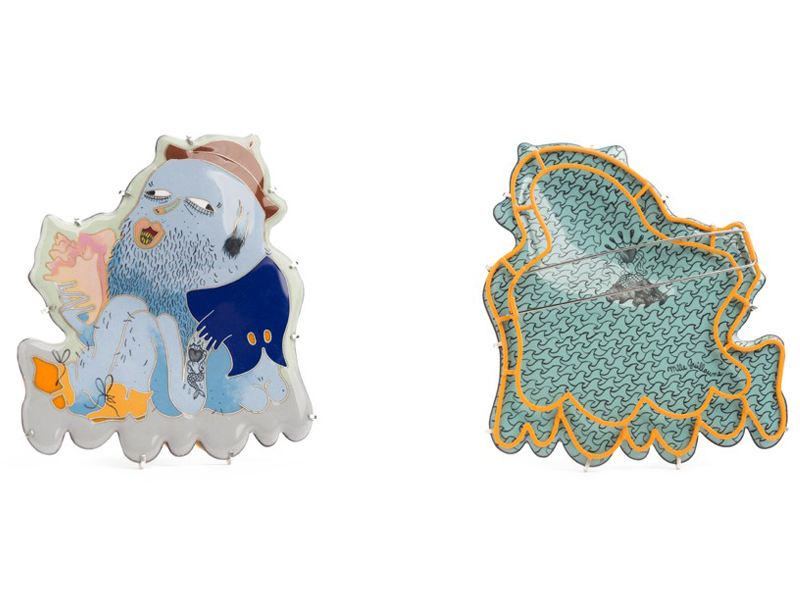 In your mind, who is wearing this jewelry?
Aurélie Guillaume: Secretly, I like to imagine Dali wearing my jewelry, but maybe it's because I find him crazy just like my characters! You have to have a lot of personality if you want to pull off wearing one of my pieces. What is cool about this work, though, is that it also functions as sculpture. In my exhibition Rendez-Vous Fleuri, I made a Plexiglas environment for each piece to stand in, and I think it was very satisfying to look at the work all on its own. Some people interested in owning my work might not necessarily be interested in wearing the pieces at all, but may actually prefer just having them on display as sculptural objects.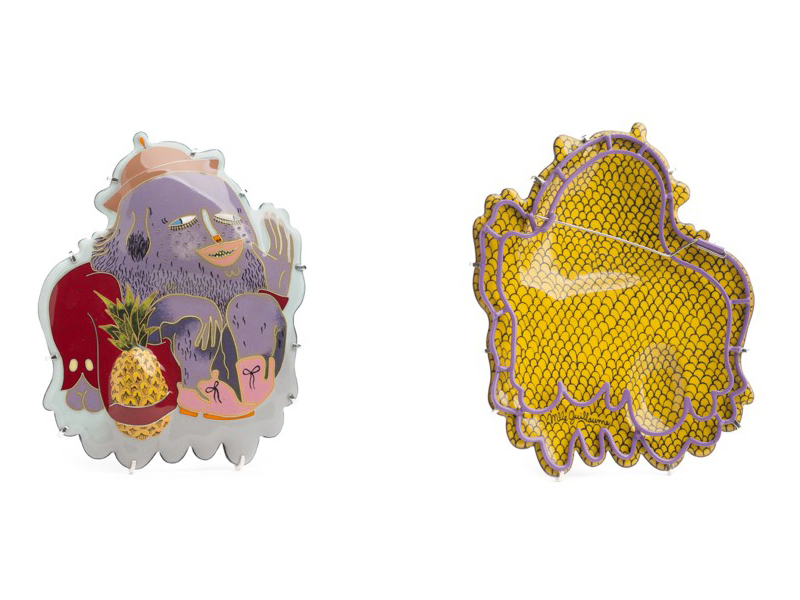 Can you recommend something you have read, heard, or seen recently that you loved?
Aurélie Guillaume: I highly recommend Over the Garden Wall. It is an American miniseries created by Patrick McHale for the Cartoon Network, in which two brothers get lost in a strange forest called "the Unknown." During their journey, they come across all sorts of bizarre creatures that make their adventure exciting and memorable. The tone of this cartoon moves from whimsical to macabre, which is something I seek to do with my own work. The graphics are visually stunning and I love how the beautifully detailed backgrounds are juxtaposed against the basic yet iconic character design. As a side note, my friend Luke (who is himself an animator) recommended this series to me because it reminded him of my work. It was so good, I watched the whole thing three times over.
The lowest price for the work in LA Pai is 2800 CAD ( +/- 2115 USD ) and the highest is 4950 CAD ( 3735 USD )
Thank you.