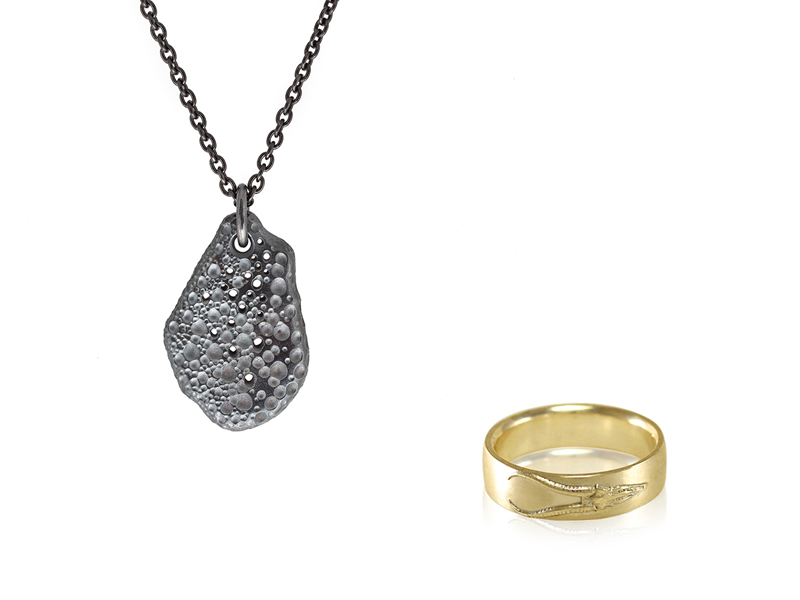 Shibumi Gallery, in Berkeley, has just opened an exhibition "for men," looking to address its male patrons' reticence toward ornaments. This is an exhibition that started with a "what if?" in mind: April Higashi, the owner, tells us how she tried to meet her male clients outside the safe realm of the wedding band, and about the challenge of giving a non-stereotypical jewelry shape to masculinity.
Benjamin Lignel: April, you just put together an exhibition of "jewelry for men," and the project is exceptionally ambitious in the questions it raises. Before we get to these, can I ask if this is the first time you've done a "men's show" and how long it took to organize?
April Higashi: This is the first men's jewelry show at Shibumi. I asked the invited jewelers about six months before the show.
What was the motive behind the project? Did clients express the desire for more jewelry for men? Did you find that men's jewelry was an underexploited niche?
April Higashi: Honestly? I made a ring for my boyfriend who really appreciated it and wore it almost daily. It looked so great on him. It made me wonder why more men don't wear just one nicely designed piece of jewelry. Then I began to notice the men I thought would look good in jewelry and the men who were already wearing jewelry. Most of the men's stuff I saw on was just awful or very cliché.
I find it attractive if a man is wearing just one beautiful piece of jewelry for many reasons. I also have a few male clients who have commissioned pieces of jewelry for themselves. I used this show as an exploration to see what men would wear and how they would interact with the pieces. Could I get them interested enough to try things on? Would it sell? Would women who wear jewelry buy something for their man?
This is a "men's show" in at least two ways: It appears to cater to men, but also features a large cast of male makers, some of whom are not usually represented by the gallery. How did you put this cast together, and how did these new talents respond to your invitation?
April Higashi: You are very observant. I invited the jewelers I show whose aesthetic I thought would translate well into men's jewelry. Then there were a few other artists whose work I really like, but whose aesthetic I always felt was too masculine for Shibumi, so I took this show as an opportunity to include them.
I think if I did it again I would maybe search a little farther out to find other makers who have already been doing men's jewelry and for whom it is a niche, and who could bring in some clientele.
Did you ask makers to produce specifically for this project? Did you, yourself, make work with "men" as a target clientele in mind?
April Higashi: Some jewelers I knew—like Chris Neff, Jo Hayes Ward, Sam Woehrmann, Josh Wendler, and Curtis Arima—were already making some men's jewelry. Myself, Maya Kini, Tura Sugden, Eric Silva, and Robert Brady had not really explored this much outside of men's wedding bands.
I did make about 30+ new pieces. When I started making the work I got scared because of the investment it takes to make new work. In the end I did only one high-end piece (which sold). As for the rest, I decided I'd ride the line of chunky, more androgynous jewelry that I thought some of my women clients could also like. Or made pieces that I could take back into feminine forms later.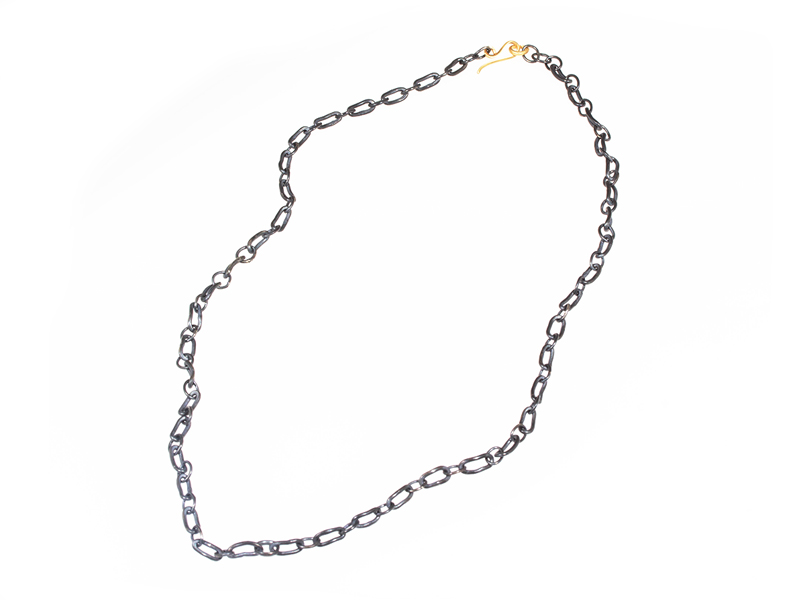 Your press release ends with a series of questions. One that looms large is "Do men value making and ornamentation differently than women?" Your unique position as a maker and a dealer must have provided you with a wealth of insight into this. What answer would you have given before you opened the show?
April Higashi: I would have to say before the show opened that very, very few men value jewelry for themselves. Especially straight men. They almost seem allergic to it.
That's funny. I am currently reading up on the historical evolution of virility in the Western world since antiquity, and from what I understand, the idea that men should not wear jewelry is a rather recent idea, which has in the intervening time always been challenged (by sailors, by punks, by the New Romantics, etc.). Did you expect your male visitors to equate virility with the absence of ornaments?
April Higashi: I did. That is also one reason I did the show. Seriously, is a man less manly because he wears a piece of jewelry? I actually think the opposite, and that he's more sexy with jewelry on. However, men rarely have the confidence to pick out a piece that suits them.
The show opened a couple of weeks ago. What has been the response to it—in particular from men?
April Higashi: The opening was great! Lots of action getting them to try jewelry on. I had to think of different words to use to sell the work. You can't really say to a man, "that looks so pretty on you." And when you are selling to a man it is important to include the woman he is there with. My women clients seemed excited to try to get their men into jewelry.
I have sold some pieces: half to men, the other half to women. Bi men and straight European men have been the purchasers. Meanwhile, my regular men clients seem to be curious about having such a big selection for men. They mostly look or can't get past their wedding ring. I am still trying to get men to try on the work. Even when I do get it on a man and he likes it, the most common response is, "Hmm, ok, I'll think about it." And if they really do, then I have done a small part of my job. We'll see what happens longer term. I don't think the results will come in by the end of the show. It seems more like a longer-term commitment to explore.
I have still not found what entirely motivates the men. I do think in general that men are not used to spending as much on themselves. I can see that both the artists in the show and myself anticipated this when pricing the work. So far the men who appreciate the work are already hard-wired to like design and appreciate details of making. Their approach to buying the work is similar to women but they select more thoughtfully than emotionally.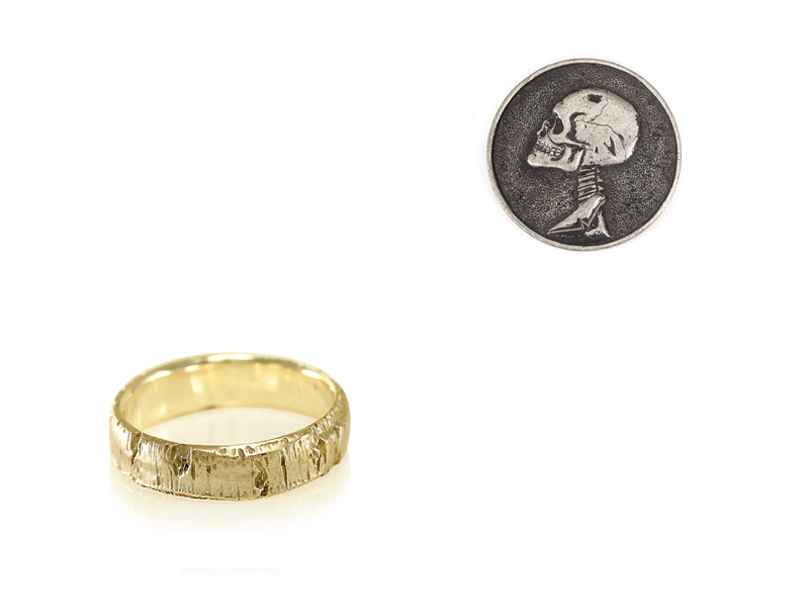 The jewelry featured in the exhibition has qualities that adhere to masculine stereotypes (unfrilly, angular, rough, monomaterial, with the occasional skull). Do you think that these stereotypes are byproducts of a straight culture? What feedback have you received from your clients regarding what men's jewelry should look like?
April Higashi: I wouldn't say it's straight culture. I think it is simply reflective of the cultures men are identifying with, and the sort of jewelry that come with these models: punk, biking, gang, or military cultures, as well as graduation rings. Right?
I'm not sure if my men client's know what men's jewelry should look like. I included Robert Brady in the show. He is a sculptor and did wooden jewelry that is a bit tribal and not in the format of the rest of the men's jewelry. The men don't even seem to register his pendants as something they could even think of wearing. So when you get too far out of the box, the work just drops off their radar entirely.
You present the distinction between "masculine" and "feminine" jewelry as oversimplified: "Is there more to men's jewelry than the distinction between masculine and feminine forms?" What do you mean by that?
April Higashi: When I was designing forms I had to hold myself back with the details. I pared down the elements both for aesthetical and cost reasons. The forms would not necessarily be that different, but I did tend to work on a larger scale, with a different orientation. An example of this was a men's pendant I made that I think a woman would also wear. I turned the piece in the opposite direction than I would have if it were a women's pendant. I can't really verbalize why but somehow it just seems more masculine in this direction.
When I was displaying the show, the work from the 10 jewelers fit into these categories: Organic and rugged. Geometric and graphic. The work made was mostly monochromatic and when accented with precious metal it was usually white gold or a very small amount of yellow gold accents. In general there was less variety, less risks in design, less color or stones. Some of us even ended up exploring very similar forms.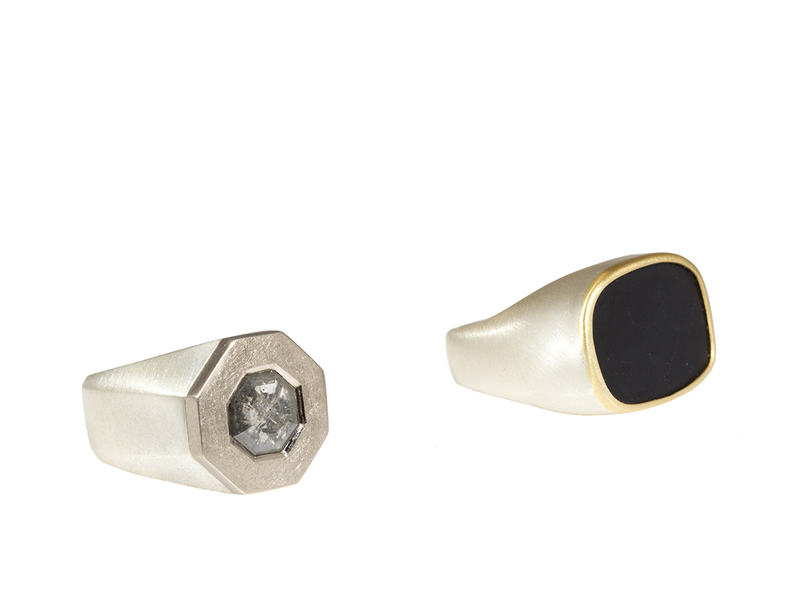 Unless one specifies "for men," jewelry is generally assumed to be for women. That, at any rate, was the thinking in the 20th century. Do you see this as changing? What do you think a "men's show" will be like in 20 years? Will it even make sense?
April Higashi: That's a good question. I see younger people being more androgynous; the men seem less concerned about being so masculine; checks on younger folks' dates are assumed to be split equally. The men seem less threaten by a successful woman. Transgender is coming out into the media. Metrosexual men seem to be comfortable being confused with being gay. So I'd say that yes, things are changing. If jewelry follows suit, there will be less boundaries on everything: men desiring jewelry again, men breaking stereotypical molds. This means more play, more risk-taking. This is good news, as far as I am concerned!
Can you tell us what other projects you are currently working on?
April Higashi: In the gallery we have an upcoming enamel show co-curated by Elizabeth Shypertt. I'm busy answering a lot of interview questions. I've been getting a lot of press lately for the gallery shows, my work and lifestyle. In the studio we are going to start casting organic material. I love learning something new and taking my team on a journey to explore it with me. Things are never boring around here.
Thank you!
Work in this exhibition ranges from $250 to $4580.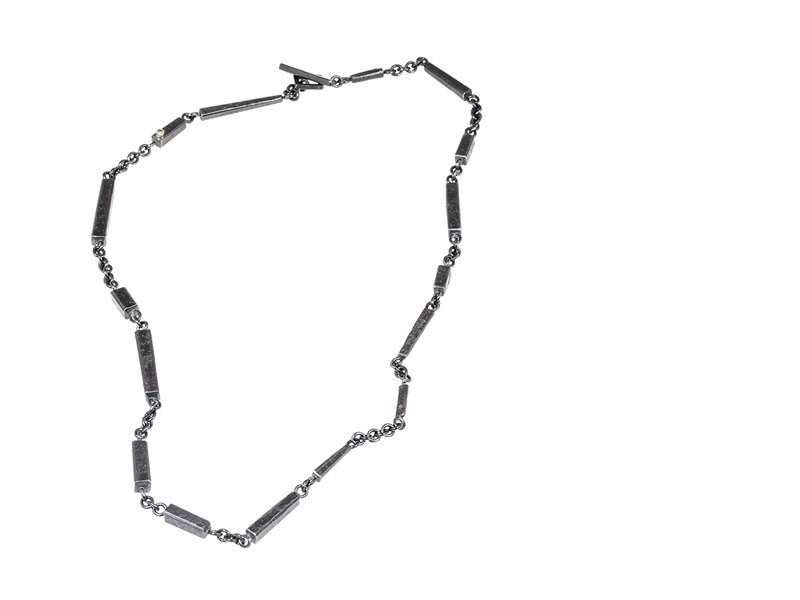 INDEX IMAGE: Christopher Neff, Lighthouse Ring, 2016, sterling silver, 18-karat gold, quartz, 28 x 21 x 20 mm, photo: Shibumi Gallery