Based in Norway, Anne Léger is a French jewelry artist who has exhibited her work internationally, in countries such as Germany, Australia, China, and the US. Her meticulously assembled jewelry blends dissimilar materials into cohesive emotional narratives. In this interview, we talk about why thinking in binaries can limit the emotional depth of our world.
Olivia Shih: You received your bachelor's from the Institution Notre Dame and also attended the Institute of Visual Arts, in Orléans, France. What were you studying at the time?
Anne Léger: At the Institute of Visual Arts, I learned basic art techniques and the mastery of different materials, a classical art education focused on everything from color, drawing, and geometry to art history. I worked with sculpture and combined installations with photography at the time, then specialized and graduated in the field of photography in 1990.
Why did you decide to return to school to earn a bachelor's and master's in metal in Oslo?
Anne Léger: I came to Norway in 1993, learned Norwegian during the first two years in Oslo, and studied pedagogy in order to work as an art and craft teacher. After a few years, I realized that teaching didn't match my aspirations of developing myself as an artist.
The ambition to work with metal and jewelry has always been latent in me. In 2004, I attended the metal and jewelry courses at the Oslo National Academy of the Arts. I was trained in all the crafts of welding, soldering, casting, etc., as well various techniques related to jewelry. In the beginning, I thought I would work mainly with sculpture as an art form, but I was more and more drawn to the jewelry field during my time studying there.
How did your time at the Oslo National Academy of the Arts influence the way you work now? Who was your inspiration during your time there?
Anne Léger: I completed my art education in France at the age of 24. When I started studying in Norway at a later stage in life, I already had both my art education and job experience as an art teacher in my luggage, so to speak. My desire and conscious choice to invest in an artistic career was more mature.
In the jewelry field, I felt that I could convey an artistic dimension in a smaller format than in sculpture, but with the same amount of power, meaning, and content. For several years, the pieces I made were directly narrative or ornamental, and they eventually developed in a more sculptural direction.
From my time in France, I had no knowledge of contemporary jewelry art or jewelry artists except for René Lalique, who always fascinated me with his creations, both jewelry and objects. My first encounter with the Norwegian artist Tone Vigeland's works opened my eyes to what jewelry art could be, with its diversity of representations and materials.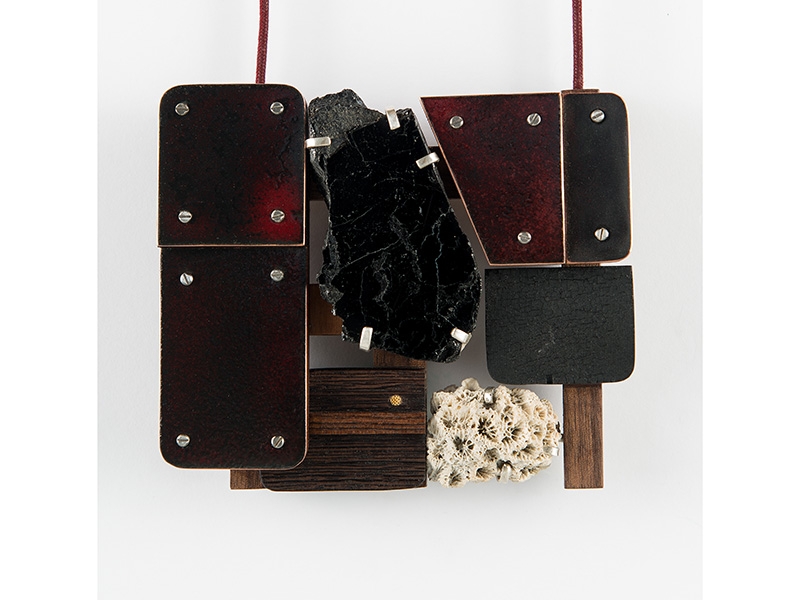 Why did you decide to stay in Oslo after graduating from art school? Does your environment seep into your work?
Anne Léger: First, because I had established myself in Oslo with family and children at the time, and, secondly, because there was a small but strong community with international ties to the field of contemporary jewelry art. Norway has a well-established system for art scholarships, and that also helped, of course.
Quite early on, I received a three-year scholarship and then a 10-year state employment grant for artists. I currently share a workshop in Oslo with five other artists. This gives me the opportunity to work in a well-established workshop, where we have some communal machines and tools that I otherwise would not possess on my own. Working with other artists creates a dynamic environment with the possibility of exchanging knowledge and advice. We also learn to coexist with and help one another in the studio.
Wood, silver, enamel, stone, and readymade items: These are the materials you often work with and skillfully reassemble into harmonious compositions. Why work with so many materials in one piece?
Anne Léger: I somewhat define myself as a collector. Often, I find objects and materials without apparent value. Something in them attracts me; it may be the color, patina, or shape. When I assemble pieces together, I try to emphasize or underline their uniqueness while creating a new unity and bringing out their value through the composition.
My works are the result of contemplation and considerations, experimentation and dialogue between the elements. My choice of materials and composition is in itself an expression of my artistic standpoint. The complexity of the construction builds unity into the works. It's through both the tension and the dialogue between the elements that my artistic vision is manifested.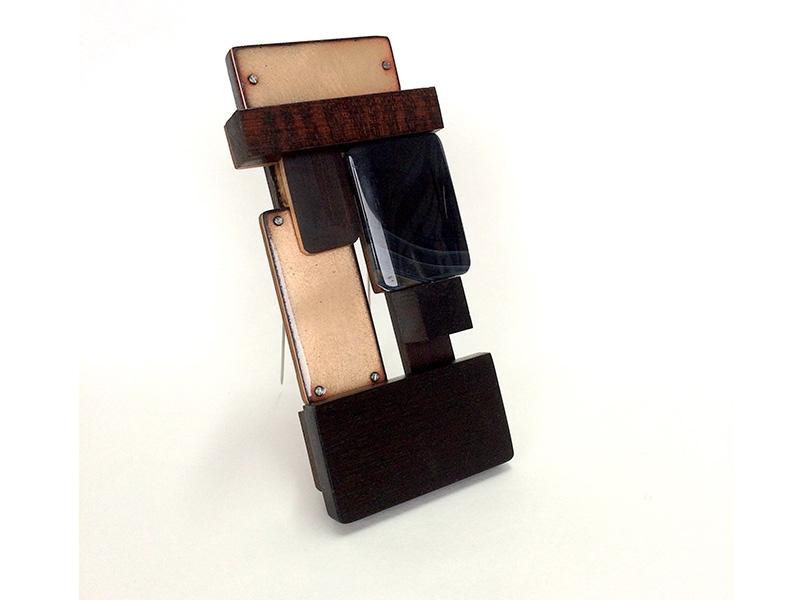 There's simultaneously a softness and a hard edge to your work, especially in your Back to Dark brooches and necklaces. What's the inspiration behind this series, with its emotional undercurrent?
Anne Léger: In my early jewelry sculptures, I also worked with dark tones. Low-key dialogues between different shades. In my opinion, we're wrong to believe that light opposes darkness. Going beyond the dichotomy of darkness and light brings us to the darkness in light, and to the light in darkness. These oppositions—we insist upon them, without knowing why. They're oppositions that cloud our pure passions.
I want to crack open and expose how clumsy we are with experiencing the world. Pop open the deception of immediate beauty to find the bottomless sorrow in finding happiness, holding hatred at bay through love, keeping fear at bay through longing, emptiness through fullness. How much more pleasure, both moral and aesthetic, and how much more wealth and understanding would we enjoy by letting go of nonsensical binaries?
One of your brooches is titled Clair Obscur. Does this title refer to chiaroscuro, an art technique that manipulates light and dark in strong contrast? Or perhaps a Turkish film by the same name?
Anne Léger: The title Clair Obscur refers to chiaroscuro. In my workplace, there was a reproduction of a painting in the chiaroscuro style. This inspired me to explore strong contrasts and defined color choices in this series.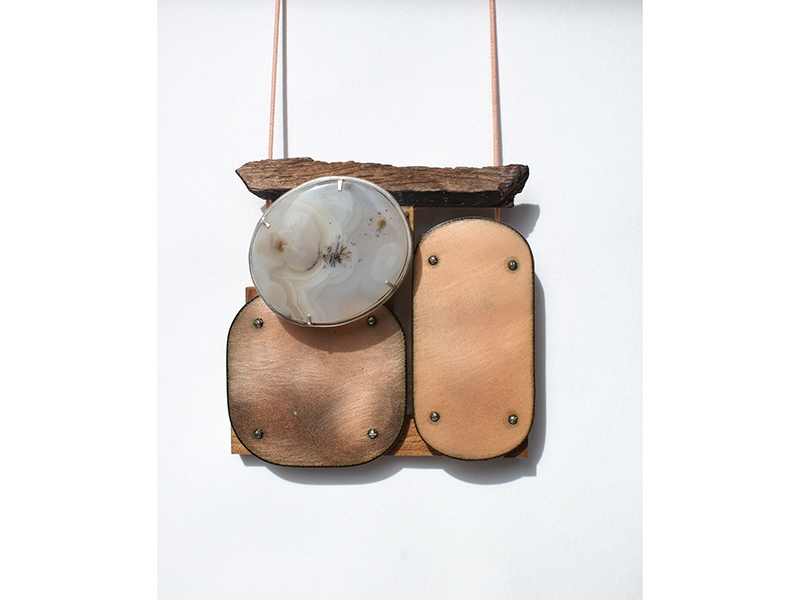 Many jewelry artists have second jobs or part-time gigs such as teaching. How did you end up doing accounting for Ingjerd Hanevold, a jewelry artist? Did that experience inform your own jewelry business and your art jewelry?
Anne Léger: Hanevold was my professor and also my supervisor during my time at the Oslo National Academy of the Arts. That's how my relationship with her began. I was lucky to be able to work for her at a stage when I couldn't afford to undertake my final year of education.
My job alternated between assisting students at the academy and making jewelry parts for a new series Hanevold was developing at the time, as well as helping her make a sculptural installation. I had the opportunity to work on my own projects as well, and completed my master's degree thanks to the opportunity she gave me. Since then, for shorter periods and at various art schools, I've taught enamel techniques and worked as an assistant for Kathrine Lindman as well.
These diverse experiences have given me the opportunity to define my priorities and interests and to choose what direction I want to orient my artistic ambitions.
Since I received an artist grant in 2015, my main focus has been to work on my own works and exhibitions. I also produce a small series of jewelry that's more commercial and is showcased in various galleries and museum stores.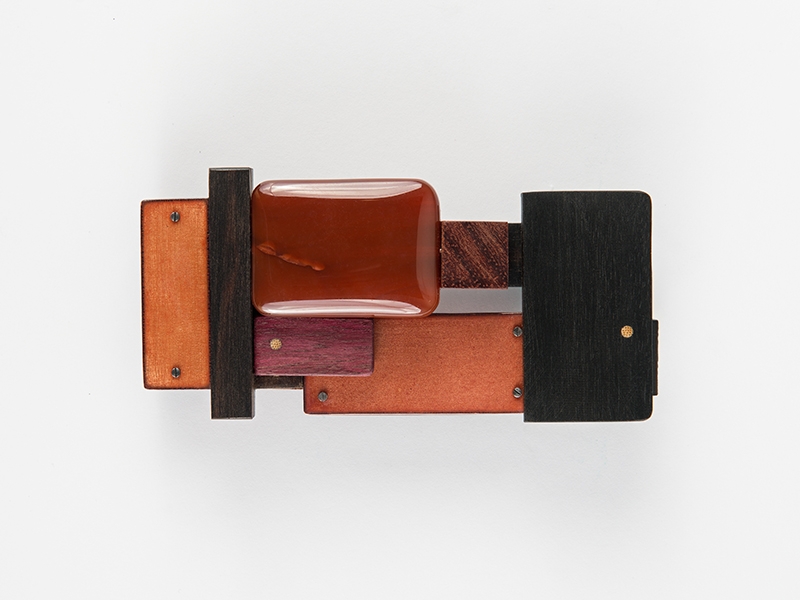 Have you seen or read anything thought-provoking recently? Could you share your findings with our readers?
Anne Léger: No! 🙂 I've been way too busy finalizing my last exhibition. My latest works represent an important turning point in my artistic career. After creating sculptural jewelry for several years, I've been creating wall sculptures for the last two years. These wall sculptures, as well as my jewelry and other objects, were on display at Format Gallery, in Oslo, until October 7, 2018. The exhibition was titled Present.
In these works, I wish to convey and provoke reflections and feelings related to the present, based on personal experiences. The present is our master, and we are the servants of the present. We are at odds with space and time, and yet we can't escape them. We're like opponents in a Yavapai strap fight, attached at the wrist, inseparable, and fighting each other to the death.
Thank you.