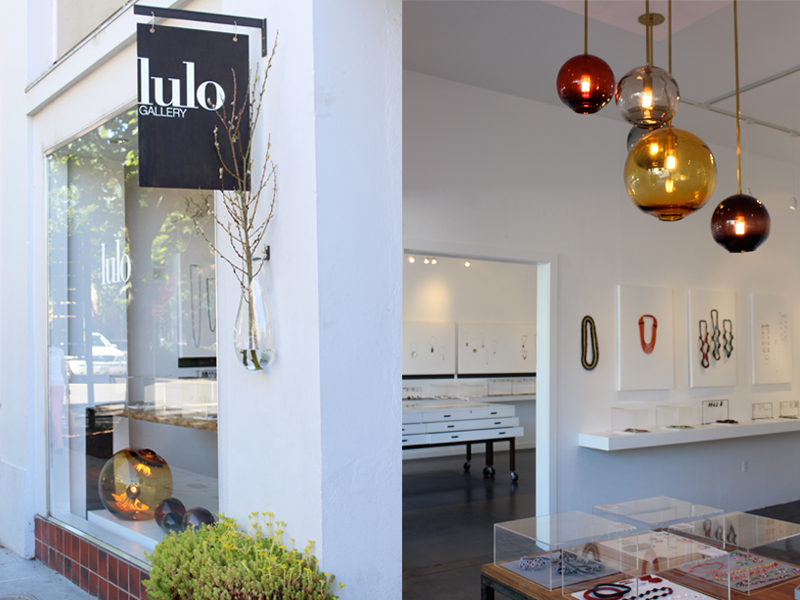 Artist Karen Gilbert and gallerista Anne-Kathrine Schjerbeck teamed up in 2009 to open Gallery Lulo in Healdsburg, a small but sophisticated country town. In this interview, I talk to the duo about the origin of Gallery Lulo, balancing life and work, and the challenges of running a gallery.
Olivia Shih: How did the two of you meet and decide to open Gallery Lulo? When was that, and why have a gallery in Healdsburg, a small town 70 miles north of San Francisco?
Anne-Kathrine Schjerbeck: Karen and I met at the ACC SF show in 2006, through a mutual friend, Andrea Janosik (a former AJF emerging artist award winner!). Andrea and I traveled up to Healdsburg to spend the night with Karen and Paul, where they had just laid down roots. I remember we viewed the whole endeavor of country living with equal fascination, wonder, and skepticism. My husband, Daniel, and myself were living in New Orleans at the time, and barely recovering from Hurricane Katrina.
To make a long story short, I fell instantly for Healdsburg, we moved up here six months later, and thankfully the four of us continued to hit it off. The gallery somehow seemed a logical move. Healdsburg, albeit a small country town, has deep cultural roots to San Francisco and larger urban cities in the country, due to the farm-to-table food movement and the access to smaller pieces of land, allowing for experimentation in wine and food. The area attracts an eclectic mix of cultural innovators, affluence, farmers, and community. The idea of a gallery that would present unique, handmade, and beautiful work seemed in line with the philosophy and sophistication of the audience here.
Between the four of us—Karen's jewelry work, Paul's architectural and graphic experience, Danny's software background, and my art gallery experience—it was an excellent joining of forces.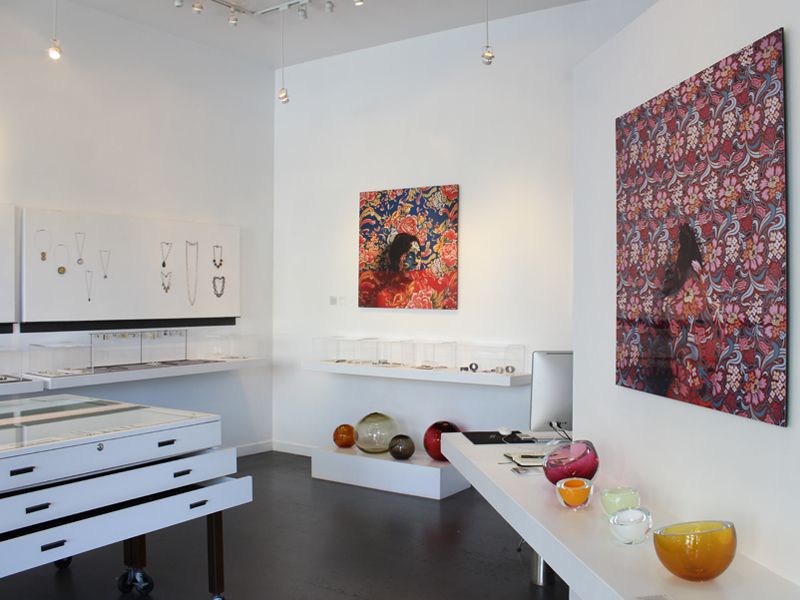 How did you come up with the name Gallery Lulo?
Anne-Kathrine Schjerbeck: Karen's daughter, Lola, was one year old at the time of opening the gallery, and my son, Lukas, was six weeks old—Lulo is a joining of their names. It is also feminine, abstract, and open. And, once again, thankfully these two are great friends.
Could you describe what a working day at Gallery Lulo is like?
Anne-Kathrine Schjerbeck and Karen Gilbert: Due to our geographical location, a day in Lulo is always a day of meeting new people from all over the country. As we grow and gain exposure, it seems Healdsburg is attracting more and more people. We have the experience of being in this small community and taking a leisurely approach to every day, while meeting new people continuously. We have a very dynamic space, and the influx of new work from the artists we represent is a constant, both in larger sculpture and jewelry—so not a lot of quiet, but a lot of engaging, communication, and display work being done. We are open every day.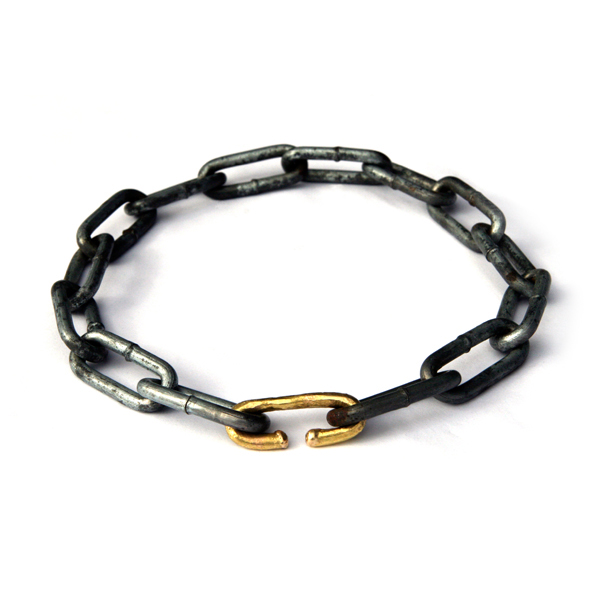 Karen, how do you divide your time among your own jewelry work, the gallery, and other collaborative projects?
Karen Gilbert: I really could use more days in the week, but since that is not possible, I try to be as efficient as possible every second of the day. I generally spend an average of a day a week in the gallery with additional openings and intensive display sessions thrown in when needed, as well as a lot of time on the phone discussing daily workings with Katrina [editor's note: Schjerbeck goes by the nickname Katrina]. I also oversee design at SkLO studios, so there are not many days I am not super-busy. My own work has moved mostly to weekends and small intense pockets of time before shows. I am not making as much jewelry as I have in the past, and I try to bring the newest pieces into Gallery Lulo first for a test run. I love making jewelry but I also think it is important for me to have different creative outlets, and I am currently fully fulfilled.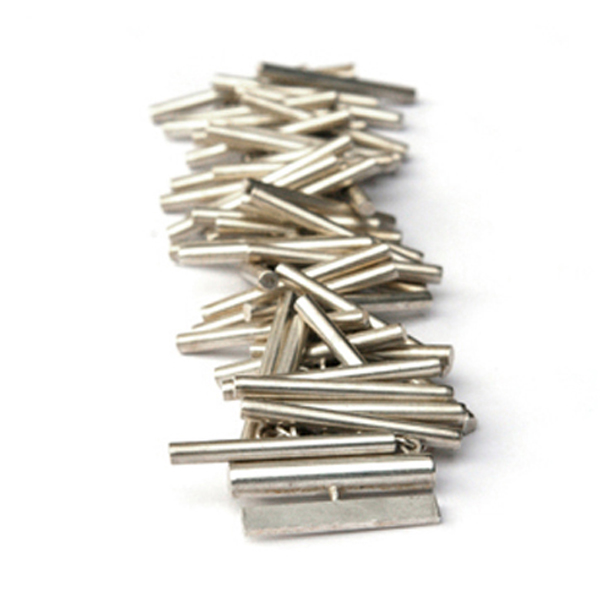 Katrina, Gallery Lulo has attracted a devoted audience through its carefully selected work. What do you look for when scouting for new artists or work? Who is your ideal client?
Anne-Kathrine Schjerbeck: We love to see materials used in ways that speak to the tradition of the handmade, but with an aesthetic expression that makes the work relevant in the world of design and art. So a balance of the two, however abstract this may seem, is, I believe, what defines the pieces we are drawn to. Having the gallery in Healdsburg and understanding our audience and clients has also taken us in a direction that is lighter in heart—more color, movement, wearability, rather than darker, larger conceptual pieces. We are encountering an immense interest and appreciation for the handmade and unique pieces we carry, but also people who are new to the world, and understand the work from the vantage point of design, less craft tradition. An ideal client is one who comes back—for the right reason!
What did you have in mind when you were designing Gallery Lulo? What was the desired impression you wanted to create for the viewer?
Anne-Kathrine Schjerbeck and Karen Gilbert: A space where the uniformity of the display ties the work together, but also allows for the pieces to be seen for their distinct qualities. We want the experience of the space to be open, unique, informative, and for the work to be accessible to enjoy.
On your webpage, it says that the gallery "is interested in experimentation and transformation and the importance of viewing art as an ever-changing reflection of modern culture." Could you talk a little more about how your jewelry can function as a reflection of modern culture?
Anne-Kathrine Schjerbeck and Karen Gilbert: We are a gallery of contemporary work, with artists who explore form, material, and technique in progressive and original ways. We want to look at work and feel inspired and feature it because it is relevant to the language of modern aesthetics.
What are the most rewarding and most trying parts of running Gallery Lulo?
Anne-Kathrine Schjerbeck and Karen Gilbert: We love discovering work that excites us, and experiencing the same excitement from clients. The relationships with artists and clients alike is ever-evolving and rewarding. The most trying parts: The focus of the gallery involves so many components, and right now there is not enough time to nurture all of them in the way they deserve, but … this is also a good thing, we are busy.
How do you select the jewelry artists you represent?
Anne-Kathrine Schjerbeck and Karen Gilbert: There is a core group of artists we have had since the beginning of the gallery. Artists who have been making their work for some time and with a proven record of being the best of the best, at least in our minds. After we developed a strong core, we started looking more afar and toward new artists who were making amazing work and had a unique point of view. We have an aesthetic that we both feel is strong, and we need to feel a connection between our story and theirs.