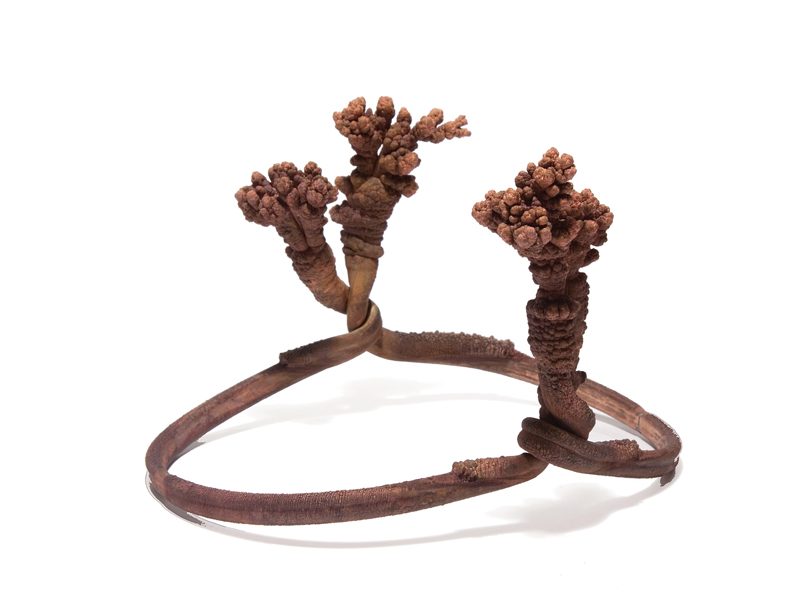 Alissa Lamarre's exhibition at Brooklyn Metal Works, Dividing Gravity, features work with conflicting qualities; it's large and tactile but dreamlike—exploring escapism but anchoring you in place. Lamarre shows both jewelry and sculpture, creating a landscape that transports you forward and backward in time. Here we talk with the artist, discussing her creative process, environment, and the work in her current show.
Jessica Hughes: How did you get interested in working in art jewelry, and how did you get to where you are now?
Alissa Lamarre: Jewelry was never on my radar, to be honest. Apart from making fantastical costumes in my youth, I spent the majority of my time working two-dimensionally until a required 3D design course in undergrad softened me to fabricating … I was fairly stubborn about it. I began taking jewelry/metals courses with Caroline Gore at Western Michigan University, and that reframed everything I had associated jewelry with, particularly its existence beyond the body and the relationships we form with objects, consciously or otherwise. I continued my graduate studies at Cranbrook, under the guidance of Iris Eichenberg, where I was able to develop an understanding of personal practice and the possibilities that can open up when letting go.
Tell us about your process. You sent us some really interesting inspiration images before the interview; can you talk to us about these images and where you get your inspiration?
Alissa Lamarre: I spend a lot of time alone in quiet places. Thankfully the Midwest is full of them. I grew up on the outskirts of a small town in the middle of the woods, so I imagine this draw to quiet stems from years spent outdoors. Being able to retreat to these areas provides enough physical and inspirational material to last a lifetime.
The images are from various rural areas in Michigan. The longer I hang around, the more things reveal themselves.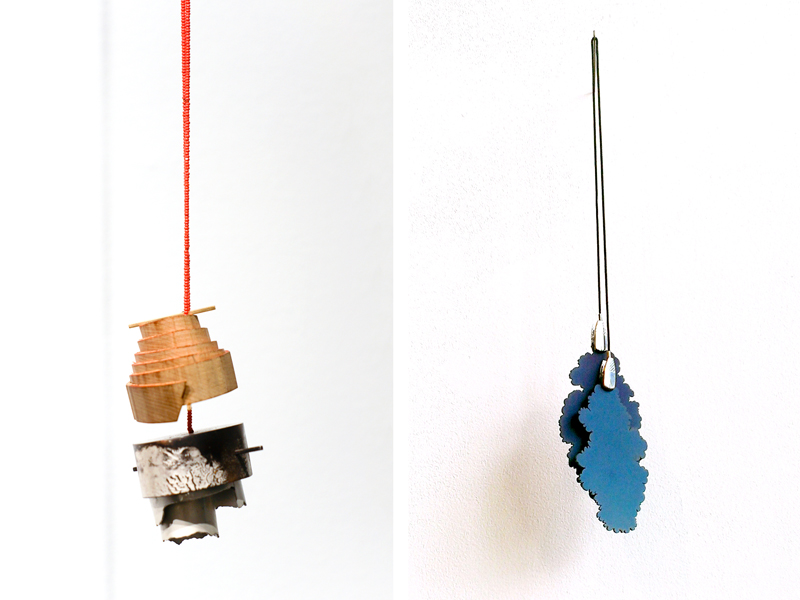 How did you get the opportunity to show at Brooklyn Metal Works?
Alissa Lamarre: Brian and Erin have been very supportive of my work in the past and I had the opportunity to share some of my more recent ideas with them while attending a workshop in their space. It came about organically.
Your work for this show includes jewelry as well as small sculpture. How does being—or not being—wearable affect the agency of objects you make?
Alissa Lamarre: The decision to make something wearable versus unwearable has no definitive place in my making process. Sometimes the intent is there from the start, sometimes it happens a quarter mile from the finish line. I guess I'm more interested in how our personal space is altered by an object, whether it's jewelry or a sculpture, and that can't necessarily be dictated right from the start. The relationship to the material changes as you work with it. I'll have these seemingly great ideas on paper and by the end of assembling the result is something entirely different. I'm ok with this kind of abandonment. The open-endedness of the process is consistent with the theme of the exhibition.
The fact that you mix wearable and nonwearable pieces must put you in a hybrid position vis-a-vis the market. Do you identify with a particular genre within jewelry? Do you have a hard time explaining the breadth of your practice?
Alissa Lamarre: It is a strange place to hang out. I don't mind explaining the variations. It's a good opportunity to discuss the connections between the two.
Your work seeks to administrate time and space, and create a place where someone—you—could continue to daydream. How have other people connected to this ambition?
Alissa Lamarre: The work is a bit personal, but the notion of daydreaming or escapism stems from conversations with others, most of them working artists or makers. Topics tend to circulate around the advancement of time, growing older, the shouldering of responsibilities, the development of anxieties, and how we cope. These things are intangible but create a lot of weight and residue if we aren't kind to ourselves. I try to make forms that hang, out here, at the edge of making sense. There's a lot that gets dredged up from trying to recall what an obscure thing reminds you of, or why you're drawn to it. The closest thing I can apply this to in real life is the daydream, or a mild disassociation with the day-to-day.
Your work is often large and tactile, with various materials. How do you choose the materials you work with, and where did you train your material sensibility?
Alissa Lamarre: It's hard to say how I choose things. There's usually a painfully long period of obsessive drawing, shuffling, adding, subtracting, and overanalyzing. Nothing out of the ordinary. In the end it all comes down to finding balance, whether it's physical or metaphysical.
As far as material sensibility goes, my father is a woodworker, and my mother a textile artist, so I grew up immersed in nuanced, tactile objects and surfaces. The two of them have always been inspired by the Shaker culture so I think that minimal, humble sensibility to material manipulation has worked its way into my making vocabulary. Simple, functional, spiritual, and flawed.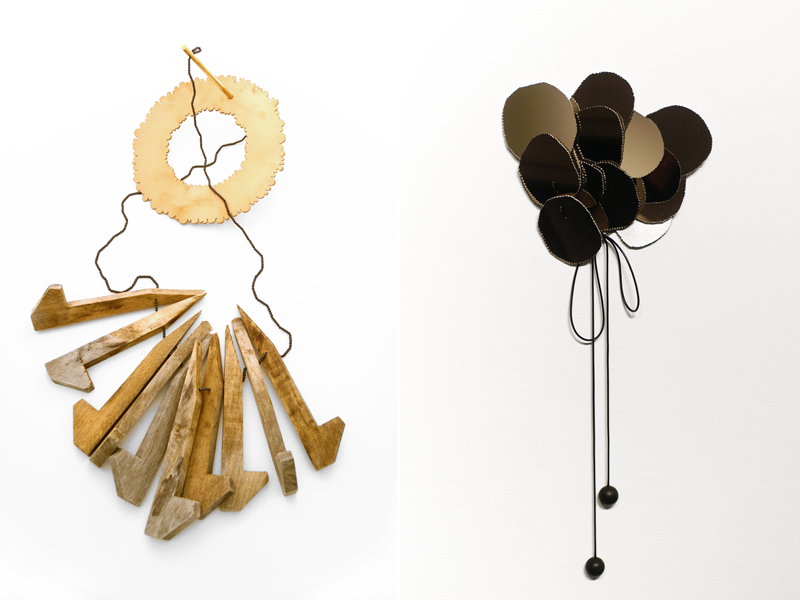 Being from the Midwest and living in Detroit, how do you think your work and visual language reflect your environment?
Alissa Lamarre: I tend to borrow from juxtapositions in the landscape. The areas I've spent the most time in have this distinct crashing of woodland and farmland up against industry. You can go from metal, concrete, and glass to fields, forests, and lakes in a matter of minutes. It's not so much about the encroachment of human systems as it is about the ability to escape from one to the other, and the dependency that forms in the process. There is a lot of "twinning" that happens in my work, and this dichotomy of the natural and the manmade is a facet of the doubling or pairing of objects or patterns. Balance is very important to me.
Besides your private practice, you also manage Simone DeSousa Gallery and teach at Fritzwillis Jewelry Studio. How do these other experiences affect your work?
Alissa Lamarre: I'm fortunate to have access to two very different environments that support me and my practice. Both are small businesses run by incredible ladies. Beyond my employment, it's been an educational experience in how to support and sustain a functioning studio and gallery environment in the varying economic climates of the city.
What are you up to next?
Alissa Lamarre: This latest work has left some residual ideas back in the studio and I think I'd like to pursue some larger-scale pieces. The auto industry is practically in the backyard, so it would be fantastic to utilize some of those massive kilns!
Have you seen or read anything interesting lately?
Alissa Lamarre: Yeah, that recent SNL skit about huge jewelry was pretty great.
Thank you.
The works in this exhibition range in price from US$400 to $1,200.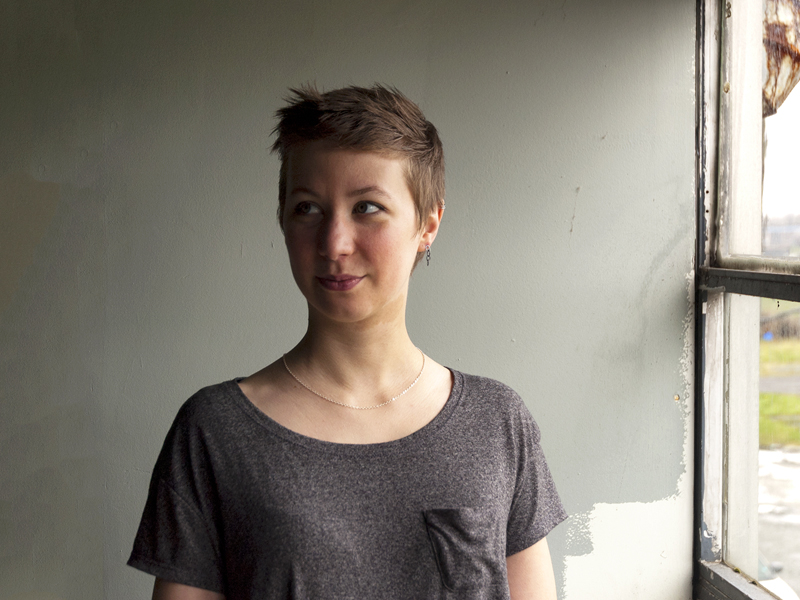 INDEX IMAGE: Alissa Lamarre, In Passing, 2013, object, steel, pewter, bells, felt window insulation bell: 165 x 102 x 90 mm, pad: 127 x 127 x 25 mm, photo: P.D. Rearick