Aimee Petkus's collection of jewelry was briefly on display during a trunk show at the Heidi Lowe Gallery on December 13, 2014. In this interview, Aimee discusses her background in geology and the influence it has on her work.
Missy Graff: How did you become interested in making jewelry? Please tell me about your background.
Aimee Petkus: After college at Colorado State University, I worked as an environmental geologist in New Jersey and New York City. I quickly started to feel burned out. I wasn't really sure where to go next or what to do with my life, but after six years in the environmental field, I realized that traveling could help me figure it all out. I quit my job to go out and do the things I had been wanting to do but couldn't find time for. I wasn't sure how it was going to work, but I felt confident that I could just see where life would take me and at some point I would know what to do next.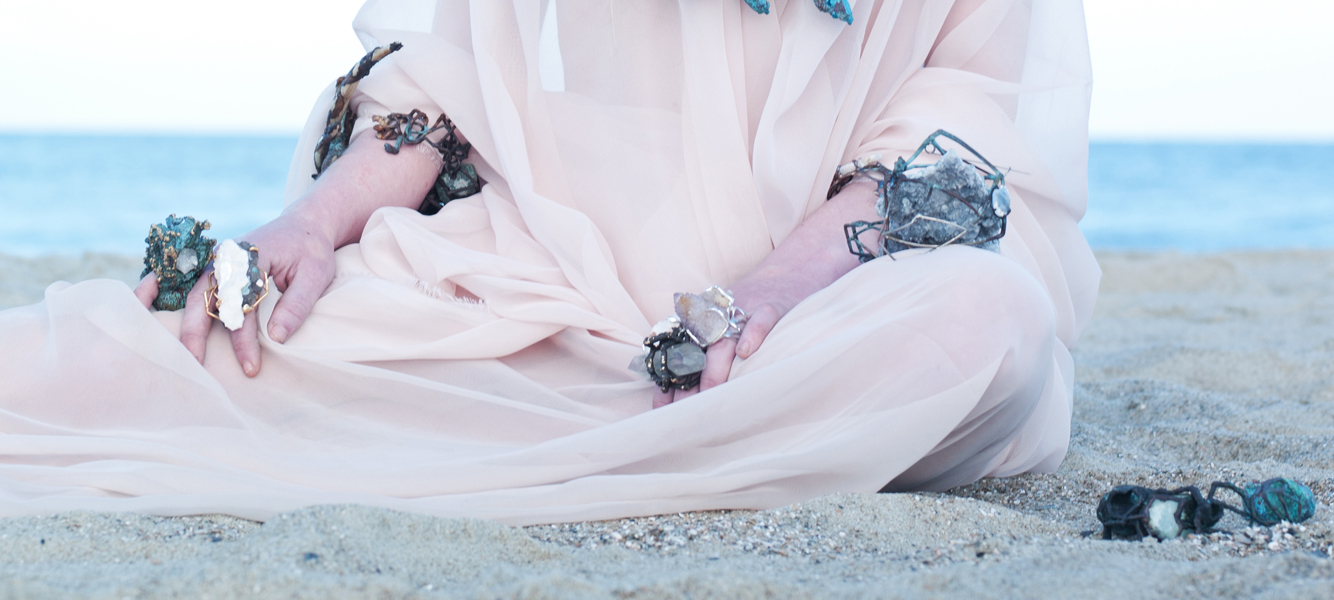 I had always wanted to drive across the country and go to all those little touristy roadside mining operations to hunt for treasure. So I did. Along the way, each time I found something I liked, I immediately felt the need to have it made into jewelry. I contacted some lapidarists and some jewelry designers about this, but none of them seemed to understand what I wanted them to do. At that point, it was all starting to click for me and I felt like jewelry would be the perfect outlet for my love of gems and minerals, in keeping with my inherent artistic nature. After about a year of traveling, mining, and a lot of adventure, I started looking into taking jewelry classes and quickly realized that there was a lot to learn, so I started researching degrees in metals and jewelry. That led me to the Savannah College of Art and Design (SCAD), where I got a second bachelor's degree, a BFA, in jewelry.
Aimee Petkus: I have been developing this body of work since graduating from SCAD. My goal has been to scale down the jewelry so each piece becomes a snippet from my larger sculptural work.
You use a variety of large stones in your jewelry. Do you do any of your own lapidary work?
Aimee Petkus: Lapidary was my first bridge into jewelry, from hunting and digging rough gems. I took a couple of basic lapidary classes from people I met at rock and gem shows, but I felt that the approach was too limiting since I really wanted to make wearable objects from the stones. I am currently using lapidary techniques primarily to make the large mineral specimens lighter, to remove undesirable sections, or to enhance others. All of the traditionally cut gems that I use have been done by someone else.
Can you tell me about your gemology background?
Aimee Petkus: I have a degree in natural resources from Colorado State University, and my concentrations were in ecotourism and geology. I've always loved collecting rocks and had a curiosity about how they formed and how to identify them. Professionally, as a geologist, I mostly dealt with contaminated soils. I would collect samples, send them to a lab, analyze the data, and create and present reports. I went into the field with a much more romantic idea of what being an environmental geologist would be like. Now, I feel much more connected to what I was originally drawn to in terms of the rocks and minerals.
Your jewelry has a very raw look. What are your inspirations?
Aimee Petkus: I am definitely very inspired by the moment of discovery when it comes to mining, digging, and rock hunting. That moment when you are the first being to ever look at this incredible, beautiful sparkling object, lift it out into the light, and give it a new life. I am also very inspired by the nature of metal. I never expected to be interested in the metal, I just saw it as something I needed to understand and as a vehicle for presentation. Now, I love the metal just as much as the stones because it really is all the same. They're all natural elements from the ground, and I like the idea of melding them together to create a new specimen that could conceivably have been dug up and discovered.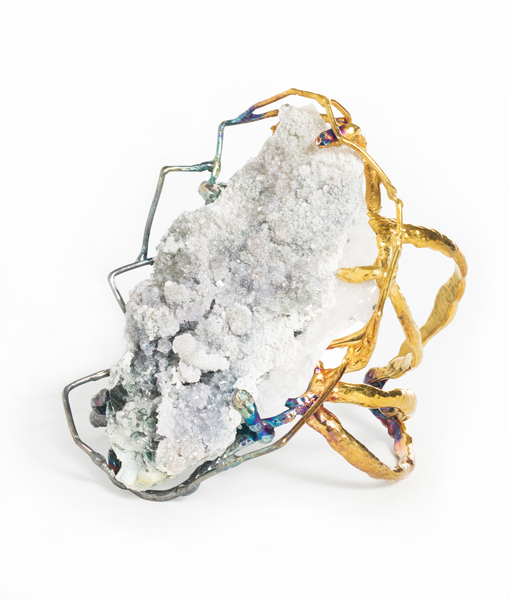 Many of your pieces are very large and look rather heavy. Is wearability something you keep in mind when creating your work?
Aimee Petkus: My newest work is by far the most wearable that I've made. The work I made as a student wasn't meant to be practical, but I do actually want my work now, no matter how large, to be comfortable. Making these large mineral specimens into wearable objects, instead of having them be sculptural, is the whole point. Many people find mineral specimens intriguing and collect them as objects of beauty or works of art. Whenever I wear the larger pieces, people always comment on them. I am excited that the work is opening a dialogue about the definition of wearable, and I like where the conversation is going. Also, making these large minerals wearable gives them further definition and purpose with more opportunities to be appreciated and admired.
Aimee Petkus: I feel like there is a lot of crossover between art jewelry and fashion. Many people view fashion in the same way they view art, but it's more fleeting. The body is a canvas and fashion can be a form of expression for the wearer. I would love for my work to be seen from both avenues and appreciated in the same way. I think it would be amazing to do some sort of collaboration, but in the little experience I've had trying to work my way into the world of fashion, I still feel there is a strange division that keeps it all separate. I think there are a few people, like Iris Apfel, who live in both an art world and a fashion world, and can see how they are the same, but for the most part there's still a huge chasm between the two. It's kind of like the differences and similarities between art and science. In my head it's all the same, but the rest of the world likes to categorize and separate.
What is your favorite aspect of making? How do you see your jewelry developing in the future?
Aimee Petkus: I love just sitting down and getting lost in time. When I'm in the zone, 12 hours feels like 15 minutes. I can obsess over details or do 35 different things at once, and it just makes me happy to be creating and to have finally found an outlet that is so satisfying. I think my work will continue to oscillate between being smaller and more wearable and then back to a larger format. I'm not very good with routine, but it always seems to work out into cycles.
What have you seen, heard, or read lately that you would like to recommend?
Aimee Petkus: I rarely have time to sit down and read anything printed on paper anymore, which is pretty sad because I love reading. One of my favorite websites is www.thisiscolossal.com, and they consistently post really inspired works from all different aspects of art.