Netherlands
02/29/2012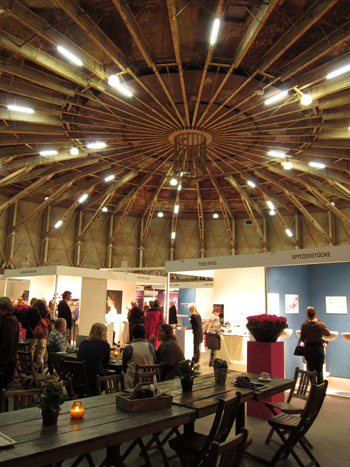 Just as art jewelers struggle to explain how their work differs from traditional jewelry, ask a Dutch person to translate the word sieraad and you will rarely get a simple answer. This medium seems to defy easy definition, in any language. A sieraad is not only a jewel or a ring or bracelet, but any ornament with which one decorates their body – a non-functional object that is considered as 'extra.' This leaves form and function nearly limitless for the maker, quite useful for art jewelers. However, to simply classify art jewelry as ornament or adornment says nothing of its artistic origins or intentions. So perhaps it is a fitting title for the commercial jewelry fair held annually in Amsterdam.
Organizers Astrid Berens and Maarten Bodt created SIERAAD Art Fair in the hopes of democratizing the sales process and increasing the popularity of jewelry. It began ten years ago on an indoor tennis court in Enschede, a city about two hours by train from Amsterdam. It has been housed by various locations over the years, gradually making its ways across the country as it has grown in size and reputation. Since 2008 it has been at home at the Cultuurpark Westerfabriek, a space that also hosts bridal expos and fashion house sample sales. For four days, the vast circular building, an old gas factory (one of the highlights, in my opinion) is filled with temporary stands of various sizes and rental cost for artists to show and, importantly, sell their work.
The idea of SIERAAD is to give individual makers the opportunity to reach both collectors and general public directly, enabling personal interaction and the chance to network with a captive audience, now numbering around 8000. But this opportunity does not come cheap. The smallest stands on the very outer ring (known as chair stands), specifically created in 2009 for recent graduates, start at 800 Euro for the four days. So while the initial idea aims to be democratic, only those with the funds in the first place are able to participate. To put it in perspective, 800 Euro will buy you two months' rent in Amsterdam, if you're very lucky. You'd be hard pressed to find an emerging talent who has that kind of extra money.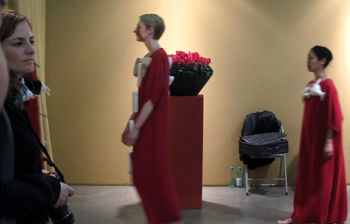 Since 2006, art jewelry has been represented at SIERAAD by a rotating exhibition program, including the biennial international design competition, New Traditional Jewellery, organized by the Art in Business Foundation. Berens and Bodt also regularly invite two art academies to show at the fair, this year the École Supérieure des Arts Décoratifs in Strasbourg, France (ESADS) and the Royal Academy of Fine Arts Antwerp (Artesis). Displays from the Academy of Fine Arts and Design, Bratislava, Slovakia and from past and current students of Korea's Kookmin University were also present.  The performance by students from Alchimia Contemporary Jewellery School, Florence, Italy, seemed to confuse people; most awkwardly looked the other way as the students silently passed through the crowd in their red gowns and painted faces. Artistic relevance aside, I'm not sure SIERAAD is ready for performance art jewelry.
In the centre of the space, the art jewelry exhibition Inspirations and Visions, curated by Marjan Unger, included a list of the various materials found in the work. For those who are new to contemporary jewelry, this is an easy way of letting them see some of the obvious differences, perhaps opening their minds to the possibilities. Though interesting in comparison to most of the work around it and certainly quality work, the selection was a fairly conservative one, nothing that would really rock the boat.
The enamel work of Ralph Bakker and the ceramic pieces by Peter Hoogeboom, for example, while undoubtedly beautiful and well made, were still recognizable forms in fairly traditional materials. And in the time that I was there, it seemed to inspire much less interest than any of the surrounding stalls.
Although there are some art jewelers, both emerging and professional, selling their work at SIERAAD, the vast majority are makers who approach jewelry from a technical rather than conceptual basis. The work on show predominantly consists of cast elements, beads, precious and semi-precious metals and stones, worked with traditional techniques into fairly conventional forms. This is an environment where 3D printing is the height of innovation and creative exploration. So the question of where art jewelry fits in such a setting is at once abundantly clear and difficult to define.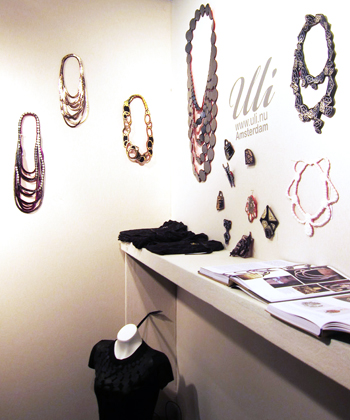 It is always problematic to show art jewelry alongside the more traditional, no matter how exploratory the traditional side is. The two are inherently different. Traditional jewelry is, typically, unassuming and easily accessible in style and predominantly decorative in purpose. In contrast, contemporary jewelry is both a piece of art and personal, wearable object. This is part of what makes it so rich a medium, and one so fraught with difficulty for the 'uninitiated' to engage with.  However, to completely separate art jewelry from an event focused solely on jewelry of any kind seems a wasted opportunity. This goes some way in explaining the somewhat awkward relationship between the Dutch art jewelry community and SIERAAD. Many look down on the fair to some degree but very few are willing to dismiss it outright. Interestingly, the only one of Amsterdam's three art jewelry galleries to participate is Galerie Ra, doing a brisk trade as Ra Books but showing no jewelry.
On the one hand presenting art jewelry among the more traditional style works is like hiding vegetables in a child's food. Feeding SIERAAD visitors small morsels of contemporary jewelry amongst a style they are used to allows the viewer to gradually become accustomed to it. The flipside of this is that people can compare the two in a very base way, expecting it all to be accessible, wearable and commercial. Personally invited to show her graduation work, Everyday Fare, a series of table linen with woven or hand embroidered QR-codes linked to short films of domestic chores, Willemijn van der Sloot, a 2011 graduate from Geriit Rietveld Academie's jewelry department, encountered at least one instance of a visitor significantly troubled, even angered, by the fact that her work 'isn't jewelry' and therefore had no place at SIERAAD. In direct contrast, another response was happiness and relief at seeing something other than jewelry.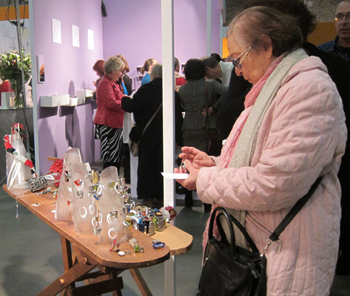 At the end of the day, SIERAAD is really about making money. And art jewelers are often uneasy with money and selling their work, an awkwardness that I have often encountered since living in the Netherlands. Everyone wants to have their work bought, but no one wants to be seen as commercial. The only way to avoid this, it seems, is to sell through a gallery. It's incredibly difficult to make a living from art jewelry practice alone, especially for those without representation and most artists subsidize their income with other employment. In Australia and New Zealand it is not uncommon for contemporary jewelers to create a line of jewelry which they sell as a source of regular income, more often than not to fund their artistic practice. Though this work generally has a conceptual foundation and showcases the artistic merits of the maker as well as their technical skill and is sold in specialized galleries or boutiques, it has the rather unfortunate name of a 'production line' or 'bread and butter line.' At the risk of generalizing, I have found that European art jewelers don't feel comfortable with this idea, indeed even regard it with mild disdain. And I would hazard a guess that even those artists from Australia and New Zealand would likely still avoid too close an association with the style of the work and commerciality of SIERAAD.
Coming from an art institute background, this commercialism of course also makes me a little weary (the endless debate about the fine line between selling and selling-out rattling around in my head as I wander the maze of stalls). I personally have no issue with people selling their work to be worn; in my opinion jewelry is at home on the body, integrated in people's lives, not sitting in gallery vitrines and drawers for the rest of its days. But a fair seems an uncomfortable format in which to sell art jewelry. I have never understood the concept of paying to shop – buying a ticket to enter a space to have the privilege of spending more money – and selling art jewelry in this context in the end serves to limit the people who will see it to those who are more often than not looking for something else, something more traditional.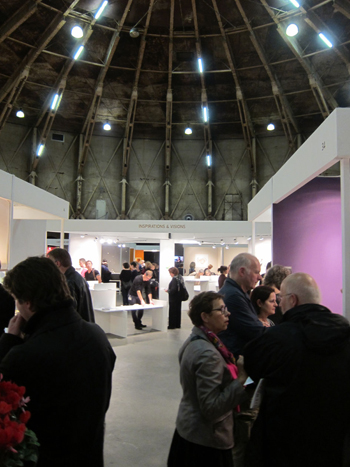 Most people who are selling and buying here aren't dealing with large amounts of money, an average of 200 to 300 Euros, perhaps. So an art jewelry piece with a price tag of 1000 or more would be extravagant to most visitors, particularly if it is made of inexpensive materials. The buyer here still needs to see the value in the materials or workmanship.
And then there is the space itself. Despite the significant size of the building, upon entering you very quickly feel overwhelmed at the sheer number of stalls and subsequent lack of space. With nearly 100 stands, it's very easy to lose track of whom or what you have seen and it can leave you disoriented and exhausted. Artists tend their own stands and I can't help but feel like I'm intruding. Jewelry often being small in scale and intimate by nature, you would think that these close spaces would encourage this intimacy, allowing the opportunity to get to know more about the maker. Though I'm sure that for many it does, more often than not I feel as though I'm invading someone's personal space. Which is strangely not the case when I am actually in the private studios of some of the participants of B-Side DownTownArtJewelry Festival.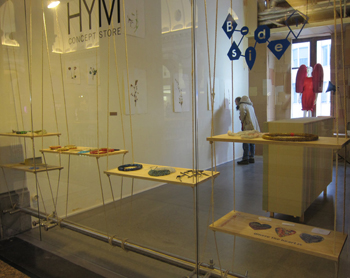 Now in its second year, B-Side is the brainchild of MIN-Association, a group of three contemporary jewelers, Maaike Ebbinge (Netherlands), Iris Tsante (Greece) and Noémie Doge (Switzerland), who created a platform for their peers to show their work outside of the commerciality of SIERAAD. Any artist can register to take part and all are responsible for their own contribution, with MIN-Association coordinating the program through a blog, map and social networking sites. In its very short history, B-Side has attracted participants from across Europe, who venture to Amsterdam solely for the purpose of participating in the festival.
As is intended, the difference between SIERAAD and B-Side is strikingly obvious from the first encounter, not only in the style of work but also the presentation. B-Side artists are encouraged to explore unusual methods and spaces when exhibiting, from open studios, cafes and shops to public performances in the city streets. It is in this attitude that MIN-Association hopes to stretch the boundaries of art jewelry's presence and recognition. It was strange then to find the 'heart' of the festival in such an ordinary location as a design store in a shopping centre right in the middle of the city's tourist precinct. The Rietveld Academie jewelry department, for example, created LOST/FOUND, a bike-powered mobile installation/workshop. Setting up at various locations on the B-Side route, the students interviewed passers-by about jewelry (and other items) they had lost, re-materializing the collected data as a wearable piece. Collective A6 exhibited work of the members alongside an interactive project, What's Yours? Visitors were invited to create their own 2D necklace, choosing sections from a stack of hand drawn and digitally created design elements. The three designs they deem to be the best were to be announced via email and on facebook, made into the real thing and given to the designer. Both of these projects engage the audience in a personal way, drawing on experiences that everyone can relate to – losing an item of personal value or the enjoyment in exploring one's own creative side.
It is precisely this connection between maker and viewer/wearer that both SIERAAD and B-Side aim to foster and both play a relevant role in bringing jewelry to a new audience. But where Sieraad uses this relationship as tool in the sales process, B-Side participants concentrate on the presentation of art jewelry in an exhibition context. On the one hand, this clearly delineates the work in B-Side as something other than traditional jewelry. On the other, it keeps viewers at a distance from it.
B-Side could easily occur any time of year and doesn't necessarily need SIERAAD, but the aim is to draw visitors from the fair in the hopes of finding a new audience. Festival posters and maps were available at SIERAAD, though it's uncertain how many were collected. One B-Side participant shared that although one or two of her visitors had been general public from the fair with no idea of what they would find, it was mostly people from the art jewelry scene crossing her doorway. This is understandable. For most people, SIERAAD is a one-day activity – and a full day at that. To see everything inside and then venture out literally across Amsterdam to a series of exhibitions, uncertain of what lies ahead, is a significant commitment.
The festival has nearly doubled in size since last year, growing from twelve to 22 locations around the city (26 if you include Galeries Ra, Louise Smit and Rob Koudijs and SIERAAD itself, as the map does) so, regardless of your knowledge of, or interest in, contemporary jewelry, you really need another full day, a bike and good weather to get the most out of the program. On the whole, B-Side is a welcome contrast to SIERAAD, though a keen eye should be kept on the program. If the festival gets much bigger it runs the risk of diluting its impact and relevance, like the satellite exhibition program around S chmuck, which is now so big, it's a bit too much to take.
As it is so young, it is difficult to predict the effect B-Side will have in the future. But the enthusiasm and commitment is incredibly valuable and great to see. Given time it could – and hopefully will – develop into a staple (yet not stale) event of the European jewelry calendar. And while SIERAAD is possibly not the best context in which to show or sell art jewelry, perhaps it can serve as another inroad to a broader audience, in time getting more people used to the idea of art jewelry. I must admit that I was surprised by the number of people at the fair, but it's heartening to know that people are interested and that the desire to express oneself through jewelry is obviously alive and well. And as someone who has a great appreciation for jewelry's role in our personal lives, I am happy to see that people are out there, exploring things that may be new to them and continuing the long tradition that jewelry is a part of.