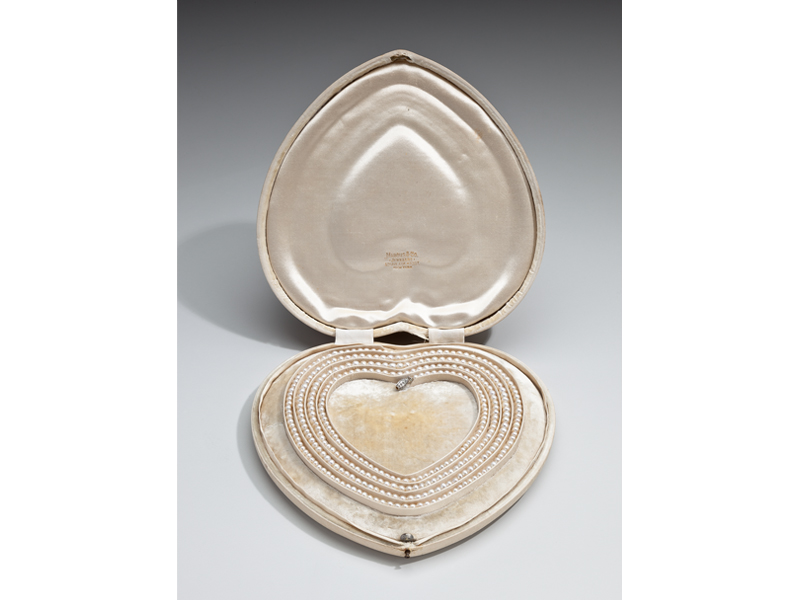 In 2014 the Newark Museum's Acquisitions Committee allowed me to purchase a string of pearls 1454 mm long. This necklace of 352 natural Asian marine pearls was assembled in 1906 by the New York firm of Marcus & Company and finished off with a modest diamond and platinum clasp. When Henry Fairfield Osborn (1857–1935) selected the necklace as a twenty-fifth wedding anniversary gift for his wife, Lucretia, Marcus & Company designed a custom-made heart-shaped box of ivory silk plush, lined with ivory velvet and satin. The pearls were arranged in concentric hearts with the diamond clasp hanging like a teardrop at the center. Henry Osborn was the head of the vertebrate paleontology department of the American Museum of Natural History in New York. He had discovered and named the Tyrannosaurus rex in 1905.
So, why on earth would my employer—an art museum—want a string of pearls? Pearls have no style. They say nothing about art or design history. The pearl necklace is among the most ubiquitous forms of jewelry in human history and is as devoid of style-bearing aspects now as it has been since Cleopatra dissolved pearls in wine to keep her skin pure.
And that, of course, is exactly the point. I had been hankering for a pearl necklace for years, but I needed a story, and the Osborn pearls provided me with the hook that not only made sense in a museum collection, but gave me the opportunity to provide art-historical context. What makes this necklace distinctive, aside from its Gilded Age provenance, is its length. The familiar 457-mm strands of pearls became the icon of "lady" in the twentieth century. Young ladies wore little pearls with cashmere sweaters for their college yearbook photos. Married ladies wore larger pearls to symbolize their husbands' advancing careers and their relative social position within their communities. Rich ladies wore either very large pearls or multiple strands to make their positions clear.
Lucretia Osborn's pearls are arranged in a string so long that it would have reached to below her waist. This particular format, known as a sautoir, is a form conceived specifically to emphasize quantity. Great ropes of pearls of this length were ever-present in portraits of European aristocrats from the Renaissance right through the Enlightenment. In the days before Mikimoto brought the pearl under human control in the early 1920s, pearls were as costly as diamonds. From the years after the American Civil War to the onset of World War I (so from 1865–1914), both Americans and Europeans wore long ropes of pearls as indicators of their position at the top. Queen Alexandra's pearls as she wore them in a 1902 publicity photograph echo both the plenitude and the meaning of pearls at that time.
The very long string of pearls was a style that faded away by the Depression, but its core meaning lingers on. Today pearls, even imitation pearls, continue to be symbols of elegance. For all its lack of inherent style, a string of pearls remains one of the most potent images of social aspiration in the Western jewelry vocabulary. Lucretia Osborn received her pearls over a century ago, but every modern American woman can still understand what they must have meant to her.