Looking at great art jewelry can change how you look at the world. I was once again reminded of this on the recent stimulating daylong jewelry tour of Boston sponsored by Art Jewelry Forum. The day featured exhibition spaces and some special hideaways of jewelry practitioners and advocates.
The tour was held during the Society of North American Goldsmiths (SNAG) conference, and organized by Boston resident and AJF supporter Karen Rotenberg. Twenty of us boarded a bus and, as with all AJF events, it was fun, enjoyable, and educational—partly because it's a good feeling to be with people who appreciate the same thing. Our group included some makers—Marilyn da Silva, Valerie Jo Coulson, and Andrea Williams, among others—but all of us were jewelry nuts. We care about how things are made and what they are made of, whether it's eggshells or string or wood or something more conventional—although there weren't a lot of diamonds on this tour.
Our journey also gave us a glimpse into the perspective of the creators of this jewelry. People who do this kind of work have a different vision. Sometimes the view we got was surprising and wonderful.
Our first stop was the internationally known gallery Mobilia, which featured the exhibit Journey Through Time: Explorations of Artful Adornment and Sculptural Vessels Through the Ages. I had never been to this gallery, owned by the sister team of Libby and JoAnne Cooper, but I knew its reputation. Several artists were there talking about their work, from the idea behind each piece to the execution. Few galleries in the U.S. put on exhibitions like this, especially with such an extensive list of art jewelers. The artists present included Hanne Behrens, Mariko Kusomoto, Yuri Tozuka, and Tomomi Maruyama. Libby also prepared a delicious mid-morning repast.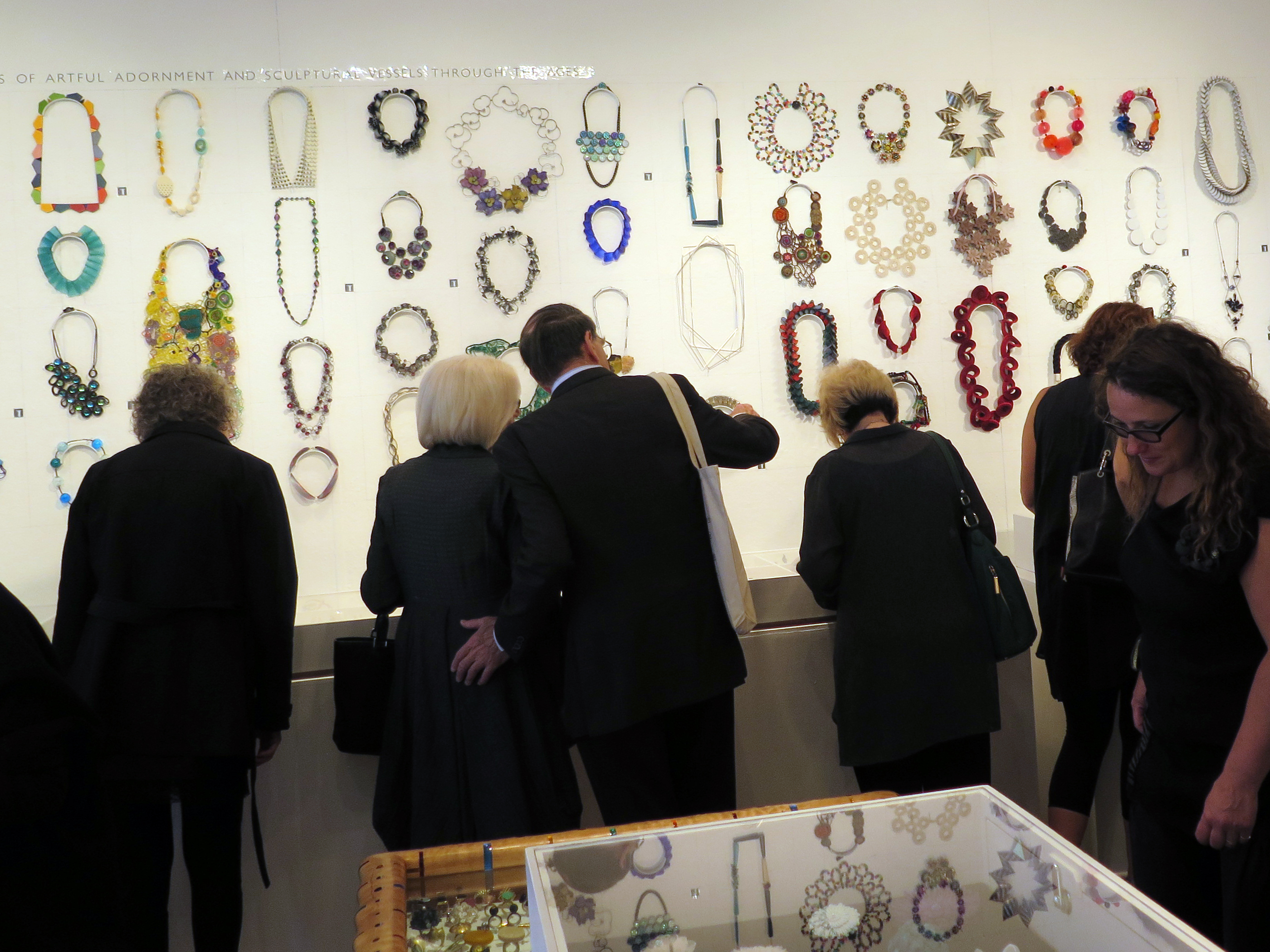 Next stop was the Museum of Fine Arts, Boston and the featured exhibit of Nubian jewelry, Gold and the Gods: Jewels of Ancient Nubia. Yvonne Markowitz, the Rita J. Kaplan and Susan B. Kaplan Curator of Jewelry emeritus, led us through the exhibition, which featured ornaments dating from 1700 BC to 300 AD. Most of it could have been plucked from the cases and worn as a contemporary piece, underscoring continuing themes throughout jewelry history.
We were privileged to go behind closed doors to view highlights from the Daphne Farago Jewelry Collection, which is owned by the museum. Emily Stoehrer, the new Kaplan Curator of Jewelry, led us through a selection of 12 to 15 pieces, divided between work of European and American jewelers, so that we could see the difference. Stoehrer speculated that for the American jewelers, the narrative was more important, reflecting the desire to break the constraints of traditional training in order to tell a story through their creations. The European jewelers were more classically trained, and therefore somewhat more constrained, especially those who worked in the 1940s, 50s, and 60s.
We concluded our time at the MFA with a delicious lunch at Bravo, one of the museum's nicest restaurants.
In the afternoon we visited the home of jewelry artist Efharis (Effie) Alepedis to see her collection of art jewelry. She started collecting some of the jewelry made by her fellow students at the Rhode Island School of Design and Tufts University. Many of them have grown into well-known artists. We also saw some of her work. At the SNAG conference she gave a well-attended demonstration session on her techniques.
From there, we traveled to The Society of Arts and Crafts, on Newbury Street, which has been at the forefront of the American craft movement since 1897. The upstairs gallery showcased an exhibit of work from Alchimia, a well-known jewelry school in Florence, whose founders, Doris Maninger and Lucia Massei, were also on the tour. We also had time to browse the Society's attractive retail gallery.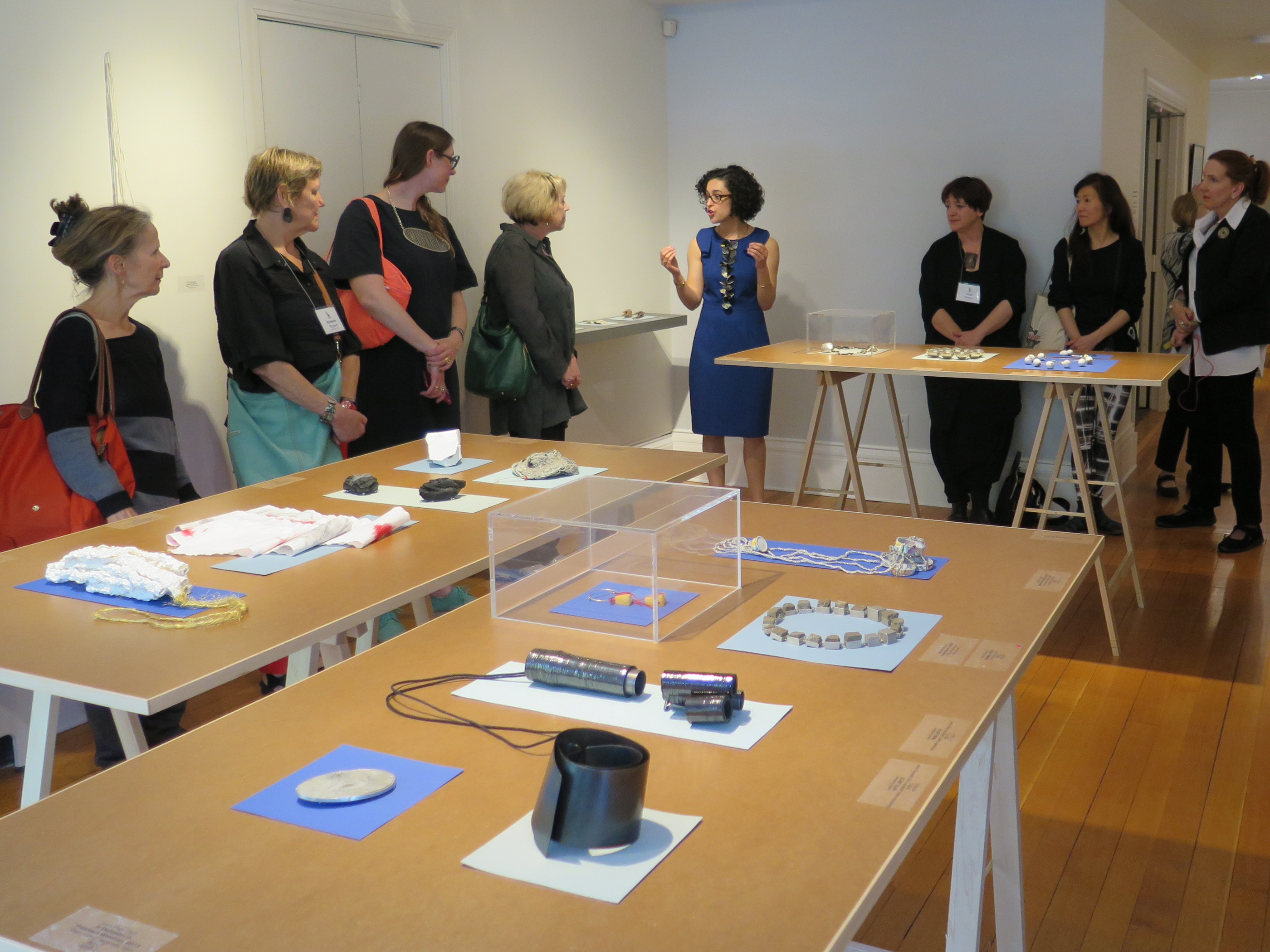 To end the tour, Karen and Michael Rotenberg hosted us for a reception in their beautifully decorated Beacon Hill home, built in 1806. Karen owned a gallery in Boston for decades, which her creative home décor reflects.
By the evening, I realized that Art Jewelry Forum had once again put together an educational, inspiring, and enjoyable day, allowing me to spend time with people like me: people who love jewelry, who don't think it's odd to live and breathe it, and who enjoy ourselves as we ooh and aww over it.