Susan Cummins: First of all, please explain who thought of doing this show?
Machtelt Schelling: I thought of the show myself. The jewelry scene is quite new in Asia, and there are not many galleries or other platforms for young artists. Only a few of them are strong enough to keep working as a jewelry artist, so I wanted to organize something that could give them the platform and the courage to move on and to meet others beyond their own classmates.
How was Top Young 2013 organized? How many jewelers applied, and how many were chosen? What were the criteria?
Machtelt Schelling: The gallery sent out the call to as many schools, Asian jewelers, and platforms as possible. We received 74 submissions, and I selected a jury from outside the academies—Yu-Chun Chen of Mano Gallery, Taipei, and Ohchi Chitose of O-Gallery, Tokyo.
The jury discussed: if the applicant had developed his or her own creative language; if the concept was worked through in the piece; if there was a skilled use of material; and, if they made several pieces, if there was a consistency in the collection. We made the selection based on the pictures and descriptions sent to us. Once the 13 sent in their work, we decided on the top three.
Why is this an important show for you to have?
Machtelt Schelling: As I said earlier, it was mainly to give jewelers the platform and the courage to move on and to meet others. But then, a nice thing happened. As soon as we had launched the selection of the artists, we received more than 40,000 hits on our Weibo (Chinese social media). That is quite a big number for us as a young gallery. All of the young graduates selected have an amazingly strong social network. And so we benefited from it.
You mentioned that you are going to organize shows with the top three: Sungho Cho, Pu Gang, and He Jing. How were these three chosen, and what do you plan to do with them?
Machtelt Schelling: I am now in the process of discussing this with them. It depends a bit on the development of their work in the next year. I am working on exhibition for the coming year in which one of them can fit.
These were the artists about which the members of the jury felt most strongly. The faces of Sungho Cho are fascinating, well made, intriguing, and private. The work of Pu Gang is strong for the use of its material and the way it is presented. He is very young, and we hope he will develop in the right direction. He Jing's work is eye catching, brave, and present. The concept is very strong, and the execution of the two pieces we presented was well done.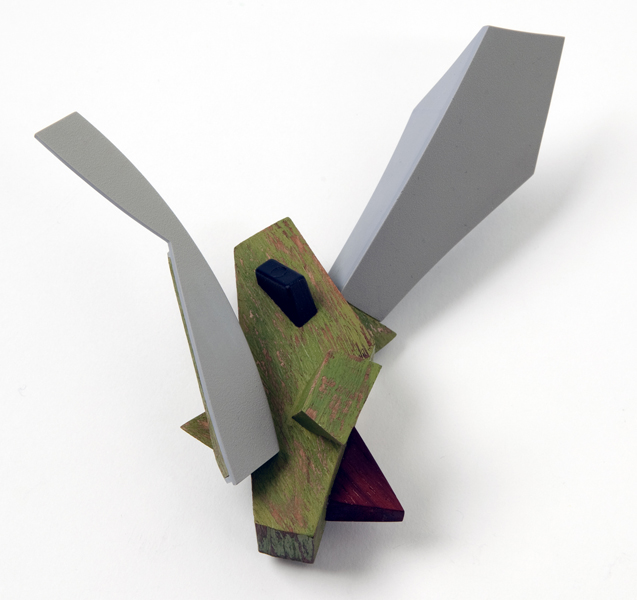 Six of the 13 chosen jewelers went to school in the West. What are the differences in the young jewelers trained in China and those that are trained in the west?
Machtelt Schelling: Everywhere in the education system in China, young people want to go abroad and learn things from outside their own system and improve their opportunities. You see the same for young jewelers.
I think it goes without saying that every young person going abroad and experiencing a different culture will widen his horizon. You will be challenged more on your own methods, and you will see quality in a different perspective. I expect the same happening with jewelers abroad. It can bring students abroad closer to their own roots, or in some cases, it gives them more tools and visual language to choose from, and in other cases, it gives more layers to their concept. Many different things can happen.
Machtelt Schelling: Most of the artists work with their own personal questions and themes of things they want to express in their work. In a way, it is universal and not typical for a certain region. But, maybe I can find some themes typical for Asia. The more obvious is the group of young artists that is very connected to Asian values, such as the work of Liu Xiao, whose process of making his material is a ritual in itself, and of Qie Li, who is expressing a mysterious journey in her work, very strongly based on Chinese philosophy. I know a number of Asian jewelers who are expressing tranquility, the organic transition of movements, and the beauty of nature in their work. They do this with a graceful use of material and an endless repetition in the making. This concept of beauty is deeply rooted in philosophy and doesn't come from a decorative motive. I see this type of work especially in Korea and Japan rather than in China. The work of Healim Sin and Kazumi Nagano comes into my mind as examples. A recent trend I see with many young people is a fascination with construction and a feeling of home. Especially in China, the development of cities is so fast, it changes your perspective, your radius, and everything you know. I see young people exploring construction material, such as Hyeyu Nam, and in the work of XiaoMu Zhao, the theme of feeling at home.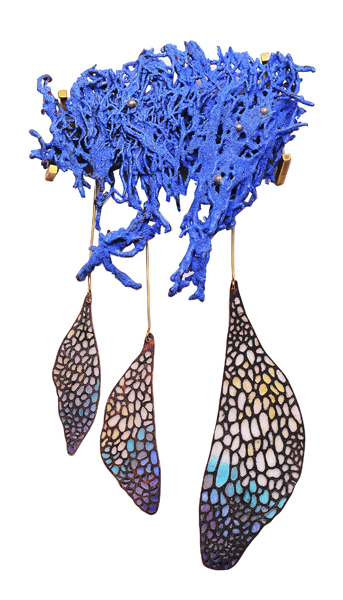 Machtelt Schelling: Teng Fei is the professor of the jewelry department of the Central Academy of Fine Arts. The school is known as the best in China for its program, the opportunity for free development, the studio approach, and the foreign guest lecturers. The China Academy of Arts based in Hangzhou is rated as the second strongest, and indeed they have a good program. The ceramics department is world famous, and the jewelry department, headed by Wang Zheng Hong, is well organized and is inviting interesting guest speakers.
Do you feel that there is a growing support system for young jewelers in Beijing?
Machtelt Schelling: For me, it is too early to say if there is growing support. But, I do see that there is development. For example: Mano is a new gallery in Taipei started a few months ago; there are some strong young artists in China who have successfully presented themselves to a broader audience; and at the end of September, the Beijing Fashion Institute will start an Art Jewelry Biennale in Beijing. Ubi gallery will present the Top Young exhibition there as well because there was such a request for it. So, things are happening.
Is there a catalogue for Top Young? Or has a book been published yet that gives an overview of Chinese jewelry?
Machtelt Schelling: For this show, we made a small booklet we shared with every visitor. There hasn't been a book with an overview of Chinese jewelry, but I guess the book produced by Teng Fei from the Central Academy of Fine Arts is a very good start. It is the catalogue made for the celebration of her department's 10th year in November 2012, and it is called Ten Years—Re:Jewelry.
Thank you.