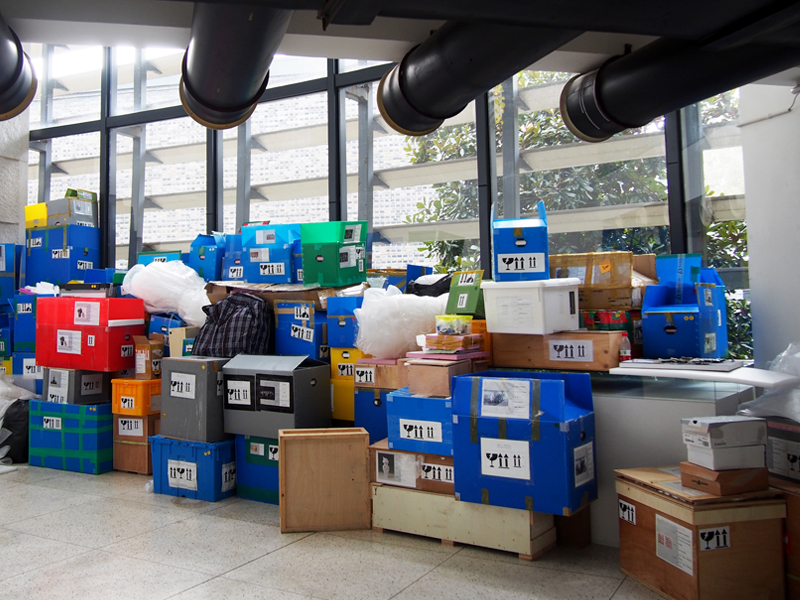 Photos by Kellie Riggs, taken during the Hangzhou Contemporary International Jewelry and Metal Arts Triennial 2015—China Academy of Art
Twenty-one countries. Eighty-six artists. Over 200 pieces. These are the shipped boxes that account for all the work included in the Body Alchemy exhibition, a 100,000-euro show held in the Museum of Contemporary Art at the China Academy of Art in Hangzhou. To make that happen, sponsors included the CODA Museum, the Françoise van den Bosch Foundation, the Consulate General of the Netherlands in Shanghai, the Royal Norwegian Consulate General in Shanghai, the Academy of Arts and Design Tsinghua University, College of Fine Arts Shanghai University, and the Hangzhou Shangcheng District Tourist Administration. A catalog of 230 silver- and gold-edged pages was published. Ten international professionals were invited to speak and eight other artists were flown out to attend. They were all put up in a luxury hotel; there were dinners and field trips. The exhibition lasted three weeks.
Could this be one of the best examples of all or nothing? Can this enormous investment be seen as a testimony of China's readiness to really be a player in the world of contemporary jewelry, or do they throw this kind of money at all their exhibitions? Perhaps it doesn't matter, because now we're paying attention.