Susan Cummins: How long have you owned the gallery? Who else is involved?
Jane Groover: I opened Taboo Studio in 1988 with three other partners. Joanna Rhoades became a partner in 1994 and it has been just the two of us for the past eighteen years. We met in graduate school at San Diego State University where we studied with Arline Fisch and Helen Shirk. After completing graduate school we did ACC shows, exhibited our work in galleries, made custom work and taught. The gallery seemed like a natural progression of our involvement in the field of art jewelry. We've known each other for almost 40 years, so we have always been on the same page regarding how we wanted the gallery structured and our goals for the gallery. We exhibit our own work and the work of artists who work primarily in metal. Joanna and I also collaborate on unique designs under the Taboo Studio label. Both aspects are important to the financial success of the gallery and since we each have a passion for gemstones, we enjoy being continually involved in design and making.
Usually the work of one artist is the impetus for the development of a group exhibition. With Color and Form, we were wild for Brooke Marks-Swanson's current, colorful work and knew that we wanted to exhibit it and feature one of her pieces on the postcard. The rest of the group included some jewelers that we had shown before (including Brooke) who were currently doing interesting things with color and/or form, as well as others who had not shown with us before. We had always wanted to show Joan Parcher's work and this was a good fit for her colorful enamels. In addition, we invited Ananda Khalsa and Barbara Uriu to exhibit their colorful work with gems.
The exhibition Structure and Purpose came about after an interesting conversation I had with Frank Gehry a couple of years ago on a plane. I wanted to give him space, since I'm sure everyone who meets him wants to talk to him. It turns out that he likes to chat and when I said that I was a jeweler, he said, 'You know, I do jewelry for Tiffany's.' So funny that he thought I might not know that! We talked about his influences and the fact that designing jewelry and designing buildings and furniture have more in common than people might think, since they all incorporate similar design fundamentals. We decided to name the current exhibition Structure and Purpose as a result of that conversation. We had been looking at the one-of-a-kind work of Talya Baharal, Deb Stoner, Sarah Loertscher, Anne Hallam and Gina Pankowski and the exhibition was born. When Yuko Yagisawa said that her new work was influenced by origami, we included her work and also Mary Kanda's structures of enamel and metal. The influences are as varied as plants, geography, molecular structures and origami and they all, ultimately, have the same purpose: to tell a story, to be worn and to intrigue.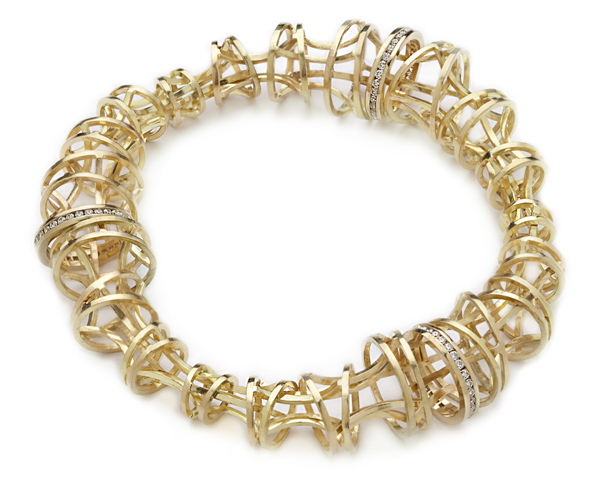 We do not show all these jewelers on a regular basis. We have shown Baharal Gnida's production work and Deb Stoner's work regularly since the beginning of Taboo. The other exhibitors have shown with us periodically for the last ten or fifteen years.
You have close to 200 artists listed on your website. Are they all jewelers?
The artists listed on our website are jewelers who show with us currently or have shown with us in the past. We have recently updated the list to include only those artists who have shown with us since 2000. We like to keep the list on the site because we often get inquiries about a particular artist. If we are not currently showing that artist, we are able to put a potential client in contact with another gallery or sometimes with the artist directly. We constantly peruse the internet, art magazines, ACC and wholesale jewelry shows and email submissions from new artists. We also keep in touch with the artists on our site list to make certain that if there is a new direction or a new body of work we would like to promote, we may include them in an upcoming exhibition. Additionally, we are conscious of the taste of a faithful clientele and like to keep the jewelry surprising and fresh.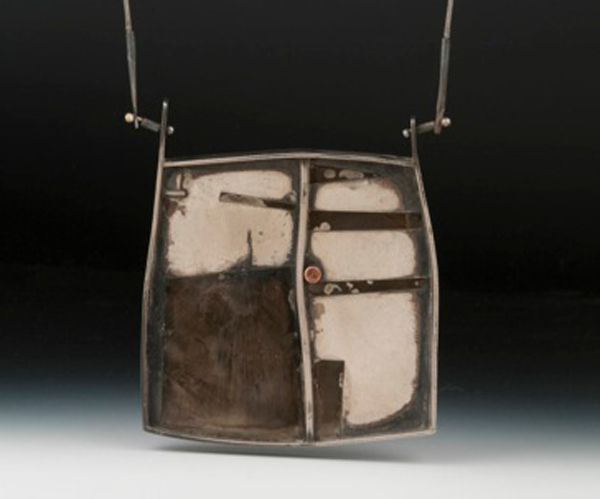 Sondra keeps us informed about visiting artist lectures and we are usually invited to graduate student exhibitions so that we can see what is happening at the university. We have lots of students come through with sketchpads and questions and it makes us happy to know that their instructors think that this is a valuable field trip. We have shown the work of many graduates of the SDSU program and will continue to do so.
What do you like best about running a gallery? What is the hardest part?
Of course, we enjoy meeting the clients who are interested in the jewelry that we exhibit and also the ones who want us to make something special for them. We love designing custom work and also one-of-a-kind pieces that usually include gemstones that we have purchased at the yearly Tucson Gem Show. We are inspired by our continual exposure to the wide variety of artists whose work we exhibit and feel fortunate to be able to be doing what we love to do.
The hardest part about running a gallery is the bookkeeping, which is a chore because of the number of artists we represent and the complexities of tax regulations. It is also more difficult to schedule time in the studio when you have a gallery to run. Our number one priority is keeping organized so that things operate smoothly. Our two assistants, Christina Seebold and Casey Miller, have been with us for many years. They are a big part of what keeps the wheels turning, helping to keep track of inventory, structuring shows, contacting artists and maintaining a presence for Taboo Studio in the social media.