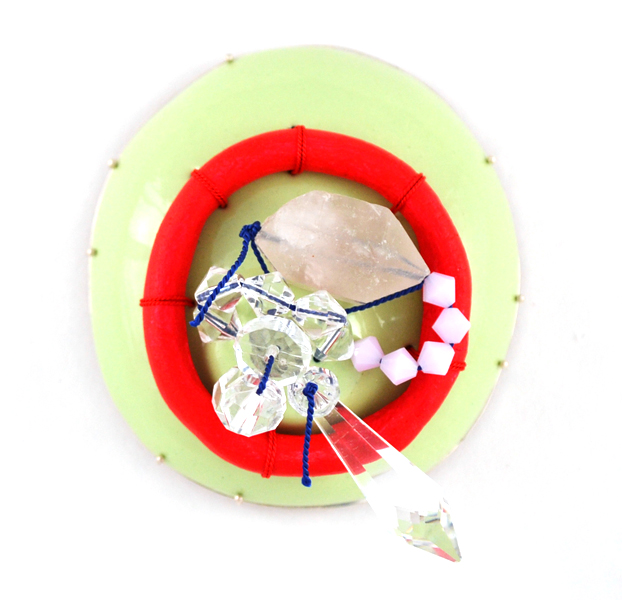 Susan Cummins: How did this curatorial collaboration come about? Please describe a little about yourselves in the process.
Brian Weissman: Every now and then, Erin and I like to sit around and brainstorm about interesting things we've come across, either in our lives or things that we've read or heard about. We make a list, and then talk about how they would make either an interesting show or how it would be a great premise for a class or workshop. Erin kind of threw out the idea of the Siamese connection, and at first, I thought it was too simple. But then it followed me around the city for a few days, and the more I saw these odd and ever present objects it started to take hold. I started to take pictures of them every time I passed them (there are three or four per block easily), and the more I thought about it, the more I liked it.
Erin S. Daily: Brian and I decided from the beginning that Brooklyn Metal Works would host a juried exhibition every year to explore new ideas in the field. This meant that we would be jurors as well. And while I think we make good collaborators because we view the world from quite different perspectives while respecting the others opinion, it was obvious that we would need a third opinion in the mix. Not only to diversify the curatorial vision, but also to give voice to other artists and curators.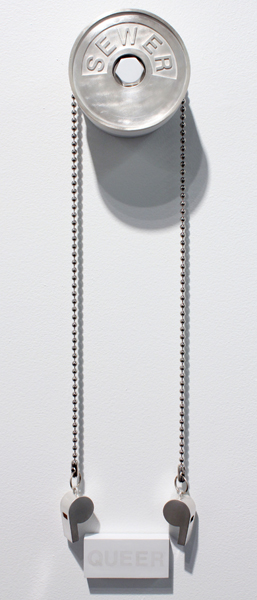 Erin S. Daily: I always found these odd fixtures around the city very interesting. They can be quite decorative, with brass ornamentation, chains, and color, or strictly functional. They serve a purpose that most people don't consider and have an intriguing name that begs contemplation. It seemed like a good jumping-off point for giving people an opportunity to let us know what kinds of relationships they see in their own work.
Beyond a conceptual take, there were also the formal aspects of branching or dividing that could be considered. I liked how this broadened the reference point for artists in a more concrete way.
Brian Weissman: Siamese connection was a jumping-off point. The word Siamese is from another time, and connections (or transitions) are usually a very interesting element of anything—art, literature, life. We liked it because it was rich with layers that could be historical, visual, spiritual, biological, and then some.
Why was this an interesting idea to use as a basis for a show?
Brian Weissman: I think we had an idea of the things we wanted to see, and in our minds, it made a great show. It's open ended but also very specific.
Erin S. Daily: It doesn't interest me to format an exhibition based on one simple principal. Curiosity is a good motivator for artists, and I felt like this theme of the Siamese connection could give them an interesting idea to consider.
I also wanted to see what materials people are working with and why. It isn't typical these days for someone to arbitrarily choose their medium, so this was my roundabout way of asking their reasons and seeing the results.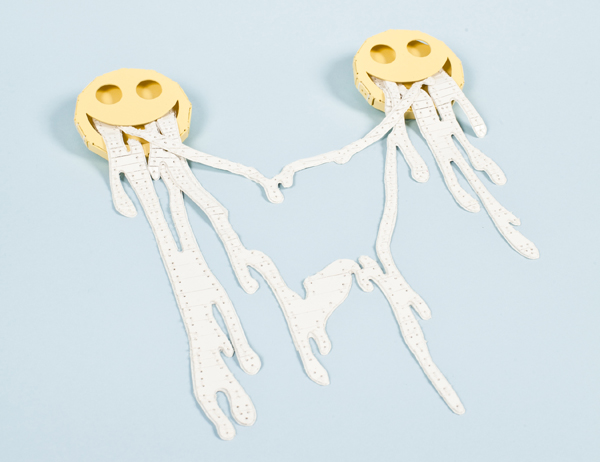 Brian Weissman: There are quite a few pieces that worked well. One of the artist statements that I felt was the strongest was written by Joanna Storm. In it, she talks about the components of the jewelry beginning together but then separating, having different interactions with the world, and then they are brought back together in their changed state. I liked the idea and the take on the concept of a Siamese connection.
How did you decide who should be in the show? Was it juried?
Erin S. Daily: There were three jurors: Sakurako Shimizu, Brian Weissman, and myself. We all brought different reasons to the table for selecting the work. Original concept was a key factor, as was craftsmanship.
Brian Weissman: Before putting out the call, we asked Sakurako to be a part of the show. We've seen other shows that she's put together that were incredible, and we really wanted to involve her on this project. Once we collected all the work that was submitted, all three of us sat down and took a look. We discussed it, and then took some more time to think about it. Our goal was quality over quantity. I was looking for work that I felt filled certain categories that I had created in my head. Everyone approached it differently. But, we did choose only a hand full of applicants, and then only a few of the pieces by those artists.
What kind of response did you get to the call for entries? Do you think the artists who entered understood what you were looking for?
Erin S. Daily: The vast majority of entries spoke to the considerations we set out, so I think the ideas for Siamese Connection were understood. Some entries were very overt in their illustration of the topic, and others stretched the theme to fit their work, but no one was completely off the mark.
Brian Weissman: We were not sure everyone who entered understood the depth we were looking for. While at the same time, we received submissions that were even more insightful then we had anticipated. Perhaps this is why you do calls like this—to check the pulse of the field and hopefully be surprised.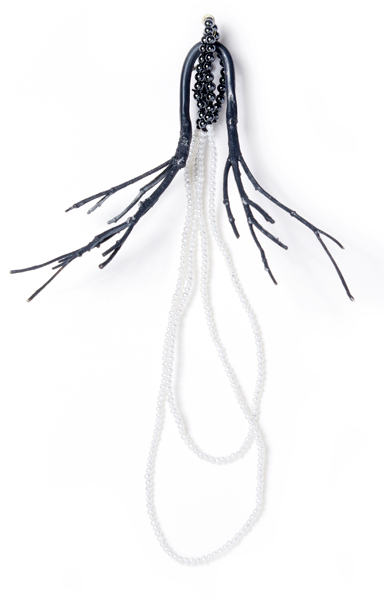 Erin S. Daily: Collision was only one way to consider the material and formal choices of the artists, so I wouldn't say that was the main driver. For the most part it, it seems that connections were more prevalent in the jewelry pieces, drawing together a reason for certain elements to coexist. Even when the materials didn't readily have a relationship to each other, it could be said that their contrasts embodied the connections, as in Missy Graff's work. Weighty metal was hung in tandem with silicone to demonstrate the stretchy, rubbery quality of the silicone.
Brian Weissman: I think we looked for many variations on the theme, but collision was not really a strategy we necessarily saw used in the work. With an artist such as Mellissa Tolar, you saw her create these very interesting and carefully considered pieces that were more like compositions using disparate shapes, colors, and materials. At first glance, they might come across as unrelated elements, but upon careful consideration and reflection, you can see that while the elements of her piece are very different in every way, they also vibrate at the same frequency when they are together. It reminds me of the book Vladimir Nabokov wrote about color.
Caroline Gore also uses a wonderful assortment of different materials and objects to create ritualistic and shamanistic pieces of jewelry that, while made from a variety of materials, all come together seamlessly to create beautifully considered and rendered pieces.
Brian Weissman: We like to think of the gallery at Brooklyn Metal Works as the mouthpiece of BKMW. While we also teach classes and workshops, rent space to other artists, hold talks, and make our own work in the space, the exhibition space allows us to show work we think is important and worthwhile. It offers something that the jewelry and metals field doesn't already offer—a space to see work before it is framed in a gallery or museum context.
Erin S. Dally: The exhibition space showcases the physical reality of work that gets made in studios like ours. We want the public to know what a jewelry and metalsmithing studio is comprised of, and what comes of it. An exhibition space completes our educational outreach to the larger public beyond teaching classes, as well as completing the cycle of making by giving art a place to live in hopes of finding a new appreciator. It also exists as a more experimental space than a traditional gallery. We don't represent artists, and we take on guest curators. We really want this aspect of BKMW to be open to the field for trying out new ideas and showing work that doesn't always fit into other venues.
Thank you.