In its June 2019 Report, AJF linked to an Artnetnews article about artists Catherine Opie and Cindy Sherman, who during the Venice Biennale unveiled a line of carved cameo pendants made in collaboration with Liz Swig. We included a blurb from the original article, which describes the pieces as having "an unlikely mission: to make antique cameo jewelry cool again."
However, metalsmith, jewelry writer, and educator Marjorie Simon contacted AJF to point out that art jewelers have been making cameo work all along, many of them pushing the boundaries of the form. Sherman and Opie's work is part of a longer line of artists expanding the cameo's potential, she explained.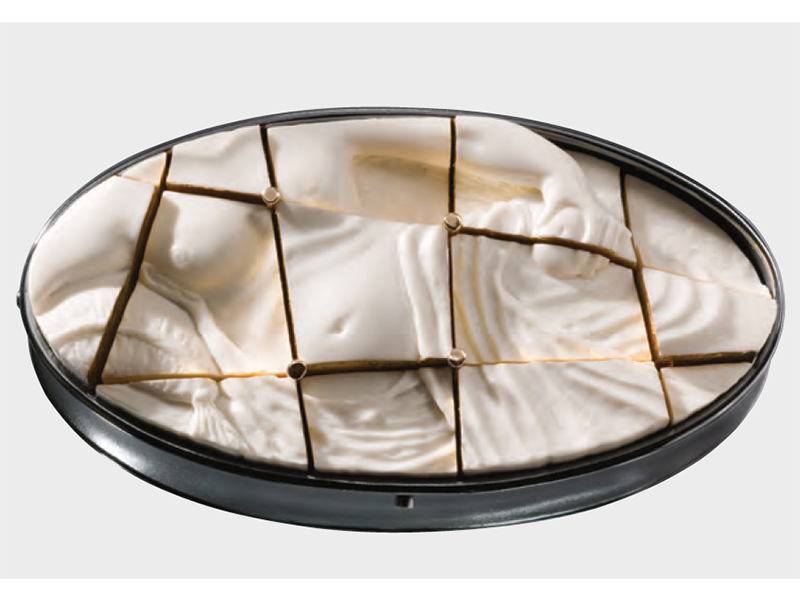 Here's what Simon wrote:
I want to start by saying I cannot wait to see Sherman's and Opie's bold new cameos in Venice. I love that the carvers were named. I love that these artists have chosen to express themselves by referencing the body. I do wish they hadn't felt it necessary to distance themselves from jewelry in the process. And I would have liked some recognition of the many studio artists who have been addressing the cameo for decades. For it is absolutely untrue, as collaborator Liz Swig has claimed, that "nobody has explored the cameo, maybe ever, in contemporary dialogue and life."
A couple of years ago, Metalsmith editor Suzanne Ramljak asked me to write a feature article about contemporary cameos. Historically, cameos arose in Alexandrian times, signaling the emerging distinction between art and craft: the change from intaglio (carving for functional wax sealing) to relief carving (imagery for ornament). This concept clearly has huge implications for the future landscape, to say nothing of the marketplace—immortalized as Art or marginalized as craft? It was Australian goldsmith and National Treasure Robert Baines who led me in this direction. A cousin with a background in the classics sent me an article from a publication to which I wouldn't otherwise have had access. More research ensued. (All of this correspondence and reading eventually comprised a footnote in the published article.) In time, I talked to anyone who asked about my research and names just poured forth like Six Degrees of Contemporary Cameos. Eventually I built an image bank, a theoretical framework, and some pertinent narratives for the article.
My process is relevant for several reasons. One is obviously to bring to light the sturdy foundation on which Sherman and Opie's work resides. Another is the enormous benefit of time and my own Rolodex in researching this subject. I knew many of the artists and their work and I had the time to communicate with them. Without prior knowledge of Metalsmith or the artists, a mainstream critic or journalist on deadline would be hard pressed do it justice. Google is of little use here.
I am surprised and disappointed to see AJF reproduce this press without corrective comment. We appreciate that Sherman and Opie have honored the cameo and other historic jewelry motifs in this work. But it is important for our community to refuse to participate in our own effacement. Otherwise we miss an opportunity to acknowledge thoughtful, concept-driven work that already exists. It is disheartening for studio artists to be forced to trumpet our own presence yet again. I am pleased that AJF will make this information available to all. It goes without saying that I welcome feedback on any aspect of this ongoing issue. I'll be putting some copies in my luggage to Venice.
Simon has generously shared the article she wrote for Metalsmith in AJF's Library. You can see it here. It's a fascinating read that highlights contemporary cameo work by Tore Svensson, Randy Long, Kristin Beeler, Diane Falkenhagen, Vera Siemund, Jutta Klingebiel, Melanie Bilenker, Heather White van Stolk, Bettina Speckner, Kirsten Haydon, Roberta and David Williamson, Barbara Paganin, Coreen Simpson, and Joe Wood.